This post may contain affiliate links. See our affiliate disclaimer here.
When we starting RVing full-time, there weren't a lot of available resources online for learning how to live in an RV. And there were even fewer (read: zero) resources that talked about building a business on the road.
Which is how building a mobile business became the focus of our blog. It's our chance to interview and learn from others and share our own experiences building a business while traveling.
There are a lot of things in life that you can't do alone and building a business is one of them.
You'll need community, mentors, and a collection of blogs, courses, and resources to help you learn along the way.
In this post, I'm highlighting a few travelers who are KICKING BUTT running their business on the road—and the resources they've created to teach you how to do the same. There are so many resources out there today for RV entrepreneurs. These are my faves:
---
How to Monetize Your Blog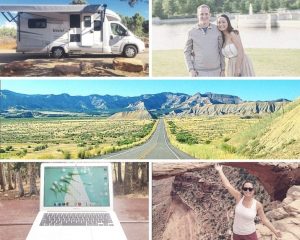 Michelle is the queen of making money from blogging and probably the person I turn to most for blogging advice.
Because she makes over a MILLION dollars from her blog every year…while living on her sailboat or traveling in her van full-time. And most of that income is 100% passive.
#GOALS
A few years ago, Heath and I joined Michelle's course on affiliate marketing, aptly named Making Sense of Affiliate Marketing. Affiliates are the easiest way for bloggers to make passive income. BTW:
Affiliate marketing (Noun): a marketing arrangement by which an online retailer pays a commission to an external website for sales generated from its referrals.
When we first joined the course, we were making about $20/month in affiliate income from our blog. And it was literally all from one blog post about Passport America. (And that $20 was the best feeling in the world!)
But it wasn't going to fill up the gas tank.
After joining Michelle's course and learning so. stinking. much. my head could explode, we finally had a plan for how we could make affiliate income from our blog.
I can't tell you everything she teaches in the course (that would take hours), but I can say that Michelle gives solid advice.
To start with, she taught me that I needed to increase my web traffic and not be afraid to share more affiliate links, with the caveat that the affiliate links be only for products that would be valuable to people my community. Like I said, at the time our only affiliate account was with Passport America, a product we use constantly on the road.
We started focusing on recommended strategies for growing our traffic, building our email list, and offering our affiliate links more often.
Our affiliate commissions sky-rocketed! It took less than a year to get up to $1,000/month. That's money recurring every single month that I can make without lifting a finger.
But like Michelle advised, the most important thing is to only promote products you use and love. Notice we aren't promoting anything non-RV entrepreneur related on our website. We promote things like Passport America, Harvest Hosts, Bluehost, and WeBoost cell boosters—all products that we love and use. (You can see a list of all our recommended resources, many of which are affiliate links, on our Resources page).
If the idea of affiliate marketing is overwhelming and you don't know where to start, as part of the course, Michelle even lists out 80+ companies with affiliate programs that you can join today.
Learn more about Making Sense of Affiliate Marketing here (affiliate link)
Side note: Being upfront when you share affiliate links is one area that Michelle put's a lot of emphasis on during her course. If you're sharing an affiliate link, it's important to let people know that you'll be paid a commission if they sign up.
---
Start an Etsy Printable Business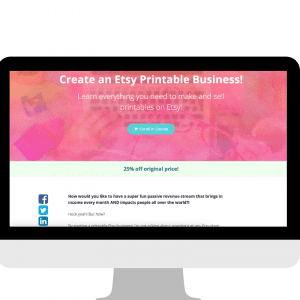 Etsy has blown up in the past few years, but not only for handmade goods.
People are making consistent passive income through Etsy with digital products, like printables. (AKA they download your file and print it themselves. It's print-able.)
Our friend Kelsey over at Positively Delighted runs an Etsy story as one of her many passive income streams and she shares exactly how she does it in her course, aptly named Create an Etsy Printable Business.
(Bonus: Use that link for an automatic 25% off discount. Thanks Kelsey!)
Mastering Etsy hasn't just brought in sales through Etsy's platform. She used the products she sold on Etsy to create print-on-demand books with Amazon too, diversifying and increasing her income.
Kelsey is in the top 3% of sellers on Etsy and has hundreds of products selling passively on Etsy's website. As far as resources for how to get started with Etsy, her course is the best one I've seen.
---
How to Find Internet on the Road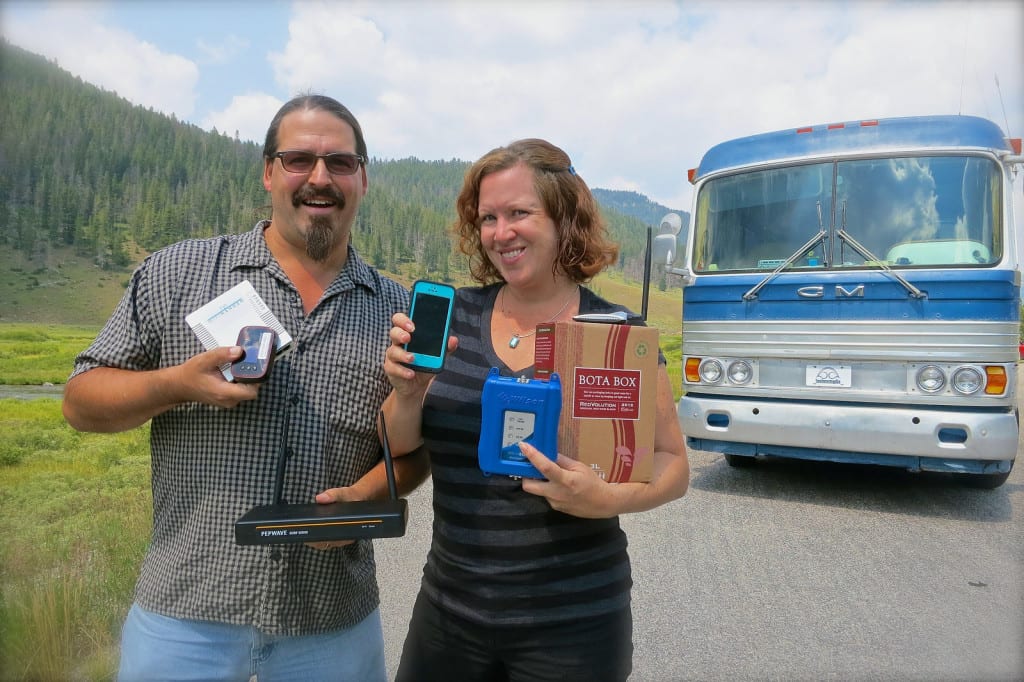 Finding internet on the road can be difficult and confusing…if you're not following RV Mobile Internet.
Chris and Cherie LITERALLY know everything there is to know about what your internet options are, which ones work the best, which ones are more affordable, and so on and so forth.
They gave us the advice and the contacts to find an elusive unlimited Verizon plan. Plus, they are a wealth of knowledge when it comes to wifi extenders, cell boosters, cell phone plans, and all things internet tech that if I tried to explain, I would make a fool out of myself.
They have two amazing resources for this:
Facebook group: Internet for RVers 
Membership community: RV Mobile Internet
We recently had them back on the RV Entrepreneur podcast to interview them on what's new for RV internet in 2021. I highly recommend you give it a listen!
---
How to Build a Work-from-Anywhere Business
The RV Entrepreneur School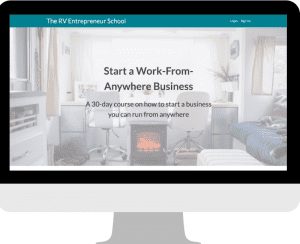 After RVing, starting three businesses, recording 200 podcast episodes, and reading sooo many business books, Heath and I put our heads together on a course:
How to Start a Work-from-Anywhere Business. 
This course is designed to be a roadmap to take you through 30 daily lessons to get your business up and running in the next month. We'll start small with figuring out your business idea and scale up to building the processes and systems to keep it running.
Starting a business can be overwhelming and intimidating. With these lessons to guide you, focus on what matters and make a little progress toward your goal every day.
Heath & I may not be the world's leading experts on becoming an RV entrepreneur (although Heath did coin the term and start the podcast and the Facebook group so I guess I have to give him SOME credit), but we will share everything we've learned while starting, running and growing our business on the road.
You can check out the course and even preview a lesson or two here.
---
Not finding what you're looking for?
We've recorded over 200 episodes of The RV Entrepreneur podcats over the years and cover a LOT of ways to make money on the road. Here are a few classics:
When we started RVing, we thought we would be the only ones crazy enough to try to run a business like this on the road. Turns out we aren't alone.
---
Building a business on the road has given Heath and I so many opportunities. We've visited all 50 states, traveled all over the world, met hundreds of awesome people on the road, paid off our student debt, and inspired thousands of other RV entrepreneurs through our blog. The people and resources I've mentioned above have been huge mentors and sources of inspiration for us. I know they will do the same for you!