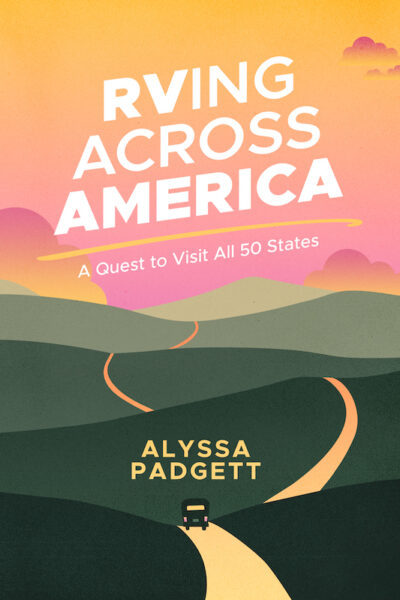 RVing Across America
When I realized the highlight of my day was eating chocolate alone at my desk, I knew it was time to make a change. I just didn't anticipate that change would involve moving into an RV and visiting all 50 states in my first year of marriage.
In this funny travel book, my husband Heath and I hit the open road together—despite our lack of savings, the falling apart RV we found on Craigslist, and the tiny detail that neither of us has RVed. Ever.
This book is not a detailed account of all 50 states with things to do or places to visit, but an honest account of what it's like RVing across America—new friends, breakdowns, bear encounters, and all. This is the story of a couple determined to chase their big, crazy dreams no matter what challenges they face, and the growth that can only be found by pushing past your comfort zone.
Travel with us as we camp on the Pacific Coast Highway listening to the waves crash on the rocky shores, camp on a glacier in Alaska, and accidentally flash the entire RV park while trying to kill a spider.
A 20-year-old RV, 50 states, a broke newlywed couple with a dream…What could go wrong?
---
Travel full-time.
When my husband and I started full-time RVing, we knew nothing about RV living. We made it up as we traveled to all fifty states, constantly googling things like "how to RV" and "what is boondocking?" Meanwhile, we flooded the bathroom, took ice cold showers, and got stuck in the mud.
Now, we've been full-timing for over three years and we've learned the ins and outs of RVing America.
In this guide, I answer all of the most common questions we receive about RV living, from how to choose the right RV, to how we get mail on the road, to how to find free camping.
This guide is for anyone exploring the RV lifestyle and looking for RVing books to help make the transition easier.
Available exclusively on Amazon.
Now available in paperback!
---
What business can you build on the road?
The hardest part about traveling full-time is finding a way to support yourself on the road. 
With 150+ episodes of our RV Entrepreneur Podcast, we found there are 50 different types of businesses run by RVers. In this ebook, we share the details behind who runs each type of business, how they do it, and how you can do the same.
---
Build a business anywhere.
Our generation is realizing that "the dream" of buying a bunch of crap, putting half of it in storage, and signing your life away on a mortgage is a terrible way to live. Plus, we no longer have to choose between meaningful work and a geographic location– we can now have both.
We can create companies with remote teams that reach millions of people all over the world, and do it all from our RV, van, fifth wheel, bus or tiny house while traveling across America.
The RV Entrepreneur documents how a new generation of tech-savvy, location independent entrepreneurs are building businesses that allow them to travel anywhere.
Format available: PDF, Epub and Mobi (can be read on any device)