This post may contain affiliate links. See our affiliate disclaimer here.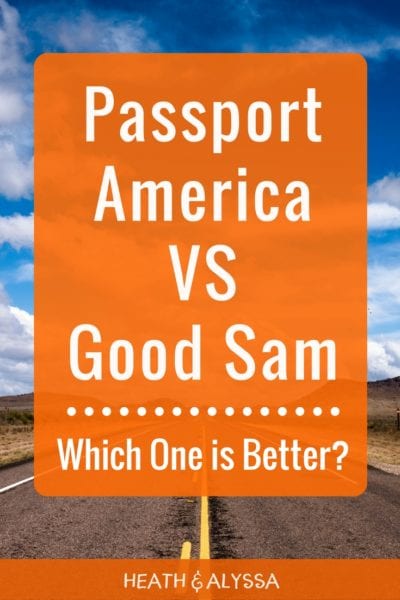 We are all about finding ways to save a few dollars while traveling. After all, the more money we can keep in our bank account, the longer we can keep traveling in our RV full-time.
There are lots of RVing memberships and "RV clubs" out there. I want to give a full Passport America review and Good Sam Club review as these are the two RV memberships that it seems everyone says you need on the road. They are the most popular and both boast camping discounts across the country.
Both of these membership clubs offer awesome discounts, but which one is better?
(I use an affiliate link in the Passport America links below. This means that if you click through the link and decide to sign up, I get a small commission. I only do this with products I actually use and would recommend to a friend).
Passport America Review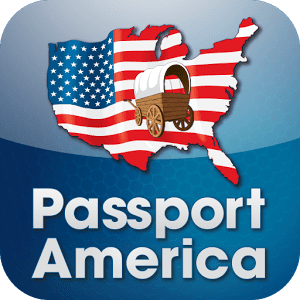 Overview: Passport America offers a 50% discount at their participating 1,600+ campgrounds across the country. (Don't be fooled by the covered wagon on their logo. This is a great RV membership!)
Yearly membership cost: $44/year
Savings: 50% at each participating campground.
Number of participating campgrounds: 1,600
Pros
Their iPhone application is very user-friendly and easy to use
50% is a ton of savings for each campground
Cons
While you can usually find several Passport America's in each town, there aren't as many listed campgrounds as Good Sam.
Many of the RV parks don't offer Passport America during weekends, peak season, or holidays. Before you show up to a Passport America park, make sure you double-check the RV park profile in your Passport America application to see if they are currently accepting the discount. (P.S I've been able to talk campgrounds into letting us use our discount even though it was a weekend because they weren't very busy. Better to just call ahead and see if they'd be willing to let you use it.)
Not every campground is of great quality (but many are).
We purchased our membership before we hit the road and it paid for itself within the first couple of uses. One of the first things we learned with Passport America was to always double-check the RV park reviews with Google or a website like Campendium. This is because not every single Passport America park is going to be very classy (if costs under $15, it's for a reason guys). The $15 ones usually offer a dump station and that's it.
However, it has proven to be our first choice of membership club when we are traveling to a new area. If we can find a decent Passport America campground, we stay there. Like when we found a campground in Old Orchard Beach where we could walk to the beach AND it cost us under $30. Now that's a big win.
We estimate that last year we stayed at over 50 campgrounds that offered Passport America, which gave us a savings of over $750 for the year. Crazy, right? You can sign up for a Passport America membership here.
We are lifetime members of PA because we know how much money it can save us. We've been RVing since 2014 and this membership has paid for itself 50 times over.
---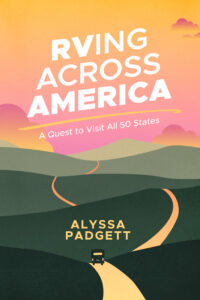 What is it really like to RV full-time?
In our latest book, we share what it's like RVing across America—breakdowns, bear encounters, stunning hikes, beachfront camping and all.
---
Good Sam Review
Overview: Get 10% off your stay at all Good Sam parks + discounts at Camping World and Flying J.
Yearly membership cost: $27/year
Savings: 10% at each participating campground.
Number of participating campgrounds: 2,100
Pros
The Good Sam campgrounds we stayed at had an overall higher level of cleanliness and upkeep.
Good Sam ranks each park by cleanliness, friendliness, etc, so you can learn more about the park before arriving. (However, after talking to park owners, these numbers are skewed based on how much the park is willing to pay for higher scores.)
You won't have an issue finding a Good Sam park wherever you travel. They are everywhere.
Good Sam offers more than just camping discounts. They have a great roadside assistance program (speaking as someone stuck on the side of the road in the middle of no where) and they offer the Good Sam extended service plan. These are, however, additional fees.
Cons
Every time we tried to use the Good Sam app to find an RV park, it crashed on us.
10% savings means you need to use the discount at least 10 times to start saving money
While we bought our Good Sam membership around the same time as our Passport America membership, we used Good Sam much less. The main reason why we didn't use Good Sam as much is that it only offers a 10% discount, which, compared to a 50% discount, is nothing to call home about. We will go slightly out of our way to stay at a PA park and save $20 versus staying at the nearby park and save $4.
We save anywhere from $2-5 each time we used Good Sam, which can add up over time. But compared to saving $15+ at every use, we will always choose a Passport America park first. The Good Sam membership paid for itself but didn't save us too much money. 
Which membership club is better?
My recommendation would be to sign up for both club memberships. Both can save you money, especially if you're RVing full-time.
But if I had to pick just one based on the amount of savings it offers, it would be Passport America.
Passport America offers a 50% discount and its number of participating campgrounds is nearing that of Good Sam. Plus, as a full-time RVer who is constantly looking for campgrounds on the fly, it's important to have a reliable iPhone application that allows us to find an RV park at any given time.
Below are a few screenshots of the Passport America app.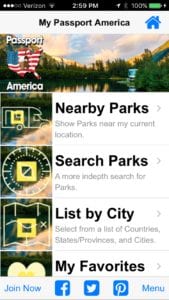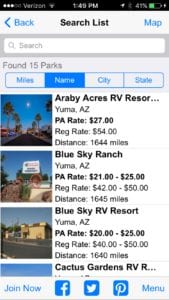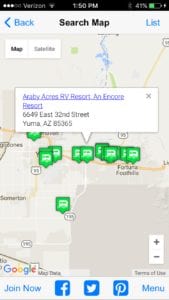 Passport America definitely seems to care a bit more about the technology side of its business, making it the clear winner if you're trying to grab a campsite fast while you're on the road. They've been an awesome resource for us to save money while being on the road full-time.
Here is a link where you can sign up for one of their yearly memberships (this is an affiliate link). If you need our membership ID, it's C-643889.