This post may contain affiliate links. See our affiliate disclaimer here.
Right now, Heath and I are in the throes of RV shopping. Now that we have a baby to think about, we're trying to find the perfect rig that's big enough that we can add a baby bed, small enough that we can take it on plenty of adventures, and offers a floorplan that allows us to keep running our businesses on the road.
It's a tall order that has led to many hours of RV shopping on RV Trader.
Honestly, we're making this decision too hard because we know whichever type of motorhome we choose, we will love. Because in our five years of travel, Heath and I lived in every different type of motorhome.
1994 Coach Leprechaun – Class C Motorhome
2016 Winnebago Brave 31C – Class A Motorhome
Bürstner Lyseo TD 690 G – Class B Motorhome
2019 Leisure Travel Van Wonder RTB – Class B+ Motorhome
2019 Winnebago Adventurer – Class A Motorhome
(This list doesn't include the Winnebago Revel, a Cruise America rental, and an Outdoorsy rental that we've also traveled in for shorter periods.)
Of course, we haven't owned all of those rigs. At our age that would be crazy. But we've spent at least a couple of weeks, months, or years in each one.
All of these motorhomes have been great for different reasons and a few people have asked us to rank them all and share which one is the absolute best. Here's the thing, though.
I can't.
I would live in all of these RVs again in a heartbeat.
Even the rig with the leaking roof…
Best motorhome to introduce us to RVing: 1994 Coachman Leprechaun
I've said it a million times, but if you've never bought an RV before, you should buy a used RV for your first rig.
There are plenty of reasons for this—depreciation, figuring out what type of RV you really want, figuring out if you even like RVing, you can customize or renovate the rig, and if you hate it, you can pretty easily sell it for the same cost you bought it from. We bought our first RV for $11,500 and sold it for $10,000 two years and 20,000 miles later. Not a bad flip.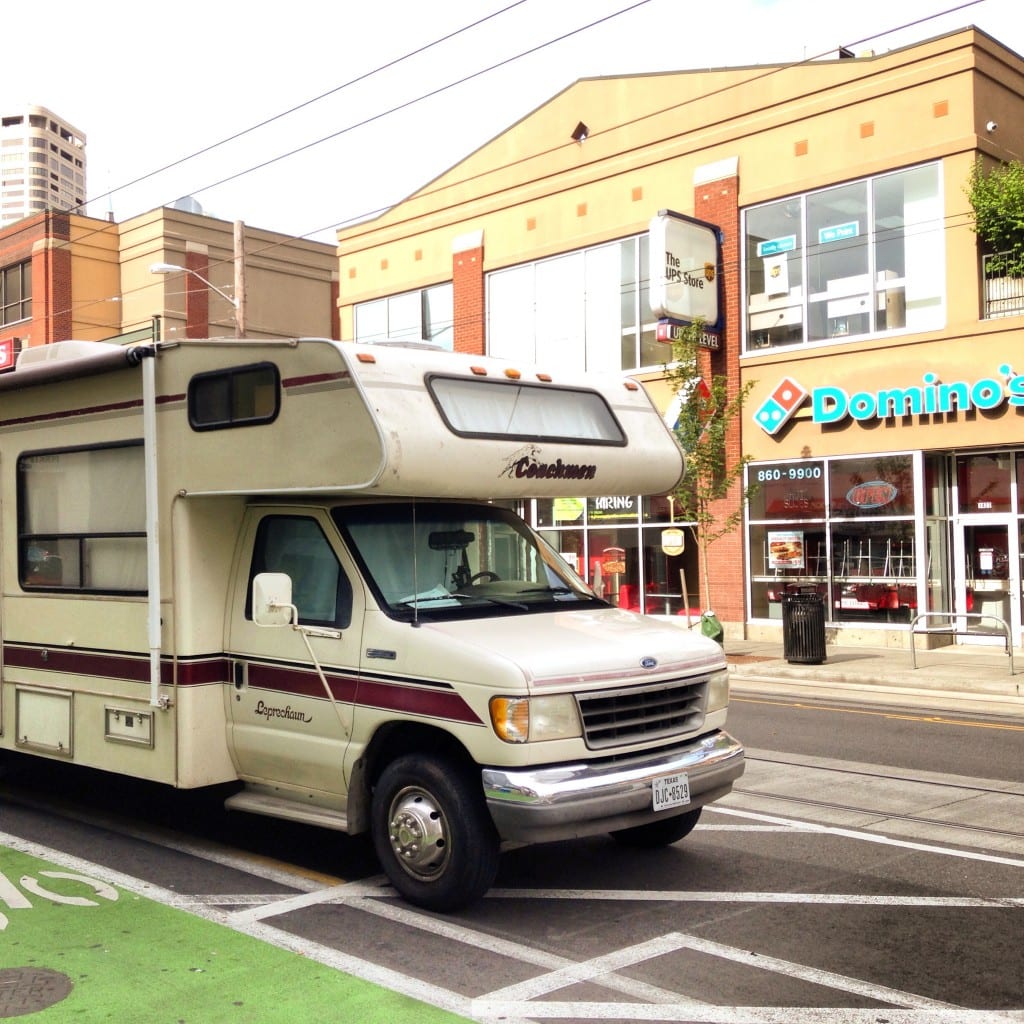 Pro tip: don't drive your 29-foot motorhome into downtown Seattle.
Franklin, as we affectionately named our first home on wheels, was the perfect starter RV for a few reasons.
1. We bought it with cash. 
After carrying a note for years on our brand new Winnebago, I have a new appreciation for how smart it is to not need a loan to buy an RV. Buying an older rig on the cheap made traveling on a budget significantly more attainable.
2. We renovated it into our home.
While I was still working, Heath spent a week painting our first home. (This was the first time Heath painted anything ever, so if we can renovate an RV, you can too.) We could've been trendy and painted everything white, but opted to give our RV a beach house vibe with bright blue paint. We added vinyl wood floors, curtains sewn by Heath's mom, and replaced the faucets (oh and eventually replaced the fridge we killed).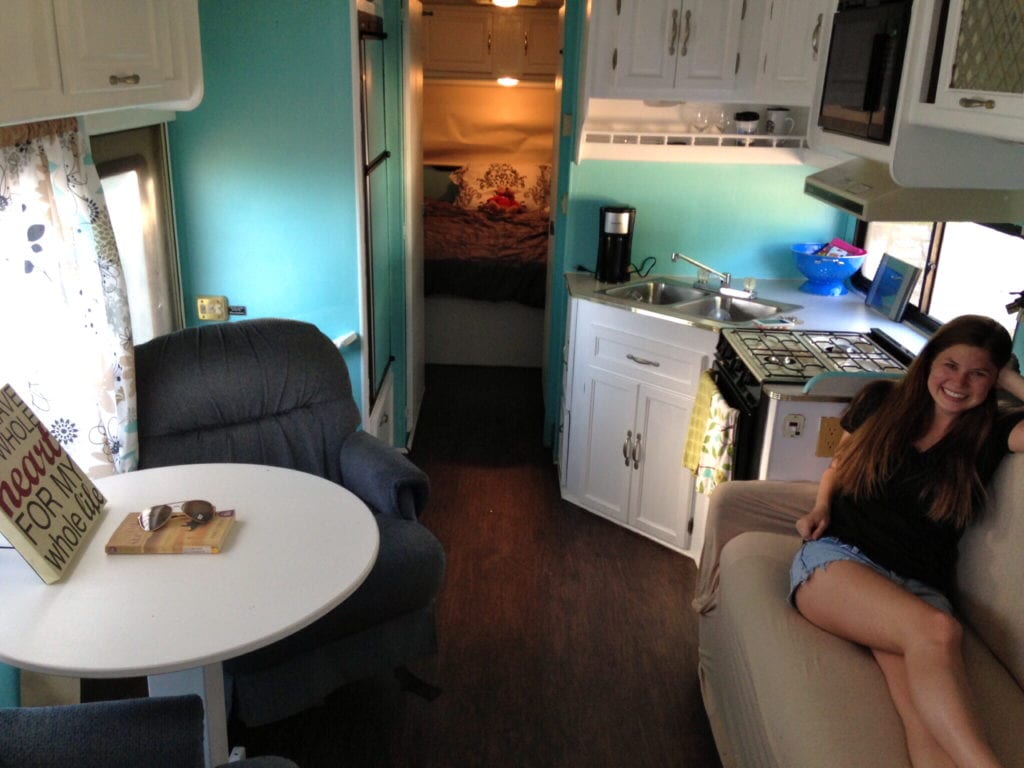 We never renovated our Winnebago Brave because it was so new and shiny. With an older rig, you don't feel as bad about gutting it and starting from scratch. And if Instagram is any indication, most RV owners want to renovate their RV to fit their personality.
3. That's broken? Oh well.
We knew before we bought this RV that we would run into issues. We would break down (thank you Good Sam Roadside Assistance for saving us a couple of times) and that things would break. But because the rig was older, that was a whole lot less stressful. We expected to run into issues and budgeted for them.
There's something about owning an older rig that helps you manage expectations. So when our roof was leaking in multiple places, a window started leaking, the fridge had to be thrown out, and the engine started making weird sounds, it was par for the course. On the opposite side of the spectrum, when you buy a brand new RV and find yourself in the shop, you (and I really mean me) get frustrated and annoyed.
4. We figured out what we wanted.
We bought Franklin with one goal: drive him to 48 states. Franklin was 29 feet long and we mostly traveled without a tow car when we owned him since we rushed from state to state. That meant he took us on a ton of adventures and we fell in love with RVing. We also scraped our back end on no less than a hundred parking lot entrances for grocery stores. Why do they make grocery store driveways so steep?? We needed to upgrade to an RV that could tow our car so we didn't constantly need to drive our RV to Safeway.
We also learned that if we were going to continue to travel, we needed to make money, which meant we needed table space. Heath and I couldn't both open our laptops on that tiny circle table, which made working from home difficult. Because of that, we often worked from coffee shops (plus back then we hadn't discovered the magic of unlimited data plans). All of this led to buying our next RV…
Best Home: 2016 Winnebago Brave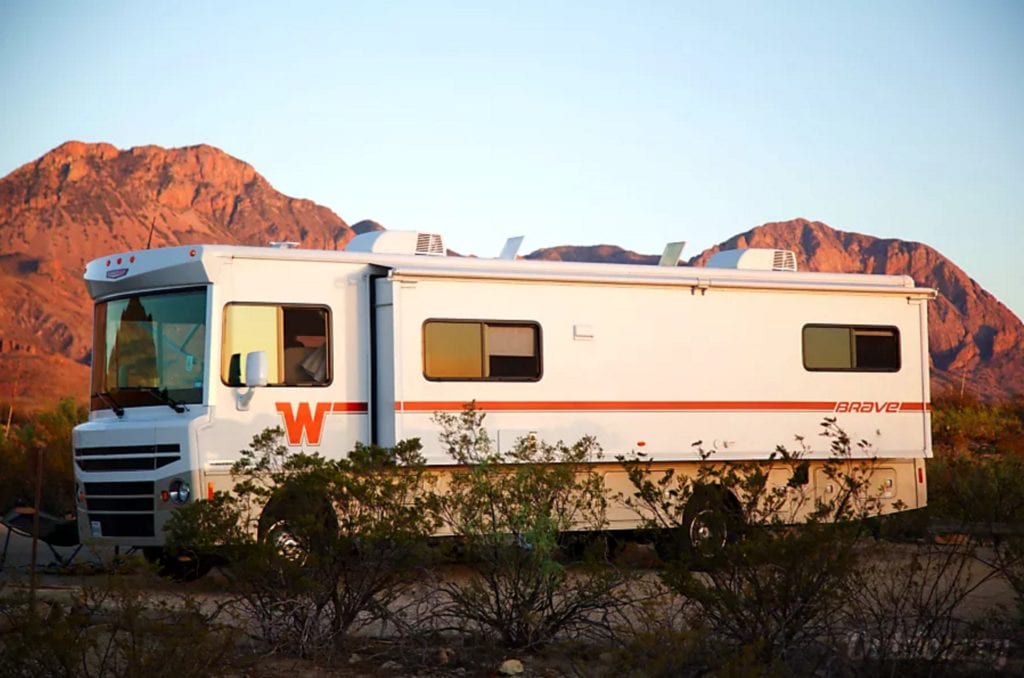 When you decide to full-time RV, there are two routes people tend to go:
Aggressively traveling, staying in places 3-4 nights at a time
Taking it slow, staying places weeks or months at a time
If you're moving fast, a smaller rig—like our first one—is perfect. It's maneuverable. You're always on the go so your RV never feels small. You don't need a tow car.
If you're moving slow, a rig with the comforts of home is a must. Our class C feeling small after being parked for two months was a major reason why we wanted to upgrade rigs.
What's your wish list in a home on wheels?
Mine goes like this:
King-sized bed
Oven
Tablespace/desk space for two
For me, those three things are all the comforts I need in a home. A big bed to collapse into after a hike, an oven because I love cooking, and plenty of space for Heath and I to both work because #RVentrepreneur and all.
Our Winnebago Brave—which we sold before Ellie was born—checked off all three of these items, plus offered a few things we didn't know we wanted.
Let's talk about opposing slides, the best thing that can happen to your RV that no one manufactures.
It is HARD to find motorhomes with opposing slides (AKA two slide-outs across from each other). Our Winnebago had two epic slide outs which created a ton of floor space in our living room. Seriously. I could lay out a mat and do yoga while Heath walked around cooking breakfast and neither of us was in the other's way. That's fairly unheard of in RVs (and I couldn't lay down a yoga mat at all inside any of our other RVs).
This floorspace not only made the living/dining/office/kitchen area feel huge, but it felt homey. If Joanna Gaines had her way with an RV, this is the open floorplan she would choose. (She would also be a fan of the farmhouse faucet in the kitchen sink.)
In addition to the spacious layout, the design of the RV was very carefully planned. Decorative shelves folded out from a slide-out. Custom LED light features gave the rig an ambient lamp-like glow. A waterfall edge on the classed up the countertops. And seriously that sink—single most complimented feature of our RV. Every person who toured our home would say to me, "Wow I love that sink."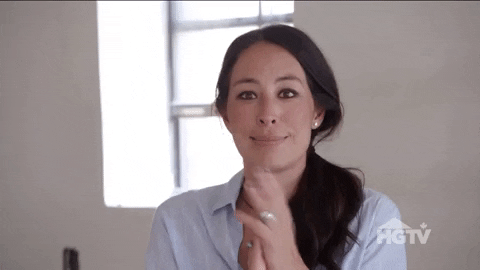 All of these features made the motorhome not feel like a camper. It felt like a real home on wheels, complete with two massive closets, the biggest RV bathroom I've seen, and a built-in desk that fit our lifestyle perfectly.
The only con to our Brave? Driving it. Well, to be honest, I didn't drive it that often. But getting from point A to point B stressed us out. Its sheer size with the added stress of towing the car made driving this rig overwhelming. The motorhome was only 33-feet which is small for a Class A, but driving it up mountains and on winding roads was a point of stress for us.
Best Interior Design and Layout: Bürstner Lyseo
Naturally, the award for best design goes to the Europeans. They make the classiest, most beautiful RVs—and then ship them to New Zealand, which is where we rented this beauty for two months.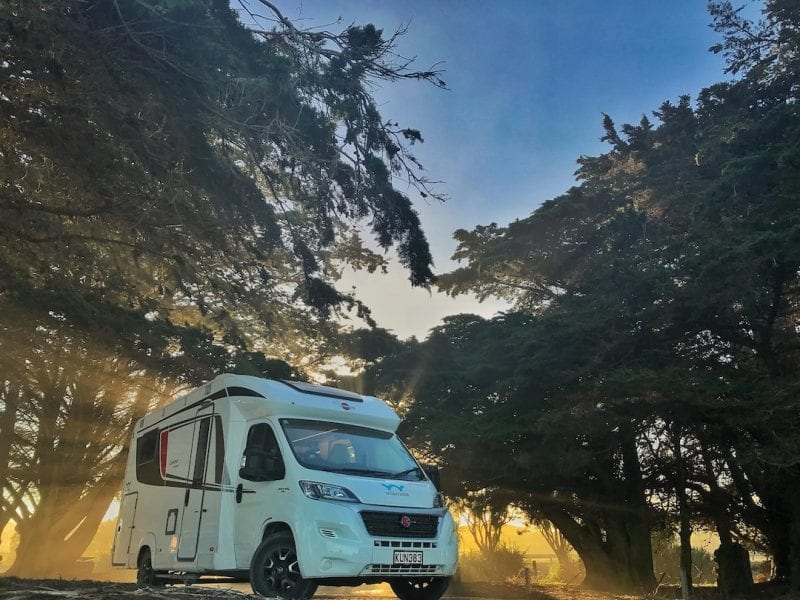 When it comes to choosing an RV, I always say layout wins over all else. This is your home after all and you want one that can accommodate your lifestyle. For us (pre-baby) this layout wins. And if you haven't watched our video tour of this sweet as rig (there's a nice little Kiwi slang for ya), you definitely need to see it:
What Bürstner did right:
1. The twin beds that become a king bed. 
LOVE. Twin beds during the day, this layout meant we could easily climb the little stairs to access the cabinets where our clothes were stored. The twin beds functioned as a day bed/couch for lounging during the day, then add two cushions at night and you've got a massive king-sized bed. Brilliant.
2. STORAGE.
In the stairs, in the floor, tiny shelves between the beds, the giant garage—so many awesome storage options on the rig.
3. The convertible table space.
The piece of the table that swings out gave Heath and me plenty of workspace. Plus since the two front seats easily swiveled around, we could—and did—entertain friends for dinner at night. To be able to have guests in a 23-foot RV is pretty spectacular.
4. Holy cow on this shower.
When we were shopping for our first RV, Heath tried to convince me to live in a truck camper. But I drew the line at a wet bath. In most RVs, wet baths are pretty meh and showering with your toilet is wholly unappealing.
Hats off to the designers and engineers who solved this problem with their movable wall. Showering in this tiny rig never felt like anything other than a nice shower.
PLUS the shower had two drains (so no matter how unlevel you were, the water could drain easily) and the Truma Combi hot water heater meant we had awesome hot water. Okay, I need to stop writing about this RV because I'm really missing it now.
5. Design aesthetic
Light wood. Shiny whites. Built-in window shades. Everything on this motorhome was clearly designed to make the space feel larger than it is. The sleek lines and ambient lighting made this feel like a luxury RV and while we definitely paid a pretty penny to rent it, you can buy one in Europe fairly affordably. (Not that I'm so in love with this RV that I find myself searching for RVs for sale in Europe and plotting how I can ship it back to America. That would crazy…or would it?)
Because we loved this layout so much, when our friends over at Leisure Travel Vans asked if wanted to borrow a similar floorplan of their own rig, we couldn't say no…
Best Machine: 2019 Leisure Travel Van Wonder
Okay let's be real—I don't know anything about engines or how they work or what the liters mean and I really don't care. There are way too many systems onboard an RV for me to bother understanding them all.
But as far as operations go, LTV is top of the line.
The LTV Wonder has a Ford Transit diesel engine. We've also driven Mercedes and Fiat diesel engines with comparably sized rigs (the Revel and the Bürstner respectively). And it's no contest—the Ford is the best.
First of all, it had the most power. We drove up and down the Canadian Rockies for months and the engine never broke a sweat. It had consistent power going uphills and solid control going downhill. The European engines both struggled to get into motion when we pressed the gas. (Don't even get me started on how much our gas engines struggled to pull our heavy RVs up and over Teton pass.)
Second of all, it handled ice and snow with ease. Inclement weather on the road is always a concern for RVers. We bunkered down in Canadian wine country for an extra day when a record-breaking blizzard blew across the Rockies. We drove through the cleared mountain pass easily the next day but when we arrived at our campground, the roads and sites were pure ice. Really the last thing anyone wants is two Texans driving icy roads in a 24-foot machine.
But as we drove up the icy hills of the —at 9 PM at night mind you, so it's pitch black outside—the van crunched through the few inches of ice as it slowly climbed the hill. (So it's safe to say that the LTV also has a good set of tires.)
Now let's talk about the onboard systems.
We've got solar (a first for us), a macerator toilet (surprisingly awesome), a Truma AquaGo (best. hot. water. heater. in. the. world.), and a super amazing built-in screen where you can control the RV. I can't for the life of me remember what they call this thing, but it controls the lights, generator, tank readings, A/C, and so on (all of which you can see in the video above).
When I think about which RVs are pushing the industry forward and really thinking about the future of RVing, I would say LTV kills it. Every system on the rig works so well. Although so this isn't a total love vest for Leisure Travel Vans, we did run into one issue, which they have since fixed since we traveled in the prototype vehicle.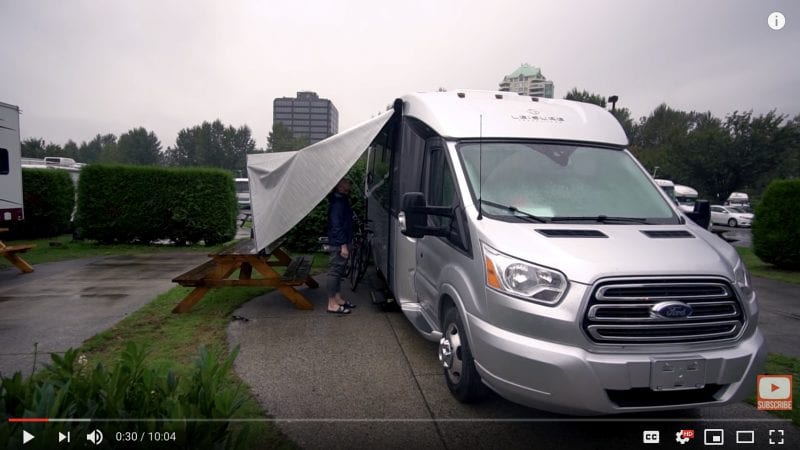 In case you're new to RVing, awnings are not supposed to bend that way. The guys over at LTV let us know when we picked up the rig that the awning wasn't installed properly on this prototype vehicle and we definitely experienced it! You can watch Heath and our friend Nate attempt to fix the awning on Youtube here.
Best "I don't want to give up any of the comforts of home to travel" RV: Winnebago Adventurer
Fireplace? Check.
L-shaped couch for maximum lounging comfort? Check.
Washer/dryer? Check.
A nightstand on both sides of the bed? (Only an RVer would consider this a luxury) Check!
TWO bathrooms? I mean, come on. I was sold at the fireplace.
Heath and I spent two weeks in the Winnebago Adventurer for our 2019 RV Entrepreneur Summit. Our friends over at Winnebago—who sponsor our conference each year—let us test out the rig and it definitely offers all the comforts of home.
I can't speak too much about this RV because I never rode in it (we drove my car separately) and we were only in it a couple of weeks during our Summit. But from an amenities perspective, it's kind of the dream.
So which type of motorhome is the best?
Like I said, I would happily hop into any of these RVs again. (Well maybe not Franklin, who is probably in a junkyard by now. But a newer version of him, sure!)
All of these RVs have served us perfectly for the season of life we were in. 
Our Class A was perfect for when we were staying in places for months at a time and while we hustled to grow our business and pay off our student debt. It felt like home, never felt too small, and definitely felt like a glamper. There were rarely places we couldn't go in our Winnebago, and if there were, we always had a tow car that could take us there.
The Class Bs were perfect for maximizing exploration. We spent most of our time in these rigs exploring national parks and boondocking. We drove on beaches and up mountains. We drove down tiny curving roads and one-lane bridges. Perfect for getting off the beaten path and using the RV as a vehicle for…recreation. 😉
---
So there you have it. All the motorhomes we've lived in and loved. I would rank them, but…
We really need to try a truck camper, trailer, and fifth wheel and try out ALL the options first. 🙃
Which of these types of motorhomes do you like the most? Rank them for me, I can't decide!