This post may contain affiliate links. See our affiliate disclaimer here.
If you're new to RV life, you'll quickly start hearing RVing terms thrown around that you're fully expected to know. And you feel awkward asking what these words mean because you're pretty sure you don't WANT to know what a black tank is.
Well then, this quick post is for you!
Here are the top 31 RVing terms I hear most often that need to be explained. Settle in, because RVers make up some WEIRD words!
A Quick Guide to RVing Terms
1. Dry camping
This is where you camp with "no hook ups" meaning you don't have shore power, water, or sewer. Typically one refers to dry camping when camping at state or national parks. You likely still have to pay fees for dry camping.
2. Boondocking
The definition of boondocking is different depending on who you talk to. There are a few aspects to it:
You must be dry camping.
It's free. You can boondock in Walmart parking lots, rest areas, or in friend's driveways.
(Debatable) You're far from other people or RVers, typically in the wilderness or on free public lands. See primitive camping below.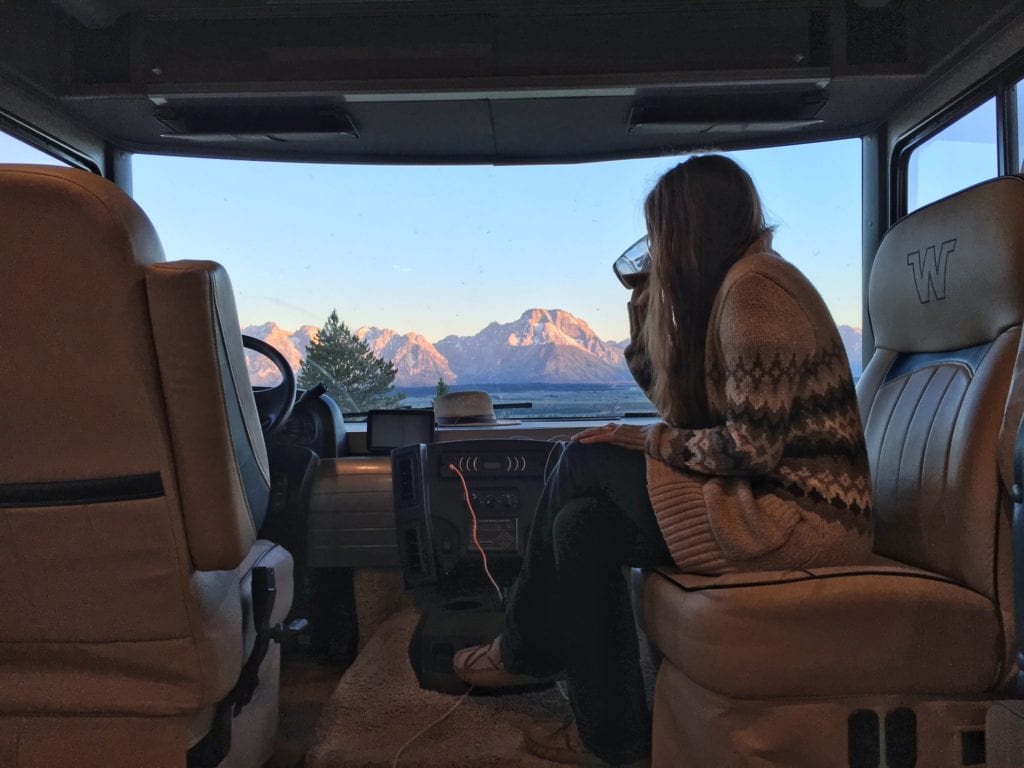 3. Moochdocking
This is where you camp on driveways or private land—usually owned by a friend, relative, or I don't know maybe you like staying with strangers—for free. You may or may not have electricity or water.
Boondockers Welcome is a great place to look for moochdocking, especially if you like strangers.
4. Primitive camping
Primitive camping, also sometimes called wild camping, is when you boondock in the middle of nowhere! Can also be synonymous with boondocking.
5. Sticks-and-bricks (also referred to as S&B)
Sticks-n-bricks, or S&B if you're really hip, are buildings, typically houses, made of…wait for it…sticks and bricks. Basically any home that isn't on wheels.
6. Brick-and-mortar
Same as above, but used by the slightly less hip people. Just kidding! Typically brick-and-mortar is more commonly used in referring to businesses than homes.
7. Snowbirding
Snowbirds are the human versions of real birds. They fly (drive) south for the winter!
8. Toad
This is not an amphibian! Your toad is the car you tow behind your motorhome. This is sometimes referred to as a dinghy. This term is pretty exclusively used in referring to towing with motorhomes and not with trailers.
9. Fiver or 5er
A fifth wheel. They look like this: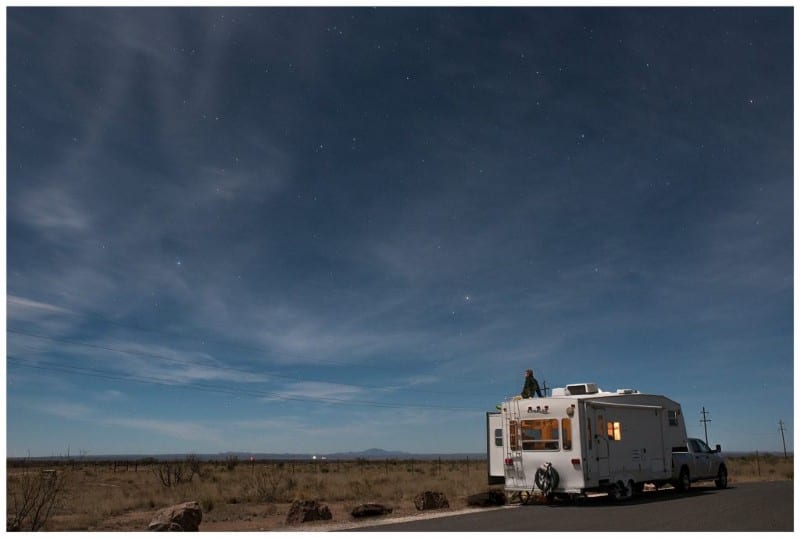 10. Triple tow
This is when you tow two things! (Kind of confusing, right?) This can look crazy and is illegal in some states. State Lines App is great for learning where this is legal.
Examples: A truck towing a fifth wheel towing a boat or a motorhome towing a trailer towing a car. We've seen both and YIKES.
11. Dually (pronounced doolie)
A truck with four tires on the rear axle (six tires total). Most commonly seen towing a fiver.
12. Rig
Slang reference for RV. This could be a trailer, camper, or motorhome.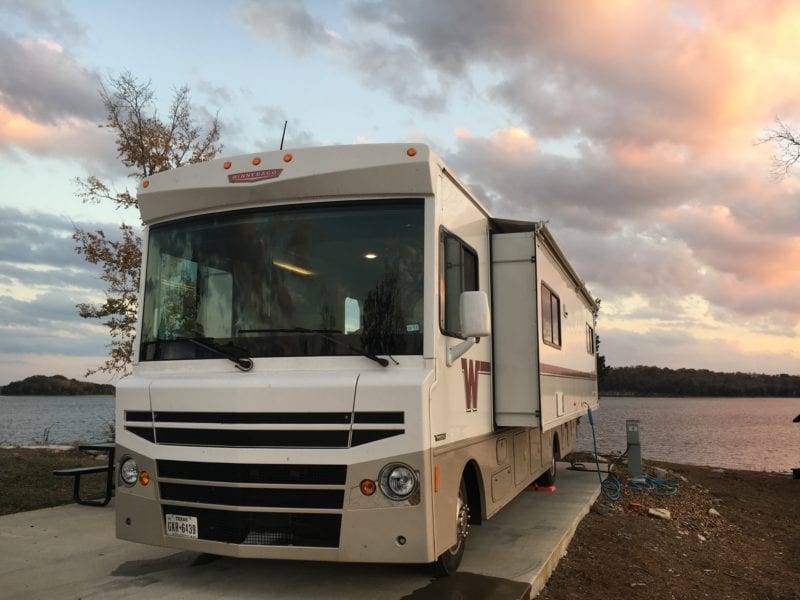 13. Coach
Another slang reference for RV, but typically referencing motorhomes.
14. Diesel pusher
A diesel motorhome where the engine is in the back of the rig.
15. Toy hauler
An RV with a space to store your badass toys like motorcycles, ATVs, or dirt bikes. Or whatever fancy toys you like. A toy hauler can be a trailer, fiver, or motorhome.
16. Basement
The storage area beneath your RV. Also referred to as bays or understorage or the place where your store all your poop hoses.
17. Black water
The wastewater from your toilet.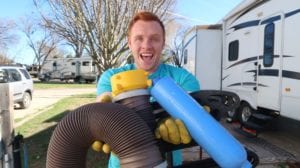 18. Grey tank
The wastewater from the sinks and shower drains.
19. Fresh water tanks
The fresh water you keep on board for use when you do not have water hookups.
20. Holding tanks
Holding tanks is a term used to refer to your grey, black, and fresh water tanks.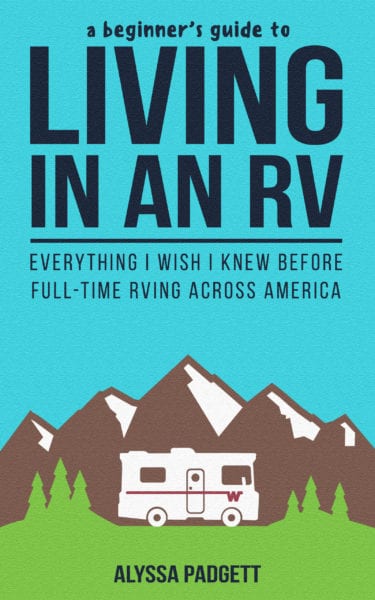 A Beginner's Guide to Living in an RV
Want to learn more about RV life? I just published a book about everything I wish I knew before full-time RVing!
21. Honeywagon
The magical and smelly mobile tank offered at RV parks that will pump your sewer system. Most commonly found in RV parks that don't offer sewer hookups at every site.
22. Shore power
The electricity you get when you plug your RV into an outlet
23. FHU or full hookups
When you have access to water, sewer, and electric at a campsite 🙌🏽
24. Slide-outs
The sections of your motorhome that slide out when you are parked. We have opposing slides in our RV that give us so much extra space! Also referred to as slides or pop-outs.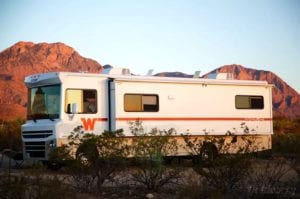 25. LP
Propane (or liquified petroleum, in case you wondered what LP actually stands for)
26. TT
This one is tricky! Look for context clues. This could mean Thousand Trails, an RV membership, or travel trailer, a type of tow-behind RV.
27. Wheelbase
The distance between your axels. This is an important number to know as it greatly affects your turn radius!
A type of work exchange where you work for an RV park or campground in exchange for free or subsidized rent as well as pay. Can be used to refer to anyone working a seasonal job, but typically reserved for those working at RV parks.
29. Full-timers or Full-timing
The crazy people who live and travel in an RV all. the. time.
30. Chassis
Pronounced chass-ee, this refers to the non-house part of your motorhome. This will include the engine, tires, axels, and supporting frame underneath your house. If you ever tour an RV manufacturer, you will see rows of chassis (plurally pronounced chass-eez) waiting for houses. They look super weird.
31. RV Entrepreneur
Anyone who travels in an RV while running their own business. A term coined by the super cute Heath Padgett from his RV Entrepreneur Podcast.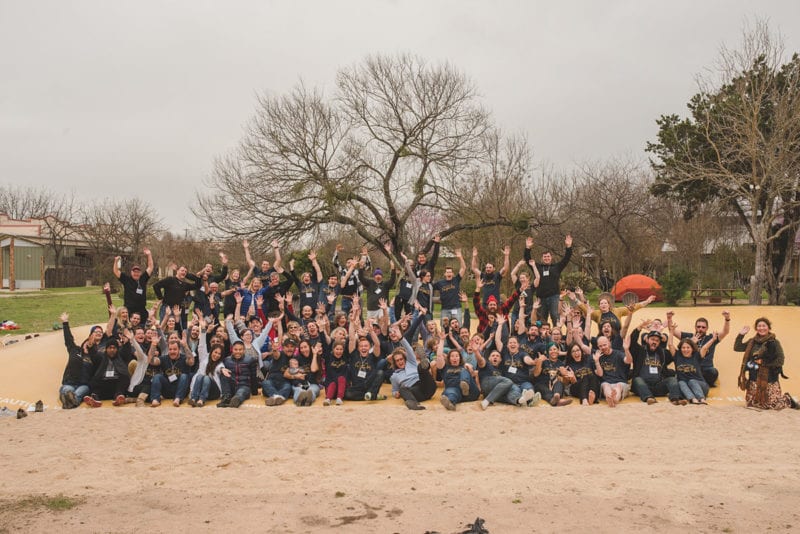 For the full scoop on all things RV Life, check out my new book on Amazon: A Beginner's Guide to Living in an RV.