This post may contain affiliate links. See our affiliate disclaimer here.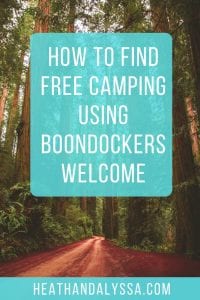 Today on the podcast I'm interviewing Marianne Edwards and her daughter Anna Maste, who are the two co-founders of Boondockers Welcome.  Boondockers Welcome is a website where RVers can find free camping (aka boondocking spots) all over the country.
Marianne has been RVing and boondocking around the country for over a decade.  She has been featured in the New York Times, built a large following on her blog at Frugal RV Travel, and written several guides on how to find epic boondocking spots.
A few things we talk about on this episode:
What is boondocking and how to find the best spots for free camping
How Marianne travels full-time on $1,500/month by finding free camping spots
What Boondockers Welcome has to offer for RVers
Ways to look for free camping and other boondocking opportunities
Update on Boondockers Welcome
In 2021, Harvest Hosts purchased Boondockers Welcome. Harvest Hosts has been our favorite RV membership for years. (It allows you to camp for free on wineries, farms, and other gorgeous places. By far, it is our most recommended way to camp!)
Now as part of Harvest Hosts, you can also stay at Boondockers Welcome locations. With thousands of places to camp for free, the free overnight stays on private property offer a great alternative for crowded RV parks or public land.
Today's episode is sponsored by:

Learn more about Leisure Travel Vans here on their website.
Links mentioned on this episode:
Thanks for Listening!
You're awesome. It's because of people like you that I get to sit around in my RV and record podcast episodes with really interesting people. If you've been enjoying the show and want to help others find it, I'd love a review from you in iTunes. Each and every review helps more people find the show (seriously, each one counts).
To leave a review, just click here and then go to "ratings and reviews". It just takes a minute and I read each one :).