This post may contain affiliate links. See our affiliate disclaimer here.
In 2016, Heath and I premiered our documentary about traveling to fifty states and I shared my next dream with him: RVing across the world.
But we were completely broke at the time and paying off student debt, so that dream was indefinitely on hold. Then in 2019, we spent a few weeks RVing across Italy and now we're RVing across France and Spain. (With a dash of Switzerland and Monaco and Italy in there too!)
As we've planned these major trips, we've struggled to find much information online from other Americans making the trek across the pond and renting an RV in Europe. RVing (or caravanning or motorhoming) in Europe is just as popular as it is in the States, so we put together this brief guide with everything we needed to know before booking our RV rental and flying across the world.
Rental Companies
There are endless options for RV rental companies in Europe. Here are a few companies to consider:
And there are peer-to-peer RV rental options (think Airbnb but for RVs) like:
I personally have rented twice with Anywhere Campers. I'm pretty sure we chose Anywhere during our first trip RVing in Italy because they included sheets, dishes, pillows, etc and most rentals don't. Plus, they offer unlimited mileage, so you don't have that added stress of a daily mileage limit like some rentals.
The biggest consideration when researching for a rental RV (other than the obvious of if they have a rental available during your trip dates!) is the vehicle transmissions offered. Most RVs in Europe are manual/stick-shift. We actually have an automatic in France right now, and it's one less thing to think about when you're driving down tiny, winding roads in a foreign country. In Italy, Heath had to quickly learn stick shift in the mountains in Italy…and it was stressful to say the least! 
If I could impart one piece of advice to anyone who wants to rent an RV in Europe, it would be to choose a company that allows one-way rentals!
When we RVed in New Zealand and Canada, we had to drive all the way back to the starting point to return the RVs and it felt like we lost two days of our trip just returning to the drop-off city. Theoretically, you would take a different route back to the drop-off city than when you left it, but we've found that we always spend so much time exploring and adventuring that we wait until the last second to make the return trip back and rush through it.
In Italy, we road-tripped from Venice to Rome and it was absolutely perfect!
So whichever rental company you go with, I highly recommend opting for a one-way rental.
Types of European RVs
European RVs are significantly smaller than American RVs. While the smallest RVs in the States are around 21-24 feet long, the longest RVs in Europe will be 24-26 feet long.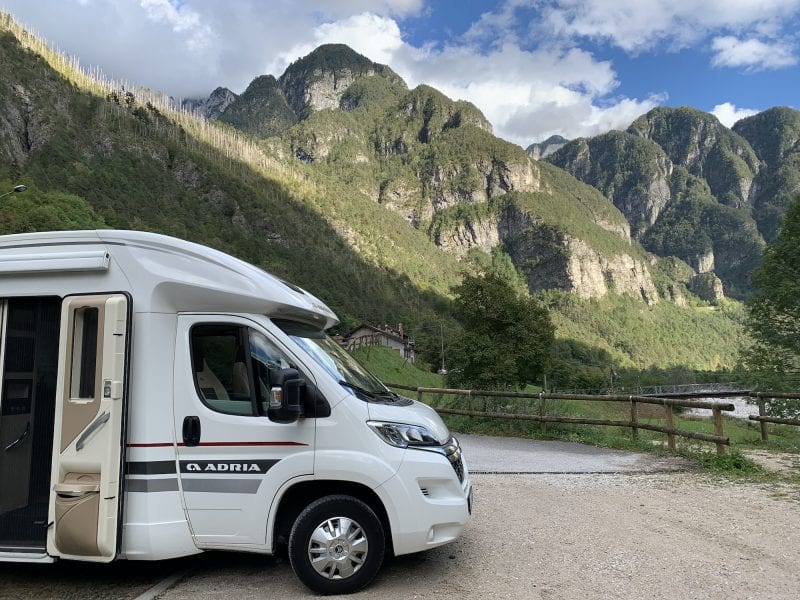 The smaller the RV, the more comfortable you will be maneuvering it across Europe. Roads, campsites, and parking spots are smaller over there! Help yourself out by choosing a smaller RV.
European RVs will have cassette toilets instead of a black tank and probably won't have any air conditioning. And they definitely won't have slideouts! If you're used to a motorhome in the US, a motorhome or camper in Europe will feel a lot more like van life.
Related: 16 Differences between RVing Abroad versus Rving America
Costs
Renting an RV (campervan, motorhome, camping car, insert country-specific name here) can be expensive. Average prices range everywhere from $100-$175/night. The season you travel in and the countries you visit will affect your price.
For a month, we're paying around $4,000 USD, which breaks down to just under $145/night. This feels like a lot (it is a lot!) but is significantly cheaper than hotels or Airbnbs, plus it allows us to break away from the cities and see the countryside.
Gas prices are often higher than in the US (sometimes twice the price), but RVs are significantly more fuel-efficient in Europe due to their size.
Where you camp will be another major cost to factor into your trip, but I'll cover that in more detail in a minute.
One perk of RVing when it comes to cost is that you often end up eating in or cooking meals in the RV. Sometimes this is simply because you're in the middle of the wilderness and there is nothing around, but in general this is a small way to save money. Keep in mind that European RVs won't have an oven or microwave, so you'll have the stovetop for cooking or, if your rental offers it, a grill.
Countries Where You Can RV
The beauty of Europe is that you can easily cross most borders in an RV. Your RV rental may even come with the motorway permits required to drive in countries like Switzerland, Austria, and Czech Republic.
Most European countries are RV-friendly. You can find a complete list of countries around the world where you can RV here.
Best Times to RV in Europe
We always—ALWAYS—RV abroad during the "shoulder season." For most countries around the world, that means April/May and September/October. Kids are in school, the seasons are changing, and campgrounds aren't too busy.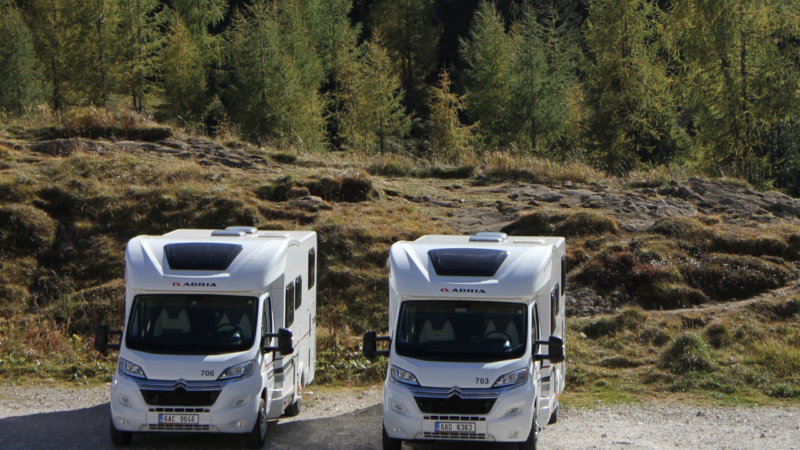 With most RVs in Europe not offering air conditioning, I recommend skipping a summer rental if you can.
Unless…
Unless you're planning on renting in a very northern country, like Iceland or Norway.
One thing to keep in mind is what major attractions you'd like to visit in your camper. Many places may close seasonally. During our last visit to Italy, during the first half of our trip beaches were empty and there were only a couple of restaurants open regularly. By the end of May, the beaches were packed every day and everything (restaurants, amusement parks, mini golf) was slowly opening. We didn't feel like we missed out on anything, but it was a little logistically difficult to figure out what businesses were open for the season.
Where to Camp in Europe
Just like in the US, there are an array of camping options with your motorhome—both paid and free.
Paid Camping
Campgrounds and RV Parks
A campeggio in Italy, a holiday park in the UK, referred to simply by "camping" in France—these are what you might call an RV park or campground in the States.
(You can get a glimpse of Italian campeggi in this video ⬆️ )
Generally, RV parks in Europe offer smaller sites that are usually electric only. There will be a dump station and water fill station somewhere else in the park, as well as a chemical toilet for dumping your cassette toilet. Your site may be nothing more than a stretch of fairly level grass.
But what the sites lack, the campgrounds make up for with other amenities.
Pools, hot tubs, on-site restaurants with real food (no convenience-store-style pizza is served at these restaurants! See the above video for what Italian campground restaurants are like), markets, laundry, private beach access, riverfront campsites, playgrounds, bathrooms for kids—completely with a baby bath and kid-sized showers, kids programming…the list goes on and on. We've had all of these at campgrounds and they've blown us away.
We've stayed in beachfront campgrounds and family campgrounds in the US…but they've always cost upwards of $100/night. In Europe they are about a third of that price.
Free Camping
Europe has a reputation for plentiful free camping (also called wild camping) and it's lived up to the hype in our book. There are a few options:
Aires
Aires are motorhome stopovers meets rest stops meets gas stations. You'll see signs for aires about every 10 minutes on the highway in our experience and they have varying levels of niceness. Some are like picnic areas in the states—a place to park and some tables. Others are full blown gas station rest stops that connect the east and west sides of the highway with a sky bridge, offer multiple restaurants, and all the classic things campers need like dump stations and showers. It's quite the range.
These are generally first-come, first-served parking spots. Many aires are free, but some may require a small fee (less than $10 and usually only if they offer services like electricty). You can find French aires and other free camping on the Park4Night app.
Aires typically refer to free campsites in France, but the term is often used across Europe. You may see Area Sosta Campa in Italy or Area para Autocaravana in Spain.
Park4Night
This is our go-to app for free camping. We tried multiple apps during our first time RVing in Italy, but Park4Night had the most options, the most accurate listings, and was the most reliable.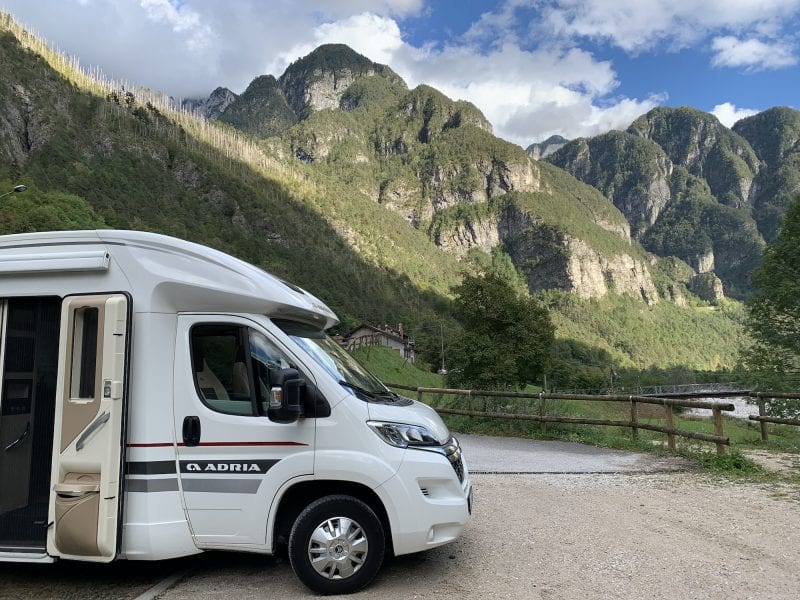 Not a bad view for a free campsite, eh?
Park4Night includes more than just Aires and free campsites. They also list campgrounds and agritourism campsites. The app is free to download and easy to use.
France Passion
Despite what the name might bring to mind, this isn't a French dating app. French Passion is the equivalent of Harvest Hosts—a membership program where you can camp for free at farms and wineries across the country.
Before heading to France, we signed up for a membership online. Their online search function is a bit clunky and hard to use, but they mailed us a book with our membership card so we can use it to find free places to camp across the country. France Passion boasts over 10,000 parking spots and a membership is €30. (So not completely free, but definitely worth getting for all the free camping options it offers!)
Driving in a Foreign Country
Before RVing abroad anywhere in Europe, take a moment and google "driving tips in _________".
Signage and road laws will vary by country, so it's best to take tips specifically for the country where you plan to RV. For example, Italy has ZTLs. Zona traffico limitato means motorhomes cannot drive in that area. This is a term and sign you will only see in Italy and something we wouldn't have known if we hadn't read a free ebook we found online sharing driving tips.
That's also a good way to learn if the country you're visiting (or countries) require any vehicle permits. Switzerland, for example, requires a driving permit on all vehicles. During our last trip to Italy, we actually thought about crossing the border into Switzerland for a quick trip. But we couldn't figure out how to get the driving permit we needed! (Anywhere Campers provides one, so that was one less thing for us to think about when we visit the French Alps during this trip!)
What you save in not needing to purchase a driving permit, you will quickly spend on tolls. Toll roads aren't too common in the US (mostly in the cities or in the northeast), but many highways in Europe are toll roads. Most of these toll roads will accept credit cards and have a British flag icon you can push so that the screen prompts are in English. So while the tolls sound like they add a little extra driving trouble, they have been very easy to navigate.
One final thing to note as you may see it on rental agreements: You probably don't need an international driver's license. It depends on what countries you visit, but most countries don't require one.
I Love RVing in Europe—Can I stay forever?
Nope.
You can enjoy RVing in the Schengen (list of Schengen countries here) for 90 days within a 180-day period before you need to:
A) Get a tourist visa, or
B) Strategically leave for a non-Schengen country like the UK or Ireland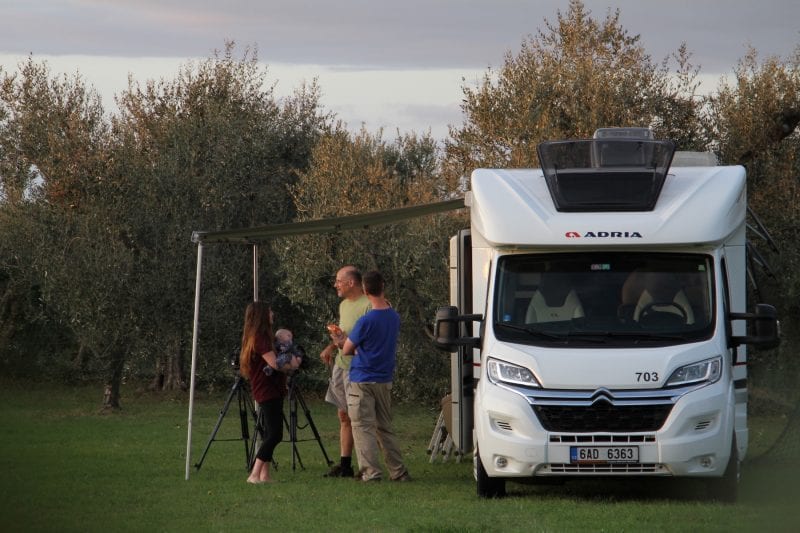 Final Tips
To any and every newbie to RV life that I talk to, I give the same advice:
Travel slowly.
Once you hit the road, you may have an itinerary, but you will find so many gems off the beaten path when you give yourself the time to properly explore. (We've found the best option is giving ourselves at least a month in each country if we can!)
Travel slowly and enjoy the journey!
Questions about RVing in Europe? Drop them in the comments!