This post may contain affiliate links. See our affiliate disclaimer here.
After Heath and I RVed to all 50 states, I set my sights on the rest of the world. Where else in the world could we travel by RV? Turns out there are quite a few places where RVing is WAY more popular than it is here in the states.
But I've had a hard time finding more information about where all in the world we can RV! I've seen a few lists of "all" the countries in the world where you can RV, but most of them list no more than 10 countries! I knew they were missing quite a few spots. So I sat down and did a LOT of researching over the past two weeks trying to make the most comprehensive list of where you can travel the world in an RV.
One note before I jump in, RVing encompasses travel by a number of different vehicles that go by different names in each continent. And the term RV is only used here in North America! Here are a few of the terms you should know:
In North America, RVing means traveling by motorhome, camper, or trailer.
In Australia and New Zealand, you hire a motorhome for your campervan holiday to go caravanning. (Say that five times fast.)
In Africa, the word motorhome and camper are interchangeable.
In Europe, you travel by motorhome (equivalent to America Class C's or B's) or by caravan (equivalent to a travel trailer). The term camper van is also used, but more rarely.
In Asia, you rent camping cars, which can range from a customized minivan to a small motorhome.
In South America, you'll rent a camper (or drive your own RV!)
In Antarctica, just kidding. There are no form RVs there based on my research. You can visit by cruise though.
Okay, onto all the countries where you can RV! (Presented in no particular order)
Iceland
Based on Instagram alone, Iceland is one of the more popular destinations for RV rentals. I am constantly seeing photos of their glaciers, lagoons, and waterfalls!
View this post on Instagram
Iceland has been near the top of my bucket list for a while and the fact that camping is huge there is a major plus! Many rentals are 4×4 vehicles too, so you can really get off the beaten path and explore. Although from my research, wild camping is only permitted for tents, not motorhomes.
And yes, in Iceland you can actually rent a camper year-round! Would you want to camp in Iceland in January when the sun rises after 11 AM and sets before 4 PM with a high of 3º? Probably not. But hey, at least that's 3 degrees Celsius! And if you visit in the winter, there's an excellent chance you'll see the Northern Lights, a major bucket list item for me! Or you can vist in July and August when the country's hiking is at its best.
Japan
A few years ago, someone who listens to our podcast sent us a Facebook message and told us that he and his wife are living and Japan and thinking about RV life. WHAT. There are some parts of the world where you expect camping to be popular, and Japan was definitely not one of them!
Japan seems to be the only country in Asia where RVing is an option. Of any country I've researched, Japan seems to have the smallest motorhomes—and motorhome is a stretch. It's all #vanlife!
View this post on Instagram
I really want to try out van life in Japan, but there are a few cons to being in a rig so small—like the fact that many vans don't come equipped with toilets. So you'll need to learn a few handy Japanese phrases like "Sumimasen, toire wa doko desuka?" So you can find the nearest bathroom.
Japan is a series of islands, but you can ferry your van to the four major islands: Honshu (where you'll find Tokyo and most of the other Japanese cites you've heard of), Kyushu (hot springs!!!), Shikoku (the best for surfing) and Hokkaido (the northernmost island where you can't RV in the winter).
Mexico
In light of recent press, most people probably aren't considering a road trip to Mexico right now. But over the past few years, there's been an insurgence of RVers crossing the border into Mexico—namely into Baja.
View this post on Instagram
The Baja Peninsula boasts a ton of coastline and awesome beaches. Baja offers boondocking spots and campgrounds (although good electricity is harder to find and many campers opt to rely on solar instead). But the biggest consideration will be water. Drinking the water in Mexico almost guarantees you'll get sick, so you'll need to find purified or bottled water for consumption.
The pro of RVing in Mexico is that it's right there for you to drive across the border, so no need to worry about renting an RV. Worried about safety? Here's a great blog post by Crazy Family Adventure.
Norway
When we talk to anyone about RVing abroad, Norway inevitably comes up as an RVers paradise! Most recently we watched our friends, the Holcombes, exploring all over Norway and the scenery looks incredible!
View this post on Instagram
From what I've learned, Norway offers a ton of boondocking options due to allemannsretten. Translating roughly to "freedom to roam" this Norwegian law stems from a Nordic tradition giving every man access to public lands.
South Africa, Namibia and Botswana
YES. I never would've thought of southern Africa as being a popular area for RVing, but it is. And not just according to my Google research—I had a couple reach out a few weeks ago to tell me that they've been RVing in South Africa for years! RVing might not be the right word though, as most motorhomes in Africa are more like American overlanding vehicles.
View this post on Instagram
While I think the idea of RVing in southern Africa sounds amazing, I don't think I would ever be able to convince Heath that we should sleep in lion country. We'll see!
France
Perhaps the most popular country in Western Europe for RVing is France. Between the coastline and the Alps, there's a good reason why this country keeps popping up on our radar for RVing. Our friends Nina and Paul of Wheeling It moved to France and have spent a good bit of time RVing all over the country. And the Holcombe's also recently shared some stunning photos of their time in the French Alps:
View this post on Instagram
Italy, Germany, Austria, Spain, Portugal, England, Ireland, The Netherlands, Basically all of Europe
I've singled out a few European countries like Norway, Iceland, and France because those are the top three countries I hear people talking about. But you can really RV all over Europe. Here's Greece for example:
View this post on Instagram
Here's what Anywhere Campers—who we are using to rent a motorhome in Italy—say about where you can travel in Europe:
"You can move freely between these countries: Albania, Andorra, Austria, Belgium, Bosnia and Herzegovina, Bulgaria, Croatia, Czech Republic, Denmark, Estonia, Finland, France, Germany, Great Britain, Greece, Hungary, Italy, Latvia, Liechtenstein, Lithuania, Luxembourg, Macedonia, Malta, Monaco, Montenegro, Netherlands, Norway, Poland, Portugal, Republic of Ireland, Romania, San Marino, Serbia, Slovakia, Slovenia, Spain, Sweden and Switzerland. Unfortunately we do not allow our campers to be driven to Russia, Ukraine, Belarus and Turkey as they are excluded from our insurance plan and also for the safety reason."
So nearly everywhere in Europe.
If you're wondering how many options you might have for camping in these countries, here's a snapshot of all the sites listed on Park4Night for Albania: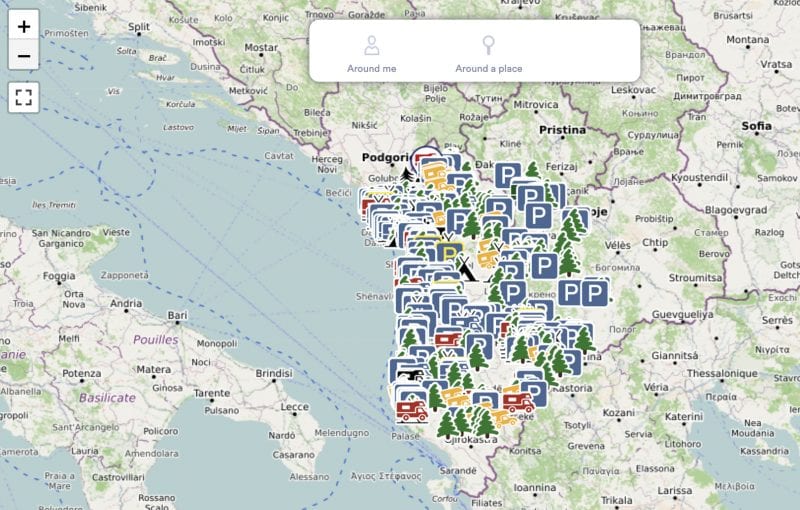 I never would've thought of Alabania as a popular camping destination, but you can see they definitely have options! This is the app we used in Italy and could easily find parking lots, boondocking, and campgrounds all over the country. Camping is even more popular in Europe than it is in the states, so there's no shortage of RV rentals and campsites across the continent.
Morocco
Yep, you read that right. You can totally rent a motorhome in Marrakesh and travel all across Morocco!
View this post on Instagram
Of all the places where you can go by motorhome, I was most shocked by Morocco. Who would've thought? I know you can camp in tents in the Sahara, but motorhomes I did not expect. According to the reviews, the motorhome rentals are popular with families with young kids… 🙂
Central America: Belize, Costa Rica, & Panama
If you cross the border into Mexico and want to keep heading south, you will find beachfront camping options throughout Central America. Belize, Costa Rica, and Panama have all been singled out as countries with the infrastructure to support campers (although if you're heading from country to country, you'll also drive through other central American countries). I found campervan rentals in Belize and Costa Rica, but I couldn't find any in Panama. So if you want to RV in Panama, it looks like you'll need to drive in from another country!
View this post on Instagram
As you can see in the video above, campervan is an apt term. Most of the rentals in this area are smaller vans or SUVs that have kitchenettes and rooftop tent beds.
The biggest concern I've seen with RVing across Central America is border crossings. Some bordering countries don't have the best relationship which can make crossing the borders a little hairy.
Chile
This is the best country in South America for a road trip! Chile is known for its abundance of national parks and has plenty of camping options—but it's hard to find RV camping options. Most campgrounds are for tents or cabins. But that doesn't mean you can't RV there, just that you won't have full hook ups.
View this post on Instagram
(This is a random photo I found on Instagram of someone who took a road trip in Chile for their honeymoon. It looks incredible!)
World Wide Campers offers rentals in Chile (it's the only country in South America where they offer rentals) which are all 4×4 vehicles that can handle the country's terrain. The term camper here means either an SUV with a rooftop tent or a truck camper.
Colombia, Ecuador, Uruguay, Peru, Argentina
While there are tour companies that will take you on guided trips across South America, it is extremely hard to find information on campgrounds and RVing in South America. (Much of the information I found was many years out of date.)
What I do know is that the tour company I researched recommends a 4×4 vehicle under 35 ft long that is fully self-contained with a note that says "expect no hook-up facilities" on the continent. You should also travel with brand new tires and a potable water purifier.
View this post on Instagram
A few tips other travelers shared for RVing in South America that might be helpful in these countries are:
Do not drive at night. (This is explicitly stated in many places. Partially due to the road conditions, partly for safety.)
Carry an extra gas can and fill up every time you see a gas station. Stations are few and far between and you don't want to get stranded.
Exercise caution at border crossings. Have all necessary paperwork (vehicle registration, proof of insurance, rental agreement if applicable, etc.), an international driver's permit and your passports ready.
New Zealand
New Zealand has a reputation for being the most campervan-friendly country for good reason. The grocery stores even have campervan parking!
There are plenty of boondocking options across the country—known as freedom camping—and many national parks. New Zealand is one of the most beautiful countries in the world, with stunning beaches, staggering mountain peaks and a TON of hiking.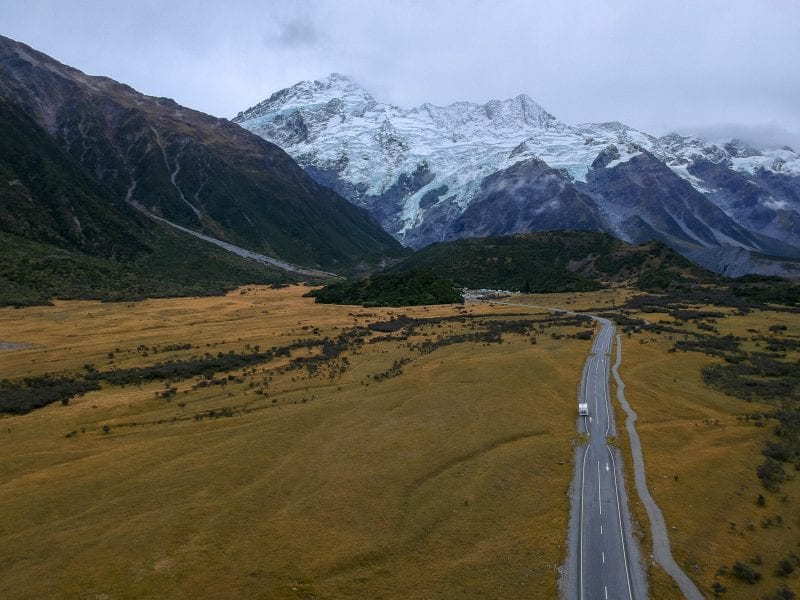 We've shared a ton of information on what it's like campervanning in New Zealand on our Youtube channel. You can check out all 30 episodes here.
Australia
If you're a fan of beaches or deserts, Australia is a great RVing destination! The country is camper friendly with many caravan parks or holiday parks (AKA their two names for RV parks). You'll need to remember though that Australia is the sixth-largest country in the world and that it's largely inhabited along the coast. Venture inland and services are few and far between.
But if you stay on the coast…
View this post on Instagram
Look how cute! This photo screams Australia.
One major difference in RVing down under? Campgrounds in Australia (and New Zealand) likely won't offer full hook ups as most rigs won't have a toilet or will have a cassette toilet. Plus some rigs will not have a city water hook up but will only have the option for you to fill your water tank and then use the water pump. (This actually the case with most RVs abroad in our experience.)
Canada
Our neighbors to the north, we've RVed only in western Canada so far and it's one of our favorite places. The Canadian Rockies are gorgeous in the summer, fall, and covered in snow. I can't recommend it enough!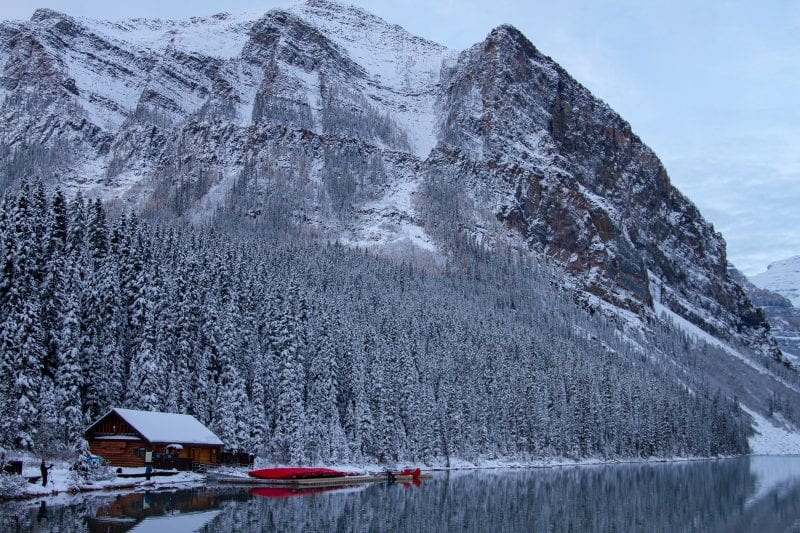 Lake Louise blanketed in snow ❄
We've always driven our own RV across the border into Canada, but there are plenty of RV rental companies across the country too. While parts of Canada are a little more remote than in America, many of the RVing customs and culture are the same.
USA
And last but not least, our country. When we started RVing 2014, there were way fewer resources available to RVers. Now there are apps and blogs and books all about how to RV here in the states. (Heck I even have a book about it!)
Traveling by RV in the US, you'll find that some states are more RV-friendly than others. States like Arizona and Florida will have an abundance of RV parks and states like California have a reputation for being very RV unfriendly (though its still our favorite state in terms of beauty!).
---
There you have it! Those are all the countries where RVing is a thing. I did not list countries where you can drive your RV across the border (like Nicaragua), but only countries where I could find information on camping, RV parks, or RV rentals.
All together that comes to roughly 58 countries. That's a quarter of the world! So far we've only RVed in four…time to plan our next adventure!
If you've personally traveled by RV in another country (or know of a valuable resource by someone who has), feel free to drop links below so I can update this article with more information on international RV life.
More Resources for International RVing
Planning an RV Trip in New Zealand