This post may contain affiliate links. See our affiliate disclaimer here.
"Y'all just do so much stuff. I don't even know how you do it."
Our friend Nate said this to us last week and it's something we've heard a lot lately.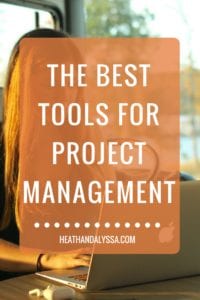 If you listen to the podcast or read our newsletters, you know that Heath and I juggle a lot of projects. This blog, the RV Entrepreneur Podcast, clients like Winnebago and Outdoorsy, Campground Booking, and last week, we just launched my book! Plus we have our RV Entrepreneur Summit coming up in February. I also unsuccessfully threw Youtube into the mix this year, which I plan on hustling on in December as we pivot our strategy!
I guess that is a lot, considering I had to ask Heath if I forgot anything. 😳
Going into the busyness of the holidays means that managing multiple projects is going to be more important than ever, so today I want to share my strategy for running our business and the tools we use that make it a million times easier.
My Approach to Project Management
During my first year of running our business, I felt overwhelmed…A LOT. I was constantly being pulled in a hundred directions and I didn't know how to manage it. I had so much to do that nothing was getting done!
That's when I decided to start devoting time daily to organizing my business instead of actually working on the business. I delayed writing copy, sending emails, editing video, for the sake of writing down all those things I needed to do.
Instantly, I became more productive. I didn't have to guess about what to do or where to spend my time anymore. I scheduled my days all on Sunday so I knew Monday was an editing day, Tuesday I wrote a newsletter, Wednesday I met with clients and worked on marketing plans. And so on and so forth.
Instead of starting the day with stress every morning knowing I had 100 tasks to do, they were all written down in my Day Designer. (I've been using Day Designer planners for two years now and they are by far the best planner I've ever used! And the only paid tool on this list that I would recommend.)
Of course, this doesn't mean that things don't come up and days may get derailed, but it does mean that I save myself a lot of stress by knowing exactly what needs to be accomplished each day.
If you're managing multiple projects, you should be spending a couple hours each week or 20 minutes each morning to batch and layout your workday to make sure you're working optimally. And if you haven't, you should also audit your productivity so you know what types of projects you should work on during certain parts of the day.
For me, this means scheduling the time to write blogs in the mornings in the first half of the week and working on video projects and editing in the afternoons. It also means allotting time two or three days a week to reply to emails en masse rather than starting my day down that rabbit hole.
In my experience, even if your actual to-do list is overwhelming, when you're organized you at least know where to start! Now let's talk about the best tools we use to keep ourselves on track.
Our Favorite Tools for Project Management
And yes, all of these are free! Although they all have upgrades or paid options, the free versions are great for solopreneurs and small teams!
I seriously love Trello. It is constantly open as a tab on my computer. I formerly used Asana and I still love my paper and pen Day Designer, but Trello is great for looking at the status of multiple projects all at once. Here's a look at my Trello board for this week: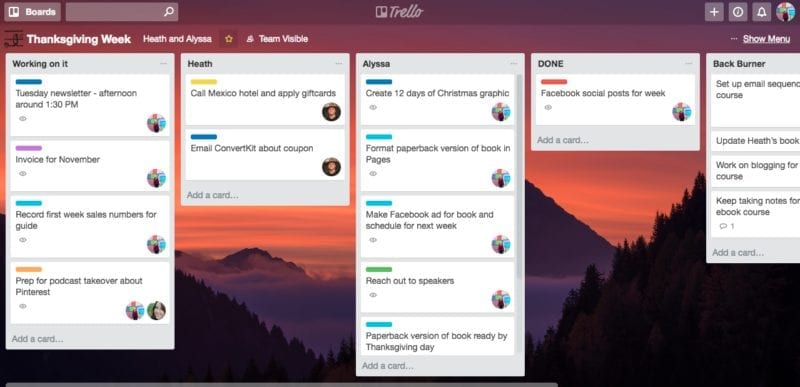 I create a new board for each week. Then, we divide our projects up in 3-5 columns: Working on it (meaning things that will done by the end of the day), Heath (all of the things I need Heath to do), Alyssa (all my action items), Back Burner (things we can't forget or want to do, but aren't urgent), and DONE! I love seeing how the DONE! list starts getting really long at the end of the week. That's how you know you're slaying your goals, I say.
In addition to the columns, you can assign tasks to team members and color code projects. For us, blue is the blog, orange is the podcast, green is the Summit, etc. Plus you or team members can add comments on individual to-do items. I mostly do this to take quick notes when I think of something I need to do remember, but I'm busy in the middle of another project.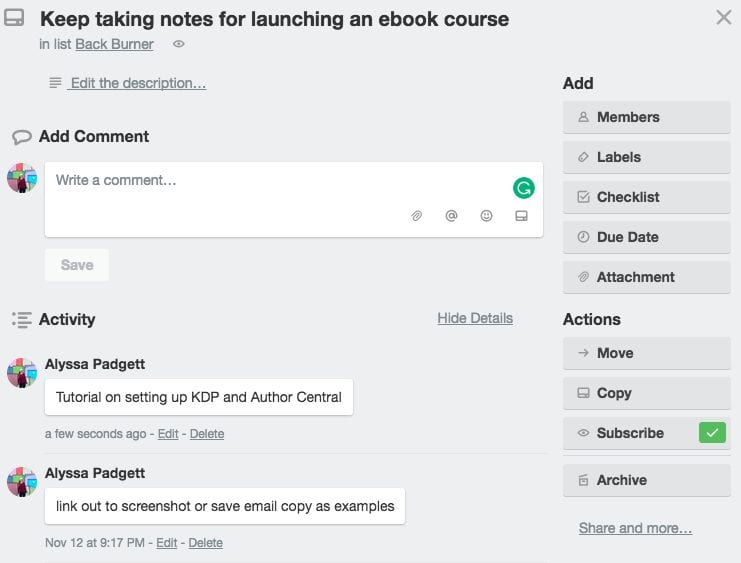 By far, Trello is my favorite online tool for project management. We don't use the paid version, and it's still wonderful! Definitely give it a try.
Classic.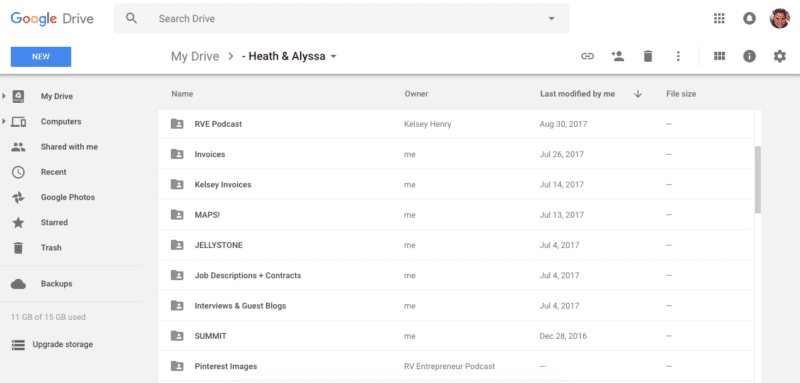 We use Google Drive for EVERYTHING. Storing invoices, writing contracts, sharing photos, managing spreadsheets. It's all there and organized—unless Heath gets in there in which case there are just docs EVERYWHERE.
We love Google Drive because of how easy it is to share docs with others and how easy it is to edit shared docs. Since Heath and I work together on most projects, this makes it really simple for us to both work on something at the same time without standing over the same computer screen.
Even better, Google Drive is free if you have a Gmail, which you should have, since they are the best email interface out there. Oh and while it goes without saying, you really should have a professional business email set up through the G Suite as well.
If you're a blogger or spend any amount of time writing, you NEED to install a Grammarly plugin. This is especially helpful if you're one of those people who tends to edit your writing as you write, which not only slows you down but also uses a totally different part of your brain and makes finishing your writing a bazillion times more difficult! Can you tell I'm speaking from experience?
Grammarly checks for misspelled words and common grammatical mistakes so you can keep writing and come back to fix the errors later. It highlights your mistakes in red and gives you a suggested fix. This has saved me SO MANY TIMES from dumb typos. It's a chrome extension (so you can install it directly to your Chrome browser) and works across most typing platforms. (So far, it doesn't work in ConvertKit for some reason. I think because CK has their own spell check built-in.)
So I've just finished typing my first draft summary of how awesome Grammarly is and here's how it looks:

Four errors fixed and I didn't have to backspace once. I'm not sure how much time this actually saves me, but I love leaving the editing up to a software instead of my brain! Let's save our brain power for the fun stuff.
Slack is great if you're working on a team, especially if it's three or more people. We use Slack for client work and for communication with Kelsey, our podcast producer and Pinterest consultant.
The idea behind Slack is to eliminate ridiculous email chains and it completely delivers on that. Now we can have ridiculous conversations where replying is easy: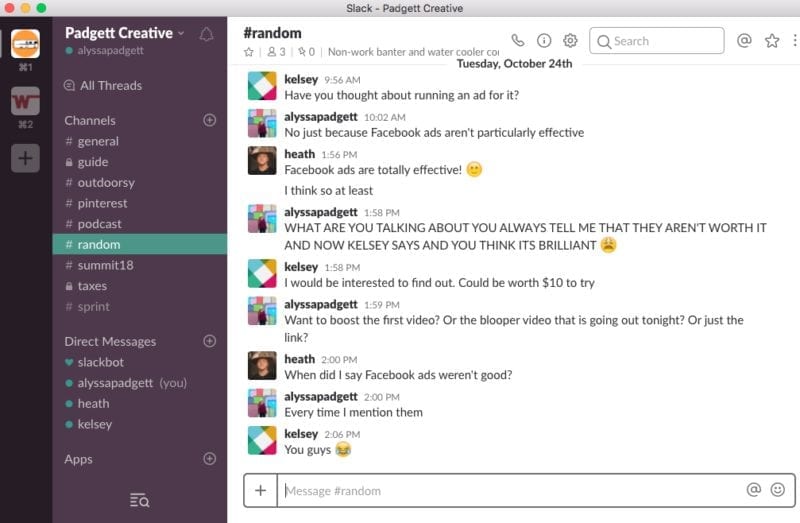 We use different channels for different topics. Above you'll see a thread from our Random Channel, but we spend most of our time in the Outdoorsy, Podcast, and Pinterest channels talking business.
I have a love/hate relationship with Slack. Since it's an instant messenger, when other people are having a conversation in a shared thread, I get so many notifications! However, all the conversations are stored in an easy to read way, which is a thousand times better than an email chain!
You can also share Google Drive docs directly through Slack, which makes life even easier. We really live in the golden age of technology, folks.
Newsfeed Eradicator
This has nothing to with project management, and everything to do with keeping you on task and focused! I check Facebook an embarrassing number of times a day, mostly because I'm interacting in our Facebook group or scheduling social posts for our Facebook page. And Facebook can be so distracting! The Newsfeed Eradicator Chrome extension makes my Facebook page look like this: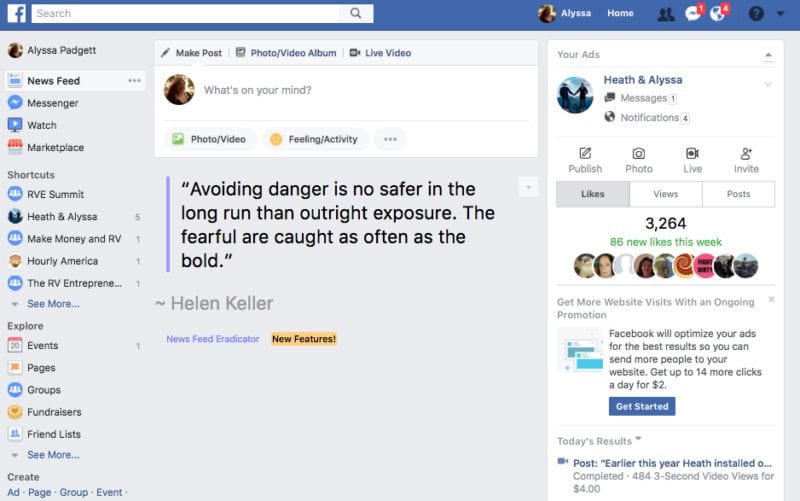 Instead of a newsfeed with a million pictures and political rants to distract me, I have an inspirational quote with almost no distractions! I've been using this tool for two weeks and I LOVE it.
I've also tried ToDo Books, a plugin that will hide your newsfeed AND your notifications until you complete your to-do list, but I couldn't take it! I needed to know if I was missing messages and comments. If you have stronger willpower (or don't use Facebook for business) then I would definitely recommend this one!
Later
If you market your business on social media (which you should, or at least reflect your business in your personal accounts), then scheduling social posts is invaluable. Otherwise, you spend all day on Instagram and Facebook and have no clue where the day went.
We use Later to schedule Instagram posts (Facebook has a built-in scheduling tool, but Instagram does not yet).
Scheduling social media is my least favorite weekly task. It's so hard to post eight days of authentic content all on a Sunday afternoon! Especially if the Cowboys are playing.
I batch edit photos using Snapseed (free photo editing app) on my phone, pull relevant hashtags using Hashtagger (another free app that will tell you what hashtags to use), and then begins the more difficult work of writing captions. I'm admittedly terrible at captions, in fact since I took over our Instagram in August, most of our captions are no longer than two sentences. I wait to do this part of social media scheduling until I'm in an especially happy, talkative mood so my captions can fit with the optimistic tone of Instagram and sound more authentic to the moment.
Then I schedule a time using Later and Later will send me a push notification when it's time to post my photo on Instagram. (As far as my research goes, there is no app that will auto-publish to Instagram. You can schedule a post, but you have to manually hit publish at the scheduled time.)
Choosing your posting times
Before you start doing anything to manage your Instagram, make sure your account is set up as a business. You can do this easily in settings by connecting your Instagram account to your Facebook page.
Once your account is set up, check your insights regularly. We aim to post 5-7 times a week and know our best time to post is usually around 8 PM.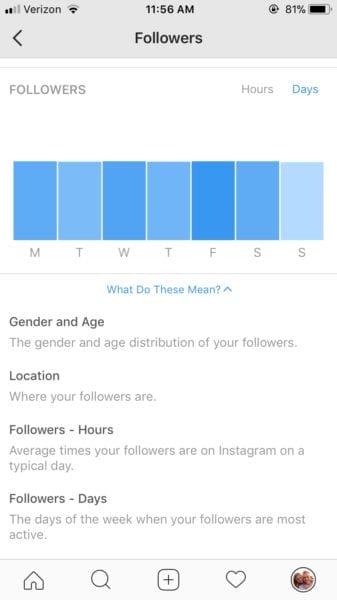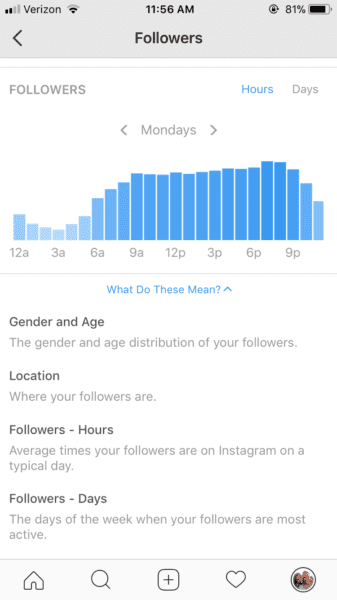 If you schedule posts for any social media platform, you should know your best times to post—including time zone—and who makes up your audience. Once you know this, write your captions, schedule, and never worry about your "lack of a social presence" again!
---
These are all the tools we use for managing our time and projects! Honorable mention to Asana for to do lists, Hours app for time tracking, and Basecamp for file sharing. You are all okay, but not my favorite.
In the comments: What are favorite tools for managing your business?