This post may contain affiliate links. See our affiliate disclaimer here.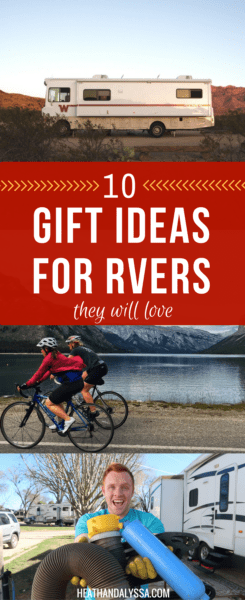 Christmas is right around the corner!
And while I can't fit a Christmas tree in my RV, that isn't stopping me from getting into the Christmas spirit with a little holiday shopping.
If you're anything like my parents, you're probably googling "gifts for RVers" this season, because buying gifts that will fit in an RV is no simple feat.
You have to find something that is useful, small, and can easily fit in a little home on wheels.
Not all RVers are minimalists, but we certainly don't have the space for Christmas trees and all the gifts that come with them.
So here's our list of 10 awesome gifts for RVers that they will love—all of which are things that we've asked for this year, or received in the past couple years on the road. They are a mixture of useful, fun, small, and totally awesome!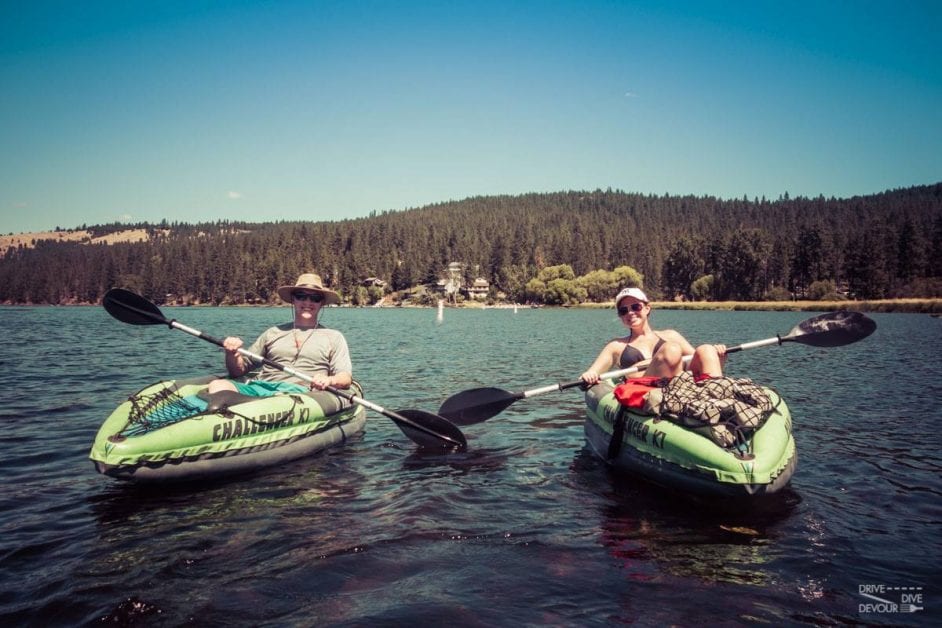 For your adventurous side! 
Heath bought us kayaks two years ago when we were living on Lake Travis in Austin. He wanted a gym membership, but we are never in one place long enough to use one! So, we decided it would be a better investment financially and physically to buy kayaks since the best RV parks are waterfront, after all.
We chose inflatable kayaks for three reasons:
They were cheaper than hard-bodied kayaks.
They had better reviews than the hard-bodied kayaks we looked at.
They could easily be stored in our RV.
We also chose inflatables because Heath thought they would be light enough for me to carry my own, but I don't. Ever. They are heavier than they look!
We absolutely love our kayaks and use them all the time. Here's a link to buy on Amazon, but you can also find them at Academy. I highly recommend this brand. We've used it over two years on lakes and rivers and we've never had an issue! My only regret? Not buying a two-seater so Heath can paddle me around.
2. Bikes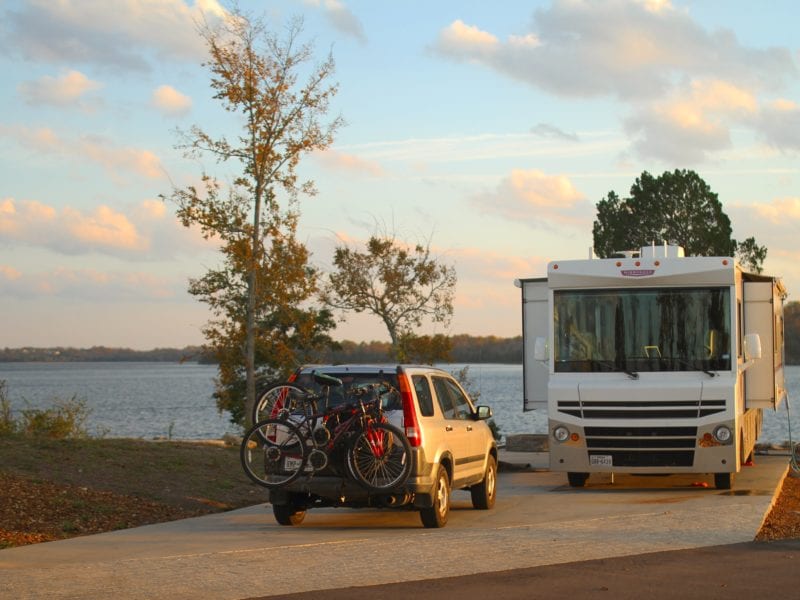 For our wedding anniversary last year, I gave Heath a bicycle. He's been begging for a bicycle since we bought our first RV, but I never got around to buying one because of the price tag. He was convinced he needed a $300 bike!
Instead, we bought our mountain bikes at Academy for $80 each. We, of course, had to instantly buy cushions for the seats because they are woefully uncomfortable, but these mountain bikes have been great for cruising around national parks and RV parks. Heath and I aren't especially active and since we don't have any gym memberships, the bikes and kayaks are the two big things that keep us in shape.
We don't grill often, but we love having a grill! Grills are great when entertaining guests or when you're boondocking in a national park and want to enjoy the outdoors. We like our Cobb because we can pick it up and move it easily, since it doesn't give off heat. This was great in Banff when it suddenly started pouring down rain and we could scoot under the awning without burning ourselves.
There are a million different hammock options out there, but for the low maintenance outdoorsy folks like me, this hammock is best. We love having a stand-alone hammock where we never have to worry about finding two trees and properly securing the hammock. It's too much work and some RV parks won't have enough trees or allow you to post your hammock. This guy comes with a foldable stand and is super durable. We've used ours for two years and it takes up no more room in our storage bays than a regular lawn chair.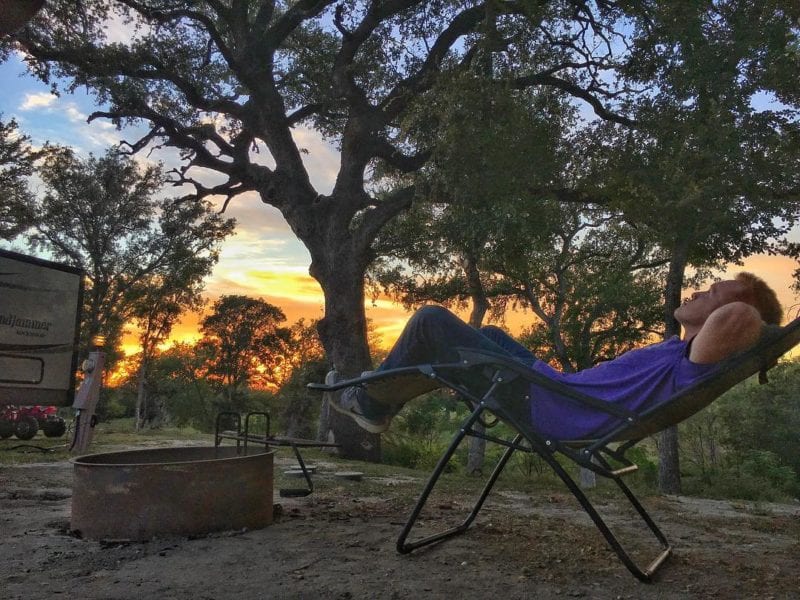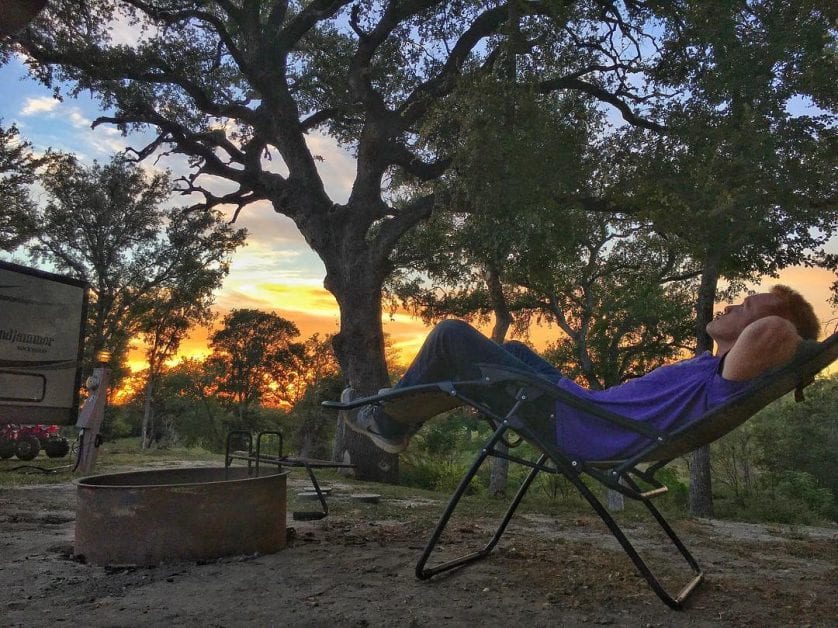 This gift by far has the most epic name. It's also easily the most comfortable lawn chair we travel with (excluding the hammock, of course). We use our chair at every RV park we go to. Speaking from experience, it's perfect for working outside on your laptop but even better for taking a nap.
After my iMac, my Kindle is my most valuable possession. Mine temporarily crashed earlier this year and when I thought it was dead forever, I cried. I have a serious emotional attachment to my books (and I was in the middle of the last book of the Harry Potter series, so crying justified).
I use the Kindle Paperwhite and love it. Heath has but rarely uses his Kindle Fire, because it's more like an iPad and it's much harder to read on that screen for long periods of time. So if you're an avid reader, the Paperwhite is the way to go.
Plus, if you have Prime, you can download one free book a month through Kindle First and borrow one book a month from Kindle Owner's Lending Library. I recently purchased Kindle Unlimited for access to more free titles and love it! You can read my new book, A Beginner's Guide to Living in an RV, any time for free on Kindle Unlimited.
Buying a gift for a new RVer? I've created an Amazon shopping list of all the items you need right after buying a new RV. Extension cords, hoses, leveling blocks—buying these on your own adds up FAST, so if you're looking for a practical gift, these items are the way to go. Electrical extension cords and adapters have especially been useful this year, as we've spent a lot of time moochdocking in driveways with friends.
Read my top 13 RVing Essentials for New RVers.
When you travel full-time, you see beautiful places worth capturing almost every day. Our favorite gift ever has been our Canon G7X camera. It's a small point-and-shoot that we can take with us anywhere and it takes incredible photos!
We've hiked with our larger Canon DSLR a few times, but carrying a bulky camera on hikes isn't fun. The G7X can fit in your pocket and take just as great photos.
Or for even cheaper than a great point-and-shoot camera, you can get the DJI Spark drone and grab beautiful aerial footage wherever you are.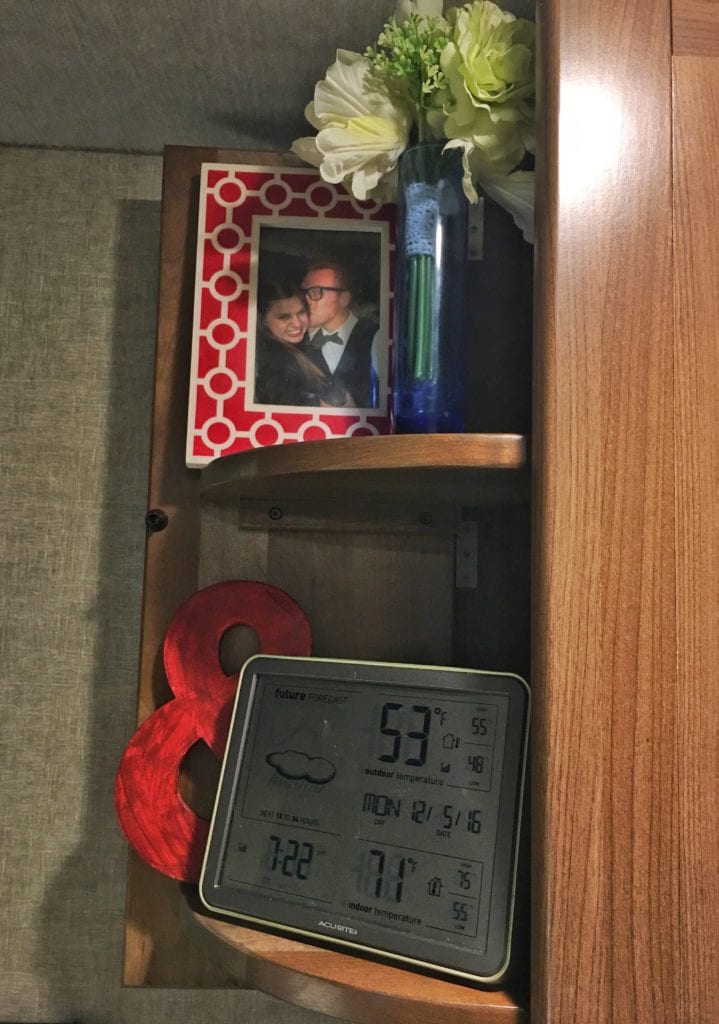 This is easily our most-used Christmas gift. This atomic clock includes a built-in thermometer plus an outdoor thermometer. Somehow it magically predicts the weather, too. (Side note: these fold-out shelves are my favorite part of our Brave. They make our kitchen so homey!)
10. Show me the money.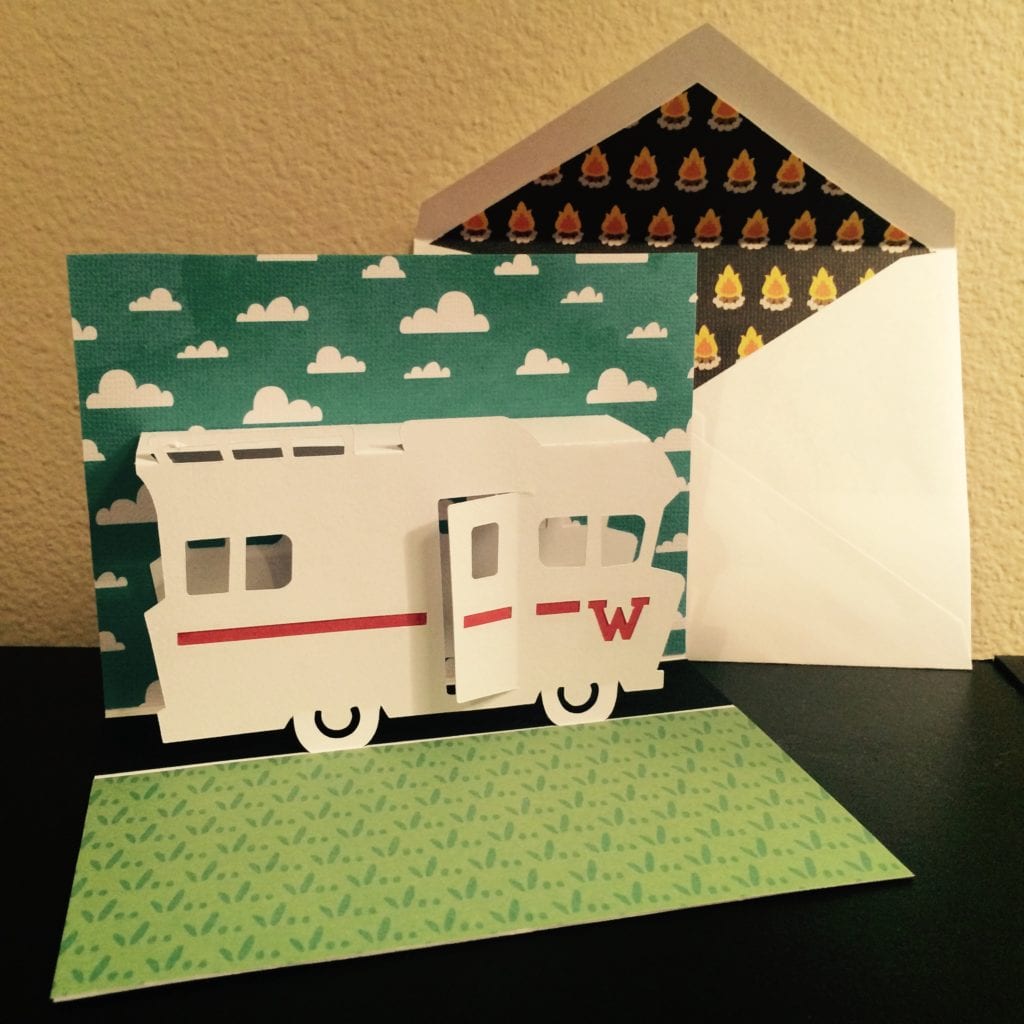 Gift cards are the BEST gifts! Last year, we received gift cards to Starbucks, Barnes & Noble, Total Wine, and Chili's. Buying gift cards, especially to restaurants, gas stations, movie theaters, or experiences, are great for travelers. They aren't sexy gifts, but they are the most appreciated and they make great stocking stuffers.
---
Those are our favorite gifts we've been given in our past few years of full-time RVing! What would you add to the list?
Happy Christmas shopping! 🎄🎄🎄