This post may contain affiliate links. See our affiliate disclaimer here.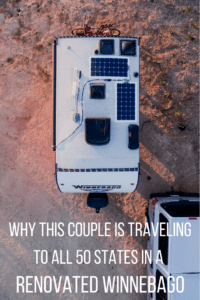 Last February, we hosted 100+ full-time RVers and dreamers for our first annual RV Entrepreneur Summit. That's where we met Shea & Erin Laughlin. We loved their story, so we asked if we could interview them for our blog. Spoiler alert: they said yes!
Shea & Erin followed the American dream for a while: "get married, buy a house, get some debt, get a masters degree, more debt, buy different vehicles, more debt."
Now, the couple is on state 32 of their 50 state road trip adventure. And after full-timing for the past 15 months, they have no plans to stop RVing after touring every state. Because once you start, can you ever really stop?
A few things you'll learn in this interview:
Why Shea & Erin are traveling to all fifty states
How they chose a Winnebago travel trailer
Their solution to the biggest problem anyone faces on the road
How they find free camping across the country
Is a solar set-up worth it?
Why they won't monetize their blog
Let's dive in!
Where are you right now?
We are currently in California, circling the Bay Area, and slowly heading north.  
What inspired you to travel to all fifty states?
Shea had been trying to convince me to take this journey since not long after we started dating about ten years back. We ultimately decided to hit the road after a year into our relocation to Denver. We were both doing well in our careers, but found ourselves working long hours and traveling separately for a good portion of the time when we were supposed to be exploring our new city and state.
While out on a hike, we decided to take the leap and started putting the plan in motion. We loved the idea of not having to choose between several amazing destinations for vacation and the flexibility to take our time exploring areas. It has always been important to us to get out and see the world and we have been fortunate enough to travel throughout our time together, this is simply a different means of doing so.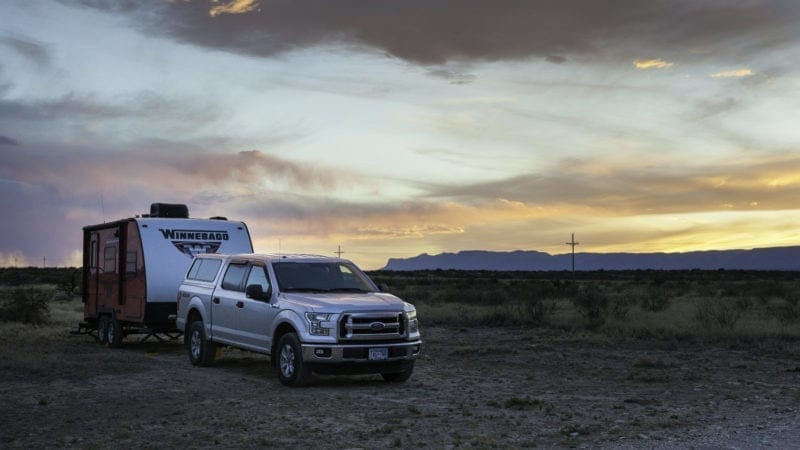 Tell us about your Winnebago and why you chose it.
We have a bright red 19 foot, 2016 Minnie Winnie travel trailer. To be completely honest, we were not initially looking at Winnebago because we thought they were too expensive, but after doing the math, quality of construction, considering all the modifications we knew we would want right away, we found that it was more affordable because Winnebago already had those amenities in place.
The best part about our purchase process were the folks we worked with at Trailer Source in Colorado. They made everything fun, easy and informative so we could feel comfortable with such a large purchase.
What do y'all do for work on the road?
Shea works as a Solution Consultant in the IT Service Management space based out of the Bay Area. He is 100% remote and has a fairly flexible schedule. Currently, he is part-time which allows us to explore throughout the day as well as evenings.
What's the biggest challenge you've encountered trying to work while traveling?
Like most RVers, we are always concerned about stable and fast internet. Thankfully, we were able to get into a groove early on to ensure that we are in areas with decent service for scheduled meetings and projects that need to be completed.  It also helps that we are on three major carriers for internet and use apps like Coverage? from Chris and Cherie from Technomadia to verify coverage details.
I won't ask how you structure your days, because I know as an RVer everything can change in an instant! But what does your ideal week look like?
In terms of structuring our day, we actually have a system that works fairly well for us. Much like getting ready for the week ahead in our past life, we look at all the scheduled meetings over the weekend and map out the week.
We have a whiteboard on our refrigerator where we list meeting times so we can plan activities around meetings already on the calendar. From there, if meeting requests come up, we fit those in based on what we have planned already for the day. Again, working part-time allows us that level of flexibility.
Thankfully, Shea's team is fantastic so it typically isn't an issue. Ideally, time-zones wouldn't be an issue and we could frontload either the day or week with work and take the rest of the time to explore, but the flexibility also lends to changing circumstances where we are, so we still feel productive. For example, if we are near a city with a lot to see by walking around and it is raining, we can shift our schedule to make it a work day and build in more time later in the week when it is nice out again.
Before we hit the road, I was your typical Type-A person with everything planned out and Shea was the easy-going counterpart. Now we have both adjusted to this lifestyle and are go with the flow type people! We only plan about a week ahead (if that sometimes) and found that it works for us.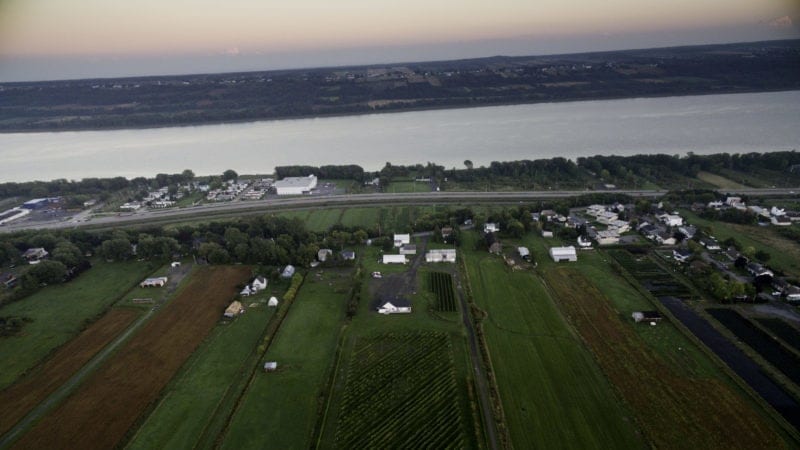 I know from Instagram y'all boondock a ton. What has been your favorite campsite? (And how do you find these spots?!)
It actually took us (Erin, really) a few months to get comfortable with boondocking. The first three months of our journey were spent in RV parks so we could learn all the ins and outs of our rig with the peace of mind knowing there were other folks nearby to help if needed. Thankfully, things went smoothly so it was easy to transition into boondocking.
For the most part, we use a combination of Harvest Hosts, Campendium and National Parks/Forest land. However, most of our boondocking spots are more on the moochdocking side, where we stay with family and friends.
We are so lucky to have loved ones throughout the country who welcome us to spend time with them at their homes with a free spot to sleep! There have been some AMAZING boondocking spots, but I'd have to say our favorite was at a small vineyard outside of Quebec City (pictured above). We could see the St. Lawrence river and gorgeous skyline views of the city topped off with unbelievable sunsets… oh, and wine!
Y'all are traveling in a new and renovated Winnebago. What updates and modifications do you recommend? Have any not been worth it?
Like anything, the modifications we made were solutions to something that was made for the masses but weren't fitting our needs.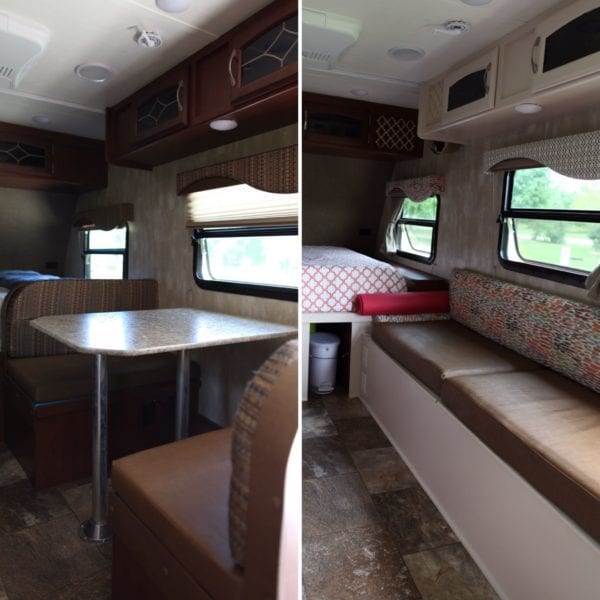 For us, the dinette was taking up far too much space and limiting efficient use of the entire trailer so we modified it to a bench seat with storage.  We then discovered, after a few months, the bench wasn't the best solution either. We then made a smaller dinette and all is good!  Erin's brother, Sam, even made our new custom table top. During construction, we also painted the new dinette and upper cabinet to lighten and give some contrast to the space.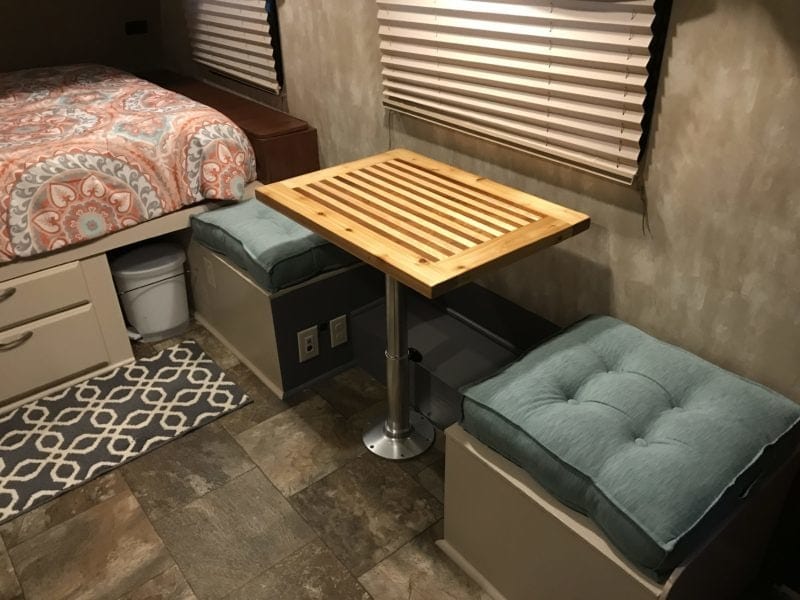 The one thing we would recommend is that you make the space your own; meaning, while it is easy to stick with the manufacturer's style you will never really feel like it is your home until you change it up to suit your taste.
When we purchased our rig, we knew that we wanted to add a cell booster and solar eventually and we are so happy with the decision to install them. The cell booster comes in really handy for work meetings to increase the signal for product demonstrations and more often to boost the Netflix signal!
After traveling for a year using a suitcase solar kit, we recently installed flexible solar panels for ease of continuous boondocking. We have only needed to use our generator on a few rare occasions and hope to not need to do so going forward. While the start-up cost for both was on the higher side, the return on our investment has already been seen.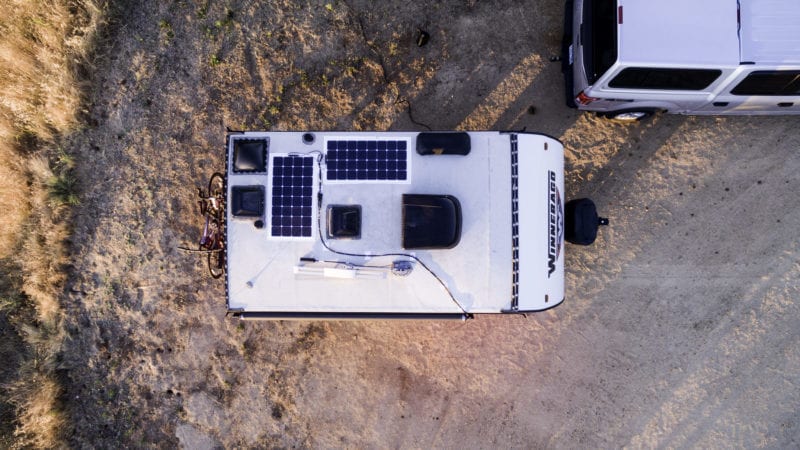 What is the biggest thing #RVlife has taught you? 
While we have learned a lot on the road, I think the thing that has been the most impactful has been the daily reminder to be thankful.
Before we hit the road, it was easy to take even the simplest things for granted. We are so grateful to be able to live our lives the way we want to with the support from our loved ones and the RV community (even though most of us have never met – how crazy is that!?!).
Every day when we head out, either for a move day or sightseeing, we have amazing technology to guide us and RV pioneers who have helped pave the way for us to be doing this with relative ease. We are constantly reading articles, watching videos and learning what we should and shouldn't do.  
Before we hit the road, we read an article about how lonely it can feel and we have fortunately found the opposite. We are thankful to be able to travel to see friends and family along the way as well as spend time with new friends from the road. Since we had moved away from home two years before we started our journey, we have grown accustomed to making sure we made time for quality time for the people in our lives.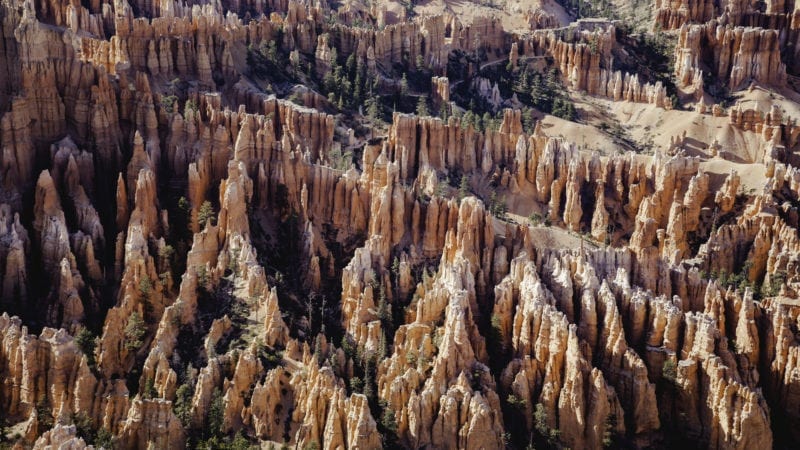 Okay I have to ask because everyone always asks us, what's your favorite state so far?
Utah! This is where we have spent the most amount of time on our trek so far, nearly two months. Utah offers so much to see (National Parks, State Parks, BLM, and just fun places), explore and be wowed by that we can't wait to go back and keep exploring. Since we are only on our 32nd state, our answer may change, but for now, we can't help but love everything that Utah has to offer.
There are, however, several runner-up's that we can't wait to get back to once we have hit all fifty states. The plan is to revisit places we have loved and stay for longer periods of time to immerse ourselves in different communities.
Where can people follow your adventure?
We are documenting our journey under Living Mile by Mile (same for all outlets) and Shea features some of his photos on his personal Instagram @shealaughlin. Our blog and photos are mostly meant so serve as an informal way to keep family, friends and those we meet on the road up to date.
We are casual in our approach and timeline for our blog so it feels like a highlight to our journey rather than a chore. Because we have chosen not to monetize our blog, we are able to maintain separation between our journey and work lives and find it helps give us balance.
Show Shea & Erin some love on:
Instagram – https://www.instagram.com/livingmilebymile/
Facebook – https://www.facebook.com/livingmilebymile/
Website – https://www.livingmilebymile.com/