This post may contain affiliate links. See our affiliate disclaimer here.
After four years of filming and running our production company, Heath and I have only really started actively creating Youtube videos this year. We made a few videos in 2017, but this year we decided to go all in filming our adventures in New Zealand and we're about to launch a new series on RVing in Canada.
And as we've shared more videos, we've had more people ask us what gear we use to create our videos. Here's our complete gear list for everything we take on any film shoot—vlogging or professional. We keep it as light as possible so everything we need fits neatly into a single camera bag.
View the full list directly on Amazon.
Our Cameras
Canon G7X
This tiny point and shoot camera is perfect for newbie vloggers. It has a flip screen for selfie-mode, auto-focus, stabilization, can film full HD slow motion, and lots of other valuable features. But most importantly, it's lightweight and doesn't garner too much attention. You can slip it into your pocket and easily avoid the prying eyes of everyone around you. This is the most awkward part of vlogging—the stares!
But it isn't the best quality footage. For your cinematic shots, you'll want a more powerful DSLR.
Canon 7D
We picked up our 7D four years ago for $1000 while filming our documentary. We knew nothing about cameras, but this turned out to be the perfect learner camera. It gets great shots and we love it. But when it comes to DSLRs, what you really want to invest in is lenses. We carry two!
Rokinon 35mm Fixed-Non-Zoom Lens
I love a few things about this lens:
It's a prime lens, meaning it has only one focal length: 35mm. This gives you a much crisper shot.
It offers clickless aperture directly on the lens.
I was spoiled with this being our first lens. With a f/1.5-22 aperture range, this lens is amazing in low light and the de-clicked aperture means I can adjust the aperture while I'm filming without it being noticeable. If you watched our documentary, most of it was filmed with this lens on our 7D.
Canon EF 24-105mm f/3.5-5.6 Lens
Lens are crazy expensive, so after saving up, we grabbed this 24-105mm lens so we could get great close up shots. Our G7X does good wide shots, but we needed a lens that would overall get better range.
We used this lens in most of our New Zealand series and I really love it the range on it. The aperture isn't as low as our Rokinon lens, but it still can give a good cinematic effect.
DJI Spark Drone
Heath crashed our first drone.
They say that's a rite of passage among videographers. I don't know a single filmmaker who hasn't crashed a drone. Sometimes they survive, sometimes they don't. But you learn your lesson the first time!
We love the Spark because it is TINY. It can fit anywhere and is about the size of Heath's hand. It gets great shots and is perfect for travelers. We formerly had the Phantom 3 (also by DJI) but it was huge…and died in the Florida Keys.
For just starting out, this drone is great for its size and price point. I've got my eye on upgrading to the Mavic, but just for vlogging, this one is perfect!
Audio
Rode VideoMicro Compact On-Camera Microphone
There's a rule in video: never use the camera's mic.
Camera mics are notoriously terrible and give off terrible static. If you listen carefully on some of our shots, you can actually hear the motor of the camera running. (I doubt anyone has ever actually noticed this, so naturally, I spend hours worrying that someone will notice it.)
Our G7X doesn't have a mic input, so we use the Rode mic on our 7D. This tiny shotgun mic with its wind filter picks up good audio with little background noise. If you're shooting a scene and want better audio, this is mic you want.
Tripods & Monopods
JOBY Gorillapod
Everyone makes jokes about selfie sticks, but for vloggers, they are essential! Which is probably why JOBY created the Gorillapod. It's equal parts selfie stick, tripod, and crazy convenient mount. The bendy legs are the perfect length to film yourself with your camera without looking too ridiculous. Okay people may look at you like you're weird still, but that's the price to pay for vlogging in public!
With lightweight legs that can bend any which way, you can mount the camera to almost anything and the adjustable legs also make it easier to get a level shot when you're using the tripod on uneven ground.
We keep our G7X on this 24/7 and have used it for about two years now. We've busted the legs apart multiple times, but they are plastic and just pop back together. This is really ideal because we have a tendency to break things in the RV, but this is nearly unbreakable.
Amazon Basics 67-Inch Monopod
If you want a monopod, but you're cheap, have I got the monopod for you.
The Amazon Basics monopod is just okay. We use it because the monopod we actually want is $300 but this one is only $15. It will definitely help you get a more stable shot and doubles as a walking stick if you bring it on hikes.
However, I wouldn't say it's something you 100% need for vlogging. We find we use it more often for professional gigs or when we want a break from carrying cameras around our necks.
Lightweight Camera Tripod 55″
We've had a few tripods over the years because they always break! I don't know what it is about tripods, but they cannot handle being stored in the RV.
When picking new tripods, we always go for the lightweight ones. That way we can bring them almost anywhere. There is always the threat that a strong gust of wind could knock it over, so we usually use a backpack as a counterweight to keep it upright.
We don't use tripods often for vlogs, since we are usually on-the-move when we're vlogging. But tripods are essential for astrophotography (which I've been working on learning this year) and every professional film gig.
Hard Drives and Memory Cards
WD 1TB Elements Portable External Hard Drive
I'm not picky when it comes to hard drives. We have too many hard drives to count in our rig, so in my mind, the more storage capability, the better.
I'm very careful to only pick hard drives that can run directly from my laptop without an additional power supply. We used a G-Drive for our documentary that required external power and more than once I was unable to work because we were boondocking or the batteries were low or <insert reason RVers don't have endless electricity here>. So I recommend RVers avoid any hard drives that rely on external power.
One thing I love about hard drives is that they can fit perfectly inside a koozie, which is how I store all my hard drives. You can buy hard drive cases, but they take up so much space! So far my koozie storage system has worked flawlessly. I hope I didn't just jinx it.
SanDisk 64GB Memory Card
Your classic memory card for almost every camera. We have a few of these. My general rule of thumb is to keep footage backed up on the memory card until the video has been uploaded to Youtube. It keeps me from slacking on videos and makes sure we always have a backup of footage.
Sandisk Ultra 64GB Micro
You'll need a micro SD card for your drone. You can use it in its adapter on your camera in a pinch too!
Also, without realizing it, I'm 100% brand loyal to SanDisk for all my memory card needs.
SanDisk Extreme 64GB Compact Flash Memory Card
Annoyingly, our 7D only accepts CF cards. I have no idea why this, but it's only annoying because of how expensive these suckers are. So we only travel with one.
You'll also need a card reader to offload footage from the CF onto your hard drive. The one that I use has ports for all three types of memory cards we use.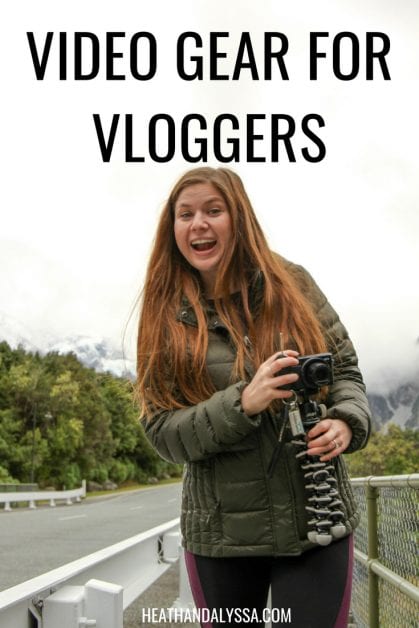 View the full list directly on Amazon.
That's everything! We try to keep our gear kit as small as possible so we are less noticeable and have less gear to haul around.
Oh which reminds me, we LOVE the Amazon Basics Camera Backpack. It fits all our gear (somehow) and even has room to add Heath's MacBook Air. It's basically magic.
If you haven't yet, I would be over the moon happy if you subscribed to our Youtube channel! 🙂
Note: This post contains Amazon affiliate links.