This post may contain affiliate links. See our affiliate disclaimer here.
Congrats! You're now an RV owner. Unfortunately, even after you've bought your new rig for tens of thousands of dollars, there's still a handful of RVing essentials you'll need to gather before traveling full-time.
For the life of me, I don't understand why RV dealers don't add $100 to the sale price and throw in all the hoses and gadgets you'll need to actually live in your RV.
But they don't, and if you've never RVed before, there's a short list of essential, but bizarre things you'll need to buy immediately.
Click here to view this list on Amazon.
Sewer
First things first, sewage. Because everyone is always concerned with the aspect of dump your own…you know.
Sewer Hose
RV parks aren't always designed by geniuses and more than once, we've had to stretch our sewer hose the entire 20 feet just to reach the dump at our site or at dump stations. It's always better to have plenty of hose, than not enough. Camco is the go-to brand for hoses and what we've used for the past three years.
Sewage Tracks
When your site isn't level or if it's raining, muddy, etc, you'll want to have tracks to keep your sewage line off the ground. These are designed to let gravity help your waste make it to the dump connection, and are a must-have if you're planning on staying in a site for any period time.
---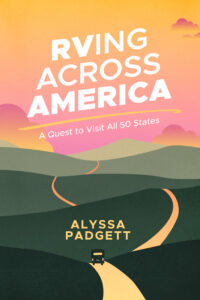 What is it really like to RV full-time?
Another essential before RVing: insight into what RV life is really like! In our latest book, we share what it's like RVing across America—breakdowns, bear encounters, stunning hikes, beachfront camping and all.
---
Water
Onto happier subjects! Water: You need it to survive. And you need it to *fingers crossed* not burst your pipes or make you sick.
Drinking Water Hose
First things first, you need to buy a hose specifically for drinking water. Sure, we all drank water from the hose as a kid, but as adults, we realize that is not a great idea. I highly recommend buying at least 50 feet of drinking water hose. This is one area where you cannot afford to skimp, unless you're planning on buying bottled water constantly, which is not environmentally friendly or economical. We recently just found this hose and it is crinkle-free and SO MUCH EASIER to store. We will never go back!
Water Filter
We filter our water three times, starting with this DirtGuard filter by Clear2O. Our first week as RVers, we hooked up our motorhome to water, turned on the faucets, and brown sludge spewed from the pipes. Fortunately, we had clean water stored in our fresh tank because there was no way we could drink that water!
You MUST use a water filter for your water, preferably multiple. The DirtGuard is going to filter out any sediment first, our onboard filter cleans the water again, and then we use a Brita Dispenser in our fridge. If we skip any one of these three filters, the water just doesn't taste right and we've had more than a few stomach aches from bad water.
This is something that you 100% do not want to travel without (unless you like using hundreds of plastic bottles for your drinking water, which I do NOT recommend).
Water Pressure Regulator(!!)
Tiny but powerful, this is literally the first thing we bought after purchasing our first RV. Water pressure at RV parks can be insanely powerful. The first time we hooked up, I thought the faucet was going to explode off the top of the sink it was literally bouncing up and down from the high pressure.
To protect your pipes and faucets from being blown away by high pressure, you need a water pressure regulator. Attach it to your hose and leave it there forever.
Hose Connector
You'll want this purely from a convenience standpoint. It makes it 10 times easier to attach the water hose to the RV, plus the elbow-shape protects your hose from bending at connection and makes it last longer.
Electric
Your rig will come with the plug you need for electrical connectivity, however, if you plan on camping in driveways, on farms, or at garages on the road, you'll want a few adapters.
50 AMP to 30 AMP Plug
If you have a 50 AMP rig, you 100% need a 50 to 30 AMP electrical adapter. All too often, we visit RV parks that don't offer 50 AMP service or are sold out 50 AMP sites. You'll need this to plug into 30 AMP service. This is probably the most-used gift we've ever been given. (Thanks, Frank!)
30 AMP Extension Cord
We often find ourselves parked in the driveways of friends and family. Many houses have 30 AMP outlets outside of garages, so we invested in this 30 AMP extension cord to be able to stay in more driveways. We've actually had to use this at a couple RV parks as well when the electrical box was in such an inconvenient location we were forced to use an extension cord.
30 AMP to 15 AMP Adapter
If you're ever looking to power your rig off a normal outlet, you'll need a 30 AMP to 15 AMP adapter.
When you'll need to use this:
Staying with friends and family
Working on your RV in a driveway
When you're stranded at a mechanic and need electrical service because it's 100 degrees outside and you feel like you're dying in a tiny hell.
Other Super Important Things
Leveling Blocks
Finding a nice level site isn't easy, and sometimes your stabilizing jacks won't be enough. You'll want leveling blocks for your tires to help stabilize your jacks. Many people cart around 2x4s or cement blocks, but these are lighter and easier to use. We used to use 2x4s, but we lost them all because it's just too easy to forget a piece of wood on the ground–especially when they get wet or muddy.
Side note: If you're an RV park owner, level your sites! This is the bane of every RVers existence.
A Showerhead
Pretty sure the shower heads that come in RVs cost about $.52 and are designed to make you lose all of your hot water instantly. You'll want to upgrade to a showerhead that has better water flow. Plus heads like this one have a switch on the side to cut water flow for when you're taking military showers and need to conserve water.
Toilet Deodorant
Every time after you dump your tanks to start a new day of travel, you must–MUST–trust me on this essential step: Add deodorant to your toilet. There's plenty of options on what to use, but we typically stick with the liquid. You can pick it up at your local Walmart. It is something that you will always want on hand. Can you tell I'm speaking from experience?
Note: If you're dealing with sewage smells and you're out of toilet deodorant, dump baking soda + a splash of vinegar down your toilet to neutralize the aroma.
Mattress Topper!
Your RV probably came with a rock as a mattress. You'll want to immediately buy a new mattress.
Here's the catch: RV mattress sizes are NOT the same size as household mattresses. Typically, they are slightly more narrow, and because of RV design, you may not be able to fit a household mattress in the space where your RV mattress fits.
So you have two options: buy a new RV-specific mattress for a lot of money, or buy a mattress topper and cut it to size. We've purchased memory foam toppers for both of our rigs and cut them to fit on the RV mattress. It's the cheapest solution and you can make it work with any RV mattress. (Our first mattress didn't have corners to allow for you to walk around the bed. Definitely can't find mattresses like that easily!)
An Outdoor Rug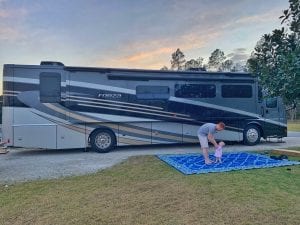 If you're buying an RV, you probably value spending lots of time outdoors. Which is why you'll want a good outdoor rug for sitting outside. We've used a few, but absolutely love this one because of how easy to store it is. It folds and rolls away easily into our storage bays, even though it's 9′ x 12′.
---
Those are all of our must have's! I know it's a lot, but we literally use all of these items on the daily. They are completely worth the investment.
You can shop and see this full list on Amazon. 
What is something you bought as soon as you bought your new RV?