This post may contain affiliate links. See our affiliate disclaimer here.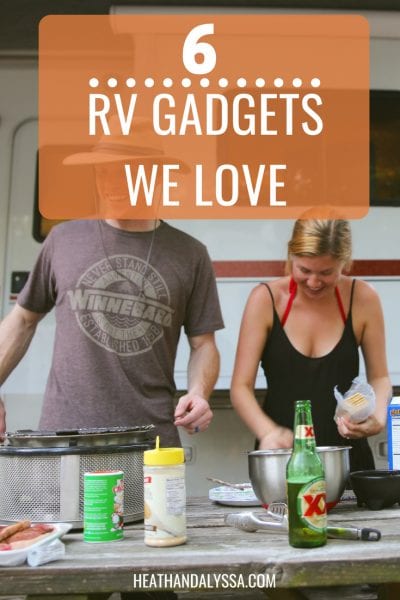 To be completely honest, this post is inspired by a recent Amazon shopping spree where Heath and I ended up ordering a few totally awesome upgrades to our Winnebago.
So today I'm sharing all our favorite RV gadgets that we love. Some we've had for years, some are brand new, all are awesome.
One fateful day while cruising down the stretches of farmland along I-5 in California, we felt the RV shift.
"I think we just blew a tire," Heath said.
We were towing my car on a tow dolly and the dolly tire blew while we cruised down the interstate. We pulled over, backed the car off the dolly, and began the very stressful process of figuring out how in the world we were going to get this fixed and chastising ourselves for not knowing the tire wasn't able to handle the journey. (Another reason why we tow our car flat now!)
Learn from our mistakes!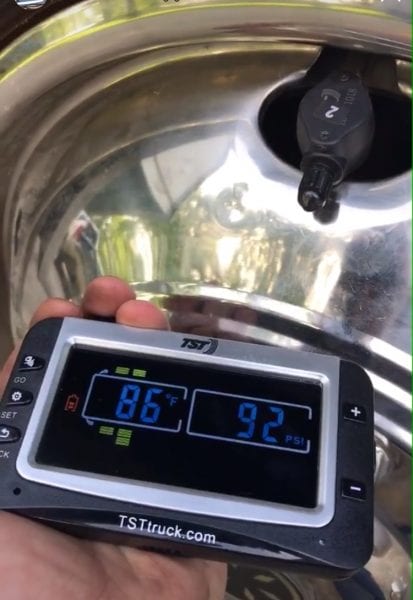 We recently installed the TST tire pressure monitoring system on our Winnebago and I'm super proud to say Heath actually installed this all on his own! Heath isn't handy, so if he can install it, you can too.
Our new tire pressure monitoring system (cool kids call it a TPMS, I've learned) measures the two most common causes of flat tires and blowouts: psi and temperature. And if the psi is too high or low or if the tires get too hot, an alarm will start going off.
The readout on the screen will cycle through each tire (we have it installed on 10 tires—six on the Winnebago, four on our tow car) telling you this information too. We keep it on our dash while we're driving so we can see how the tires are doing. It eliminates so much driving stress to be able to see and know that all our tires are okay!
We got our TMPS from our friends over at TechnoRV who we met at our Summit in February. TechnoRV has a free guide on tire monitoring that I highly recommend checking out before you consider purchasing a system like this. That way you can learn everything you need to know about your tires before spending a few hundred dollars on a TMPS.
Since we have experience with a blown tire, I'd say this system is more than worth the cost to save you a day of dealing with roadside assistance and finding a new tire!
---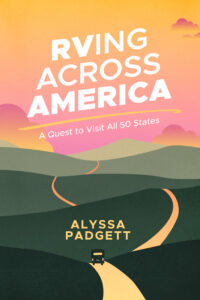 What is it really like to RV full-time?
In our latest book, we share what it's like RVing across America—breakdowns, bear encounters, stunning hikes, beachfront camping and all.
---
Okay, the official name of this device is "Winegard ConnecT 2.0 WF2 (WF2-335) Wi-Fi Extender for RVs" but that sounds really techy and overwhelming.
Essentially, this handy device extends the range of the RV park wifi (or whatever wifi you connect to) so you have a stronger signal in your rig. It does not make the actual wifi any better or faster, it simply gives you better signal access. So if you're at a park with crappy wifi, you'll still have crappy wifi. But if you're far away from the wifi repeaters in the park, this will extend the signal so you can actually connect to the park wifi.
Using our extender, I've found that RV park wifi isn't really as bad as its reputation. You simply don't have the good access to the signal that you need, because you're too far away or because there are a dozen huge metal RVs between you and the wifi router.
The Winegard extender has given us a significant boost at RV parks (and when moochdocking and connecting to friend's wifi!). If you use wifi often, this is worth it. But we've found that we rely much more on our cell booster and cellular data than we do on wifi.
Tiny, but powerful!
We sold our weBoost cell booster with our last Winnebago and replaced it with this little guy who has more than earned his keep. The MIMO is $40 and can boost your cell signal from barely loading to easy browsing.
We plug it right into our AT&T hot spot and use the rubber grippers to adhere it to the window (you may want to move it from one window to another to find the best signal as it is a directional antenna).
[bctt tweet="This is by far the best RV gadget we travel with!" username="heathpadgett"]
Because we work on the road and can't go without internet access for days at a time, this is a must-have for us. We literally use it every day.
Related: For more RVing gizmos and gadgets, you can read about the 13 essentials we can't RV travel without.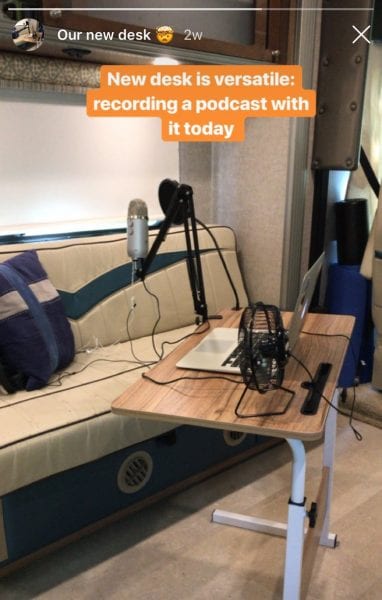 Okay, so funny story. Heath did a Facebook live assembling this table and we shared the Amazon link on Facebook and Instagram and…the inventory instantly sold out on Amazon.
But they have more in stock now! Yay!
We picked up this table on Amazon after an overnight stay at a hotel that had a similar one by the couch. I was sitting on the couch working on the table when it hit us—this is perfect for the RV! Heath has been searching for another desk option in the RV, and instantly fell in love with this one.
We looked at a lot of options before choosing the one we have, which is almost the same shade of wood as our cabinets.
If you're looking for an extra mobile desk, we chose this one for three main reasons:
It's super lightweight.
It's not on wheels.
The height is adjustable.
Plus there's a port for running your chargers and plugs through as well. So far Heath has used it for recording a bunch of podcast episodes and totally loves it. (He does put that pillow behind his back so that he doesn't end up slouching on the couch while he works too!)
10/10 would recommend if you need extra desk space in the RV! We toss it on the bed during drive days to get it out of the way, but the feet are short enough that they slide under the couch as well.
While he refuses to admit it, Heath is terrible at starting fires. (Which is probably in my best interest since if we have more fires, I end up eating way too many smores.)
But since we're heading to the cool temps of Canada this summer, being able to make a good campfire is essential. So we picked up a fire starter to make starting a fire—and lighting our charcoal grill—ten times easier.
And it is INSANE!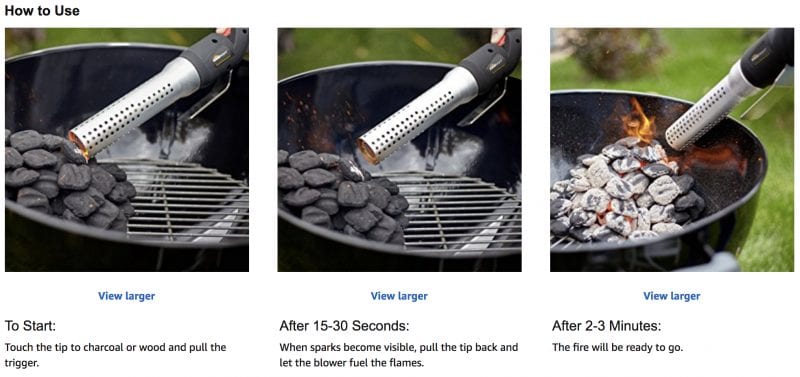 It's huge, but extremely effective. It starts a fire in just a few seconds and when the fire dies down, you can light it up again easily. Now we don't have to worry about buying fire starters or using nasty lighter fluid.
The only con is that Heath seems to think it's a toy and gets that pyro gleam in his eye that tells me to hide the valuables before he lights everything on fire. Boys will be boys.
So if you're looking for something to save you time and hassle when it comes to starting fires, this is the toy for you 🔥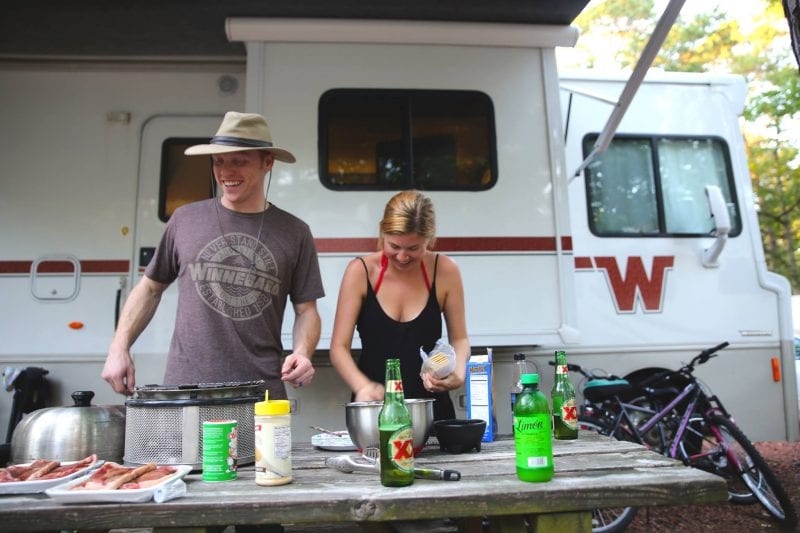 And a classic.
If you love being outside, then you of course you need a way to cook outside! We love the Blackstone griddle—mostly because we can cook pancakes on it. Actually we grill breakfast more than any other meal!
We bought the 17″ griddle which can easily cook for 4-5 people and fit in our storage bays.
Those are our favorite RV gadgets right now! What do you love traveling with? Share in the comments 🙂