This post may contain affiliate links. See our affiliate disclaimer here.
In an interview last week, someone asked me, "What is the number one mistake I see new travelers make?" It's an easy question for me to answer because I definitely learned this lesson from experience.
(There are other mistakes we've also learned from experience, like beware of backing up at a fairground. You never know where the water hookups are.)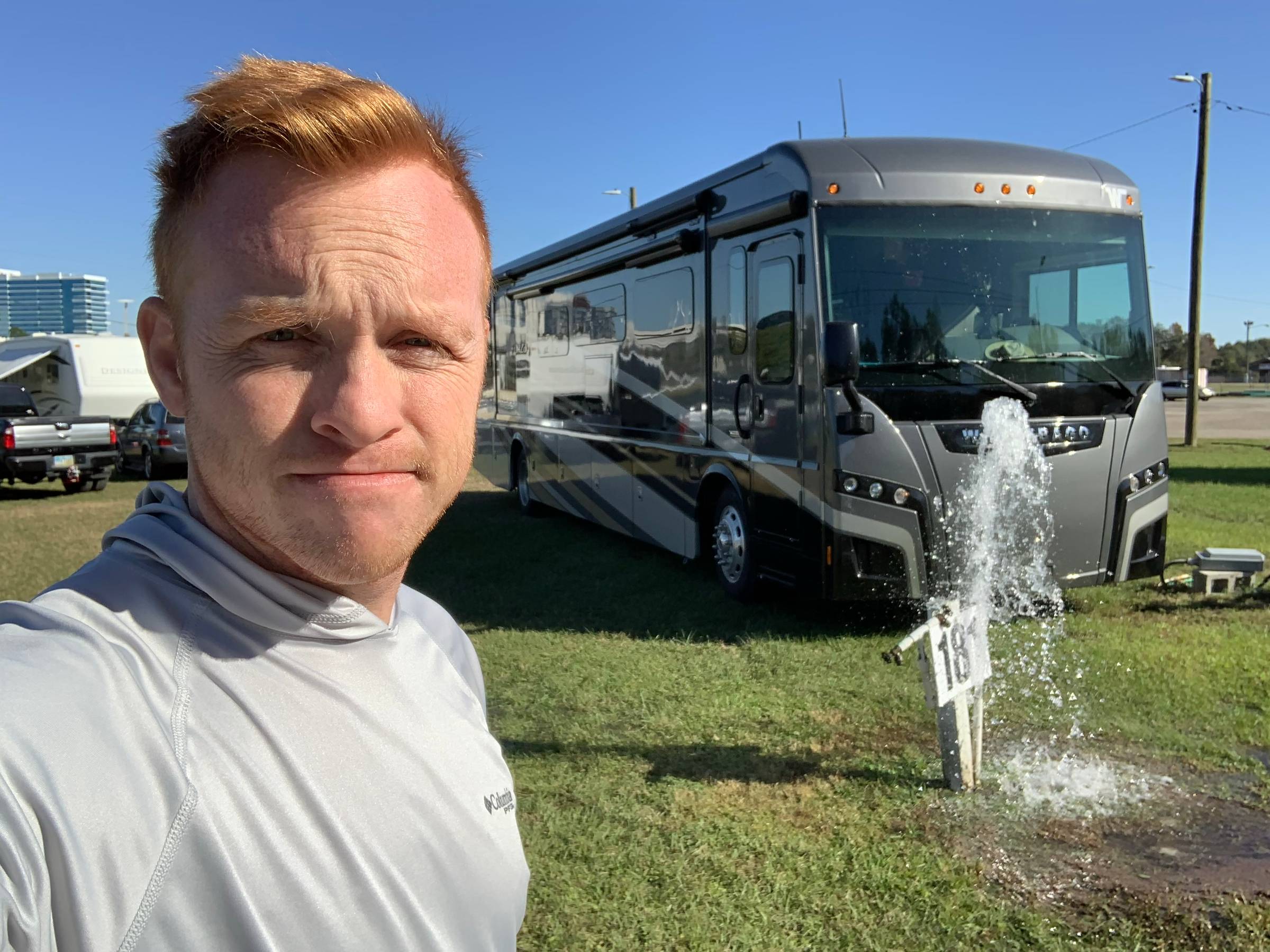 ​
But back to the biggest mistake I see new travelers make, including us.
Traveling too fast.
RVing requires a lot of logistics. Researching campgrounds or boondocking sites,—we use Campendium for all that, in case you need a recommendation—driving to your next destination, and monitoring all your tank levels so you don't find yourself running out of water or propane when you really need it.
When you travel quickly, and by quickly I mean staying in places less than a week at a time, you ramp up your workload. You're searching for more campsites, putting down the jacks, pushing out the slides, securing all your laptops and breakables, getting into more arguments of "I told you to exit in half a mile!" "I asked you to remind me when to exit!" "That was me reminding you!" (Just me?), and spending more hours behind the wheel instead of doing fun stuff like kayaking (or, let's be honest, work stuff like recording podcasts).
Like I said, this is something I learned from experience.
Our first year on the road (2014), Heath and I stayed put for the longest in Nashville, Tennessee. We stayed for four long luxurious nights. Four nights out of the whole year.
That was a long stay for us. The idea of staying put for a week sounded like forever.
We were running on pure adrenaline all year until we hit Disney World—at which point we were running on adrenaline + gelato from Epcot.
So it comes as no surprise that after Disney, Heath and I both got sick. That terrible pounding head, can't-get-out-of-bed sick. We were running ourselves ragged trying to see everything, do everything, and film a documentary to boot. We were burning the candle at both ends and needed to slow down.
Now in a dream world where I'm perfect at everything and gas only costs a dollar per tank, we would've learned our lesson.
But there have been many times since where we've traveled like maniacs.
Sometimes it felt necessary, like when we were in New Zealand and wanted to see the entire country in two months. Sometimes we accidentally put ourselves in tight time frames like when we spent three days driving across Canada narrowly avoiding blizzards.
Sometimes we think we can do it all and travel from Iowa to Texas to Tampa to Nashville to Destin in a month while also celebrating our birthdays, Christmas with two families, moving out of an apartment, and working on two major events.
Setting a pace for your travels, or an ideal "here's how long we want to be parked for" time, is something that it took Heath & me three years to figure out.
It was 2017, the year we herald as our favorite year, and the year we finally figured out exactly how long to stay in a place.
(That actually sounds really dumb now that I type it out, but if you've been traveling for any period of time, you know what I mean when I say that everyone has their own travel pace!)
Our year went something like this:
Snowbirding in Texas for January & February (plus hosting our first RVE Summit!)
Spending March and April slowly making our way from Texas to South Carolina
All of May + one week in Myrtle Beach 🏝
Week-long stays up the east coast all summer
August & September on the bay near Acadia National Park in Maine
Following the leaves south in October and camping at Harvest Hosts along the way
A month in Nashville in November
Home to Texas for the holidays
It was our ideal travel.
A few month-long stays in amazing places so we could get to know the local beach—I mean local area. Week-long stays during the wildness of summer when campgrounds are harder to book. And plenty of drive days where we weren't on a tight time schedule, but just making our way to our destination slowly and stopping anywhere cool along the way.
Now that we're traveling in a bigger rig with our sweet Ellie, we're planning to follow a similar slower pace of travel.
We're spending the next month on the beach in Florida and then spending all of March at Lake Guntersville State Park getting ready for our 2020 RV Entrepreneur Summit. (AKA our travel pace is staying for a month if its waterfront)
How long do you typically stay in one place?