Today on The RV Entrepreneur I'm interviewing Paul and Nina from WheelingIt.us. Paul is an active investor, with a technology background, and Nina runs a very engaged RV blog that actually just surpassed seven million views. They have been full-time RVing now for seven years.
Update! Read the first 2 chapters of The RV Entrepreneur for free!
The past three years my wife and I have built a video production business while RVing across America. Along the way, we met and interviewed over 30 other RV entrepreneurs like us.
In my new eBook I share how it's possible to launch a business you can run from anywhere.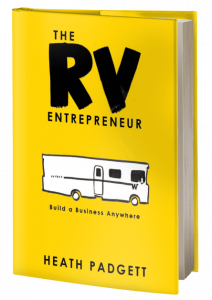 Today on the show we talk about:
Paul and Nina's transition from high stress technology jobs into traveling the country in an RV

Why at first Paul didn't like RVing, but eventually came around

How they've developed healthy spending habits while traveling

And Paul's ability to work as little as 10 hours a week managing his portfolio of investments that pay for them to travel the country
CampgroundBooking.com is a free software that allows campgrounds the ability to easily accept online reservations and manage their park. I recently launched Campground Booking along with a couple other full-time RVers and our mission is to make a simplified reservation process for campers and campgrounds alike. You can read the backstory of why I launched CampgroundBooking here.
Learn more about CampgroundBooking.com here.
Links and references mentioned in this episode: