This post may contain affiliate links. See our affiliate disclaimer here.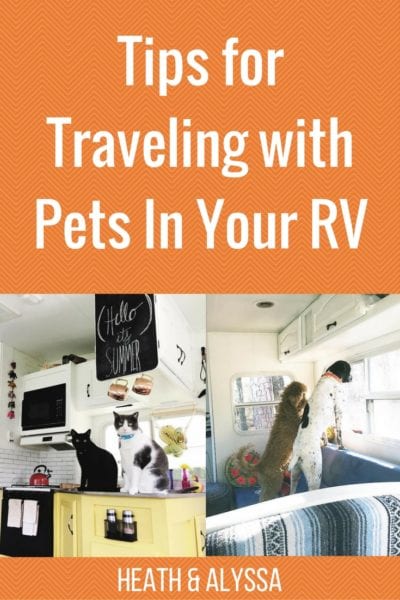 This is a guest post by Mandy Holesh of 188 Sq Ft. Mandy and her husband, Kevin, travel full-time in their fifth wheel with their two cats and two dogs. If there's ever anyone to give advice on pets, it's these two!
PS: You can read more about what Kevin does for a living in Heath's latest ebook, The RV Entrepreneur.
Traveling with Pets: Dog Tips
Our dogs went on a two-month road trip with us in the pop-up camper last year, so we knew they didn't need any special attention with our new home. We have always moved apartments every couple years and they never get weird or worried. However, when we first moved in I tried to have some familiar scents for them, like their dog beds and Foxey has a few toys she loves. I am not sure if this actually does anything, but it seemed to help Foxey adjust nicely. Luna doesn't care, she is happy to be wherever we are. Keeping your pets properly exercised really helps with your pets not behaving poorly, so we always try to keep our dogs tired.

Traveling with Pets: Cat Tips
Cats like hiding places. If you have cats you probably know this. We have at least three places that only the cats can get to. Nimbus, our oldest kitty, we were most worried about because he sometimes has a hard time adjusting to change. Our kitten we weren't worried about because he wouldn't know otherwise. So, we made sure to give Nimbus lots of one-on-one attention to help him adjust, he is such a lover. Also, he loves his hiding spots under the couch, a little shelf that is just for the kitties, and the bathroom where their food/litter is.
We originally had the litter box in the shower but that was a pain in the butt to move. To solve that, we closed off one of our shelves that had our charging station and put a cat door on the other side so they could get to their litter and it has worked perfectly. Try to think about your cats when you shop for a camper, and get creative! Having the litter hidden is probably the best thing we have done so far.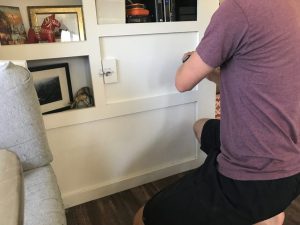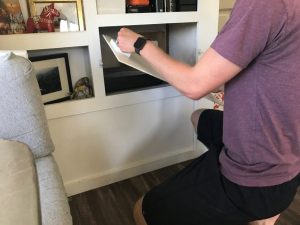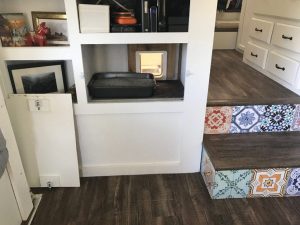 Exercise
How do you make sure your pets get enough exercise? I am surprised we get this question so much. Maybe it's just us, but our dogs never got much exercise indoors even when we had a 1500 sq. ft. apartment! We didn't see how moving into an RV changed any of that. We usually take them out for walks or, especially while boondocking, we can just let them out the front door.
Training your dogs to listen to you is a must while on the road. Our 188 sq. ft. home on wheels is for snuggles and rest for the dogs so we try to wear them out in the morning so we can work the rest of the day, uninterrupted.
The cats on the other hand never really got much exercise to begin with, but we do find they love some one on one play time so we lock the dogs in the bedroom and we play with laser pointers or with string with them until they are over it! Which never takes long…
Keeping Pets Cool in Extreme Temperatures
For us, the beauty of living in the RV is that we can move when we want to and sometimes that decision is based on the weather (forever looking for that 75 degree place). That being said, we try to stay out of any extreme temperatures. We understand that isn't possible for everyone, so here is our advice for those who don't have that luxury.
Air conditioning!
But seriously, we were boondocking out in Joshua Tree this spring and temperatures were in the mid nineties but we didn't have any hookups so we were unable to use our air. We used spray bottles to keep the pets cool, made sure they had plenty of water, and occasionally rubbed ice cubes on them. We were pretty tight on our budget then so we didn't buy proper blinds and we still haven't bought Reflectix which is high on our list. Parking in the shade helps with the temperatures in your camper, also use your awning to block the sun from hitting your camper, and cook outside when you can!
Leaving Pets in your RV
We work and live out of our RV, so leaving it is only for recreation and grocery shopping. Luckily, our pets rarely get into anything they aren't supposed to, except our kitten loves to explore our cabinets and knows how to open our doors. That being said we still make sure everything is put away in its proper place before we leave. Having a small space makes you want to keep everything organized anyways.
We usually put the dogs in their kennel, but sometimes we leave them out. If it's a hot day we try to not leave, having air conditioning or not I always get stressed about leaving them on hot days. Remember people, there are so many resources for people to watch your animals if you have a long day planned. I feel so much better if my pets are at a doggie daycare so Kev and I can have a really amazing day worry free.

Staying with Pets in RV Parks
We haven't had any issues with the amount of animals (4) we have at any RV parks or campgrounds. The only thing we have been working on is trying to get our dogs to bark less. Luna has the loudest bark in perhaps the world, so we have been actively trying to train her she doesn't feel like she needs to bark. Our instinct at first was to yell at her or give her negative feedback, but we learned from the dog whisperer that doesn't help, if anything that just makes them want to do it more. Because people come around and they see you upset so they think when people come around it is a bad thing. We always have treats around, if we notice someone is going to walk past our camper or Luna might see them we try to give her treats before she gets the chance to bark. It isn't always easy to get to her first, but it has helped her a lot.
Do you keep pets in the RV? What are your pet tips? Let us know in the comments below 🙂