This post may contain affiliate links. See our affiliate disclaimer here.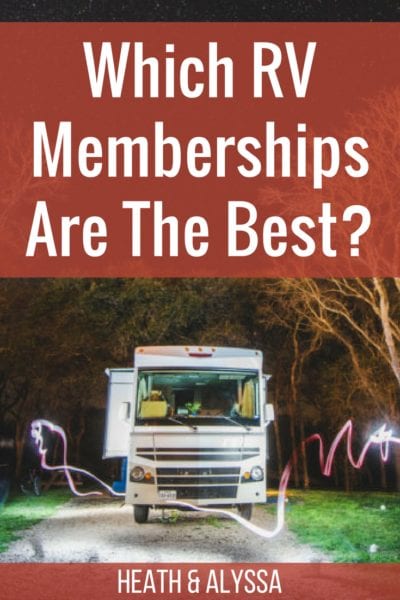 Before we started RVing, I didn't know RV memberships were a thing. Really, I didn't know full-time RVing before retirement was a thing.
We jumped into full-timing with little knowledge or experience in the RV world. Our goal was not to be RVers. Our goal was to visit all fifty states. Turns out, buying an RV was the most affordable way to make this happen. And so we bought a fixer-upper off of Craigslist, planned our route, and took off four days after our wedding.
Because it took us so long to pack up the RV and hit the road on that first day, we knew we wouldn't end up arriving at a campground until after camp offices closed at five pm. Instantly we were faced with an unforeseen problem: How do you check into a campground if there is no one there?
Before we left Texas to head west, we joined only one RV membership at the suggestion of a friend: Passport America. We had no idea how to use it or how it all worked.
I found a campground near our destination using Passport America's app and gave them a call. The woman in the office told me to find any open site and set up camp for the night. She said to drop by in the morning after the office opened and pay for our stay. We were shocked by this for a few reasons:
She wasn't worried at all about us not paying.

She accepted our Passport America discount (50% off) without asking for a member number.

This campground with wifi, a heated pool, and a hot tub cost $19.
Instantly, I fell in love with Passport America. (Really I'll fall in love with any campground that offers a hot tub).
I'm all about saving money on the road, so RV memberships are high on my list of things worth paying for each year. Today I'll break down the most popular five RV memberships, their benefits, how much they cost, and if I think they are worth it.
[bctt tweet="I'm all about saving money on the road, so RV memberships are high on my list of things worth paying for each year. These five are by far the best: " username="heathpadgett"]
The Top Five RV Memberships (in order of how frequently we use ours)
Passport America
Website: https://www.passportamerica.com
Passport America is the 50% Discount Camping Club. Hands down, this membership has saved us the most money.
Benefits
50% off camping fees at participating campgrounds

Nearly 2,000 participating campgrounds

Easy-to-use mobile app

Affiliate referral program
Cost:
$44 annually

$79 for two years

$109 for three years
The Problem with Passport America
Some Passport America parks have a reputation for not being very nice parks. We've definitely stayed at some trashy $12 parking lots that call themselves RV parks. However, we've also stayed at a bunch of RV resorts with pools, hot tubs, good wifi, game rooms, and all the perks that come with resort RV parks. The good thing about Passport America is that you can really easily view amenities. You cannot, however, see real reviews like you can with Good Sam.
Here's Passport America's webpage for Valencia Travel Village, the RV park where we always stay when we visit LA: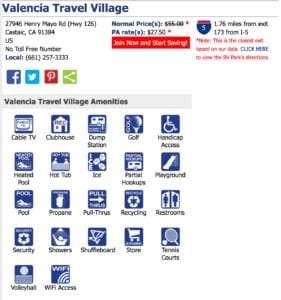 I can easily see on their website (or on their app) that this park has a pool, hot tub, golf, tennis, a playground, and more. They even offer security, so I know this will be nicer than most RV parks out there. If you pay attention to these icons, you can get a good idea of what an RV park will be like before you arrive.
But again, PA does not have any reviews or any way to directly read real customer reviews to give you a better sense of what the RV park is like.
Is Passport America worth it?
Passport America pays for itself in two nights, or even with one use if you use it in California where it pays for itself pretty much instantly. Hands down, every single RVer should join Passport America. We've saved hundreds of dollars because of PA and the membership is so cheap! We are lifetime members and have used the program for six years now.
But you shouldn't just join Passport America to save money. PA is also a great way to make money on the road.
Passport America offers $10 affiliate commissions for all referrals. So, if you use my link to sign up for Passport America, I earn $10 for referring you. For Heath and I, this is a great way for us to promote a product we use constantly and also make a little extra cash. Plus, if you sign up a campground for Passport America, you can earn up to $100 for the referral (but Heath and I have never done this).
If you want to join Passport America and start saving money on camping fees, I'd be over the moon if you used our referral link here.
Harvest Hosts
Website: harvesthosts.com/
Harvest Hosts is a unique RV membership that allows campers to park their RV for free (for one night) at select wineries, vineyards, breweries, farms, and museums.
Perks:
One free night of camping

A good way to meet locals

1000+ locations
Cost:
The Problem with Harvest Hosts
When you're parking at HH sites, you likely won't have hookups of any kind.
Plus, in accordance with the Harvest Hosts setup, participating business owners allow you to stay for one night. However, I know from experience that the nicer you are (and the more wine, beer, etc. you buy), the more likely it is that you'll be allowed to stay longer, especially during the week or during the off-season. The old owners of Harvest Hosts were extremely strict about the one night rule, but the new owners of the company are much more relaxed. So you can stay at your awesome Harvest Hosts site for as long as your host will allow. We've stayed a max of three nights in one location.
Is Harvest Hosts worth it?
YES. In one night, Harvest Hosts theoretically pays for itself.
However, the idea behind HH is that you camp for free (saving yourself at least $35) in exchange for patronizing the business. Since most participating HH businesses are wineries or breweries or farms, this is a great way to immerse yourself in the local area and try local flavors. But buying a couple of bottles of wine will easily run you more than the cost of a campsite.
For just saving money, this isn't the best membership. Your lodging costs will go down, but your spending will likely go up.
For meeting people, exploring a local area, and having a good night of food and drink, HH is amazing!!! (They deserve all the exclamations points, they are so wonderful!) We recently spent three nights at multiple HH stops on the east coast. We spent over $100 buying a wine tasting, a few bottles of local wine, and dinner. This is more than we would've wanted to spend on lodging, but we met great people and had a lot of fun, so it's worth the cost in my book!
If you do want to sign up for Harvest Hosts, you can use this link and get a 15% coupon code 🙂
For a better idea of what HH is like, I love our friends' video showing off one of our favorite Harvest Hosts stops. Check it out:
Good Sam Club
Website: http://www.goodsamclub.com/
Good Sam Club is Good Sam's reward program (a separate fee from their insurance, roadside assistance, and any other services).
Perks:
10% off camping fees at participating campgrounds

Over 2,400 participating campgrounds

Up to 10% savings at Camping World

Up to 8¢ off the gallon at select Pilot Flying J locations
Cost:
$29 annually

$50 for two years

$79 for three years
The Problem with Good Sam
The campground discount Good Sam offers is pretty low. It ends up being only a few dollars per night so you will have to use this membership frequently to get your money back.
But my biggest issue with Good Sam is the mail they send. Like, a TON of mail. All of which are trying to upsell you on their other services—even services you already use. They send me mail twice a week trying to sell me products of theirs that I already own and trying to convince me to buy more. SO ANNOYING. Stop killing trees, you already have my money.
Is Good Sam Club worth it?
In the past few years, Good Sam has changed its benefits. It used to offer a 3¢ per gallon discount which has been upped to 5¢ for gas and 8¢ for diesel. They also used to offer up 30% off Camping World purchases and that number has been lowered to 10%.
If you utilize the camping discounts plus the gas discounts, this membership can pay for itself by staying at a few campgrounds and filling up your gas tank at their "select" Pilot Flying J locations.
We've used Good Sam for years and I highly doubt it's saved us more than $50, though it does always pay for itself. I would say it's worth it, but you can get better savings with Passport America (or potentially Harvest Hosts).
Escapees
Website: escapees.com (Affiliate link)
Escapees RV Club is a support network for RVers.
Perks:
Support network with answers to basic RVer questions

Travel guides

Mail service & domicile options (additional fee)

Rallies
Cost:
$39.95/annually

$850 for lifetime
The Problem with Escapees
I joined Escapees thinking that it was another RV park discount program. They do have some RV parks that offer Escapees members discounts, but Escapees is more about community and life on the road than about saving money.
Escapees is a social club. If you're looking for another discount program, this is not the place to look.
Is Escapees worth it?
Finding community and connecting to other RVers on the road is not easy. We are often asked how to meet other RVers and how to combat loneliness on the road.
Escapees offers meet-ups and rallies all across the country as a way to help connect RVers. There are 11 rallies being hosted this month alone. Some of these rallies are free to attend as members while others may cost a fee.
Plus, they have hundreds of articles and videos on their website to answer all of your RV-related questions–which is great for new RVers. This is especially helpful when it comes to needing quick maintenance advice you can trust.
If you are new to RVing, Escapees is a great membership for helping you learn more about the ins and outs of RVing and connect with other full-timers.
Plus, they also have "Xscapers" for younguns like Heath and me. If you're a "young" RVer (basically if you're under 50, you're young) then this is another great way to meet RVers who are not retirees. No offense retirees, but it's nice to meet working-age RVers too.
You can snag an Escapees membership here.
---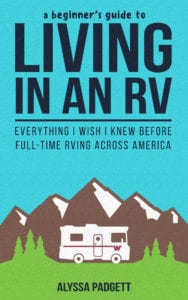 This post is adapted from my latest book, A Beginner's Guide to Living in an RV: Everything I Wish I Knew Before Full-time RVing Across America.
This book answers all your full-time RVing questions, from how to get mail and internet on the road to how to pick the right RV for you.
---
Thousand Trails
Website: https://www.thousandtrails.com/
Thousand Trails offers a slightly different kind of membership club. For a larger upfront fee, you can camp without charge for up to 14 or 30 days at a time (depending on the level of membership you purchase) at one of the participating Thousand Trails campgrounds.
Perks:
86 campgrounds in five "zones" across the country

"Free" camping in your selected zone
Cost:
"$545 annually" (Quotation marks here because Thousand Trails pricing plans are more confusing than American healthcare)
The Problem with Thousand Trails
You either love or hate Thousand Trails. There is no in-between.
I've heard they can be confusing and difficult, with horrible customer service. Not to mention that they are pricey, come with hefty restrictions, needing to book 120 days in advance, and figuring out which parks allow you to stay for free on which days can be a headache. It's all a grey area, especially when it comes to peak season travel.
For a few years, Thousand Trails parks also had a reputation as being a little rundown. In 2017 we met a few members of the PR team at Equity Lifestyle Properties, the company that owns Thousand Trails and Encore Resorts. They let us know they are in the process of renovating and updating many of their parks to make them better destinations.
We visited three of their parks during a visit to the Florida Keys and they were all amazing. Hopefully this means that the brand is improving as a whole and will be a better deal for RVers in the future.
Is Thousand Trails worth it?
For some, yes. I know families who say they have saved thousands on lodging fees with TT. (Especially families who full time RV!)
For others, no. I have friends who asked for a refund after a month of using the membership because they had such terrible experiences at every park they visited.
The idea behind Thousand Trails is awesome. You pay an annual fee, you can stay at their locations for free all year, you save thousands of dollars on lodging and save time researching campgrounds. But it's kind of hit or miss. For us, the negative reviews have scared us away from joining the membership because the upfront investment is so high. If you do want to try Thousand Trails, the rumor is you should buy a used membership on eBay instead of paying full-price through Thousand Trails.
---
As far as RV memberships go, Heath and I actively use Harvest Hosts, Passport America, and Good Sam (in that order). Combined, these memberships have saved us thousands of dollars and with such low price tags, I recommend them all!
Which RV memberships do you use? Share with us in the comments below!