This post may contain affiliate links. See our affiliate disclaimer here.
In our free course on how to start a blog, we ask everyone a simple question:
Why do you want to start a blog?
Everyone has a different answer, but almost every single person adds the same note to the end of their comment:
to make money.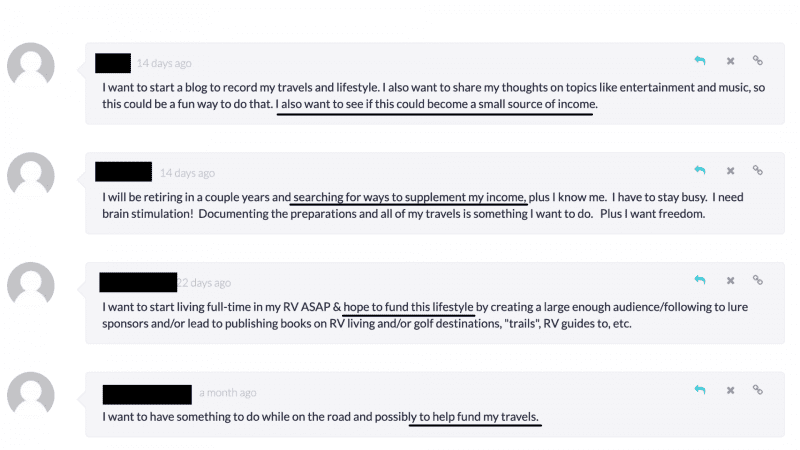 But even if you start your blog as a business, you won't start making money from day one. You need an audience, high-quality long-form blog posts, an online presence.
Instead of sending you a super long email this morning on how to create a successful blog, I thought I'd send you a video workshop from our RV Entrepreneur Summit. This workshop by Eric & Brittany Highland (@hourlesslife) is one of our most popular workshops ever after four years of Summits.
And I just uploaded it to Youtube this morning for you to watch for free.
In this workshop, Eric & Brittany cover some of the big questions new bloggers have. Like:
How much does blogging actually cost?
The 5 elements of a good blog theme
How to develop and design your brand
What your website structure should look like
How to structure every blog post (from your title and photos to your metadata!)
You can watch (or click the handy Watch Later button) on Youtube here.
Starting a blog is easy.
Putting in the work to make your blog amazing—from the way it's designed to the words you write—is a little harder.
This is a great workshop for anyone who has started a blog, but has gotten caught up in the logistics (like finding a blog theme!) or is struggling to grow their blog (how do you even do SEO?) or wants to figure out how to structure a blog post (Eric & Brittany share the 10 things to include with every post).
Enjoy!
PS February is all about blogging—the #1 work-from-anywhere business RVers want to run on the road. Next week I'll share 7 ways to actually make money blogging. If you're a blogger and trying to blog full-time, the video above will give you great advice and encouragement for building a blog worth reading.