This post may contain affiliate links. See our affiliate disclaimer here.
We highly recommend to anyone considering full-time RVing that you take a week and rent an RV to try out the lifestyle.
But while we've rented out our own RV, we've never actually rented a rig ourselves before.
Well during our recent road trip in the Florida Keys, that all changed. Here's our experience renting from Cruise America.
Florida Keys Road Trip: Day 2
Missed the first episode? See Florida Keys Road Trip Day 1.
Where We Camped
I loved this campground. As you saw in the video above, this is hands down the best waterfront site we had ever had.
I could write a lengthy description of this campground, or you can watch our (previously) live tour of the resort below:
Where We Ate
So far I've cut all the clips of us eating to make our vlog episodes shorter, but that is no reflection of how good the food has been.
Lunch: Subrageous
I'm gonna be real with you: This place looked sketchy as HELL.
The formerly glass door was boarded up with a sheet of plywood and a handwritten Cash Only sign. If there hadn't been a cop car in the parking lot, I would've been worried for my safety. (Although my mind was thinking, are the cops eating here or are they here busting a sordid drug ring that uses this unassuming sandwich shop in a strip mall as a front? I obviously watch too much tv.)
But the food was really, REALLY good. I ordered the Hawaiian chicken on a bed of rice–no bread for me–and Heath ordered a meatball sub–lots of bread for him. I would order it again in a second.
Key Lime Pie: Mrs. Mac's Kitchen
Is a day without pie, a day truly lived? I think not.
And not to spoil the saga of us trying at least four different key lime pies over the next few days, I'll tell you now that Mrs. Mac's wins. The crust was the deciding factor. It's a must-stop in Key Largo!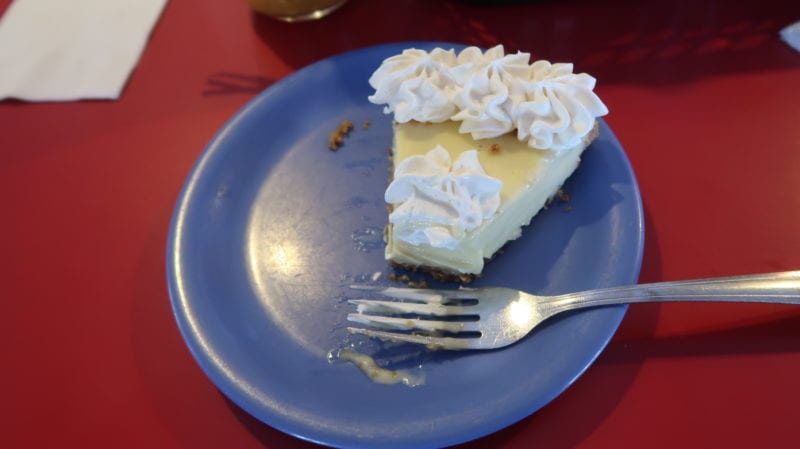 Dinner: Lobster Crawl Bar & Grill
Lobster Crawl is the on-site restaurant at Fiesta Key RV Resort and it has the best ambience of any beachside restaurant ever: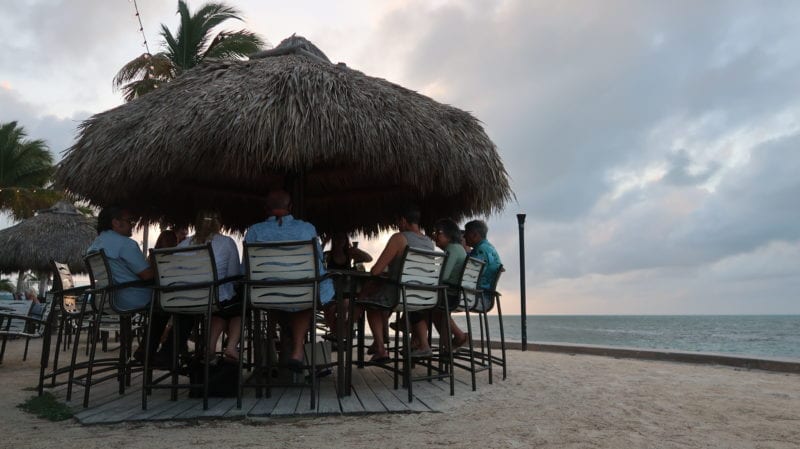 Since we were with a huge group, we all split the Island Seafood Sampler appetizer and had the chance to try shrimp cocktail, conch fritters, clam trips, fish dip, fried gator, and calamari. If you want to dip your toes into the water and try a lot of fried seafood, I'd order this. We also tried the lobster kabobs and I tried lobster for the first time. Not being a huge crustacean fan, I don't see the hype. Shrimp, crab, and lobster all taste the same to me.
I've never been a huge seafood person. I love salmon, but that's all the sealife I like to eat. So on our first night in the Keys, I ordered steak. And I don't regret it in the slightest–it was amazing! I was slightly worried about what the food would be like when I learned we were eating dinner at the on-site restaurant, but guys, IF YOU STAY HERE, YOU MUST EAT HERE.
It was incredible. Highly recommend the food and the drinks. There's nothing better than walking to dinner and eating good food surrounded by crashing waves and tiki torches.
What To Do
Deering Estate
As you saw in the video, we showed up at 12:30 PM to pick up our Cruise America and didn't end up leaving with Keys in hand until 4:30 PM. It was Friday. Traffic was terrible. We made it to the RV park just in time to run to dinner, with no time to change out of our clothes. It was an incredibly long, frustrating day! (Many pina coladas and margaritas were had at the Lobster Crawl.)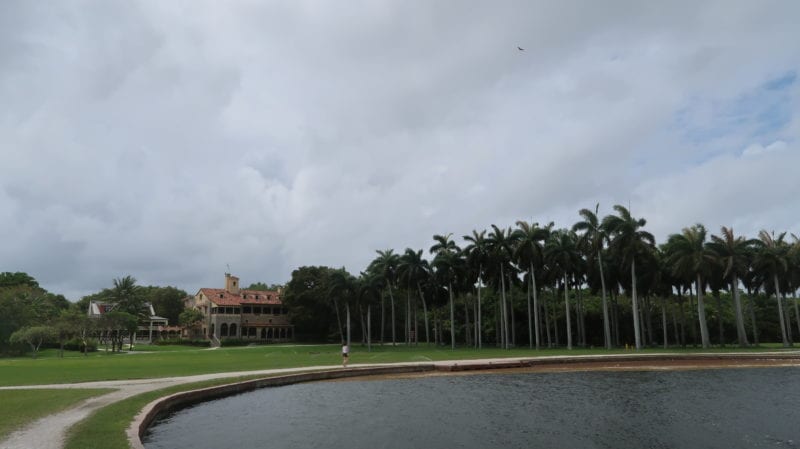 But to kill some time we stopped at the Deering Estate, a convenient ten minute drive from Alec's, where we were picking up the RV.
I was a little disappointed with this detour, mostly because I don't feel like I actually learned a lot about the previous owners and the property and why it's a museum. So walking around was a little confusing.
However, there's a lot of old history here and an amazing view of the bay. I could definitely live there, that's for sure.
BONUS: the wildlife! We catch a pod (a swarm, a herd, a school?) of manatees playing in the water near the docks. They are so…ugly! But in a cute, pudgy way. We also saw some crazy camouflaged lizards and lots of birds.
If you find yourself waiting four hours for your RV rental, it's worth the stop, but I wouldn't go out of my way for a visit.
---
Big thank you to Encore Resorts and The Florida Keys for inviting us on this press trip! Y'all are the bomb and I can't wait to go back/move there and become a beach bum.
Up Next: Kind of Snorkeling…Mostly just crashing our drone into the ocean