This post may contain affiliate links. See our affiliate disclaimer here.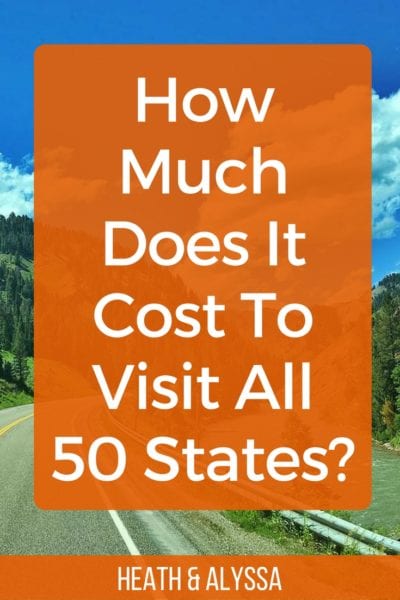 A few months before our wedding day, Heath and I found ourselves dreaming of a 48-state road trip, wondering how we could afford such a lifestyle. We wanted to live each day freely, able to travel, write, and live an adventure. No cubicles, no bosses, no 9 to 5 grind.
Unfortunately, we were two engaged kids who just quit their jobs and could in no way afford the lifestyle we imagined for ourselves.
But then Heath sent an email, found us a sponsor, and two weeks later found the perfect RV for our first home. We created a GoFundMe to raise enough money to get us started on the road and suddenly, we were counting down the days to the grand adventure instead of the wedding day!
Four days after our rainy wedding, my newlywed husband and I started driving west and didn't stop our tour of the country for the next 200 days. When we returned home to Texas, we asked our close friends and family if they expected us to finish. Most of them said no (Thanks, guys).
They expected us to quit or stop somewhere along the way and come home. After all, seven months on the road isn't exactly all glamorous, easy travel—especially for your honeymoon!
But despite our doubts and everyone else's, we've now driven to 49 states exploring national parks, big cities, and every small town in between for a total of 18,280 miles of America. Plus, we flew to Hawaii, since there, of course, isn't a road to the islands. (And yes, people ask me how we drove there every single time I tell them we visited all 50 states).
Now without further ado, I'd like to share with you the cost of travel. Our finalized financial records for visiting the lower 48 in 200 days + flights to Hawaii + an Alaska road trip.
How Much Does It Cost To Visit All 50 States?
Gas: $6,593.57
This is my favorite stat of our travel. It cost us approximately 36 cents per mile of travel across the country. We've seen gas prices soar over $4 in California and duck under $2 back in Texas, but no one we've asked expected our gas expenses to be this low. Estimating that our average speed of travel is 55 mph, which let's be honest is a little generous for our 1994 engine, we drove approximately 333 hours over our 200 days on the road.
Alaska was a little bit different. Before our travels, I didn't know driving to Alaska was a thing, but a few different RVers recommended it to us and showed us enough pictures to know that we needed to make this road trip. Since we were worried about gas and killing our poor old RV, we piggybacked off of Heath's parents already planned Al-Can road trip. The timing couldn't have worked out more perfectly. This saved us a ton of money in gas. But to give you a rough idea, the drive from Seattle to Fairbanks, Alaska took five full days of driving and we contributed about $400. It would definitely cost you a lot more if you aren't splitting the costs!
Flights (to and from Hawaii and return from Alaska): $1,138.04
For two people round trip to Hawaii, it cost us roughly $800. For two people from Anchorage, Alaska back to Austin, we paid a little over $300. We are big on "travel hacking" which is earning points for hotels and flights through credit cards, so I'd like to think we scored some pretty sweet deals.
Lodging: $2,710.84 + $657.80
Using Passport America, Good Sam, Harvest Hosts, and friendly driveways across the country, we spent less than 3K on lodging for 7 months. That means on average we spent $13.55 per night's stay and less than $400 per month.
In Hawaii, we obviously stayed at a hotel since RVing isn't a huge deal on the islands. (We did, however, see one truck camper.) We booked our Hawaii trip 3 weeks in advance because we had some client work rescheduling that happened at the last minute. We paid $657.80 for a beachfront hotel for 5 nights and were able to get ourselves upgraded to ocean view for no additional charge.
Groceries: $2,124.85
Since we travel with our kitchen, we try to always eat in to save money. Our meals for two people cost an average of $10.26 a day, and includes 3 square meals a day plus lots of popcorn.
Gym Membership: $344.84
Oh, Planet Fitness. More than giving us a chance to exercise, Pfit always gave us a warm, luxurious shower on the road. The membership to the nationwide gym costs us $43 a month and boasts spacious showers and massages chairs. (This number also includes the annual membership fee).
Phone Bill: $1,311.22
This number makes me want to cry! Since our phone plan began days before our wedding, this number includes all of those ridiculous startup fees that come with any new phone plan.
Eating Out: $512.88 (lower 48) + $299.87 (Alaska) + $418.21 (Hawaii) = $1,230.96
Oh the sweet taste of Starbucks' lattes and fresh chips and queso! Heath and I largely avoid eating out, but sometimes you just need to take a night off. Most of these expenses are from our first month on the road where we undoubtedly spent the most money overall (hey, it was our honeymoon!) and from our time in New York City, when we stayed in a hotel in the city (courtesy of Snagajob) and ate out for every meal.
Maintenance: $1,955.72
A new fuel pump, new brake pads, new rotors, oil changes, capping a gas leak, replacing a melted battery—you never know what will happen on the road. Considering we purchased a 1994 Coachman Leprechaun off of Craigslist, I think paying less than $2000 for maintenance for 18K miles is pretty reasonable.
Giving: $210.00
We don't have much to give, but Heath and I do give $30 monthly to a nonprofit. Despite our lack of wealth, we firmly believe it is important to give to others as much as you can.
Adventures: $670.73
Whitewater rafting, stand up paddleboarding, exploring national parks, boating around Niagara Falls. Totally worth it all.
Other costs:
Wedding costs, Christmas gifts, Spotify, insurance, a parking ticket in LA, a rental car in Hawaii, and one accidental overdraft fee—we didn't have any other big-ticket expenses, but lots of small purchases along the way. We did go shopping for clothes once, while in NYC, where I bought the cutest dresses and spent $40.
Total Spent: $23,371.23
That's an average of spending $2600 a month, or more importantly, roughly $1.00 per mile of travel for the lower 48. We visited Hawaii for five days for $2,735.67 and drove to Alaska spending two weeks exploring for $1,866.71 (but like I said, we did split some of these costs since we hitched a ride across Canada).
Overall, we paid only $3245.62 out of pocket, for our entire honeymoon, since we worked as we traveled. The average cost of a honeymoon is between $4000-$5000. So, I'd say we did pretty well.