This post may contain affiliate links. See our affiliate disclaimer here.
There's only one meal I can think of that I can't cook in an RV that I can cook in a house:
Thanksgiving Turkey.
Our home on wheels has an oven, three-burner stove, microwave, fridge, ice maker. And sure, the counter space is small. But it has everything I need to cook three meals a day.
I LOVE cooking. I've always loved eating, but after my daughter was born last year and I had a strange amount of time on my hands, I started playing more in the kitchen. Today I wanted to share with you the top 10 meals that I love to cook in our RV.
Just for the record, we took into consideration a lot of serious food contenders for this top ten list. Classics like chili, spaghetti, burgers, or chicken fried rice were all considered. Even new recipes we've picked up lately like chicken tikka masala and black vinegar glazed pork chops. But ultimately, the following top ten outshine anything else we could ever cook.
Buon appetito!
Top Ten RV Meals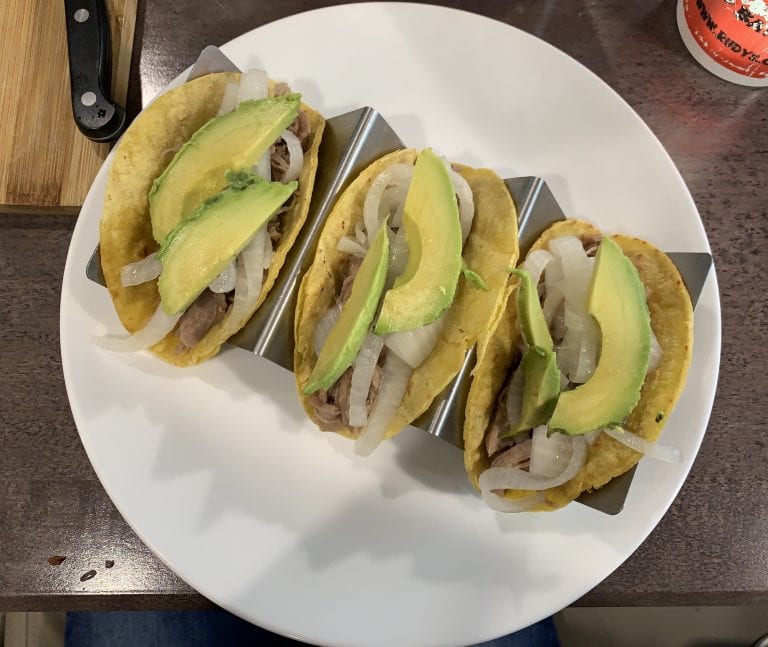 10. Your classic ground beef taco
Why are ground beef tacos so easy to make? You brown the beef, give a few shakes of salt, cumin, garlic, paprika, and cayenne pepper, and BAM! You've got taco meat.
Add to a warm tortilla or crispy taco shell and top with shredded cheese, lettuce, and pico de gallo. So easy, so good.
(Best served with chips and salsa, obviously)
9. Ground turkey tacos
See above, but use ground turkey (or ground chicken) instead of beef and pretend like you're super healthy. Great for times of quarantine.
8. The breakfast taco
The best meal of the day!
Step one: Fry bacon*
Scramble eggs on medium-low heat. Mix in salsa while the eggs are still runny. Our go-to salsa to use is Mark's Roasted Salsa available only at HEB in Texas. But whatever salsa you regularly buy at the grocery store works too.
Chop (or break) the bacon into smaller pieces and mix into the eggs once they finish cooking.
Spoon the mixture into a waiting tortilla and top with shredded cheese. Best served between midnight and 11:59 PM.
*You may substitute bacon for breakfast sausage, smoked sausage, or brisket. This is actually scientifically known to be the best way to reheat leftover bbq brisket.
7. The Quesadilla
Sometimes tacos can feel a little protein-heavy, which might trick you into believing they are a healthy choice. The quesadilla is here to ruin that for you.
Take a tortilla of your choice and lay it on the skillet. Cover the tortilla in cheese and then add grilled chicken or ground taco meat. (This is a great option if you have leftover meat in your fridge and aren't sure how you want to eat it.)
Then add more cheese on top of the meat. You should be thinking to yourself at this point "Is this too much cheese?" If you're thinking that, add a little more, and then you've got the perfect amount of cheese.
Top with another tortilla and watch the cheese melt. Before tortilla #1 burns, carefully flip your quesadilla to evenly cook both sides. It's done when there's ooey-gooey cheese everywhere and all you can think about is eating it.
Slice the quesadilla into triangles using a pizza cutter and serve with salsa or guacamole.
Side note: Looking to make some guacamole fast and easy? Smash your avocado per usual and add a bit of salt. Then add a spoonful of store-bought fresh pico de gallo. You can find this in most grocery stores in the produce section next to where they keep the fresh salsa and bagged vegetables. Save yourself the time of chopping your own onion, tomato, and cilantro and just buy the pico. You can also sprinkle pico into your quesadilla and try to convince your wife that you are totally eating vegetables with your otherwise mostly-cheese lunch.
6. Chicken Fajita Instapot Tacos
If you live in an RV, you own a pressure cooker. I don't know when this became an undeniable fact that we must all bow down too, but it's weirdly true. So before we moved into our new Winnebago, I asked my mom for a Ninja Foodi for Christmas. It's like an InstantPot and an air fryer had a baby.
Anyway, marinate some chicken breasts (or chicken breasts you've cut into strips) in lime juice, salt, garlic, and spices. While that's marinating, slice onions and peppers.
Caramelize your onions and peppers in a skillet while you pressure cook your fajita chicken (on hi for 10 minutes). If you're using a Foodi like I am, once the chicken is done pressure cooking, quick release the pressure and turn on the air fryer mode for a few minutes. This will crisp up the outside of the chicken as if it had been grilled.
If you are in the less 1% of humans who RV without a pressure cooker, grill your chicken or cook on a skillet.
Serve your peppers and onions and fajita chicken build-it-yourself style on the table because that's how Mexican food restaurants do it for some reason. Top with cheese, pico de gallo, sour cream, guacamole, salsa, and/or queso.
Level up: To truly level up your fajita experience, melt a few tablespoons of salted butter on a skillet, and add garlic powder. Pour the melted butter over your assembled taco as desired. Marvel at the fact that you never knew fajitas were missing butter all these years. (As learned from Rosie's Mexican Cantina and what may be the best fajitas I've ever had.)
5. Pulled Pork Tacos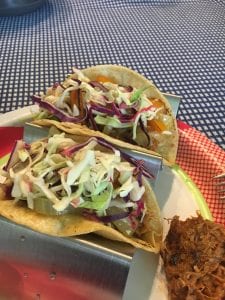 Sometimes referred to as carnitas tacos.
If you're in Texas, you may be able to buy pre-seasoned carnitas from the meat department of your grocery store. Otherwise, a pork butt or pork shoulder will do. Slow cook the pork in your oven or slow cooker.
During the last hour of your pork cooking, slice and pickle a red onion in lime juice. If you don't use red onion, your onions won't be neon pink, which is all you want here. Moist slow-roasted pork + hot pink onions.
Shred your pork. Add pork and pickled onions to a warm tortilla. Top with a cheese like cotija and serve with a salsa Verde. Also excellent with avocado.
4. Southern Pulled Pork Tacos
If you're thinking, "My heavens! She just ate pulled pork without adding barbeque sauce!" Then you might be southern.
In which case, you'll want a southern style pulled pork taco. Take your slow-cooked (or smoked!) pulled pork and toss lightly in bbq sauce. I'm a big fan of Stubb's Original, which is available at Walmarts across the country.
Add your pulled pork to a warm tortilla and top with a cabbage slaw. Southern coleslaw is okay, but something lighter like cabbage tossed in lime with salt is good too. (It's my personal opinion that mayo has no place on a taco, so choose the slaw you like best.)
Top with cheese and sour cream.
Best served with tater tots. (Actually, that's not necessarily true, but it seems a shame to eat a southern style taco without some form of deep-fried potato.)
3. The Full Breakfast Taco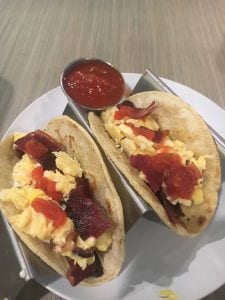 In addition to your above breakfast taco fillings, fry up some fresh hashbrowns. (Or dice potato and throw it in the air fryer setting of your Ninja Foodi for any fellow lazy cooks.)
If a classic breakfast taco doesn't fill you up, some hash browns ought to do the trick. Fill the taco with hash browns and top with your protein mixture. Add extra salsa.
Best served a warm cup of coffee.
2. Basic Grilled Chicken Taco
Fajita chicken too much work? I agree. Who has the foresight to marinate chicken? Not me.
So grill your chicken breast plain (though no one complained about a little salt) and slice into thin strips. Because this taco is so basic, you have endless fresh taco topping options.
Pairing #1: Cabbage slaw, sour cream, fresh lime
Pairing #2: Chopped onions, cilantro, lime (Street-taco style)
Pairing #3: Classic cheese, lettuce, tomato
Pairing #4: Cheese and salsa (for the vegetable hater in your family, we all have one)
This is also a great option if you have leftover chicken, but aren't quite sure how you want to enjoy it.
1. Fish Tacos
Literally the best taco in existence. I take mine grilled instead of fried (gluten-free problems) which makes these a bit easier to cook at home.
Choose a white fish (Mahi Mahi or tilapia are good starters) and grill with some salt and garlic powder.
While your grill is heating up, toss together some cabbage slaw.
Cabbage slaw: I've mentioned cabbage slaw on many of these recipes. I personally just buy a bag of "coleslaw" from the lettuce section of the grocery store—which is really just a bag of shredded cabbage and carrots. Bonus points if your store carries this with green and purple cabbage inside because purple cabbage looks gorgeous on a taco and is really hard to find pre-shredded.
Toss your cabbage in lime juice, salt, and a dash of garlic. Let sit in the fridge for 30-60 minutes before serving. Make it spicy by adding sliced jalapeños or make it more complicated for yourself by getting out the cutting board and adding in finely chopped cilantro and red onion.
Now you'll want to make your crema OR your fruit-infused salsa. The world's best fish tacos will pick one of these routes.
For crema, mix fresh lime juice and garlic into sour cream.
For fruit salsa, dice a fresh mango or pineapple and toss with chopped onions, cilantro, and lime. For extreme laziness, grab a few pieces of frozen mango from your freezer, chop, and mix into whatever store-bought salsa you were going to put on this taco anyway.
Now if you've made it this far in this email, I need to teach you the most important part of making ANY taco.
WARM THE TORTILLA.
This is especially key with fish tacos, which are commonly served on corn tortillas. Corn tortillas have a reputation for falling apart from the moisture in tacos (i.e. salsa, crema, lime). This will not happen if you follow my advice!
Using your grill or a skillet, heat your tortillas until they brown just a little bit. This works for flour or corn tortillas. Brush lightly with butter or oil if your tortilla looks like it's drying out. I do this on high heat because, by the time I get to this point, I'm pretty starving for a taco and want to eat already.
For an extra unhealthy option, heat oil in a large pot and lightly fry the tortilla. I've enjoyed this once—at a taco restaurant right outside Biscayne National Park—and it is to this day the best fish taco I've ever had. (They went the fresh mango salsa route, great call.)
Assemble your grilled fish on your warm tortilla and top with cabbage slaw and crema or fruit salsa. Avocado slices or guacamole are a necessity for all tacos, but fish tacos in particular.
Best served with a lime margarita or pina colada. Views of the ocean recommended, but not required.
And that's it, folks. If you're a meal planner, that's a week's worth of meals right there. (You're welcome.)
I hope that wherever you're parked this month, you stay healthy, you find community and connection online somewhere to remind you that you're not alone, and that you eat a few tacos because a taco-less life is an unfulfilled life.