This post may contain affiliate links. See our affiliate disclaimer here.
You've probably never heard of Fiordland National Park, unless you're planning a trip across New Zealand.
Heath and I have visited dozens of national parks across the globe, but Fiordland is my favorite. It's staggeringly beautiful and there is so much to do!
The park is named for its fjords—where the Tasman see comes inland surrounded by rugged mountains and cliffs—but the park has just as much to offer on land as it does on water, including my new favorite hike!
Here are our absolute favorite things we did (or tried to do!) in Fiordland:
Take an Overnight Cruise through Doubtful Sound
This is hands down, my number one recommendation for things to do in New Zealand. (#2 would be jetboating in Queenstown.)
You'll have to watch the video to see the beauty and prestige of cruising Doubtful Sound, but I can it was 100% worth the cost.
We shared a quad bunk with two other people—but those two other people upgraded to a private room so we had the room to ourselves! We didn't get to sneak a peek at any of the private rooms, but whatever room you go with, the views and activities on the boat are worth it. And the food! So. Good.
In addition to meals and cruising the Sound, we went kayaking in the afternoon, had the chance to go swimming (nope! too cold!) and there was an educational seminar on the national park.
Kayak through Doubtful Sound
During the right times of the day and year, you can kayak with wildlife but we didn't see any on our trip.
We typically travel with inflatable kayaks, and we dearly missed them in New Zealand. There are so many lakes, rivers, and seas to kayak and without our inflatables, we missed out on so much water! So we jumped at the chance to kayak across Doubtful Sound. My dream was to kayak under a waterfall, but there oddly weren't any where we docked! Rumor is you can kayak next to falls in Milford Sound, though.
The cruise provided all the equipment we needed for kayaking and with temps in the 50s, we bundled up in waterproof jackets too. My clothes ended up soaked, so learn from my mistakes: don't wear white.
Fun fact: The water in Doubtful Sound is nearly black. The crew told us if you filled up a glass with the water, it would look like brewed tea. That's because so much of the water in the sound is rain that has run down the mountains. As it flows down, it picks up tannins darkening the color. There are so many tannins in the water, it looks black!
Drive from Manapouri to Milford Sound
We've taken a ton of scenic drives in New Zealand—to Glenorchy, up Lake Hawea, down the coast—but this is hands down my favorite. You can watch all the beauty unfold in our latest video:
This drive is estimated to take about an hour if you go by Google Maps, but this drive takes nearly three hours. The road is extremely curvy and there is a looooong tunnel you may have to wait for. Give yourself plenty of time to make this drive, or split the drive into multiple days!
We camped at Cascade Creek Campsite using our DOC pass to break up the drive, but it still took us a few hours to make it to Milford…mostly due to the number of necessary waterfall stops. Fortunately this road has plenty of places to pull over and ogle at the scenery.
Take the 20-minute Chasm Hike
Our rule is that if more than one person suggests something, you have to do it. Which is how we found this little 20-minute hike. It's super easy and fairly flat.  Sometimes when I hear a hike is only 20 minutes, I think to myself, "Is this worth it?" I'd rather do a hike that's a couple of hours and offers me more views than just the rainforest.
But the Chasm was really cool! It's New Zealand's version of Watkins Glen I would say. The rushing water is crazy loud and the rock formations the power of the water has created are gorgeous. It looks like a theme park landscape if you ask me. If you want a quick stop to stretch your legs, this is the stop to make!
Kayak or Take A Day Cruise through Milford Sound
We clearly missed this in the video, but everyone said it's amazing! A bit more touristy than Doubtful Sound (since you can drive directly to Milford versus the boat – bus – boat combo for seeing Doubtful), it's still stunning and worth the visit! We didn't do both so I can't say which is better, but every we talked to agreed Doubtful is better.
PS I had friends who flew in a helicopter from Queenstown to Milford where they then hopped right on a cruise, which they said was 100% worth it, BUT we are more budget-conscience travelers.
Hike Key Summit (Or any part of the Routeburn Track)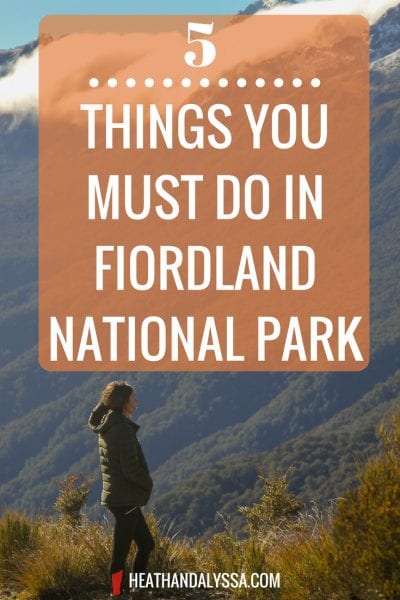 So many people recommended this hike to us! At least a dozen. And here I am, recommending it to you. If you go to Fiordland, do. this. hike.
It's uphill for most of the hike, but it's not as intensely steep as Roy's Peak. The entire hike took us a little over three hours and if you're not in shape—ahem, like me—then you can probably handle this hike. Just bring lots of water and snacks!
There are waterfalls, streams, and mountain views as you hike through the trees, but once you get above the vegetation line, the views are truly SPECTACULAR.
Definitely the best end of hike views I've ever had.
Plus once you get to the top, there's another 45-minute loop nature trail where you can walk around and soak up the full view of the mountain peaks around you.
I would give this hike a 10/10.
---
If you make it New Zealand, I recommend you tackle everything on this list! Allow three days for Fiordland at a minimum and enjoy the world's best national park**.
**This is 100% my opinion. Do they have a competition for the world's best national park? Can I host it? Will they pay for me to visit them all?