This post may contain affiliate links. See our affiliate disclaimer here.
Yep, we started traveling again.
But it isn't what you think.
I'll get back to that in a second.
Our whole lives for the past six years have been about travel.
Visiting all fifty states. Re-visiting 45 states and dreaming about driving to Alaska again. Setting our sights abroad to other countries where we can RV. Making fun maps of all the places we've been.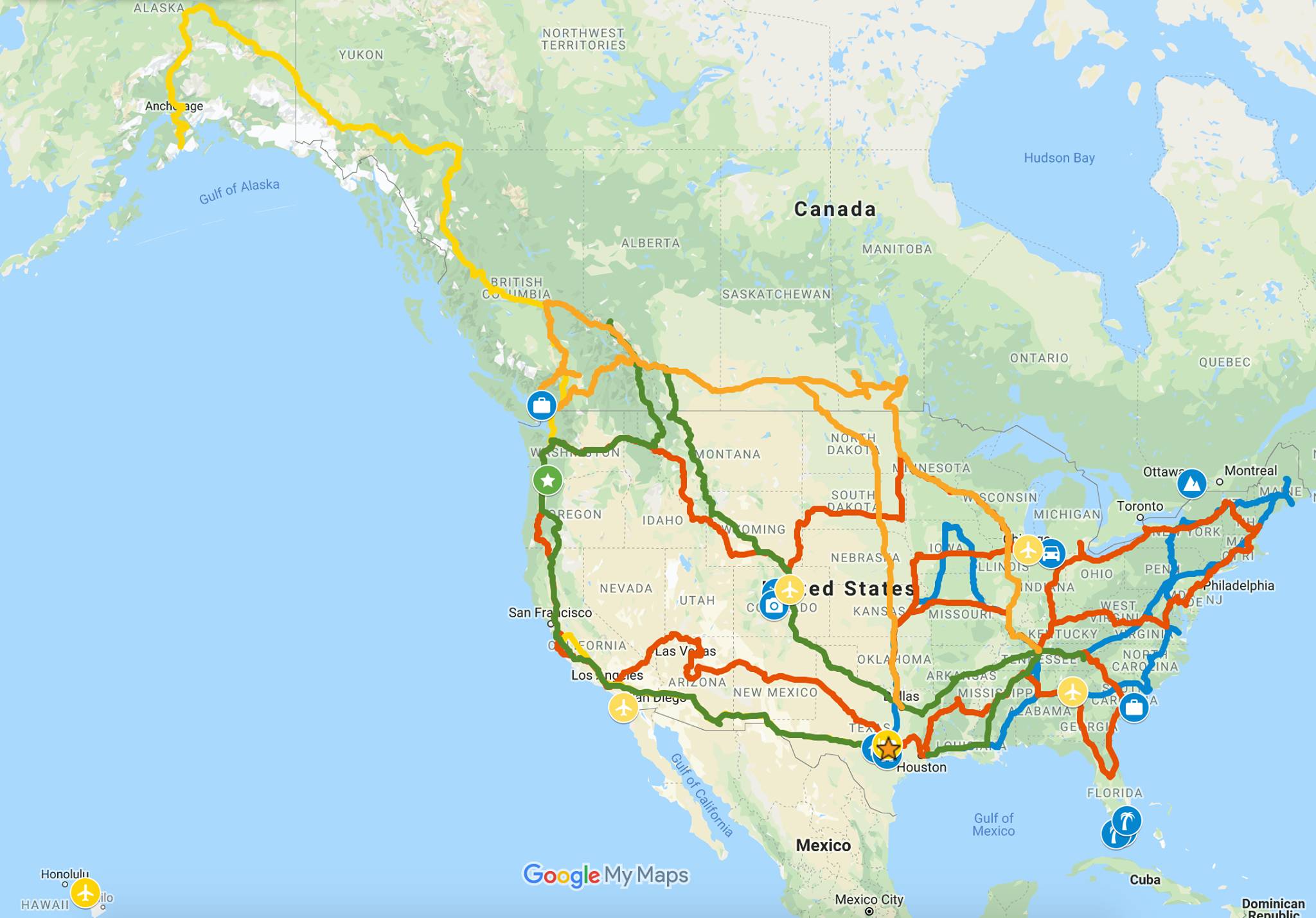 Well now travel plans everywhere are being canceled. Our friend Nate who runs Faredrop told us that there are nearly 90% fewer planes in the air right now compared to usual.
That's a huge dive for the travel industry.
But what about RVs?
We travel in our homes. We use fewer public facilities because we are self-sustaining. Many campgrounds are employing contact-less checkins. Most of us spend the rest of our time in nature—six-feet away from strangers by preference—anyway.
I've heard many people say RVing may boom this summer because it feels like a safer way to vacation compared to flying. I've seen friends on Instagram getting back on the road in the past week.
Can we go back to travel as usual?
Heath & I have talked about this a lot over the past month.
Our previously planned travels this year had us spending April & May in Tennessee. Driving up to spend some of our summer in Michigan—one of the few states we have only visited once and are dying to explore again! We planned to fly to Oregon to visit friends, attend a rally at Winnebago HQ in Iowa, and then finish out the year in the Rockies—Colorado, Wyoming, maybe even Montana.
We scrapped all of our plans.
After Ellie's health scare last month and talking to fellow full-time travelers, we knew we had to throw that map out the window. We needed a new plan that allowed us to travel in the safest way possible.
Because you see, we travel full-time.
We have no home. No property. No land. No place to stay put for a while.
"Home is where you park it" as they say.
We couldn't stay in Alabama forever. So we came up with our own adapted travel plans.
Step One: Drive to Texas
Ellie turns ONE (😱) this month so she has her one-year-old check up at her pediatrician here in Texas.
When the stay-at-home order in Alabama expired last week, we packed up and drove to Texas. Her appointment isn't until the end of the month, so we are keeping it in park at Heath's parents' house and spending time with family.
We thought about extending another month in Alabama before driving back to Texas, but wanted to make sure we were in the state at least two weeks prior to her appointment. Plus we've got full hookups including 50 AMP service here in the driveway! It's luxury moochdocking.
Step Two: Summer travel?
Heath and I are playing it cautious.
We didn't want to keep our old travel plans traversing a dozen states. There's too much risk with getting sick, spreading the virus, or ending up stuck somewhere.
But we also don't want to stay in a driveway in Texas all summer.
When we sat down to discuss all of our options, we talked about choosing just one state. One state where we would be happy spending June-October. Somewhere with good weather, a day's drive away from Texas if we needed to return to family, and preferably somewhere we might want to open our first campground.
Colorado.
It's been at the top of our list as we've searched for a campground (along with Tennessee and Maine) and it ticked all the boxes for a place where we might want to spend an extended period of time.
How We're Traveling Moving Forward
When we drove from Alabama to Texas (roughly 11 hours Google Maps time or 15 hours RV/baby time), we made the whole drive in one day. Normally we would split the drive in two, but with the Texas-Louisiana border being monitored, we didn't want to stop in Louisiana.
(They did stop everyone at the border on I-10. They asked us when we pulled through at 11 PM where we were driving from and where we stopped along the way before they waved us through. The whole conversation lasted less than 15 seconds.)
While restrictions are being lifted across the country, no one knows how this will play out and how travel will continue to be affected.
That's why we chose one single state for our travels this summer. We have friends and family across the state. We can happily stay parked for a month without worrying about tornados.
I don't know if our one state idea is the ideal way to spend our year. I think most people would agree that the safest thing for everyone to do would be to stay close to home this summer.
But as full-timers without a homebase, we knew we needed to the spend the next few months somewhere.
And what better place than where you can park with views like this?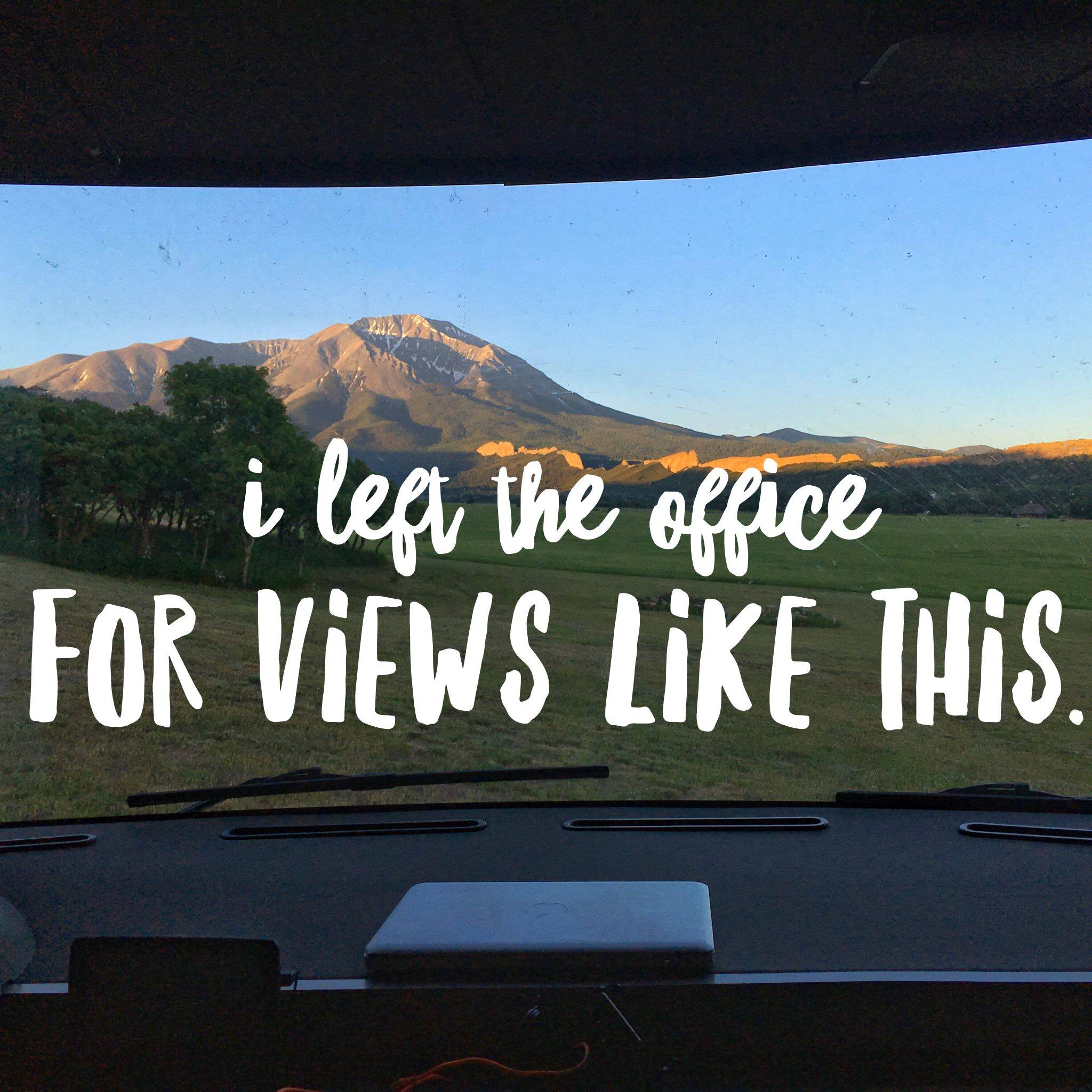 Those are our plans as of today. They will probably change by the end of the month. But it's where we are right now.