This post may contain affiliate links. See our affiliate disclaimer here.
Heath and I rarely share stories of our travels on the blog, but looking back over the summer, I have to share how much we loved the Finger Lakes.
Back in July, Heath and I spent a couple weeks hanging out in upstate New York. We'd heard it was beautiful, but we weren't really sure what to expect.
It totally over-delivered and quickly became a "I can't wait to go back!" destination.
We camped at the Finger Lakes Jellystone Park and spent the better part of a week exploring everything the Finger Lakes had to offer—although the lakes were all freezing! These Texans weren't prepared for that.
In this post, I'm sharing my four favorite things we did in the Finger Lakes AND sharing our two latest vlogs about the adventures 🙂
1. Corning Museum of Glass
I have always wanted to make glass. I don't remember what prompted it, but it's been on my bucket list for over a decade.
So when we heard about the Corning Museum of Glass—which let me say right now, this is the coolest museum I've ever visited—we instantly looked up their studio to take classes.
We spent the morning learning how to make glass and making our own glass art. I got to handle glass at temperatures hotter than lava! 😱 It was every bit as incredible and challenging as I imagined. You can watch us make our own glass art in this vlog:
2. Watkins Glen State Park
With so much to see in the country, Heath and I have rarely visited the same place twice. But we visited Watkins Glen State Park twice in one week! It was easily one of the most unique state parks we've visited (and a great reminder that state parks can be just as cool as national parks!).
The state park is a deep gorge with a stream running through it creating multiple water falls. The main gorge trail is only a mile and a half or so, but the entire hike you are walking along running water making the hike incredibly beautiful and peaceful.
In this week's super short vlog, we share our experience hiking Watkins Glen State Park for the first time (but a better theme of this video might be "look at how out of shape I am" 😂😳 ).
3. Glenora Wine Cellars
Heath says I'm dramatic, but this is 100% true: This was the best wine tasting of all time.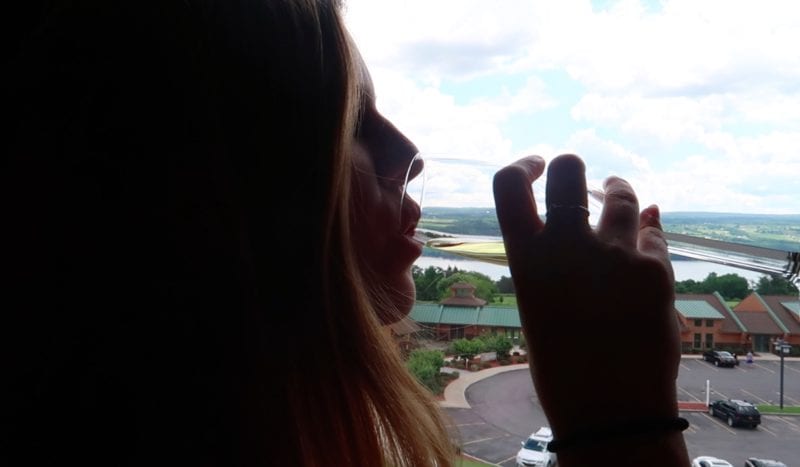 White wine is more popular in the Finger Lakes region and Heath and I prefer reds, but still this wine tasting was the best tasting ever. Probably for one specific reason…
They paired all the wines with Belgian chocolate.
Oh. My. Gosh.
It was incredible. I can't recommend their chocolate and wine tasting enough! And it was only $15 to try six wines and six chocolates. We only visited one of the many wineries in the area and I'm kicking myself for not trying more. I was so impressed. And now I'm craving chocolate and wine…
4. Letchworth State Park
The more you travel, the more you'll learn that there are multiple "Grand Canyons" in America. There's the real one, then there's the "Texas Grand Canyon" (officially named Palo Duro Canyon) and then "the Pennsylvania Grand Canyon" and then there's Letchworth State Park, nicknamed the Grand Canyon of the East.
Having visited them all, the Grand Canyon is the most grand. But they are all beautiful and unique!
Letchworth State Park has been voted the number one state park in the country and I'm not at all surprised. The park boasts three HUGE waterfalls and lots of hiking trails. We couldn't visit the whole park since it was partially under construction while we were there (womp womp) but everything that we did see was stunning. We spent a full day exploring and learned you can take hot air balloons over the park or even go white water rafting on the river. I wish we would've camped in the park so we could've spent more time there!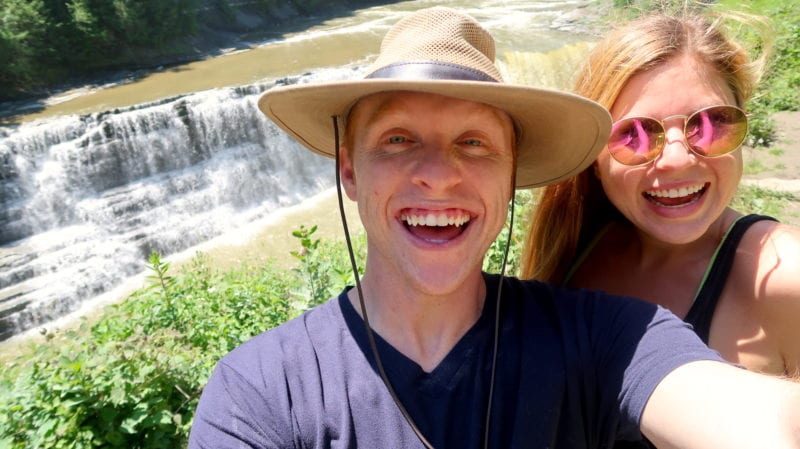 I was so impressed by how gorgeous New York state is and we ended up spending nearly a month traveling across the state exploring the Finger Lakes and the Adirondacks. In our next vlog, I get to explore the Adirondack Mountains solo. If you haven't yet, subscribe to our Youtube channel for more adventures 🙂