This post may contain affiliate links. See our affiliate disclaimer here.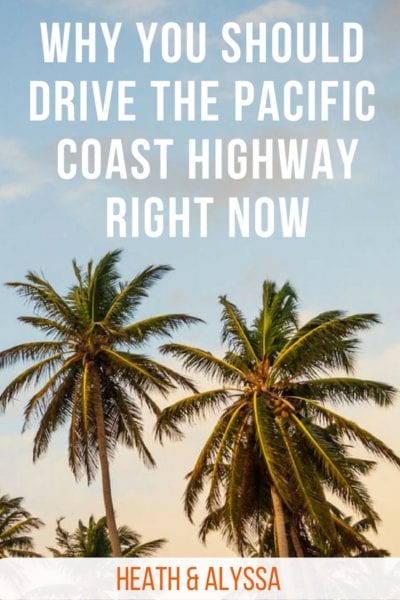 Nothing says summer better than the beach and a road trip and the Pacific Coast Highway delivers on both and more.
As my husband and I prepared for our trip, I often took to Pinterest in hopes of uncovering the hidden gems of America. And wow! There is a lot to see out there. That's why we call this "Round One."
But one journey we wanted to take immediately was Pacific Coast Highway. You'll see it listed on every must-drive road trip for the country, and usually it's at number one. You cannot let life go by without taking this drive.
Here's why you should drive the Pacific Coast Highway right now, if you want your summer to be the best summer of your life:
Beaches
We jumped on Highway 1 (also known as Pacific Coast Highway, Shoreline Highway, or Sepulveda Boulevard) in Manhattan Beach, but you can start all the way south in San Diego if you'd like. (We skipped it on account of budget and the fact that we'd both already visited. The San Diego Zoo and Coronado Island are both musts.)
Manhattan Beach is the perfect beginning to a summer road trip. Miles of perfectly soft sand stretch across the shoreline book ended by the silhouettes of cliffs to the south and mountains to the north. There are a dozen volleyball nets, surfers riding waves, and a long picturesque pier. Plus, we timed our visit right with the LA Kings Stanley Cup parade.
Heading north on the 1, you'll pass a few lesser known beaches and see the Santa Monica pier and beach. The road follows the Santa Monica mountains, so you'll be surrounded by mountains and sandy beaches for the first couple hours on the road.
tip #1: Parking at Santa Monica can cost up to $20, but parking in Manhattan Beach and other smaller beaches is free.
If you plan on camping along the drive, there are tons of overnight beach campsites for RVs just north of LA. We drove up on a Saturday afternoon and found every site taken. They are all first come, first serve, so get up early and snag a spot while you can!
Wild Life
We drove about six hours on our first day, just because we stopped so often to visit beaches and explore. We stopped in Pismo Beach, one of the northernmost sandy beaches, which is a standard three hour drive north of LA–if you can resist stopping along the way.
tip #2: NEVER leave your phone/camera in the car. That's when you'll see the coolest sites.
tip #3: ALWAYS carry a jacket. It may be summer, but the coastal breeze will chill you.
We reached Pismo Beach right at sunset. The sky lit up in a soft light blue, but the coastal wind all by froze us before we could even walk out to the water. That's when I heard a little girl scream: "Mom! There's whales out tonight!"
Sure enough, not far from the beach, I could make out the bodies of whales cresting the top of the water. I squealed much like the little girl every time they spouted water from their blowholes. We watched them playing out in the water, but we both forgot our phones to take any photos. Fail.
There are multiple stops along the road to see sea lions and seals, that I'd recommend if you're driving in a car and can easily stop. Most scenic parking is on the west side of the highway, meaning you must pull over to the left if you're driving north, which is pretty difficult to do in an RV, so we missed a few popular sites.
If nothing else, by the time you make it to Redwood National Forest, you'll see elk everywhere!
Unbelieveable Man-Made Sites
After visiting Hearst Castle, I created a rule for our road trip. If at least two people tell us to do something, we must go do it. And Hearst Castle was one of those places we'd never heard of before that just keep coming up.
Hearst Castle is 165 room mansion built by W.R. Hearst. You may have heard of Hearst Publishing, since they print everything from Cosmopolitan to Esquire to Popular Mechanics. The entire "house" is built to be a museum and was donated to the state of California in the 1950s shortly after its completion. We toured the upstairs suites which included guest bedrooms (apparently Hearst is known for always telling his architect "more bedrooms!"), Hearst's private floor, and two libraries.
If you'd like to be within five feet of a Greek vase from 8th century BC or touch a newspaper from the 1920s, they have all of that and everything in between. Tours cost $25 a person, and there are four different tour options. I highly recommend it. Aside from being gorgeous, you walk away inspired by the family's legacy and by their indoor pool.
tip #4:  If you take the evening tour, there are actors dressed as 1930s guests walking around the castle.
The Ocean

On our second day driving up Hwy 1, we only drove 90 miles–AND we didn't stop to camp until sunset (just to give you an idea of how often we stop to take pictures). On the short drive from Pismo Beach to Kirk Creek, you'll drive on the edge of cliffs and I mean the edge. They say no vehicles over 30 feet, (we are 29 ft), and you'll quickly see why.
The road curves with the coast, so the ocean is never out of site. Plus, most of this area is state park or forest land, so it is truly a natural beauty. In this stretch of highway is where you'll find Hearst Castle.
This 90 mile stretch is easily my favorite of the trip. You'll see large waves crashing violently into the independent rock formations decorating the coastline from any of the many, many scenic overlooks. (Which means there are always people around to take a picture of you!)
Once again, every campground here was full, but we took over a no-show's reservation at Kirk Creek Campground. (Thanks, H. Cruz, whoever you are). This campground sits on the edge of a steep cliff (below), but has a winding trail down to the ocean.
Forests
The last big stop on Pacific Coast Highway in California is the Redwood National Forest. The trees are daunting and jaw dropping. There are some places where trees are growing on top of trees that fell years ago and there are trails that lead you directly through the trees.
But other than those famed Redwoods, you'll find Redwood trees if you drive through the Avenue of the Giants or stay anywhere in Humboldt county, just an hour or so south of the park. No matter what, all of the Redwoods are free sites, so you don't have an excuse to miss them.
Just go, and be amazed.