This post may contain affiliate links. See our affiliate disclaimer here.
ConvertKit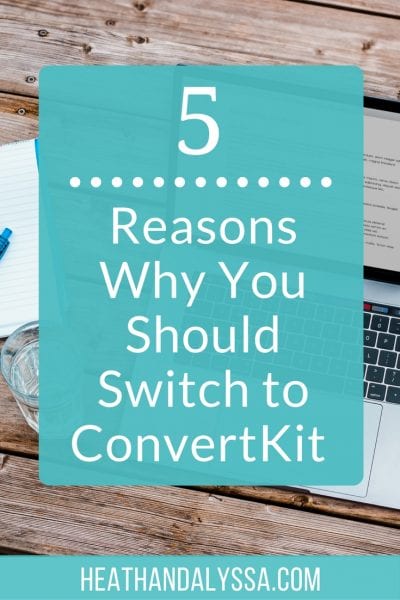 is all the rage right now in the email marketing space. If you haven't heard of it, you must be living under an internet rock. If you are using MailChimp, AWeber, or some kind of off-brand email marketing service– you are most likely doing it wrong.
I'm all for simplicity and not having to re-learn new platforms when possible, but to quote Al Pacino in Any Given Sunday, sometimes the small learning curve of switching to a better email marketing service can "make the f*$%#! difference between winning and losing, between living and dying!" (sorry, I had to). The pre-game speech in that movie is one of my favorite scenes of all time.
Granted, I'm pretty sure Al Pacino wasn't talking about email marketing. But, like football, email marketing is a game of inches. A few small tweaks in your approach can generate thousands of more subscribers (or customers). A simple, more sleek sign up form on your blog can yield much higher results than a clunky WordPress plugin that never works just right. And a ridiculously easy drip email campaign sent out to your followers can create raving fans out of total strangers. They might even paint up their face for you (but probably not).
But moving on past the terrifying purple-faced guy, let's get real for a moment.
ConvertKit has jumped into the email marketing scene with the newest and most innovative service available for professional bloggers and online entrepreneurs (or "professional bloggers" as ConvertKit calls them). Big name bloggers like Pat Flynn, Andrew Warner, and Leo Babauta (Zen Habits) are all using ConvertKit and for good reason.
If you are someone who is currently making an income from your blog, or you would like to eventually make an income from your blog, I believe ConvertKit is the best option for you.
Before I get into all of the reasons why you should make the switch to ConvertKit for your email marketing, I want to give you context to the reason why I'm writing this post.
ConvertKit has radically helped me grow my blog, both in subscribers and monthly page views, over the course of the past year.
Before I switched over to ConvertKit, I had been blogging consistently about our RV lifestyle, but not taking my email list growth seriously. After signing up for the service, it not only took over MailChimp as my email marketing provider, but it also taught me how to properly communicate with my email list.
In the first year of my blog hovered around 2,000 monthly page views and I had 112 subscribers to show for all of my hard work.
Then I signed up for ConvertKit in January of 2015 after my year of steady blogging.
One year later, February 2016, I've grown my email list from 112 subscribers to over 1,600 subscribers (adding around 10-12/day).
I have also grown my monthly traffic from 2,000 page views per month to over 20k page views per month.
The majority of this traffic and subscriber count came from a 7-day course sequence I set up in ConvertKit. The crazy part is, I didn't actually finish my 7-day course until last August. I signed up for the service in January and slowly created the content throughout the year. If I had actually finished the course in last January when I had originally signed up, I would have easily added an additional 2k subscribers.
Since launching my course, the community I've built as a result of ConvertKit has helped me form hundreds of meaningful relationships with my followers and even land a sponsorship with the most well-known RV manufacturer in the world, Winnebago.
Below is a picture of me and my wife's 2016 Winnebago RV (virtual high-five to ConvertKit's assist in helping me grow a decent enough of an audience that Winnebago decided I was worth their time).
But let's get down to it, what are the nuts and bolts of why ConvertKit is the best option for an email marketing platform?
Reason #1: It Was Built for a Specific Kind of Blogger
ConvertKit was built specifically for professional bloggers who are working to create an income from their blog. Email marketing services like MailChimp and AWeber were built for the masses.
Why does it matter that it was built for "professional bloggers"?
Every feature inside of ConvertKit, such as their tagging feature, was created with a specific purpose in mind. For example, the ConvertKit tagging feature allows you to easily segment your audience based on their interests & more detailed information.
What do tags look like in action?
When someone signs up to my free 7-day course on "How to Travel Full-Time on $2k/month", the first email in my sequence asks them a question that lets me know more information about who they are and how I can best serve them.
The first email that goes out to someone when they sign up for my email course asks them to click on one of four links. Each of the links is set up as a "trigger" so that once they click on it, it allows me to better understand each subscriber.
The question I ask in that first email is, "Where are you currently in your RV lifestyle/journey?".
If they haven't already bought an RV (and they click the link above that says so), then ConvertKit automatically tags them to a list of people who are still "dreaming about the RV lifestyle".
What this tells me is that they might be interested in potentially purchasing the guide I'm working on called "How to Hit the Road in an RV". Tags are an easy way for me to create a segmented list of people who might potentially be interested in purchasing that guide down the road.
This tagging feature is a key differentiator when comparing Mailchimp VS. ConvertKit. 
Inside of Mailchimp if someone purchases a product or signs up as "interested for a new course," you have to add them to an entirely new list. This is fine when you are just getting started, but once you start building up multiple lists, you have tons of duplicate subscribers on each list and it just gets messy.
ConvertKit's tagging feature allows you to easily layer tag information on top of each subscriber instead of having to go through the pain of creating a new list every time you launch a new product or course.
You can also add a tag when someone:
Buys something from you
Signs up for a course
Finishes a course
Clicks a link
Reason #2: The Very Sexy Dashboard
I'm not going to lie, I sign into ConvertKit at least 10 times per day. I know that I shouldn't be so focused on vanity metrics like email list growth, but I mostly blame it on the very sleek ConvertKit dashboard that shows me how my email list is doing.
This is the screen I see when I first sign into my ConvertKit account.
At one glance I have all the metrics that truly matter for my email list: how many subscribers I've gotten today, past 30 days, total list number, and what sign up forms are generating conversions on my blog.
Also, if you look at the right side of my dashboard, you'll notice the little white lines that separate the dark blue from the light blue bars. These different colors indicate that subscribers have joined my list from different sign-up forms. This is really nice to see because if a particular sign up form is outperforming others, you can add it to your sidebar or popular blog posts.
Let's compare ConvertKit's dashboard to what I saw when signing into my old MailChimp Account.
What am I even looking at here?
At a glance, MailChimp doesn't offer near the simple user experience that ConvertKit offers. This is mostly due to Nathan Barry, the founder, who has a background in designing iPhone and web applications.
Looking at ConvertKit's dashboard makes me genuinely excited about growing my email list.
Also, to help me not obsessively check my account every fifteen minutes, I recently signed up for Bryan Harris' List Goal app (it helps you set 60-day goals for growing your email list). The app integrates with ConvertKit and every time I select a new tab inside of Chrome it automatically tells me how many subscribers I've gained today.
Reason #3: Easy to Create Sign Up Forms & Landing Pages
Here is a brief walkthrough of how ridiculously easy it is to create a good-lookin' sign up forms inside of ConvertKit.
Reason #4: ConvertKit Has a "Concierge Team" to Help You Transition Your List from MailChimp or AWeber
If the idea of moving your entire email list over to ConvertKit from MailChimp or AWeber sounds like a complete headache. No worries, ConvertKit literally has a concierge team that will do it for you.
Reason #5: ConvertKit Forces You to Start Thinking About Your Blog Like a Business
A friend of mine recently told me that you would never open a coffee shop and allow customers to come inside for two years, drink your coffee for free, and then "eventually charge them". Yet, most people who are trying to build an income from their blog do exactly that.
Before I signed up for ConvertKit, I was thinking like an amateur, like someone who couldn't build an income from their blog or a large enough email list to make a difference. But making the switch to ConvertKit has helped me see my blog in a new light. I am just on the verge of creating my first product for my community, but I wouldn't even have a community had it not been for ConvertKit.
A Brief Demo of ConvertKit
If you're still on the fence about using ConvertKit, here is a quick demo of what the dashboard looks like and some of the basic functionalities.
How Much Does It Cost?
ConvertKit's basic plan for 1,000 subscribers or less is $29/month and then goes up from there (up to 3,000 subscribers you'll pay $49/month).
Where to go from here?
I wrote this post because I've been using the service for over a year and I absolutely believe in the company. Right now, ConvertKit is growing at a monthly rate of over 32% per month and publish all of their monthly income here on BareMetrics (which is super transparent and cool).
I did use affiliate links in this blog, but only because it's a service I would recommend to any of my closest friends (and have). If you want to sign up through my referral link, here it is. I will receive a commission if you decide ConvertKit is the right fit for you.
Have any questions about my experience with ConvertKit? Would be more than happy to answer them below.