The past few years we've stayed at more than our fair share of RV parks and campgrounds. Heck, we've even done plenty of friends' driveways and the occasional Walmart parking lot (though Wally World is far down on our list of favorites). However, I recently came to realize I have a favorite new type of camping: wineries and farms.
This is our Brave last month at Hauser Estate and Winery in Gettysburg, Pennsylvania.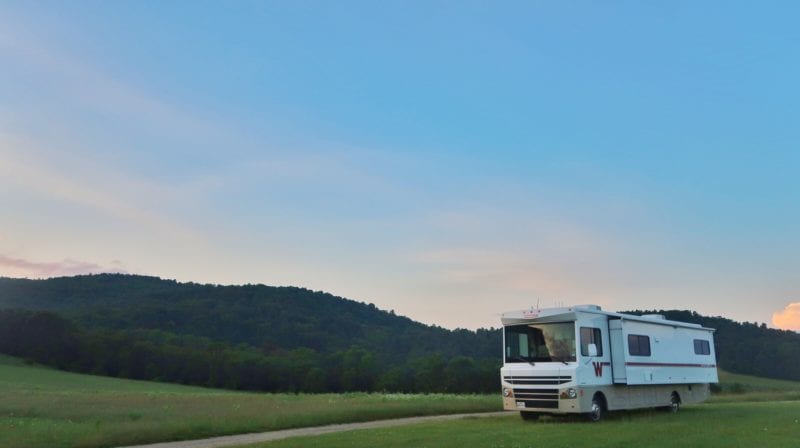 I have no idea why we waited this long to begin camping at wineries. After all, it makes so much sense. After a long drive day, I can walk inside the winery, buy a bottle of a sweet red (because I like when my wine tastes like Kool-Aid), and relax with Alyssa while we enjoy a peaceful evening in a remote location.
We found this winery as part of our Harvest Hosts membership. A club where you pay an annual fee to stay free at wineries, museums, breweries, and farms.
I enjoyed this camping experience for a few reasons:
Our drive out to the winery was absolutely gorgeous. We cruised through the Gettysburg Battlefields, through rolling hills and along country roads while making our way to the Hauser Winery. While some RV parks are in remote areas, more often than not they are within earshot of at least one train who likes to blast his horn throughout the night. At the winery, it was quiet and peaceful all night.
I enjoyed the quality of human connection. Melissa, our point of contact at the winery through Harvest Hosts, was extremely nice and happy to have us on site. I walked into the tasting room area after we arrived and was greeted with a nice smile, complimentary tasting, and then I bought a bottle of wine.
It was free. Sure, there is a $44/year membership fee for Harvest Hosts. But several of the campgrounds where we are currently staying in the Gettysburg, PA area are $60 or more per night. This means that our membership literally paid for itself during our first winery stay.
We absolutely plan to continue to camp on wineries, farms, and vineyards this year.
Alyssa and I love meeting new people on the road, we love wine and enjoy parking our Brave in beautiful locations. Harvest Hosts combines a great experience and a free campsite with good local food and drinks. You cannot ask for much more than that.
How To Camp on Wineries, Breweries, Farms & More
We joined Harvest Hosts this year because we'd heard of their many locations along the East Coast.
All in all, Harvest Hosts has around 600 locations across the country where you are eligible to camp. Primarily, these locations are broken up between farms, wineries, and breweries (and the occasional museum).
As you can see on their dashboard, they are spread out all over the country.
Once you sign up, you're able to view photos, reviews and the addresses of locations within your area.
The interface is easy to use and you can filter by locations that are within a certain mileage of where you're going to be camping.
Once you find a place you'd like to visit, each winery or farm will have a point of contact for you to call or email before arriving. While most of these places have large pieces of land to park and can accommodate multiple RV's, I always recommend calling ahead so they know you're coming.
Related: Listen to our interview with Harvest Hosts on turning your business idea into revenue
Most Harvest Hosts locations you will only camp one night before you move on to your next stay. However, we've had friends who said their hosts invited them to stay an additional night or two.
And while it's not required to purchase wine or beer at the location, it's definitely encouraged and a great incentive for more businesses to join HH. (Plus, you don't have to drive anywhere afterward, so why not enjoy a drink?!)
But Don't Just Stick to Camping at Wineries
Recently we stayed on a farm outside of Raleigh, North Carolina. Each morning we woke up to farm fresh eggs, the sounds of nature and one of the most peaceful camping experiences ever.
We loved every minute of our farm stay. I think our experience was also amplified because we had just left Myrtle Beach, which was hitting peak tourist season. After enduring 4 straight weekends of biker rallies, a farm out in the country was pure bliss.
Aside from the peaceful quiet of farm life and fresh eggs, we also walked the trails on property, made several campfires, and star gazed each night. I loved being able to sit down with our host, Charles, and hear more about the hardships and upsides to farming.
Sometimes I think this is what RVing full-time is all about. Getting to know people who you never otherwise would've met and getting to experience places you never otherwise would've seen, like remote farms and distant wineries.
If I had to sum up the reasons why I love camping on farms and wineries so much, it would be this:
Beautiful locations
Great food and drink
Good people
Free camping (huge perk in and of itself)
If you have experience camping on farms or wineries while on the road, what do you love about it? Drop a comment below, would love to hear from you.