This post may contain affiliate links. See our affiliate disclaimer here.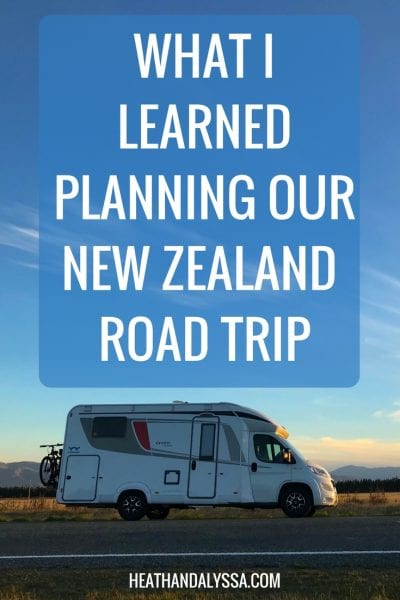 If you follow us on Youtube, you know we're in New Zealand right now exploring the absolutely best the country has to offer. (And we're producing 30 episodes of our adventures! Start with Episode 1 here.)
It took months of planning our New Zealand road trip before we could get over here and I'm so glad to finally be here—partially because I'm no longer staring down the barrel of a 16-hour flight from LAX to SYD.
So how do you plan for an RV trip in a foreign country? There are a lot of moving parts. Here are just a few of the things I've learned about planning our New Zealand road trip.
Visas & Foreign Airports
You don't need a visa if you're an American visiting New Zealand for less than three months. Which is part of the reason why we decided to stay for only two months and avoid the hassle of applying for a visa.
However, you do need a visa for Australia.
We didn't think about this until the day before we flew out, when we realized oh hey, we wanted to spend our last week down under in Sydney, so we should probably check the laws real quick. Fortunately, you can apply online, it takes about 15 minutes, and it costs $20 AUS.
Here's a link to where you can apply.
I wasn't sure how long our applications would take to be approved, but I wasn't worried about it since we wouldn't be entering Australia until May and it was only March.
But then, as you saw in our first vlog, our baggage was tagged incorrectly and we needed to pick it up ourselves from baggage claim in Sydney. This meant we had to go through customs and fingers crossed, we would be allowed through.
Customs was a bit difficult. My passport wouldn't work in the electronic passport station, so I had to go talk to an agent. Then fill out some paperwork. Then Heath didn't have the right papers so we had to go through another special line to talk to an agent.
It wouldn't have been too bad if we weren't walking zombies after our first 24 hours of planes and airports. Fortunately, our visas had been processed in time, everyone was incredibly kind and warm, and we made it through customs okay.
But then we needed to re-check our bags with the airline and go through security now. This is when we learned that baggage limits in America are nothing compared to the limits in other countries. Heath and I are used to our bags always flying free with Southwest or Delta. Our last leg of our flight was with Virgin and they allow you to check one bag—and if you have a second one, it costs $100. YOWZA.
Plus, you can only carry on one bag each, and in America, you can have two. YOWZA AGAIN.
So Heath and I got to sit on the floor and repack all our suitcases to fit everything in compact bags. I didn't even THINK about researching this before we left!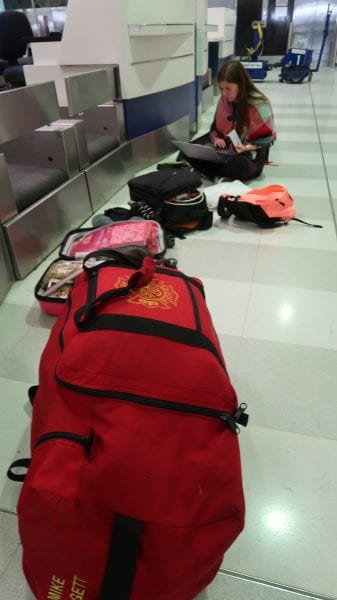 Once we got all our baggage settled, the airline attendant (who was gracious enough to give us time to repack our bags and weigh them every two seconds to get them at the right size and weight) asked to see our return flights.
That's when it hit me: I forgot to book a flight out of New Zealand! 
I was so concerned with getting us flights from Sydney to Hawaii to Texas, that I forgot about the most important flight! Because without an exit flight, they won't let you into NZ. And back on the floor I sat searching for flights. I hurriedly booked the cheapest one and we were finally on our way.
Lessons learned:
Triple check visa rules for all places you are flying, even if you don't intend to stay
Learn baggage limits in any countries you may be flying to
Make sure you book a return flight from New Zealand!
Flights
Other than that last minute flight, we flew to New Zealand for free on points.
We use Delta Skymiles for international flights (and Southwest for domestic) and absolutely love the airline. I did miss the note that we weren't flying on Delta the entire route to NZ, but instead were booked with their partner, Virgin Australia, for that last leg from Sydney to Christchurch. That caused a bit of a headache with our baggage, but when you're flying for free, you really can't complain.
You can learn how we fly Delta for free in this post on travel hacking.
Packing
To create our packing list, I first downloaded a few free packing lists from other international travelers. This packing list by Kara and Nate is my favorite! They detail everything from what bags they use to how many shirts (and what kind of shirts!) to pack. Plus, since they are Youtubers, we checked out their film gear set up too.
The only thing I knew for sure was to not bother packing a hairdryer, but that's kind of camping 101 anyway. But packing for three months abroad wasn't going to be easy without help.
Using a packing list is great, however, as I've learned, you can't actually make your husband follow it. The morning we left for the airport, Heath informed me that he could not fit everything in his bag and needed to pack an additional suitcase (thus creating our Sydney airport baggage drama).
RV Rental
There are a ton of campervan rental companies here. Apollo, Maui, Britz—we looked at them all. We had decided on Apollo when a friend emailed us and said no no no, I know a better company.
Enter Wilderness Motorhomes (or as I call them, the RVs of the Future).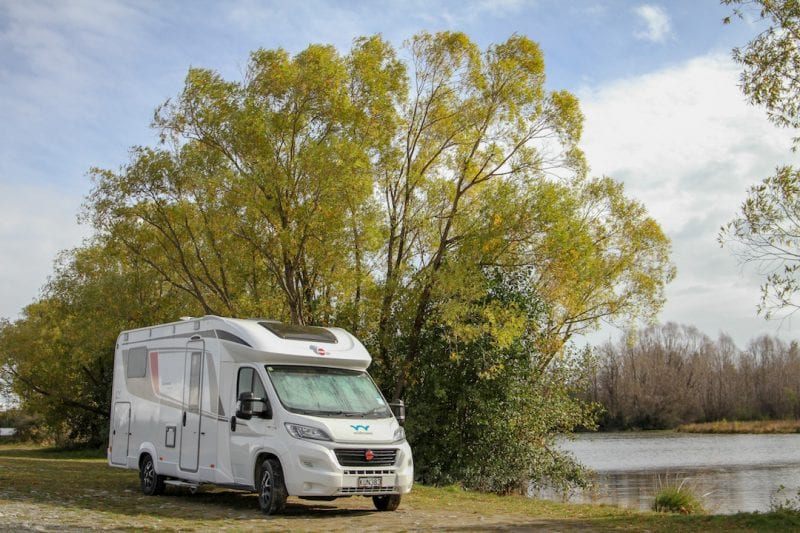 For roughly the same price, their rigs are a million times nicer. (We'll do a future post on the costs of renting a campervan in NZ!) I feel like I'm traveling in a fancy hotel. I can't believe we hadn't found them in our search for campervans.
Here's four reason we are thrilled we went with Wilderness (so far):
They are BEAUTIFUL on the inside. Everything is bright and white and everything America RVs are not.
WIFI! The RV actually has onboard wifi. Like it's 2032 or something.
Incredible customer service. We thought something was broken on our rig and they got us into a shop instantly. (It wasn't broken, we are just stupid Americans.)
They help you have the best road trip. Upon booking, we were given sample itineraries, suggested campsites, and even free guidebooks detailing the best things to do on the islands. They'll even book our ferry to the North Island for us! Planning a route in a foreign country you've never visited was difficult for me, so this was a godsend! We spent a good amount of time talking with their reps getting suggestions on places to visit during our time here. Which brings me to the hardest part of planning a road trip…
Planning Our Route
I planned our route 100% using the information Wilderness gave me. It saved me so much time and mental energy. I downloaded all of their sample itineraries and started plotting the points on our own map.

The best way to get tips on where to visit in a foreign country is to ask the locals and Wilderness really delivered on that. They took all the stress out of planning our route.
They also gave us suggestions on apps to download for the other most stressful part of planning: Finding campsites.
Finding Campsites
No, we aren't booking any campsites ahead of time. We've never been the kind of people who book campsites ahead of time, and since we plan on mostly freedom camping here in New Zealand, there's really no need.
We're using a couple apps to help us find campsites: CamperMate and Rankers.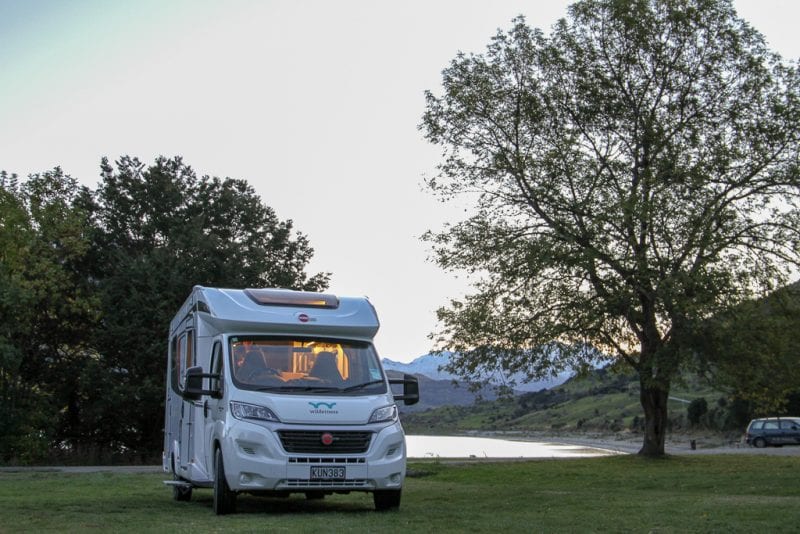 We heard a TON of app recommendations before we flew over here, and so we'll be sharing the best apps in an upcoming video. But so far, CamperMate is the BEST. We've camped for free almost every night and spent two nights at holiday parks just to charge up our batteries.
CamperMate lists out all the holiday parks and campsites across the country and filters them by type and cost. So far in our travels, we've found that we're never more than 20 minutes away from a free campsite. I love that!
To learn more about freedom camping, we just posted a video about our experience freedom camping in our Wilderness.
---
We are ten days into our campervanning trip and still have over a month to go (EEEEEK)! Thus far, we've been blown away by our experience in New Zealand.
We'll continue to share our experiences and lessons from our adventure here on our blog and on Youtube. If you have any questions about campervanning in New Zealand, drop a comment and we'll try to answer it on camera! 🙂