This post may contain affiliate links. See our affiliate disclaimer here.
RV design has come SO FAR in the last 10 years. The differences between a 2013 RV and a 2023 RV are staggering. You can really see these modern innovations in this Wilderness Motorhome rental. It's no joke when I say this was our favorite RV floorplan EVER.
Tour it with us:
Watch time: <10 minutes
In addition to being beautiful, this RV was particularly functional with movable floor pieces that turned the shower into a hallway when not in use. Plus I think this is the only RV rental we've had that has the step outside the RV instead of inside the RV. This meant never once having a baby fall into the tiny stairwell by the door.
(Which happened often in France, Italy, Japan… Many tears have been shed over that inside step 😭)
​Tour the entire beautiful RV (and its giant gear garage) here.
Best Features of this Wilderness Motorhome
1. ​King Size Bed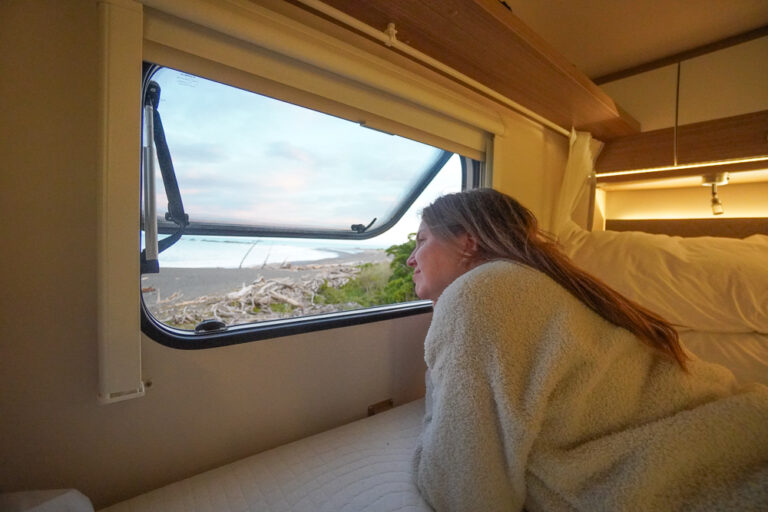 Sometimes an RV king isn't a true king-size bed. But in this case, it felt even larger than a king! We comfortably fit our family of four in the bed and it spread wall to wall in the back of the rig. This meant never worrying about kids falling off the bed. The bed was comfortable and we had plenty of bedding (included in our rental).
There are USB plugs built into the lights meaning we could charge phones and run a sound machine every night even while freedom camping.
2. Beautiful Interior Design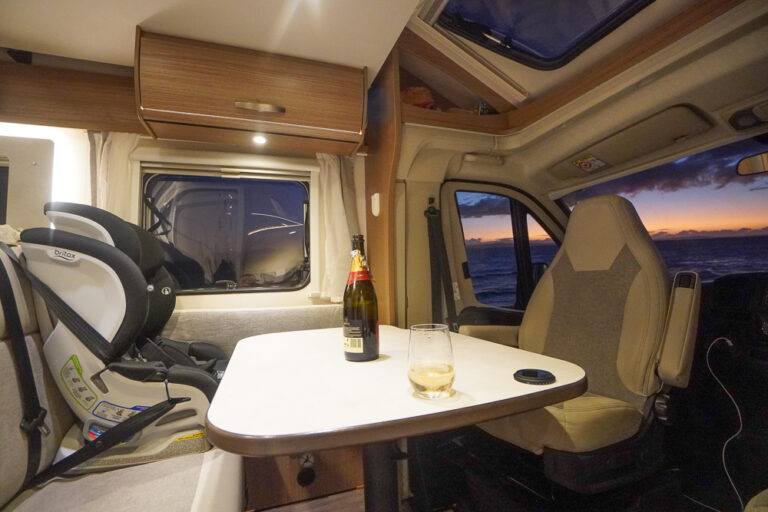 White walls and curtains paired with light grain wood cabinets keep this tiny motorhome feeling spacious. The lighting in this RV was particularly great. There were ambient rope lights framing windows and cabinets. At night, the RV was aglow and felt extra cozy. Camping in the fall, this was perfect on chilly nights!
3. Dish Racks
There's nothing more stressful and annoying than hearing dishes rattle while you're driving your motorhome. In one rental, we had glass dishes crash out of a cabinet while driving!
Wilderness doesn't have this problem. They have racks built into the kitchen cabinets where mugs, glasses, and even wine glasses can be securely stored while driving. Every RV rental in the world needs this!
4. Car seats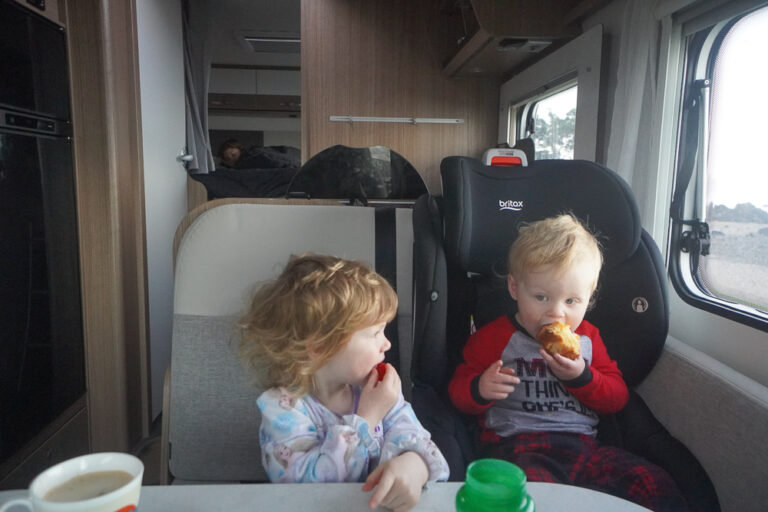 Thank you for including a car seat with our rental ❤️ Traveling with a car seat is the worst!
Ellie's car seat also doubled as a high chair for Eli at mealtimes 😂
5. The Garage
Holy WOW this gear garage can fit everything! Check it out at the beginning of the video above.
Would I rent from Wilderness Motorhomes again?
This was our second time renting from Wilderness Motorhomes. We've now rented motorhomes in multiple countries across four continents. I wondered if all our love for Wilderness before this trip was simply because of our excitement to RV abroad for the first time.
Nope.
Compared to multiple other RV rental companies, Wilderness is hands down the best in the business. Their staff is kind, accommodating, and extremely knowledgeable. The team is quick on communication and solving any issues that come up during a rental.
The biggest con to Wilderness is that they do spoil you. We are now used to their luxurious rental process and other rentals do not even compare! I would 100% confidently recommend them to anyone planning a road trip across New Zealand.