This post may contain affiliate links. See our affiliate disclaimer here.
As we continue RVing in countries around the world, we can't help but notice all the different amenities and details that make each experience unique. Camping in France in the fall was idyllic and today we're sharing what you can expect at French campgrounds.
Did We Find the Best Campsite in France?
We found it. Well, maybe not the best camping in France, but what can only be known as the most beautiful campground views in the world.
Watch the video to fully appreciate the views of this campground in the French Alps.
What are French campsites called?
Surprisingly, campgrounds in France are often referred to as "camping."
For example, a campground in Carcassone will be called "Camping Carcassone." Similarly, we stayed at Camping de la Forêt – Lourdes and Camping Cimes Chamonix. This translates roughly to Forest campsite – Lourdes and Peak Campsite Chamonix (in the towns of Lourdes and Chamonix, respectively). Very straightforward.
This makes it extremely easy to use Google Maps to search for campgrounds in the area you're looking to camp.
Related: What Campeggi in Italy Are Like
How much does a French campsite cost?
Pricing in France is a little different than in American campgrounds.
You'll be charged per person as well as per service, like if you need electricity. At the campground in our video, for example, they charge 7,80 € per adult, 0 € for our baby and three-year-old, 6,60 € for the "allotment" aka our campsite, and 4,20 € for electricity. That's 26,40 € per night, which was about $25 at our conversion rate.
In general, we didn't pay more than $30/night for a campground (and we always paid the extra bit for electricity).
What To Expect at your French Campsite
If you pay for electricity, that's the main amenity you'll get at your campsite.
French campsites are very minimal. You'll be parked often in the grass (typically unlevel). There will be a divider between your campsites and your neighbors. In the above video, it was hedges. However, most campsites we stayed at after this one used vines to separate sites. Yes, like vines growing grapes to make wine. Welcome to France. 🍷
The vines provide much less privacy than hedges, but give off that French vibe you're looking for. (Walk to the campgrounds bakery—it probably has one—and grab a croissant to complete the French vibes.)
That's about it for your campsite.
Personally, I love the minimalism of French campsites versus American sites. With tiny RVs abroad, the unlevel ground is less of an issue. European RVs don't have the need for full hookups because they are built differently. Plus being parked in the grass gives you a much more authentic "camping" experience.
Related: 16 Differences Between RVing in America and RVing Abroad
What Amenities to Expect When Camping in France
So if your campsite is just unlevel grass and maybe electricity if you paid for it, what amenities can you expect?
It depends.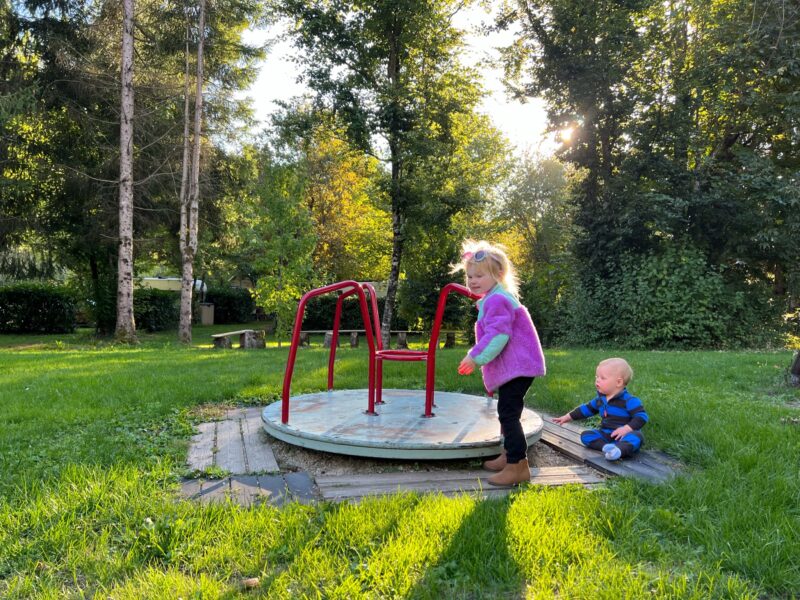 Every campground is different.
Every campground we camped at offered:
A restaurant or bakery (seasonal)
Playground (probably more than one)
Shower house
Bathhouse (Often separated from showers)
Dump area for cassette toilet
Fresh water fill
Tent camping area
Dishwashing station
Most campgrounds we camped at offered:
Laundry
Dump station for grey water
Bus tickets, shuttles, or other local transport services
Kids bathroom*
Running water (rivers, streams, creeks, etc)
*Kids showers, baby bathtubs, lower access sinks, and lower access toilets and urinals are common across campgrounds in southern Europe.
Amenities you'll sometimes find:
Most of the campgrounds we saw were "mom and pop," meaning owned by locals not a big camping chain. This means every campground was set up differently and offered a wide range of possible amenities. In more touristy areas, we found more amenities available (especially pools).
One other note: Laundry will be obscenely expensive. We paid about $9 per load every time we did laundry.
Do French Campgrounds have WIFI?
Yes. I mean, no. Kind of?
Nearly every campground said they offered wifi (often free).
However, it was extremely difficult to connect and if we did connect, the signal wasn't very strong.
We relied on SIM cards instead and used our phones as hot spots when we needed to use our computers. I specifically used Airalo on my phone, an eSIM option where you can designate your country and how many days you'll need the SIM as well as how much data you'd like. For my iPhone, I purchased a one-month plan and did not use all my data. I frequently streamed videos and music and still had plenty data left over. (My husband, on the other hand, got a physical SIM from Orange so he could have calling options.)
Are French Campsites Open Year-round?
Depending on the area, yes. However, most close for the winter in our experience. We stayed at one park near the Pyrenees on the last night they were open for the season (October 7th).
Pools also close for the season. We arrived in France in mid-September and all the pools were closed at the campgrounds already.
Do French Campground Staff Speak English?
Yes.
When you visit a foreign country, you tend to pick a few phrases you need to know for travel. Where is the train station? One cappuccino, please. Excuse me. I'm sorry. Thank you. 
When I say yes that the campground staff speaks English, this is kind of what I mean. You will meet trilingual or multilingual staff who can speak fluent English with you. (Remember to be patient! You're often talking to a Swede fluent in Swedish, French, and English or a German fluent in German, French, English, and Spanish.)
But more sometimes, especially outside of major tourist areas, you'll find that staff speaks just enough English for their job. Asking you if you need electricity, how many people, what dates, etc. They can usually get you set up at a campsite with no problem, but if you try to have conversation outside of that, it's more difficult.
Trying to communicate over the phone if you're making a reservation was the toughest communication barrier, but face-to-face we could always end up understanding each other.
Overall, the language barrier was never a major issue—and we speak basically no French.
Related: 6 Ways to Travel Intentionally with Kids
Should I Make Reservations for France Campgrounds?
We made zero reservations before flying to France, but if you're visiting in the high-season (summer) or have certain spots where you really want to camp, I would recommend making advance bookings. You may find that online booking will be available in English (or your preferred language) as well.
Conclusion
France is often heralded as the most camping-friendly country in Europe. We definitely found that to be the case. (And the views don't stink either!)