This post may contain affiliate links. See our affiliate disclaimer here.
One of the weirder things about being a parent is that you have no idea what your kid will be like. And I don't just mean wondering if my kid is destined to be a redhead with blue eyes, although that's looking likely.
You have no clue what they will like. Hiking in the mountains? Laying out on the beach? Reading? Playing video games?
We will learn all these things over the next few years, but last week we learned a big one. A THANK-GOODNESS one.
Ellie loves the water.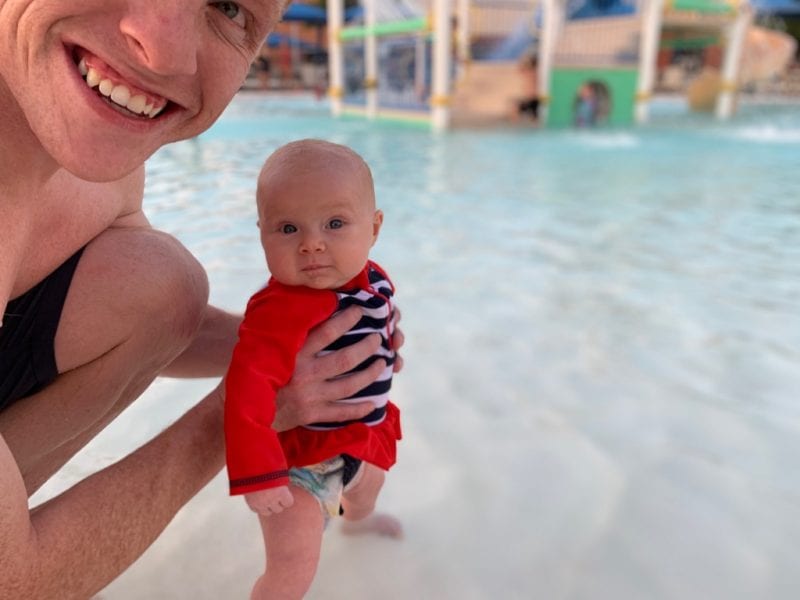 And really, thank goodness because when it comes to travel, Heath and I prioritize proximity to water. Preferably with sandy beaches and sunset views. And knowing that she loves to cool off in the water has me that much more excited to hit the road with her this fall.
After we get back from Italy in October, Heath and I have been trying to figure out where to travel to next.
Which is when it hit me.
All of our favorite RV parks and campgrounds have something in common: water.
More specifically, saltwater. Beaches or bluffs, an oceanview or our own private beach, I don't care. If the ocean is there, it's automatically my favorite.
For our last trip before Ellie was born, we drove down to Galveston to hang out on the beaches by Stella Mare RV Resort. See? We love oceanview RV parks so much we stay at them even when we don't have an RV 😂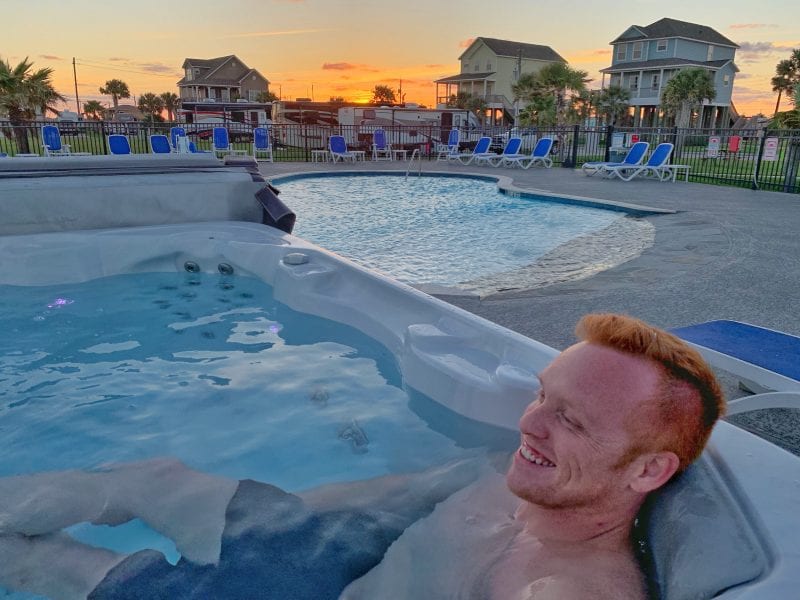 Can you watch too many sunsets from the park hot tub? No, you cannot.
So with summer coming to an end and the weather cooling off, I've been thinking about all the possible beaches where we can spend our winter and wanted to share a few of my absolute favorite oceanside camping experiences from the past five years.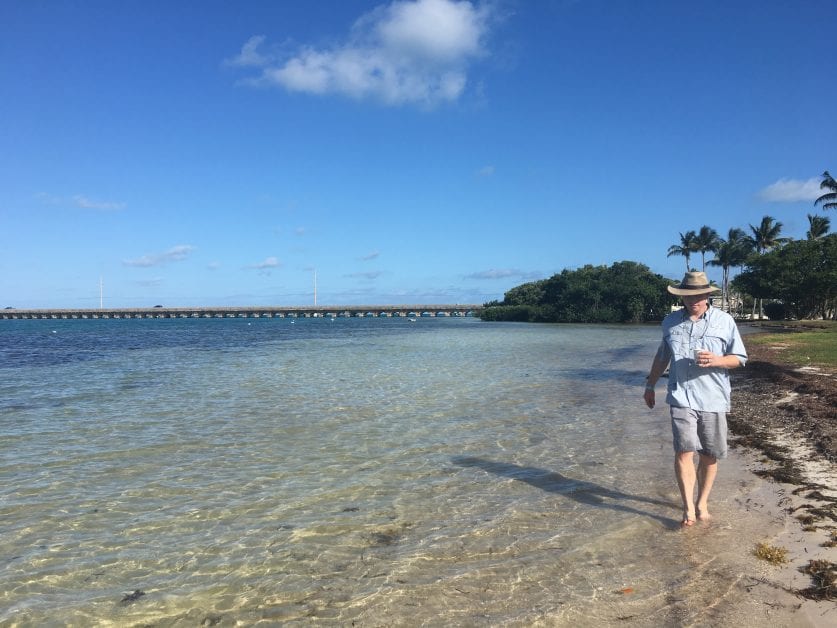 I've talked about this RV resort on the blog before and for good reason. This is the only place I've been where we had our own private beach behind our RV!
THE LUXURY.
You have to go. Sit in the sun. Snorkel. Drink key lime coladas (they are basically pure sugar, amazing). Hang your hammock between the palm trees. Eat breakfast on the beach at sunrise, which is what we did on our last day in the Keys as seen in the first minute of one of our first ever vlogs.
Waking up to watch the sunrise over the water is always worth it.

Yes, this was our campsite (and no, I wouldn't rent from Cruise America ever again).
Keeping with the Keys, Fiesta Key near Islamorada is a close second favorite. Actually, no. Let's say they tie. Both of these RV resorts have beaches, pools, hot tubs, and delicious seafood like this: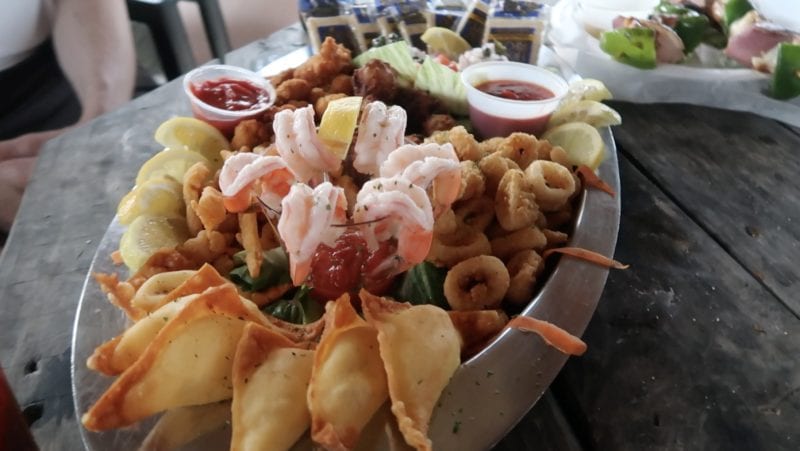 Beyond just staying on this island (because yes, this RV park is its own island), the best part of the Keys is the food. These first two parks are definitely RV resorts (complete with resort prices), but I love having the option to walk across the RV park for dinner on the beach. I wasn't a fan of seafood before our time in the Keys, but I quickly changed my tune.
Alligator tastes like chicken, by the way. #wheninFlorida
I had almost forgotten about this RV park, but thank goodness for Youtube reminding me of our past adventures. This park was AMAZING. We stayed for a week in May (in 2017) and lived our ideal day:
First, morning coffee walks on the beach.
Second, work a few hours.
Third, eat tacos.
Take a break and play in the ocean.
Work some more.
Eat ice cream.
Sunset walk on the beach.
Reconsider all travel plans to include more beaches.
Sleep.
Repeat.
WHAT MORE COULD YOU WANT IN LIFE.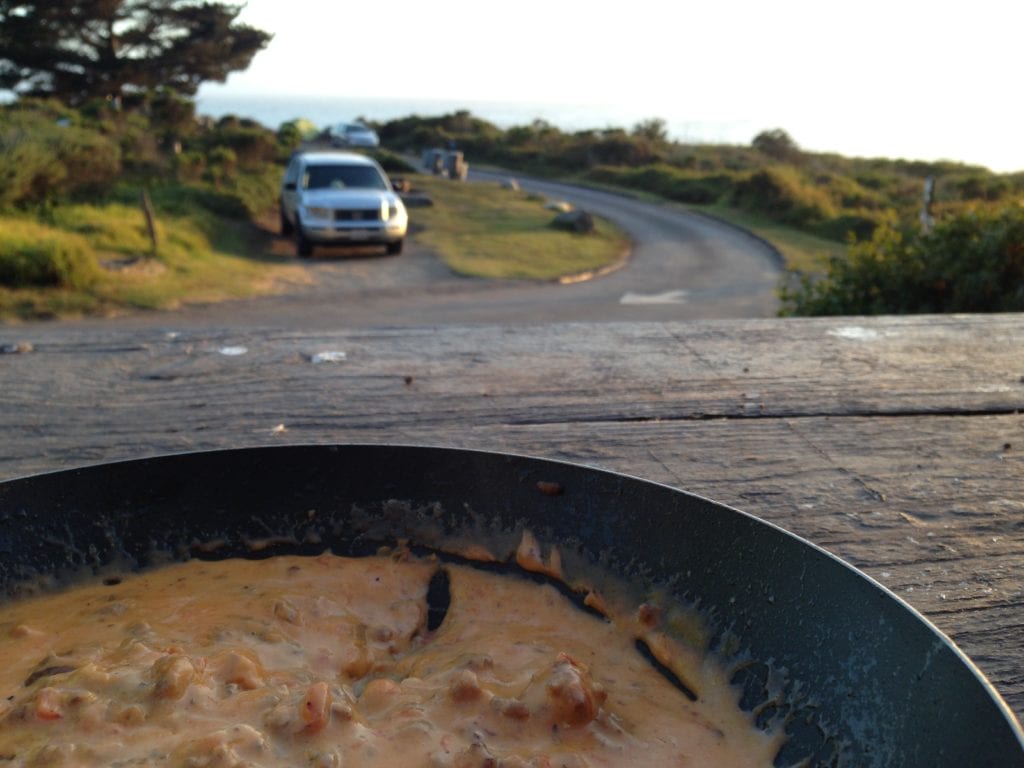 The Pacific Coast Highway is a major tourist destination in America, which can make finding a campsite along the coast nearly impossible. Some of these sites book out six months in advance!
2014 Heath and Alyssa, young newbie RVers, didn't know that.
As we leisurely drove up the golden coast, we passed sign after sign: CAMPGROUND FULL.
The sun was setting quickly and we were just south of Big Sur with no idea if or where we would find a place to park for the night. That's when Heath pulled over at Kirk Creek Campground, which also had a nice big CAMPGROUND FULL sign mocking us at the entrance.
"I'm just going to run in and ask if they have any sites," Heath said pulling over onto the shoulder.
"Babe, they all say campground full. We need to keep driving so we aren't on this crazy winding road in the dark," I replied.
"It'll take one minute!"
ten minutes later
"You are going to be so happy," Heath started. "I talked to the park ranger and he said they are full, BUT someone booked three nights and never showed and tonight is the last night on their reservation. He said we could have it!"
This is probably the luckiest we've ever been in our travels. We backed into our site along the bluff, heated up some queso (pictured above), and watched the sunset over the Pacific. Heath addressed the $25 check to "Camp Awesome" because of how gorgeous and awesome our campsite was.
The next morning we walked the hiking trail down to the ocean and Heath climbed on the rocks giving me the first heart attack of our marriage.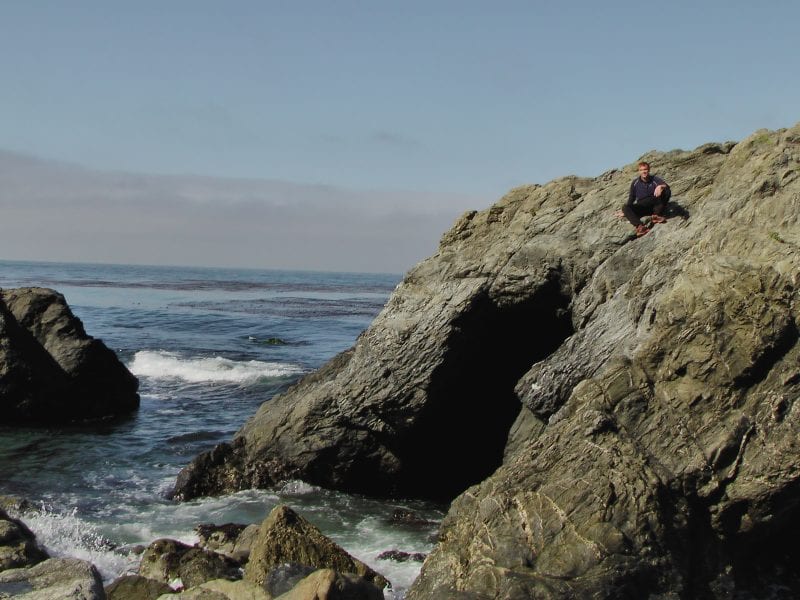 Moral of the story: Book your campsites ahead of time. Or don't. You might get lucky.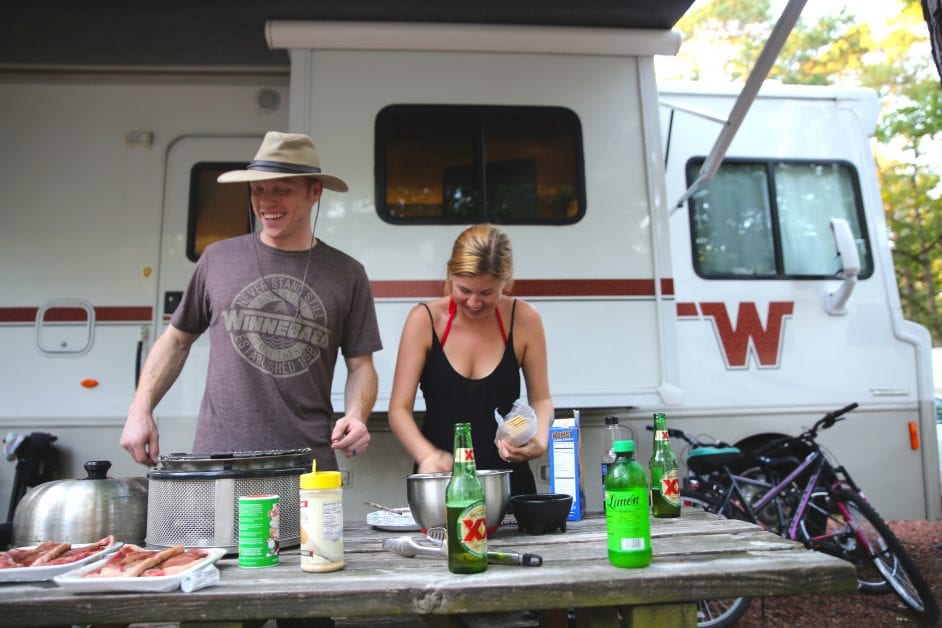 Yep, back to Myrtle Beach.
This campground wasn't beachfront, but has a beach shuttle that we used if we didn't want to ride our bikes the four blocks to the beach. Heath and I spent a whole month here and spent our days grilling out, riding our bikes to the beach, and playing Spike Ball, which our friends Kara and Nate introduced us too.
Other than the close proximity to the beach, what I really loved about this RV park was the trees. You never would've guessed you were on the coast as you were tucked into a forest of pine trees. Combined with the smells of campfires and smores, this was the best of both worlds: trees and shade for your hammock, sunshine and sand for your tan.
I would go back here for another month or two any time!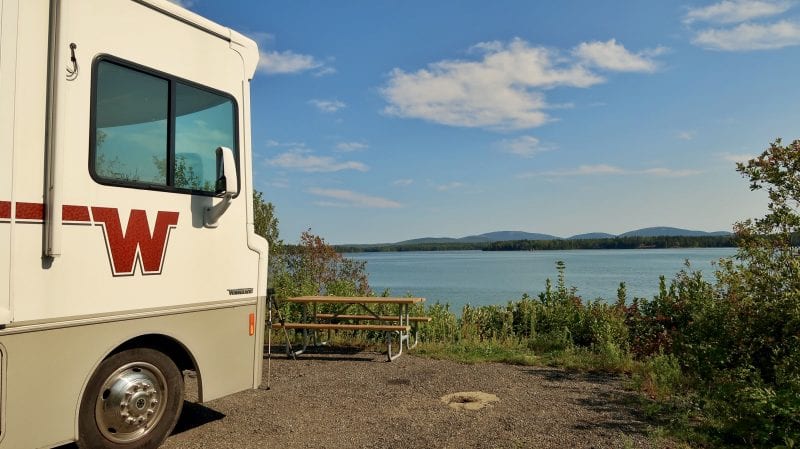 I could (and did) watch the tides come in and out here for days.
Just outside of Bar Harbor, Maine, this RV park was our home for two glorious months one summer. Summers in Maine are the reason why people want to RV. Beaches, mountains, perfect weather, lobster—it's idyllic.
Plus—and yes I realize this is going to sound sketchy—this RV park has a pie guy. A guy who drives around to all the local RV parks selling blueberry pies out of the trunk of his car. And he sells out every day! We bought his last one and topped it with ice cream. Great life decision. And we are still alive, so he's obviously not poisoning the pies. Totally legit.
Because this park is on a bay of the Atlantic, the water stays pretty calm. Calm enough for us to get our kayaks out on the water a few times.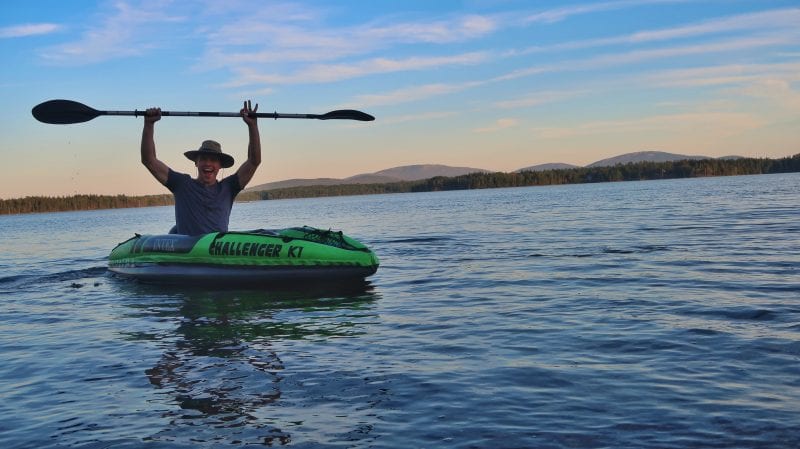 Not a bad way to spend your evenings.
Basically All of New Zealand
I tried to keep this post America-specific, but almost everywhere we camped (especially on the North Island) was waterfront and unlike most places in America, in NZ you can drive right onto the sand for the night. Just don't get stuck.
Do you have a favorite oceanfront RV park? Tell me where it is! ELLIE WANTS TO GO THERE.