This post may contain affiliate links. See our affiliate disclaimer here.
All year, we've been talking about balance.
It was our theme for our 2020 RVE Summit: find your balance.
It's been a constant discussion between Heath & me on how we can grow and scale our businesses and go on adventures and be good parents. Because the more you grow any business (or any blog/Youtube channel/etc), the more opportunities you find.
And more opportunities means saying no. A lot.
Even to things we knew we would've loved to do! Like:
Host a TV show
Partner with a company to build 100 campgrounds in the next five years
Camp at a luxury resort on the coast of Oregon (this one keeps me up at night. It's so pretty!!!)
Film a commercial for an RV dealer
But we were too busy.
Or it didn't fit with our content strategy.
Or it was just bad timing.
Or we were too far away.
Or we weren't really qualified.
Now don't get me wrong, saying no to all these things was the right call. Saying yes to everything would pull us in too many directions and overwhelm us.
But.
BUT.
Then I started thinking of other opportunities. Not the external ones, but the ones in my head. Little dreams of projects and products that I would love to pursue, but that I always nixed for any of the above reasons.
There's this one that started simmering in my head back in June when we spent a month caravanning with friends and eating meals together. It grew as we had friends and family camp with us over the summer. And when I met up with my friend Barb in August, I literally sat on my hands to keep myself from blurting out this project idea even though I knew she would love it and encourage me to do it.
Because as fun as it would be, it wasn't very RV entrepreneurial.
It didn't make any sense to waste time on it since it wouldn't make any money or grow my business. Besides I'm too busy.
Even after I dismissed the idea, I found myself thinking about it.
Dreaming about it.
Watching TV shows that inspired even more ideas about it…
And I started thinking about why we chose this RV lifestyle in the first place, the things we talk about constantly on our blog and podcast:
1. The freedom to own our day
2. A chance to never stand still and always push ourselves forward
3. A way to define our lives and businesses on our own terms
4. How we create our ideal balance between work and adventure and life
And I realized I would kind of be the biggest hypocrite in the world if I've spent years talking about how being an RV entrepreneur gives you so much freedom and time and then I actively choose not to pursue this little dream of mine.
So back to my dream job…
Sometime last year, I realized that as much as I love RVing and blogging and travel, a new dream job nestled itself in the corner of my mind.
I would LOVE to be a food blogger.
Guys, I could cook all day. And then eat all day. The RV would smell AMAZING all the time. I would own a super cute apron. People would probably offer me my own cooking show so I can live my childhood dream and cross "host a TV show" off my bucket list. I would probably need to start exercising more to keep up with the increased caloric intake, but that's par for the course. I'll do yoga for pumpkin chocolate chip bread.
I mean sure, there's still all the other blogging-as-a-business stuff like product development, growth strategies, email marketing, traffic, blah blah blah. But I've been doing that for years. That boring stuff I know. I could do all that stuff WHILE nibbling on an Instagram-worthy charcuterie board of delicious cheese.
(Hey, this is a dream. My actual charcuterie boards look like this: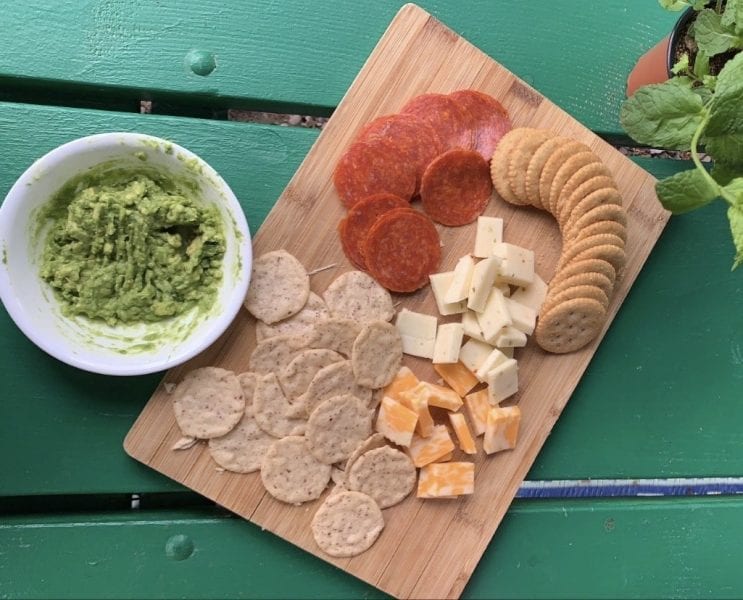 This is why I blog about RV entrepreneurship instead!
So I'm not starting a food blog.
We don't need a fourth business in the Padgett household. I would never have the time to watch the Great British Baking Competition on Saturday mornings if we did and that's obviously too important to miss.
But I figured out a way to live out my dream job, if only for a week.
I emailed my friend Barb—who worked in the food industry for years and taught multiple cooking classes—and told her this crazy idea I'd been sitting on for months.
With more full-time RVers on the road this year and so many people not getting together in person for the holidays this year, what if we did a cooking show on how to celebrate Thanksgiving in your RV? You know, recipes you can make even if you don't have an oven or tips for planning a Thanksgiving feast when you definitely can't cook a full turkey.
She was in.
Which is great for you, because her recipes are SO MUCH BETTER than mine.
So in two short weeks, Barb and I are hosting our very own cooking show live on Facebook.
RV Foodie Kitchen: Holiday Cooking Show
Along with Barb (AKA RV Foodie Kitchen), we've shared the idea with a few friends who all agreed to partner with us in this fun community event. We'll be sharing videos and recipes from our friends at RV Love, RV Geeks, The Virtual Campground, Wandering Wagners, and many other amazing RV cooks to create a weeklong RV cooking show. It's going to look something like this:
Monday, 11/16: Appetizers and no-oven-needed recipes
Tuesday, 11/17: Side dishes
Wednesday, 11/18: Entrees
Thursday, 11/19, AKA the best day: Desserts 😋
Friday, 11/20: Snacks & Drinks
You can learn more and get reminders when the show starts here. 
I'm really excited to bring this project to life with so many friends. We aren't selling anything. We're just a bunch of people who love cooking in our RVs who want to share a little holiday cheer! (Okay, and who also really like eating.)
Plus, we're compiling an RV community cookbook with all the recipes from the show that you'll be able to download for free. You can even submit your own recipe, if you'd like to be included in the cookbook.
This is going to be fun. 
It's going to give me extra work to do right before the holidays, yes.
It's going to make $0, yes.
It is in no way business-related, other than that we'll host the Facebook live videos on our Heath & Alyssa Facebook page.
But it's going to mean doing something I've been thinking about for months, with amazing people who I love, AND at the end of the day I'm going to make and eat a hundred of the chocolate candies my mom always made during the holidays growing up. And that's okay. It's what Heath and I call making a quality of life decision (more on that next week).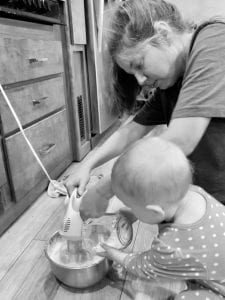 So if you're looking for tips and recipes for how you can celebrate the holidays in your RV this year, I hope you get the chance to tune in.
Now Ellie and I need to go practice our baking! (Yep we bake on the floor sometimes so Ellie can help without trying to jump off the counter/table/dinnette/etc. #momlife)