This post may contain affiliate links. See our affiliate disclaimer here.
How do you make big decisions? And what is a "quality of life" decision anyway?
This month on the blog we're talking about doing big things and chasing big dreams.
Because it's the end of the year and with the end of the year come more responsibilities, more pressure to have life figured out for the next year, and lots of decisions to make.
Last week, we talked about opportunities, which ones we say no to, and which crazy dreams are worth pursuing. (Like this one!) And today we're walking through the process of how we make those big decisions. The same process we used for deciding to buy our first RV, to RV abroad, to start our first (and second and third) businesses, and to start a campground.
How do you make those big decisions?
A few years ago, at our first RVE Summit actually, Eric & Brittany Highland were sharing their story when they said a phrase that I didn't know I needed to hear.
"It was a quality of life decision," they said of why they started RVing.
Once Heath and I heard it, something clicked in our heads. This was exactly the mental process we used to make our big decisions put into a phrase that made sense.
When we first decided to move into an RV, it wasn't to see the world or to escape the 9 to 5. Those were contributing factors for sure. But we wanted to start our marriage living a life of adventure together. And we knew if we stayed in Austin, we would end up continuing to work jobs we weren't thrilled about, living in an apartment, and complaining about the traffic.
But the RV would thrust us into an adventure. We could travel like we always wanted. We would finally start a business (or go broke). We would write books. We would live the life we'd dreamed up together.
Moving into an RV was making the decision that answered "Which path is going to give us the best quality of life?" What is going to make me the best version of myself? The #livingmybestlife (and insert other cliches here).
We were happier, stronger, and "working in our genius" as my friend Jill says.
How to Make a "Quality of Life Decision"
We start by asking ourselves a few key questions:
1. Does this align with other big goals in my life?
We've all got dreams. Some big—like traveling the world. Some small—like hosting a cooking show. A quality of life decision aligns with those big dreams and pushes you closer to them.
Why start a blog? So I could write a book.
Why start a software company? So Heath could be a CEO of his own company.
Why buy an RV? So we could visit all fifty states.
These decisions forced us to pursue those big goals, one step at a time.
2. When I think of making this decision, does it feel light or heavy?
Which is a fancy way of asking, will this route make me happy?
You know that feeling when you make a decision and suddenly the weight you didn't know you were carrying is lifted off your shoulders? The burden of big decisions is heavy, which is why figuring out how you'll feel after you've made a decision is so important.
Will I feel light after I choose this path? Or will it feel heavy?
Like when we decided to buy tickets to Italy before Ellie was born. For years, people (unsolicited) told us to hurry up and get travel out of our system before we had kids. And when I had to be stationary for the first half of pregnancy, that thought started to permeate its way into my brain. A life without travel did not align with my big goals. It felt like a dark cloud hovering over me.
So Heath and I decided to go ahead and book flights to Venice. And then we looked like this:
Because it was the decision that made us excessively happy (and a little nervous and a little out of comfort zone, like all good decisions do).
I felt 100 pounds lighter—mentally at least, I was physically eight months pregnant and the size of a small whale—and knew it was the right call.
3. Am I ready to pursue this path?
I think this is the scariest question to ask.
Because for most big decisions, when someone asks if you're ready, the reply is usually shaky.
Are you ready to sell your house and buy an RV and move away from all your friends and family and miss Thanksgiving and not know where to forward your mail to and figure out where you can even camp in that thing?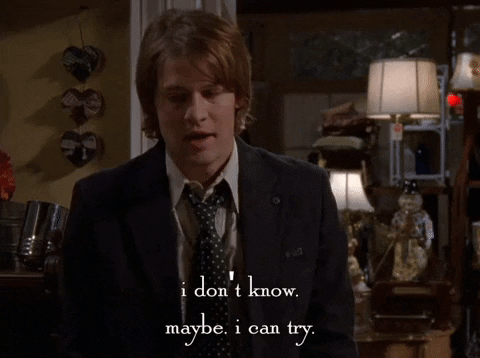 For us, we weren't equipped to operate an RV. We flooded that thing, got it stuck in the mud, backed it into a car in the grocery store parking lot.
But we were ready. Ready for the adventure. Ready to try something big and bold and fully prepared to fail spectacularly in the process.
Sometimes decisions aren't about having all the right skills and experience. Sometimes it's just about having the drive and readiness to push on.
4. Would this open me up to do more things that I love?
Last week on the podcast, Tyler and Morgan said they decided to RV because it opened them up to do more things they love. Hiking. Getting outdoors. Visiting national parks.
Quality of life decisions = being the best version of yourself.
And that means giving yourself the opportunity to do more of the things that light you up.
For Heath, this is why he chose to start a software company. It could be started remotely and he could still travel. He could work with others instead of working alone. He could do all the big picture, strategic business stuff that he loves.
It checked all the boxes.
This year, I told Heath that all I wanted for my birthday was a month on the beach. So we took our Winnebago to Florida for a month and LOVED. IT. We could walk on the beach. Work outside in the sun. Put our toes in the sand. All the little things that I love. (And incidentally probably the best thing about the RV. Movable beach house!)
5. If I could do ANYTHING, what would I do?
If money wasn't a factor.
If time wasn't a factor.
How would you want to spend your time? Would you still want to do this thing?
For me, the answer is I would write, which is how I know continuing to be a blogger is always the right decision for me.
6. Will I have another opportunity like this?
One of the hardest things about making a decision is feeling like it's now or never.
If I say no now, will I ever get a chance like this again?
My gut always insists the answer is no. But when I really think about it, for most of my major life decisions the answer is undoubtedly yes.
Should Heath sell the company? Very possible there will be other opportunities to sell.
Should we buy this campground? Very possible there will be other campgrounds for sale in the future.
Sometimes the answer might be no. This is a once-in-a-lifetime opportunity and now's your only chance. Which is why it's important to stop and really think: will you have another opportunity like this?
7. Will this one decision help me make many more decisions?
That last question is the one Heath and I tend to focus on the most.
What decision, what route, what choice will help me make other decisions? Or will even make those decisions for me?
This is where we've gotten stuck in the past. Saying yes to this would mean saying no to that. Which is when we decided that when it comes to big life decisions, we needed to figure out which decision would make all the other decisions for us.
Like last year when we were trying to decide what 2020 would hold. Should we buy a new RV? Which RV? Where should we go in that RV? What about our campground dream? Are we going to take action on that? What about Ellie? Can we work on the road while she learns how to crawl and walk? Do we still want to RV full-time? Or should we buy a house and RV part-time? Where would we even buy a house? Do we even want a house? WHAT ARE WE SUPPOSED TO DO NEXT?
Partnering with Winnebago to be in the Forza with an RV-entrepreneur-specific floorplan for one year that was big enough for a crib answered almost all of those big decisions for us.
We felt lighter. Happier. I loved my month on the beach. We were ready to start traveling more with Ellie. Everything fell into place with that one quality of life decision.
---
We're in the middle of some big decisions right now (more on that soon!). It's all about your quality of life. Doing what makes you better, happier, and fulfilled.