This post may contain affiliate links. See our affiliate disclaimer here.
I sat with my laptop open staring at gorgeous photo after gorgeous photo on Pinterest and texted my husband, "I can't believe we are actually doing this!!!!!"
We were planning to spend one year traveling to all fifty states. Little did we know, it would only take five states for us to realize we couldn't possibly see everything in one year and needed at least five years more to truly check off everything on our bucket lists.
So we came up with a plan, a simple, yet seemingly impossible dream: find a way to make money while we RV the world. Yep, we'd only made it to California and my wanderlust heart was already committed to driving across the European countryside.
One little problem: no one did this.
It was 2014. All the other RVers we knew were retirees. We saw a few traveling photographers on Instagram, but they all worked for companies like National Geographic. We would meet a few "digital nomads" once we made it to Oregon, but we were on our own trying to figure out what type of business to start—because employees definitely weren't working remotely full-time yet—and wondering who in their right mind would hire a 23-year-old newlywed couple whose biggest skills were quitting their day jobs to plan a fifty state road trip.
How do you become a digital nomad? 
How do you actually quit your job, buy an RV, tell your friends and family you're hitting the road, and not end up back home broke six months later?
(Well, for us it was actually three months later, but that's a different story.)
These past six years of travel have been the best years of my life and we're lucky to live in a world where working remotely from the mountains of Colorado or the beaches of South Carolina isn't just a dream. It's a fairly easily achieved lifestyle.
In this guide, I'll cover how to make the transition to become a digital nomad. There are seven main sections:
Find remote work
Select your method of travel
Find a community
Make it legal
Logistics
Finances
Say goodbye and hit the road!
Let's get started with what is hands down, without a doubt, the biggest hurdle to becoming a digital nomad.
1. Find remote work.
The most important thing you need to travel full-time is income. I believe it's the "digital" part of digital nomad.  "Remote work" can mean a mobile business or a remote job, so let's cover both of your options.
Build a Business You Can Run From Anywhere
Take the world by fire when you start your own mobile business.
Entrepreneurship (our chosen way to make money on the road) hits not only on the need for income but also the desire for total freedom. It's the best way to fully "Own Your Day" as we like to say. You take the reins and control how many hours you work and how much you earn.
For me, I couldn't stomach the idea of working 40 hours a week, 9 to 5, when I'm watching people kayak down the river outside my window. That's basically cruel and unusual punishment! So I needed to find a business to start.
There are ENDLESS options. In today's world, there are very few jobs that cannot be fully remote companies. Heck, there are traveling doctors, traveling lawyers, traveling Airbnb hosts, traveling store owners—all things I would've thought needed a single physical location, but it turns out they don't.
We have ebook full of ideas for businesses run by full-time travelers:
There are plenty of ways to build a mobile business, but freelancing in particular is the most popular.
Freelance work can take significantly less time to start making income compared to building another type of business (a product-based business, a software company, a team with employees, etc).
Plus, anyone can start a freelance business using their existing skills. Are you great at project management? Freelance your skills. A great writer? A master at design? Whatever your skills, you can likely find clients who need you. (This is what sites like Upwork are all about!)
What I love about running a freelance-style business is that if you find you work too much, you can always drop a client. I always soaked up the few weeks after a contract ended and before our next client began back when Heath and I ran our production company. It was the perfect amount of money in the bank plus free time to explore or work on our own projects (like growing this blog).
If the idea of starting your own business is a super intimidating dream, I recommend checking out our podcast, The RV Entrepreneur, to hear from fellow travelers who understand the struggles and fears surrounding running a business on the road.
Find a Remote Job
If you're already employed, there's a very good chance one call with your boss can convince her to let you work fully remote. In fact, it's one of the only positives to come from the pandemic. Since nearly everyone in the country has tasted remote work, it's infinitely easier today to transition your job to remote than it was a year ago.
(Some fully remote jobs have stipulations like remote but you need this level of internet or remote except that you need to fly in once a quarter for face to face meetings. I know quite a few people who fly back to their jobs a few times a year and prioritize finding RV parks near airports for that reason.)
Now all you have to do is ask. That is, if you like your current job and want to continue doing it. Ask your boss if you can work remotely full-time, or if she is hesitant, ask if you can work remote on a trial basis for a few months.
If you hate your job and want to quit and that's the whole reason you discovered this dream of becoming a digital nomad, let's find you a new job:
In the free ebook (download by entering your email above), we share 38 places to start your remote job search. If you're looking for more tips for how to handle the search, check out this blog post: How to Find Remote Work (in 10 steps)
Other Income Options
You may find income using one or both of the above methods, but sometimes it isn't quite enough to pay the bills. If you can't earn enough through your business and/or your job and can't lower your burn rate, you may want to consider work exchanges.
My friends Jedd and Michelle Chang have spent months living on an olive orchard in Tuscany, which sounds like the LITERAL DREAM LIFE. And it was completely free in exchange for help around the property.
Heath and I have "work camped" at a few campgrounds across the country, getting free stays at campgrounds and getting paid to produce videos. These gigs allowed us to stay at some really nice campgrounds and saved us hundreds of dollars while we were paying off our student debts. Most often, workamping gigs do not pay very well, but they can save you big money on campgrounds.
Michelle has a fantastic book on how to find cheap or free unconventional lodging worldwide available on Amazon. (It's free to read with Kindle Unlimited.)
You can find a way to make money.
Typically this is where most people get tripped up and give up on their dream before they even start. If you've been working for decades in a traditional office, the idea of starting your own business or working from a picnic table in the mountains probably sounds a little out there. Maybe you've already got a dozen excuses lined up like your boss would never go for it, you have no marketable skills, and you would never be able to work from anywhere except a designated office.
To be a digital nomad, you have to change your mindset. Thousands of people have gone through this same struggle and told themselves the same things. But they persevered and pushed themselves forward. You can too.
2. Choose your method of travel.
Heath and I chose an RV back in 2014 as the most cost-effective way of traveling to all states. As soon as we camped on the Pacific Ocean, it was game over. We were full-time RVing for as LONG as possible. Even as we traveled abroad to New Zealand for three months and to Italy last October, we've opted to spend most of our time exploring by RV.
To us, it's the best way to really experience the culture of an area. You see more small towns. Visit grocery stores and restaurants. Meet people around the campfire. Especially abroad, it allows us to see the less touristy things—and all the gorgeous national parks.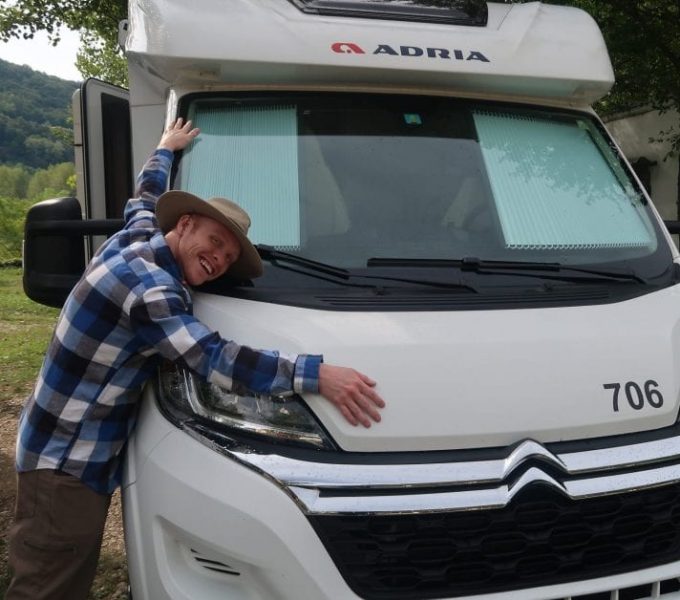 But what's right for us, isn't necessarily right for you. That's probably why we've cycled through so many different RVs in the past six years!
A small Class C motorhome was great for visiting all 50 states in a year. A larger Class A was necessary when we were growing our business to pay off our student loans. A diesel RV is a godsend now that we have a baby and NEED a washing machine on board! A van was perfect for navigating tiny roads in foreign countries.
Related: QUIZ: Which RV is right for you? 
While we love RVing, there are plenty of other ways to travel.
My friends Jason and Nikki live on a sailboat.
My friends Kara and Nate fly and stay at hotels for free by travel hacking.
Jedd and Michelle fly around the world splitting their time between Airbnbs and work exchanges.
My friends Brooke and Buddy traveled America by RV and then switched to house sitting worldwide.
Other than Heath getting desperately seasick on boats, we've tried a combination of all the above over the past few years. To figure out which method travel is right for you, you really only need to answer one question:
Where do you want to travel?
If you're dying to spend a month in Vietnam, Airbnbs are a great way to travel.
If you want to visit every national park, an RV is the way to go.
If you want to travel, but you really can't afford it yet, finding work exchanges or work camping might be perfect.
Think about what types of places you want to visit and how you want to experience them and use that to guide how you choose your method of travel.
Whichever method of travel you choose, don't feel like you have to be married to it. Once you get a taste of travel, you have to keep feeding the wanderlust in any way possible. My friends Wes & Michelle RVed for years, sold it, bought a sailboat, and then bought a van because they realized they wanted to spend half their time on land and half their time at sea (#goals). When we plan trips abroad, we split our time between a camper and Airbnbs so we can experience the small towns but also immerse ourselves in big cities. There's no wrong way to go!
3. Find a community
Once you know how you will support yourself and how you will travel (the digital + the nomad), you aren't quite ready to pack your bags and say sayonara to your old life just yet.
The most overlooked aspect of starting to travel is finding a community. Your family and friends may not understand why you feel the urge to sell your house, your car, quit your job, leave behind everything you worked for to travel the world.
But I get it.
Our RV Entrepreneur Facebook group gets it.
Call it wanderlust or recklessness, it's what pulls us all from the comforts of home to a life of adventure. And when things get hard, you'll want a community of people to turn to. People who will listen to your problems, or help you find clients for your business, or let you stay with them when you're stranded or broken down. Now that I think about it, you might want to find this community before you tell your parents so you can pick up some tips from those of us who have been through that stressful "what are you doing with your life" conversation.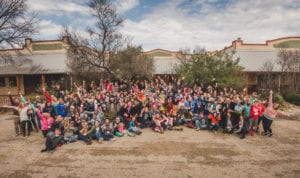 There are a few different ways to find a community. Facebook groups like I mentioned are great. Starting a blog (especially if you love writing) is great too. There are memberships and programs you can join like Fulltime Families or Dynamite Circle or Location Indie (and countless others) where you can connect with others and attend events. You can find people will similar goals as you, like visiting 10 countries, roadschooling your kids, or hitting up all the 500+ parks and monuments in the National Park system (yes I know multiple people doing this!).
These will be the people you can always turn to when you have questions or need support. They can also be a good way to stay safe.
This a major concern for many new travelers, especially solo travelers. My friend Jill uses a Facebook group message to send her camping location every day. Then if her friends don't hear from her, they know where she last was and can send someone to check on her.
Having a group of people to relay your location or keep in contact with you is a great way to feel safer and more connected as you travel.
4. Make it legal.
Okay, time for the nitty-gritty, do-I-have-to, boring part of becoming a digital nomad.
You'll need to go through a little bureaucracy here and change your legal address. In the US, you must have a physical address registered with the government. A PO box will not work on your driver's license. So you'll need to establish what we call a domicile address.
Your domicile will be your legal address for all things government. Think driver's license and filing your taxes. You have a few options here:
If you don't sell your house, you can use that address.
Ask a friend or family member to "live" at their address.
Set up a legal address using a service.
If you plan on traveling for more than a year, I recommend using a service to set up your address. For RVers, there are companies like Escapees and St. Brendan's Isle that do this. You can have a legal address for all your government filings and they can forward you all of your mail. (I go into more detail on this process here.)
There's also a service called Earth Class Mail that's more common for international travelers that can even deposit your checks for you while you're traveling.
Once you've set up a legal address, forward your mail with USPS (you can set a start date for this if you have a set "hit the road" date), and change your address everywhere you need to, starting with your driver's license. If you're planning to visit multiple countries and/or rent a vehicle abroad, you may want to go ahead and get an international driver's license at that time.
You'll also want to update your address with your:
Bank
Insurance(s)
Employer(s)
Social Security Administration (if receiving SS benefits)
IRS
Anywhere you may have retirement accounts set up
Loan providers
Your grandma who still sends you a $5 check on your birthday every year
And the list goes on. You do not, however, need to update your passport when you change your address.
If you are planning on traveling abroad, this is a good time to research any limitations or laws regarding travel, like visa requirements.
When we started dreaming about international travel, I planned our trip to New Zealand to just under three months so we would be under that 90 day limit and not need to go through the process of getting visas. But what I didn't realize was that we needed visas no matter what to visit Australia, where we would have a 12-hour layover. I hastily applied online for visas for Australia the day before we flew out (which cost about $20 each and took about half an hour to apply for both of us) and fortunately they were approved before we landed in the country. So even if you're not planning on staying a country but have a long layover, check to see if you will need any additional visas or ETAs.
5. Logistics
Now it's time to tackle the logistics like:
Selling your house
Moving everything you own into storage or selling it (or convincing family members to store it for you, thanks Mom)
Selling your car
Packing up your desk when you quit your job
Telling all your friends and family
Some or all of these may apply to you. But there are a few things everyone must face. Let's cover a few major logistics.
Health Insurance & Prescriptions
Prescriptions are actually pretty easy. If possible, you'll want to use a nationwide company like Walgreens or Walmart. With so many locations, you'll be hardpressed to not be able to get your prescriptions as needed. One call and they can ship what you need to the right location for you. But some prescriptions require you to see a doctor to renew, which means…
Health insurance.
Now that's a doozy.
There aren't many great answers for health insurance that cover you nationwide or worldwide. If your remote job offers insurance, great! Make sure you'll be covered throughout your travels. You may need supplementary coverage when you're abroad, which I'll share an option for in a minute.
We've found that there are roughly three options that are good for digital nomads, specifically those traveling by RV. And disclaimer: I am not an expert in health insurance. You can read my own tear-inducing saga here. But there are a few decent options.
As the name says, they find insurance plans for RVers to cover you no matter where you are in the US. This your traditional health insurance (and yes, it's probably expensive).
2. Health Sharing
This is an affordable alternative to traditional insurance, but it comes with its own risks (like you heard if you read our healthcare saga). If you haven't heard of health sharing, "a health care sharing ministry is an organization that facilitates the sharing of health care costs among individual members, in the United States, who have common ethical or religious beliefs." (Wikipedia)
Basically instead of paying an insurance company each month, you pay other people's medical bills. And when you make a claim, instead of insurance paying you, other people in your healthsharing community pay for your bills. Health sharing doesn't force you to find doctors in network so you can have a lot more flexibility over where you go when you do need medical care.
3. Safety Wing
So once they are available in all 50 states, this could be a good company for digital nomads in America. But right now it's focused on those of us who like to travel abroad. Safety Wing is insurance by nomads for nomads because they learned firsthand what I already told you: health insurance sucks.
Safety Wing has three health insurance options that might work:
Nomad Insurance
This is your basic health insurance for travelers. Starting at $37/for the first four weeks, this would be the insurance you'd pick up if you're looking to RV in Italy for a month like we did.
This covers both health insurance and travel insurance. So if you have to cancel reservations because of a wildfire or other natural disaster, you're covered. Or if your kid breaks her leg jumping off a picnic table in Rome or Bangkok or Cape Town (just something I assume my daughter will do at some point), you're covered (in 180 countries worldwide) too.
Remote Health
A fully-equipped health insurance made for remote workers and nomads who want to spend as much time abroad as possible (i.e. me). Full coverage and no exclusions for pandemics. Never thought I would have to specify that.
Starting at $153 per person, this is your classic health insurance option (whereas nomad insurance is likely going to be supplemental to your existing health coverage and is most useful when you're out of the country).
Remote Health for Business
Okay, this is what makes Safety Wing really interesting if you're an entrepreneur running a remote teams. If you're running a company, say a startup called Campground Booking with a few full-time employees, this might be a great company health insurance option. This option is a fully equipped health insurance that works for your entire (especially if it's international) team and independent remote workers.
Prices differ based on how employees you're covering, but it's around $120 a person. (Here's a really good article comparing Safety Wing and World Nomads for international insurance options!)
OR maybe you're over 65 and qualify for Medicare.
No matter what, make sure you find an option that will cover you no matter where in the world you are.
Internet & Cell Phones
Let's surf the web, y'all.
"Internet" on the road is a completely different set up than what you'll see in a house.
You don't need a modem or a router or even need to know what those are. Until Elon gets Starlink up and running, we will use cellular data—think Verizon & AT&T—as our internet signal. That's right, the same ambiguous "data" that lets you refresh Instagram on your phone will power your marathon Zoom video meetings.
But you don't want to simply use your phone hotspot as your single source of internet. That will:
Drain your phone's battery
Slow down your internet speed
Run up your data usage on your phone plan (which matters even if you have an unlimited data plan. Hello throttling!)
Your phone hotspot simply isn't as powerful as an actual hotspot device, which means you'll need to buy one. Each cellular provider calls these devices by many names. Nighthawk, jetpack, velocity, unite—I don't know who comes up with these names. They are terrible. Just call them hotspots.
Our hotspot—ahem "Unite"—device stays plugged in and on 24/7 in our RV. We have unlimited AT&T and use approximately 125 GB/month.
Those gigs fly by doing things like:
Recording our podcast over Skype
Zoom meetings with customers
Downloading files
Uploading videos to Youtube
Streaming The Great British Baking Show on Netflix
With our hotspot, very, very rarely have we ever found ourselves in a position where we can't stay connected.  But we do use two additional tools to ensure that we always have options.
1. Cell Booster: Netgear MIMO
A cell booster is by far the best gadget we travel with. It boosts our cell signal and is key for recording podcasts and uploading Youtube videos on the road. People ask us all the time if it's good enough to Skype or Zoom over. We record all our podcasts using Skype, so the answer is yes!
We picked up a Netgear MIMO directional antenna—AKA you'll want to move it to different sides of the RV based on where the strongest signal is coming from, which is easy because this thing is tiny. Since picking it up this year (we previously installed a weBoost cell booster on our last Winnebago), it has taken us from zero bars to one and increased internet speeds by a few megabits per second.
Retails for $40 on Amazon, which is astounding to me considering a weBoost will run you closer to $500 + you have to install it on your roof.
I would not travel without this! We use it 80% of the time we use our hotspot to boost our speeds.
2. Wifi Booster/ Wifi Extender/ Wifi Repeater (people call this many different names)
For years we used a Winegard Wifi extender in our Winnebago Brave. In our Winnebago Forza, a King Wifi Extender (technically KING KF1000 Falcon Automatic Directional WiFi Antenna with WiFiMax Router and Range Extender WOW that is a mouthful) was built into our rig before we picked it up.
Personally I've liked the King better, but that's probably just because I didn't have to go through the hassle of installation. They both do the job!
This handy device extends the range of the RV park wifi (or whatever wifi you connect to) so you have a stronger signal in your rig. It does not make the actual wifi any better or faster, it simply gives you better signal access. So if you're at a park with crappy wifi, you'll still have crappy wifi. But if you're far away from the wifi repeaters in the park, this will extend the signal so you can actually connect to the park wifi.
Using our extender, I've found that RV park wifi isn't always as bad as its reputation. You simply don't have the good access to the signal you need because you're too far away or because there are a dozen huge metal RVs between you and the wifi router.
The wifi extender has given us a significant boost at RV parks (and when moochdocking and connecting to friend's wifi!). If you use wifi often, this is worth it. But we've found that we rely much more on our cell data than we do on wifi.
Now if you are not RVing as your method of travel, wifi can actually be a bit easier. You can filter Airbnb and hotels by ones that offer free wifi. McDonald's worldwide are known for offering wifi if you're ever in a pinch too. Just remember that in many countries, working in a coffee shop or public space isn't the norm, so don't overstay your welcome.
Cell Phones
If you like your phone and your current coverage, I say keep it—if you plan on staying in North America!
We use unlimited Verizon for our phones, which gives us coverage in the USA, Mexico, and Canada. This is the same plan we've used for six years and since we mostly stay on the continent, it offers great coverage. (Verizon is often heralded as having the best coverage in the US, with AT&T not far behind.) I recommend using a different cell provider and internet provider so that you can boost your chances of always having a signal.
When we go abroad, we take our phones and simply buy a SIM card in that country. We load it up with a few GBs of data depending on how long we plan on being in the country. I believe we bought 64 GBs for two months-ish in New Zealand and the SIM card itself was free. This is a great option for short term international travel.
For extended travel abroad, you may want to cancel your American plan and buy a new phone in that country, depending on how long you're staying. In Asia, for example, this can be a way cheaper option. Google Fi is also a good option. You can get unlimited data and texting in most countries worldwide, with a small fee for phone calls.
Planning Your Travels (YAY!!!!)
Where to next?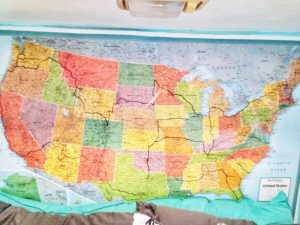 I love getting on Pinterest and dreaming about where I'm heading next. Someone, please take me to Bali!
This is the funnest logistic ever. It's your chance to dream about all the places you've ever wanted to visit, plot them on a map, and MAKE. IT. HAPPEN.
I planned our whole route in Google Maps using Pinterest (here's how I did it), but there are endless ways to plan where you want to go. You can use services like Faredrop to find a cheap flight and go there first. You can crowdsource travel plans by asking friends about their bucket list locations. You can see where your new friends in your digital nomad community are traveling and focus your travels around meeting up in person (my personal favorite).
No matter how you plot the points on the map, once you know where all you want to visit, it's time to acknowledge the single most important thing that will impact your travels:
Weather
Okay, it may not be the most important thing, but when you're taking shelter for the third week in a row from tornados, fleeing from hurricanes, or melting because it's 100º inside with the A/C blowing full blast, then you will understand!!!
Don't visit Arizona in August. Don't visit Maine in January. Don't visit Tennessee in April. Don't visit Florida in September.
These are the basic travel rules we all live by for our own sake.
As you look at all the places you want to visit, consider (or Google) monthly weather changes in those areas. When we planned our fifty state road trip, we spent summer in the Rockies, fall in the Northeast, and winter in the south. Other than the unexpected and intense August thunderstorms in the Dakotas, our route masterfully avoided any natural disasters or extreme temperatures.
Once you have your route and rough travel dates, you can start booking campsites, hotels, Airbnbs (however you're traveling). Booking campsites can be tedious since you have to call many of them to see availability and prices—which is why Heath founded Campground Booking—so this takes the most time. If you're looking for restaurant recommendations, local attractions, and the like, the hosts wherever you're staying are great resources.
If you're traveling internationally, there is one more thing to consider: your exit plan.
When we flew to New Zealand, we never booked that exiting-the-country ticket. It completely slipped my mind! Many countries will not allow you in if you don't have an exit plan, which is how I ended up on the floor of the Sydney airport trying to book a return flight.
My friend Nate taught me his hack for this, which is great for any other spontaneous travelers. He books a flight with Orbitz, who offers a free 24-hour cancellation. So he books the flight, shows his proof of exit to the airline, and then cancels the ticket.
Don't mistake this as me saying that this is how you can get around visa laws. That would be bad.
But if you're simply not a planner like many of us full-time travelers, this is a really helpful way to put off making travel plans and avoid change fees later.
6. Get Your Finances in Order
At this point, you've already solved your biggest financial hurdle with remote work, but that doesn't mean that your finances are going to magically work out on the road. There are a few major considerations to make before you start traveling and a few little things too, like making sure you have a bank that works worldwide, preferably with online banking and no ATM fees!
Step 1: Save!
For many people, becoming a digital nomad is significantly less expensive than living traditionally. You can cut extraneous expenses like gym memberships or subscriptions, sell your car or your house, and live on less by traveling to cheaper states or countries.
This is a good time to start cutting back and recognizing where you want to spend your money. My husband wants to spend his money on good coffee, so he had to stop grabbing snacks at the convenience store whenever he bought gas. I want to spend my money on plane tickets, so I don't spend a lot of money on clothes.
You may have a certain dollar amount you want to have in the bank, which brings me to step two…
Step 2: Set your runway
Runway, a concept we picked up from a CPA we interviewed on our podcast, is how much time, resources and capacity you have to do something. When it comes to financial runway, it's basically how long you can go before you have to start making money. This is especially important for digital nomads building their own business from scratch when income can be volatile. Or if you're planning on working part-time (or even just switching to a job that pays less than you're used to) and using savings to cover your expenses, your runway is how long you can travel before you go broke.
Or until you have to "go back to the real world" as so many people are fond of saying.
So how do you calculate your runway? It's pretty simple:
how much you have in the bank ÷ how much you spend in a month = how many months of runway you have
Ideally, you'll be working on the road in some capacity (the digital of digital nomad, remember?) so you can always extend your runway as you increase how much you have in the bank. When we first started traveling, we thought our runway was 7 months. We went broke at 3.5 months. But we got creative, found more ways to make money, and increase our runway, and here I am six years later. So even if your runway feels short, you are totally in control of extending it by earning more. Just scoot back up to the income section for ideas!
Step 3: Create your budget
Even if you don't stick to it.
Even if you write it out once and ignore it forever.
It's still a good exercise to estimate how much you'll be spending during your travels so you at least know how much you need to make and/or save to make your digital nomad life happen.
Here are a few major categories to account for:
Lodging
Gas (this will likely be your biggest line item if you choose RV life!)
Groceries
Eating Out
Insurance(s)
Entertainment
Transportation (flights, busses, trains, etc)
Visas
Subscriptions you can't live without (I will gladly pay $10.81/month for Spotify and Kindle Unlimited)
ATM fees
You can see our budget and finances from full-time RVing here. The numbers in that blog post have held pretty true for five years, but now that we've added a family member, our grocery bill is much higher.
The cool thing about travel is that you can find really creative ways to get those line items even lower, like going months without paying for lodging by boondocking or finding work exchanges.
Related: How to Save Money on RV Lodging (Free Course)
Once you do have your budget, try to stick to it or reference it during your first two months of travel. It will likely change (we spent over $4,000 our first month of RV life and had it down to $1,000 a few months later) as you learn the tricks of travel, so update it as needed.
For so many people, finances are the only reason that they don't travel. By saving, understanding your runway, and creating a budget, you're taking the steps you need to make sure you can travel for as long as you want. I mean, assuming there isn't another worldwide pandemic that shuts down borders and state lines. Knock on wood.
Related: Tax Information for RVers
7. Pack up and say goodbye.
When Heath and I left our wedding, it was the last time we would see our families and friends until we didn't know when.
In retrospect, it was kind of the perfect way to pack up and hit the road. We had everyone we loved in one place celebrating our new life together. Plus a wedding is a good distraction from all the people who were probably whispering about our questionable life choices.
Throw yourself a going away party or ask a friend to, as you probably don't have a home big enough to host all your friends anymore. #nomadproblems
Give yourself a chance to say goodbye to everyone you love, but most importantly, make a plan to stay in touch. Full-time travel can be isolating and lonely (hence the need for community!) and your friends will be missing you as much as you miss them. Whether it's Skype or Zoom or Facetime or group messages or meeting up during your travels or visiting home—make a plan to stay connected with those back home.
Adjust your mindset.
When you're on vacation, you stay up late, eat unhealthy, and feel pressure to go, go, go, all the time. In this way, you end up spending way more money than necessary.
Typical Americans are allotted two weeks of vacation per year, so people feel like they really have to "do it big" on vacations. Most people completely change their lifestyle habits for brief periods of time and forget all about their responsibilities.
Plus, most vacations have itineraries and everything is well thought out in advance. When we spent Christmas in New York just before we got married, I listed out day-by-day where what we were doing, with addresses, estimated times, and suggested restaurants. (I'm the planner in our family, obviously.)
This mindset doesn't work if you're trying to live a life of full-time travel.
Constantly being on the move and living on the road means being flexible. For us, we learned this lesson on our tenth day of full-time RVing. Our RV broke down in the middle of the Arizona desert and ruined our plans to visit the Grand Canyon. We had two options: skip the Grand Canyon to make up for lost time, or throw our schedule out the window.
Easy choice, right?
The more you travel full-time, the more you'll learn how to be okay with spending extra days in places you didn't intend on visiting—like mechanic's shops.
One area the vacation mentality and the full-time travel lifestyle really bump heads is in the area of work.
We've all seen that guy on vacation who can't put away his laptop and disconnect, right? Well, when you're living on the road it's likely that you're going to be that guy (or at least be perceived that way).
People will see that you're traveling and working and comment that you should "enjoy life" or "just take a break". The problem is, you aren't on vacation, so it's perfectly okay to sit out by the pool and crank away on the laptop. Since they don't travel full-time, they won't understand this subtle switch. You don't have to return to a cubicle every Monday. You can work by the pool, set your own hours, and spend every day someone new.
You may have the outward appearance of being on vacation, but this is your life. You travel full-time and work-from-anywhere. You can sip a margarita on the beach in Mexico at 11 AM, I won't judge!
Packing Up (+ resources)
Packing up your whole life into a suitcase is not easy the first time around. Especially when it means leaving behind or selling things you love, like your couch or photo albums or those shoes that you don't wear that often but they are so cute!
Which is why we have a packing checklist for RVers:
And a checklist we used for going abroad:
When we first packed everything into the RV, we packed WAAAAY too many things. And when we first packed to go abroad, we looked RIDICULOUS in the airport with all our bags! Remember that sometimes less is a good thing (and that no matter where you go, Amazon probably ships there).
And lastly, don't compare your travels to Instagram.
PLEASE.
PLEASE.
You do you. Never let yourself feel like you aren't traveling right, or going to the right places, or enjoying the benefits of digital nomad life enough just because you see one picture of a girl eating gelato in the hippest hat you've ever seen while standing on a rock overlooking a so-perfect-it-looks-photoshopped ocean.
Enjoy the life you've built and don't compare it to anyone else's.
Today, still, even though I've been RVing for years, I'll watch a friend's travel vlog on Youtube and get so jealous that they've done yoga on the beach in Bali while I'm in Colorado Colorado! Surrounded by yellow aspens and snowcapped mountains! Ah, the torture!
The travel jealousy can get real and I constantly remind myself to not compare my travels to everyone else's. Even if they get stuck quarantining on a beach in Mexico when I was in rural Alabama. Nope, not jealous AT ALL.
Start Traveling
That's it.
I mean 6500 words later, that's all you need to do to start full-time traveling and living your best life.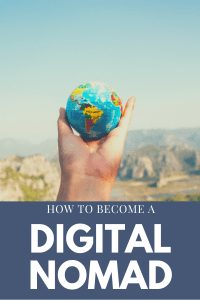 Maybe it feels overwhelming to you still (that's normal) but hopefully this excessively long guide gave you some resources and structure to work through this process so you can get on the road too.
Because you can do this.
At some point in the journey (or at many points), you'll start wondering if this dream of being a digital nomad will actually happen. For me, the first time I wanted to give up was when we tried to buy an RV and the seller yelled at us and said he would never sell to us. Then it was when Heath was let go from his job earlier than his quitting date. Then it was when I realized we had no way to actually support ourselves. And I hadn't even thought about what would happen if we ever broke down!
But I figured it out. And here I am six years later still dreaming about all the places I can't wait to travel to next.
Becoming a digital nomad, an RV entrepreneur, a full-time traveler, is possible and now you have all the tools you need. Give yourself permission to chase after this crazy dream and make it happen.