This post may contain affiliate links. See our affiliate disclaimer here.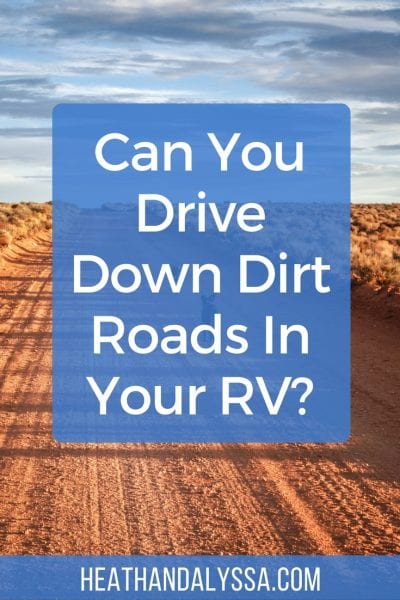 After two years of full-timing, Heath and I did something this summer that we had never dared to try before: drive down dirt roads in our Winnebago Brave.
When we made the decision to visit my family in La Veta, Colorado, we were blinded by our excitement of leaving Texas, staying in the mountains, and enjoying cooler temperatures. I completely forgot you must drive five miles down an old dirt road to reach their property.
It's an unwritten rule in the Padgett RV that you don't drive your house down dirt roads. It was unconsciously created after we started boycotting all RV parks that have speed bumps throughout the park. Once you've had a coffee mug fly out of a formerly closed cabinet and shatter, you avoid bumps and potholes with diligence.
But we wanted to visit my family (plus they have full RV hook ups and a view of the mountains), so we decided the dirt road was worth it. This was our first real dirt road experience in our new 2016 Winnebago Brave.
Three Lessons We Learned When We Tried to Drive Down Dirt Roads in Our RV
Driving down a dusty road with a 33-foot white RV is nightmarish enough. Add mountain grades, make it one lane, and throw on a tow car and you have a stressful situation. We mastered the basics of dirt road driving easily enough. Drive slowly, downshift when necessary, keep the windows closed. Blazing down the road at a brisk 15 mph, something hit me:
"Heath, when you hooked up the tow car, did you roll the windows up?"
"Yeah, of course I did."
Spoiler alert: He didn't.
At least twenty minutes later, after crawling slowly down five miles of mountain roads, we pulled onto my family's property and found a level area to set up our rig.
This is when I learned the first rule of driving down old dirt roads.
My sweet silver Honda was brown. I mean, unrecognizably brown. I had to throw on the windshield wipers and create a small dust storm just to see out the window and back the car away from our rig. A solid 1/4 inch of dirt had settled on every surface outside and inside my car.
We couldn't even wash the car with water, since the dirt was packed on so thick that we would just create a muddy mess. Plus when we turned on the A/C in the car next, it smelled like the inside of a sarcophagus.
Lesson #1: Unhook your tow car.
When you're going off roading, unhook your car and drive at least 100-feet behind your rig. With a dirt road flinging rocks and mounds of dirt into the air, it's our safest and cleanest option. That being said, if we decide to keep galavanting around dirt roads we'll likely invest in a tow car shield to stay protected.
But it wasn't until we left our little oasis in La Veta and found ourselves unexpectedly on a different dirt road that we learned the next most important lesson about dirt roads…
As the forever co-pilot (and almost never the driver), it's my duty to pick up everything that falls, secure anything that rattles, and make sure all the doors and windows stay closed and locked. In our Brave, we have a large residential fridge that we love. Because there's so much space, we have a large two-gallon Brita dispenser on our bottom shelf so we always have clean, fresh water.
When full, our Brita dispenser is roughly fifteen pounds, so the weight prevents it from sliding around in the fridge. Until the dirt road. Even cruising at 20 mph, the right combo of a pothole and a curve in the road can prove disastrous.
Heath makes the curve, hits the pothole, our fridge door flings open dumping out our completely full Brita tank and all of our tupperware containers of leftovers. (Praise God our carton of eggs stayed in its place!)
I fly out of my seat, slipping in an inch deep of fresh water and grabbing our table for support. Heath is yelling at me asking what's happening, all the while driving up and down the mountain road. This is creating a tidal wave effect of water splashing our back bedroom wall and then rushing forward toward the cockpit.
I finally make it to our laundry basket in the shower and heave all of our used towels onto the floor. You really have no idea how much two gallons of water is until you see it rolling around on your floor, under your bed, under your slide, down your carpet stairs, splashing your clothes.
Heath pulls over to help me mop up the mess, but since we're in Colorado and the land is rarely flat, we are parked slightly uphill and all the water rushes to our back wall. Since our slide is in, there is no walkway through the bedroom to reach the back wall, so Heath is army-crawling on his elbows on a towel in the space under our bed to soak up the water. I'm trying not to laugh at this point. Five full-size towels and two dish towels later, our floor was sparkling clean and slightly damp, but by that point we were completely out of towels and needed to do laundry.
I place our Brita back in the fridge, not even thinking in all the chaos to check if the plastic tank is broken, so that night when we arrive at our campsite and refill our Brita, we'll be surprised to find standing water in the bottom of our fridge the next morning.
Lesson #2: Secure EVERYTHING
At this point, the dirt roads have given us two extremes: clouds of dust covering the RV and waves of water cascading across the floor.
But it was hard to care much about our extremely dirty RV when we could camp for free with views like this:
In Colorado, our windshield had a million dollar view of West Spanish Peak and you could hear the sound of rushing water from a nearby river. It does not get much better than that.
This was the best lesson about off roading.
Lesson #3: Dirt roads can lead to the best (free) camping.
Because Heath and I aren't particularly outdoorsy and prefer to "glamp", we've never looked into many free camping options on BLM (Bureau of Land Management) or public land. Our boondocking experience was limited to parking in friend's driveways, since we typically prefer to enjoy full hook ups and endless air conditioning.
But as we drove north from Colorado toward Grand Teton National Park, we decided with newfound confidence to hop on Campendium in search of boondocking or wild camping options near the park.
Campendium is a website that helps you find camping across the country, but they are most helpful for finding free campsites in unexpected places. Campendium helped us find Upper Teton View, an open grassy area on top of a hill with the world's most spectacular view of the Teton mountain range.
With a dozen five-star reviews, we knew we had to try it out—even though it meant a mile-long dirt road trek up a steep incline that seemed to lead to nowhere. Since many of the free camping sites on Campendium are off the beaten path, we plugged GPS coordinates into Google Maps to lead the way (with me following the RV in the car this time).
This dirt road was steeper, curvier, and far more bumpy than our first two dirt road experiences, but much to our excitement, there were no theatrics with this arrival. (Heath did, however, drive a whopping 5 mph up this mountain. I put the car in park and waited out of boredom).
We climbed the steep hillside winding through trees until we came to a large clearing with enough space for four large RVs plus, plenty of sites for tents and smaller rigs off to the side. But trust me, you want one of prime spots right in the front.
This is arguably the best view of the Teton range in the entire park.
It took us two years, a ridiculously dirty car and a small flood, but we've finally become courageous enough to venture off the beaten path in our 2016 Brave. We'll be venturing down more backcountry roads towards BLM and national forest land as we keep traveling this summer. The mess is totally worth it.
Have you taken your RV down dirt roads? What was your experience like?
PS Merica the Brave needs a bath.