This post may contain affiliate links. See our affiliate disclaimer here.
Last summer, Heath and I found the perfect venue for our next RV Entrepreneur Summit. It boasted lakefront RV sites, had meeting rooms large enough for a few hundred people, and even offered onsite dining options so people never had to leave the park. Not to mention the gorgeous sunsets.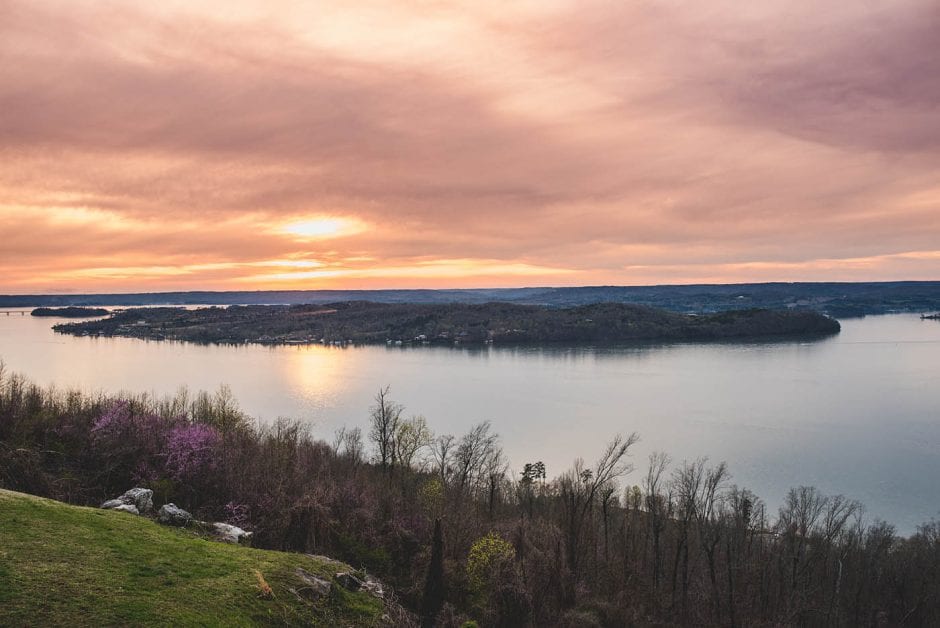 The only con: It was in northern Alabama. Having spent a good amount of time in Alabama, I knew we needed to push our dates for Summit back at least a full month. March in Alabama can be great, but February is brutally cold and grey.
So we booked the venue for late March—eight months in advance—and started working on conference planning as we drove north to Canada.
And if you've followed our blog, you know that in Canada is when we found out we were pregnant. Which was a giant yippee followed by months of puking and the realization that I would be well over seven months pregnant come Summit time. Yikes.
I don't know what we were thinking, planning our first baby and our third conference at the same time. In retrospect, it's such an obviously bad idea. Hindsight, right?
During my first appointment with my doctor back in America, we asked if it would even be possible for me to spend a month in Alabama in March. I was so sick at the time, losing weight, unable to be in a moving vehicle, and hadn't been able to work in weeks. He gave a diplomatic "we'll see."
We'd already sold out of 350 tickets, paid thousands of dollars in deposits, and I could picture it all in my head: me laying in bed in our apartment watching Heath host the Summit via live stream.
When you're an event planner, you have a backup plan for everything. If it rains, if people who don't have tickets show up, if a speaker cancels last minute, if microphones don't work.
This is the first year I've had to make a full back up plan for myself so that if I couldn't make it, every task was still covered. Usually, my duties during the conference involve hosting, directing our volunteers, mingling with attendees, running the show backstage, picking up a dozen large boxes from the post office and loading them into my car, never sleeping, etc.
This year I had to find a way to outsource it all.
Now let's be real here. I am not good at outsourcing. 
I'm not even good at letting Heath make fried eggs for me.
Really I'm not allowed in the kitchen anymore when Heath is cooking because I'll pick up the spatula and try to take over myself, totally defeating the purpose of someone cooking for you.
I'm a classic micromanager. I have to do it all myself.
Our pre-marital counselor gave us advice that I often find myself repeating in these situations. "You can ask someone to do anything for you—but you cannot dictate when or how they do it."
So if you ask someone to make you breakfast, you can't then tell them how to cook it (unfortunately).
Even though my doctor cleared me for travel in February and everything with the pregnancy was looking up, I needed to avoid stress, stay hydrated, and get plenty of rest. Literally the opposite of how I normally run our Summit. 🙈
Which meant this time I had to ask for help. It wasn't a "running the Summit is too overwhelming for just Heath and I, we could use some help" moment. It was an "I physically can't do it all and I dropped my pen and can't even bend over to pick it up without help cause there's a giant basketball in my way" moment.
Even more difficult, I had to let go of that little bit of pride I think all entrepreneurs have that says "I can do this all on my own."
Or as Eric and Tami said during their presentation, an entrepreneur is NOT a person so highly talented that he or she must perform every function in the business in order to save it from complete failure. An entrepreneur is a person who organizes and operates a business or businesses, taking on greater than normal financial risks in order to do so.
An entrepreneur runs a business but doesn't have to perform every little function of the business. I scribbled that down on the back of my Run of Show spreadsheet as I sat backstage because it was the most perfect definition of what an entrepreneur should be versus how I act as a business owner.
Fittingly, the only reason I was able to write that down was because I decided to not perform every function of my business. In the past during main stage talks, I would rush outside to greet the next speaker, refill the coffee, reply to emails or comments regarding the Summit, and make notes of what to say the next time Heath and I were up on stage.
This year, I sat and listened. I took notes on Steve & Courtney's presentation to double check what interest rate I was earning on my savings account and to see if I qualify for an HSA as a future tax break. I listened to Joel share how he grew an eight-figure business and completely burned himself out. I made a list of apps and programs Chad suggested on how to put better processes in place to run your business and how to hire employees.
IT WAS AMAZING.
Instead of running the event—AKA running around like a crazy woman trying to do it all myself—I was hosting the event.
This couldn't have ever happened without a team. A really awesome team of people I trusted (mentally telling myself that I could ask them to cook eggs, but I couldn't grab the spatula and tell them how to do it).
Building a Rockstar Team
First, we hired our friends Jedd and Michelle to be our "lead volunteers" which isn't at all an accurate title. They really ran the whole weekend. They started working with us back in July running customer support and helping to write and schedule emails to attendees every month. Pregnancy brain is a real thing. If I had tried to do this on my own, people would've gotten one email in March that "see you tomorrow!"
We met Jedd and Michelle at World Domination Summit—a conference 10x the size of RVE that brings together a similar group of creative entrepreneurs and travelers. They've helped run WDS for years and we knew we could trust them 100% to handle running RVE. They were absolute rock stars.
When we ran out of coffee a dozen times one morning, it was Michelle who made sure it was replenished. (Backstage, I had no idea this happened at all.)
When we were missing the keynote presentation for a speaker, it was Jedd who somehow got their contact information and was making sure the slides were loaded into our master file.
When volunteers or attendees had questions, Jedd and Michelle were there to answer them and keep the event running.
And there were a LOT of volunteers.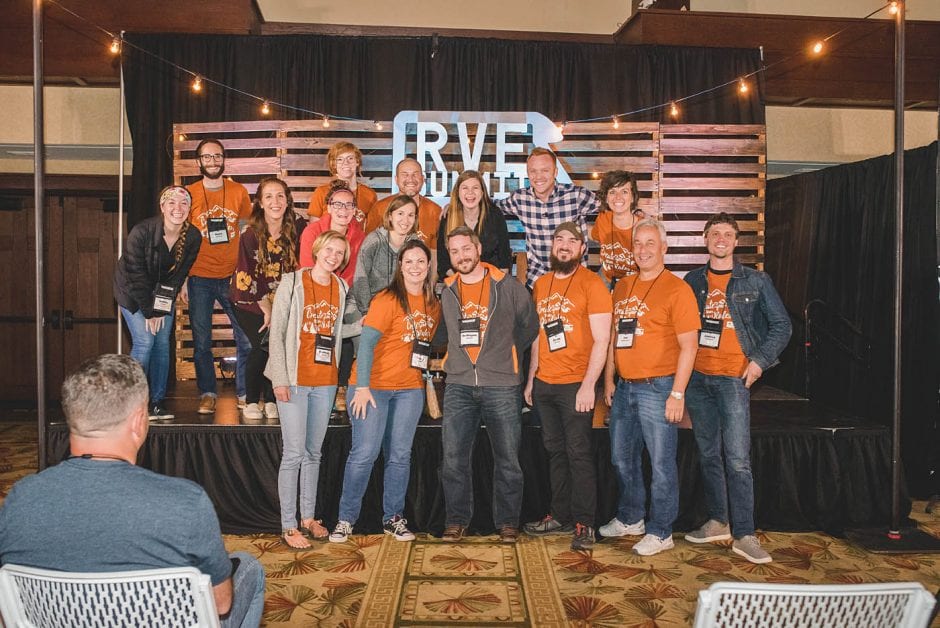 This team welcomed attendees at the door, drove the shuttle van from the campground to the lodge, filled all the swag bags, ran registration, and troubleshot technical issues. Not to mention how they broke down 375 chairs, set up 20 tables, re-setup the chairs, and made sure that there were enough seats for every attendee to eat dinner on Saturday night. (Somehow they did this all in fifteen minutes?! Still not sure how that was possible.)
Backstage, we had our own crew producing the event—from filming every session to running sound and slides.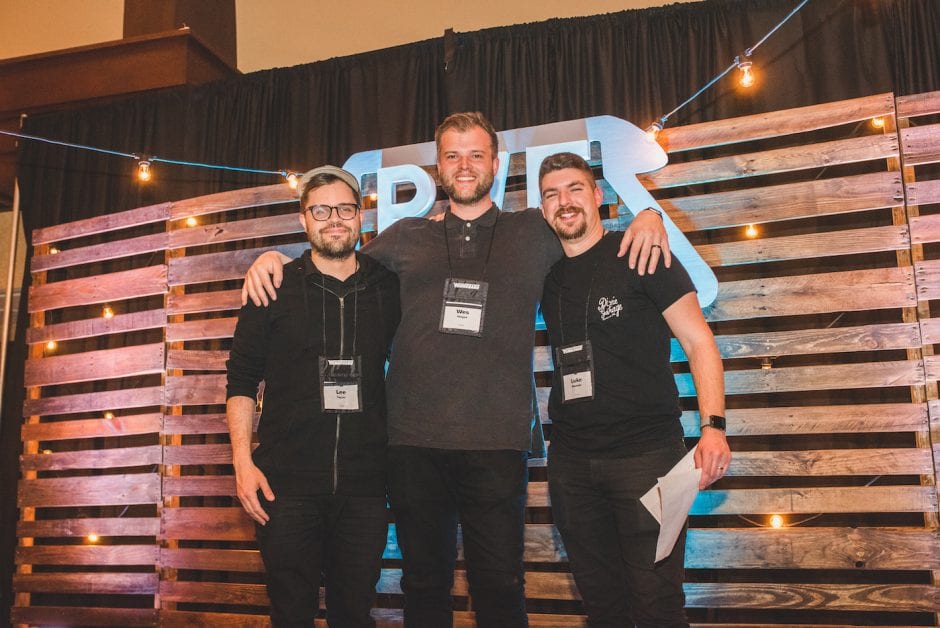 Luke and Lee filmed every session while Wes sat backstage live-editing all our main stage sessions. (This was the trick to how we have all our weekend sessions available for replay online just two weeks after the event ended!) Lee even edited together this event recap video on Saturday so we could show it to attendees before they departed on Sunday.
Plus Alex (not pictured) who really ran the show backstage—handing Heath and I microphones, telling us things like "you have three minutes" and making sure our only focus was getting on stage and hosting the event.
All I did was make an eight-page spreadsheet showing the run of show for the weekend and this team of people ran with it, making it all happen.
And while it was fortunately not necessary, I do have to also tip my hat to Eric and Brittany Highland. Eric and Brittany spoke at our first two Summits and we asked them to return this year promising them that we weren't going to make them speak. This year we just wanted them around because we love them and they are great community builders.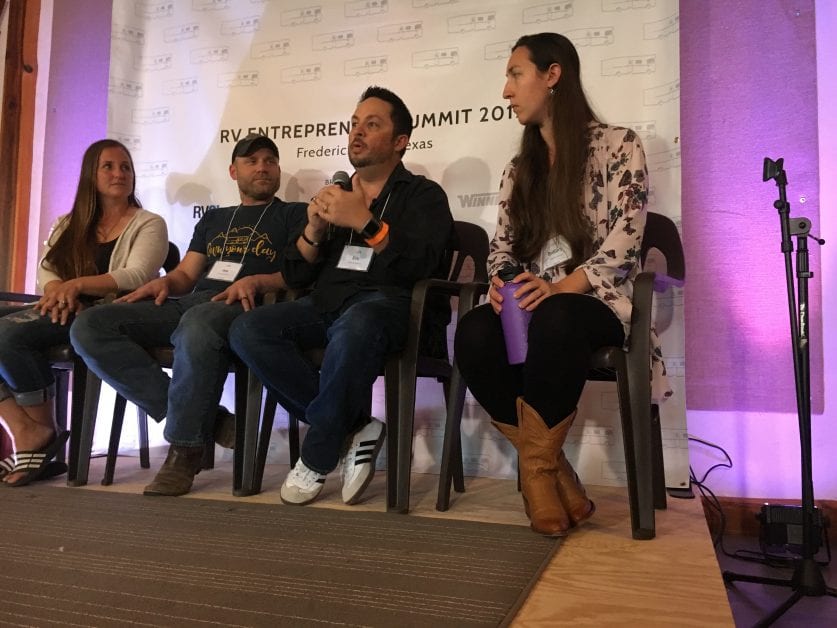 But…
Being seven months pregnant, on my feet all weekend, and still a good bit stressed about how the weekend was going to go, it was Eric and Brittany who we asked to "be Heath & Alyssa", should we be unable to host. If I went into labor or needed to go to the hospital, Eric and Brittany agreed to be the ones on stage hosting the event, introducing our speakers, and making sure the show went on without us. Moral of the story: Heath and I make empty promises, but have really great friends.
Between these twenty awesome people, Heath and I could focus 100% on hosting. We could sit and have long conversations with new friends. We could enjoy the conference without having a thousand thoughts running in the back of our heads like "don't forget to hang that sign" or "pick up a case of waters from the store tonight". We could sit and eat meals instead of scarfing them down backstage while setting up the next session.
We had successfully built a team of people to cover every one of our duties so that if any of my stress dreams about giving birth prematurely in rural Alabama came true, the show would still go on.
In so many ways, this was our best Summit yet and all of the behind the scenes credit goes to all these people. They elevated the attendee experience, made our little business conference for RVers 20x more professional, and picked up my pen every time I dropped it on the floor (pregnancy clumsiness is definitely a thing too).
If I hadn't been seven months pregnant waddling down the hallways of the state park lodge, I would've tried to run the whole conference by myself again. Letting go was hard. Like I said, I'm not very good at this whole idea of outsourcing. I'm admittedly terrible at asking for help, plus I love event planning. I didn't want to let it go.
It took doctor's advice to make me realize that building a team or outsourcing a part of your business is all a quality of life decision. Sure, outsourcing is great for optimizing your time and building a team can help your business run more efficiently. But it can also be great for relieving your stress and helping you to avoid burnout—which I think is the most important thing. An entrepreneur is NOT someone so highly talented that he or she must perform every function in the business in order to save it from complete failure.
An entrepreneur is a person who organizes and operates a business or businesses, taking on greater than normal financial risks in order to do so.