This post may contain affiliate links. See our affiliate disclaimer here.
Did you know there are a dozen Disney theme parks in the world?
That's not including two water parks too.
So far, our kids have been to five and I'm on a mission to visit all 14.
Heath and I love Disney. During our honeymoon, we made sure to enjoy a week hopping around Disney World in Florida.
We love a good theme park in general, but Disney just does it better. Every detail is magical. During that first trip to Disney together, Heath and I talked about returning with our kids one day. Then, in December with our one-month-old son, we hopped on a flight to enjoy a spontaneous Disney adventure as our Christmas present to the kids.
Well, really to Ellie. Eli just slept a lot.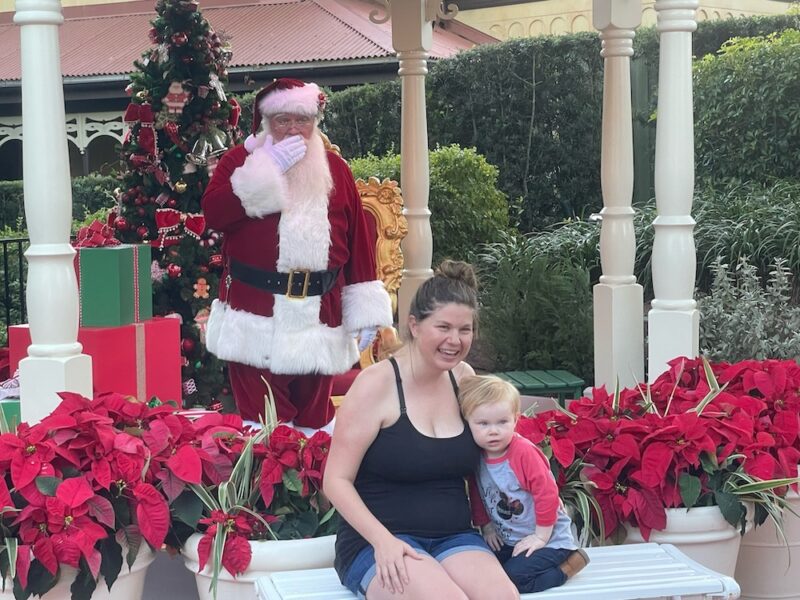 We spent three days exploring Magic Kindom, Epcot, and Animal Kingdom. Our daughter, two-and-a-half at the time, was mesmerized. For months afterward, every night at dinner she told us about going to Disney World and seeing "Mickey Mouse's house."
It was her memory of the parks—"Remember the other day when I met Snow White?"—that inspired the goal. We are going to visit every Disney Park together.
Here are the parks:
Disney World Resort in Florida (Magic Kingdom, Epcot, Animal Kindom, Hollywood Studios, Typhoon Lagoon, Blizzard Beach)
Disneyland Resort in California (Disneyland, Disney California Adventure)
Disneyland Paris (Disneyland Paris, Walt Disney Studios Park)
Hong Kong Disneyland
Shanghai Disneyland
Tokyo DisneySea
As a family, we've visited 3/6 of the Florida parks and the two parks in Paris. I feel like most people I know have visited Disney World or Disneyland at some point in their lives, so in this blog, I want to share what to know about Disneyland Paris before you visit.
What's Different About Disneyland Paris
The first thing you need to know about Disneyland Paris is that it is actually two parks: Disneyland Paris and Walt Disney Studios Park.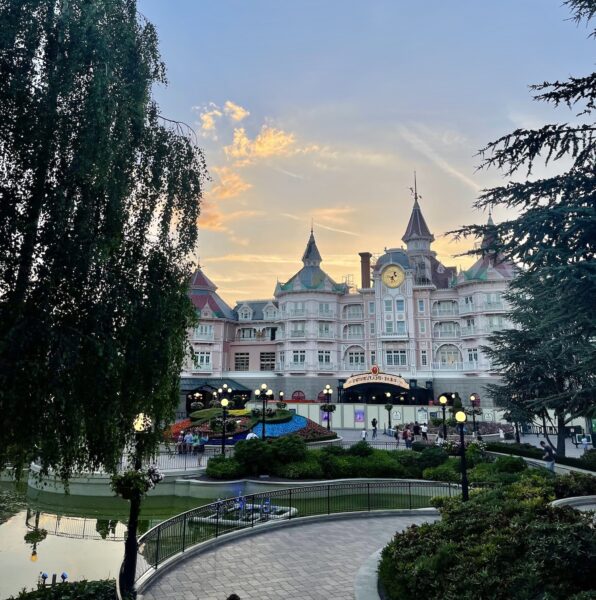 Unlike Florida, the parks are directly next to each other and connected to Disney Village, which is like Downtown Disney or Disney Springs with restaurants and shopping. In addition to the parks being connected, most of the Disney hotels are also connected to the parks by walking paths. You go through security when you enter the Disney Village area so you don't end up in long lines at the gates.
We stayed at the Hotel Santa Fe and walked to Disney Village to grab meals and walked to the parks. We rented a stroller for our day in the parks and could take it all the way back to our hotel room! Everything was so close and convenient.
This is one of the biggest differences between Disneyworld and one of my favorite things!
Trams and buses make park hopping possible in the US, but it's maybe a two-minute walk from gate to gate between the two parks in Paris. The accessibility made everything about the day easier. We enjoyed Walt Disney Studios Park from 8-12, caught the 12:15 parade at Disneyland, walked back to our hotel room for the kids to nap, and spent the afternoon and evening at Disneyland. We were a little worried that we wouldn't be able to fit in both parks in one day, but we easily did. Especially with Magic Hour.
Magic Hour (Is 100% Worth It with Little Kids)
Between 8-9 AM, Disney Parks are open for Magic Hour. You can only get magic hour access if you stay at a Disney hotel, which can be pricey. During our Christmas visit, we waffled back and forth on if the added expense of a Disney hotel would be worth it. We opted for a local hotel which was 10-minutes away…plus insane traffic, parking costs, shuttling from the parking lot and/or getting in your 10,000 steps before you even enter the parks…
We regretted it.
Plus with little kids who require multiple naps a day, it would've been really nice to take a siesta in a hotel room.
With Disneyland Paris, we weren't going to make that mistake again. We booked Hotel Santa Fe last minute on Expedia after we reserved our tickets for both parks in a single day.
We decided to start with Walt Disney Studios since it had more rides that the kids could ride. (Note: figure out your kids' heights in centimeters before you go!)
We rode four rides before the park even officially opened!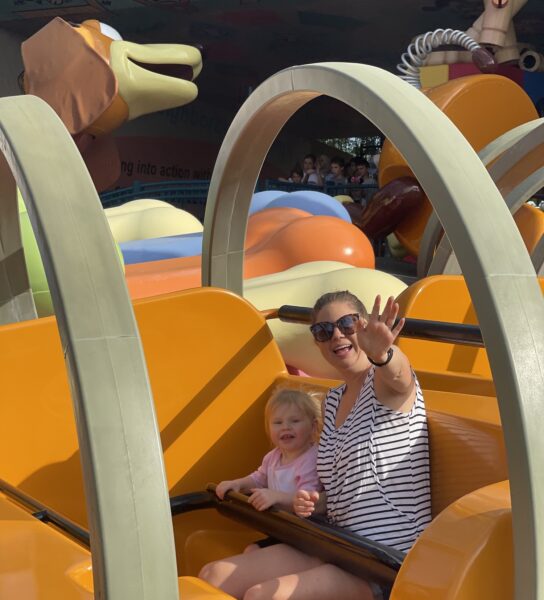 I'm not sure how many rides we rode during the rest of the day, but we walked straight onto multiple rides and it made the day start on such a magical note. We also visited in mid-June and the park was never too crazy with crowds.
Staying at a Disney Hotel
We definitely ended up in the budget motel and didn't realize it. Because we booked everything last minute, we had two options: stay at the Disney Hotel New York (also known as the Art of Marvel) for $1,500/night or stay at the Disney Hotel Santa Fe for $250/night.
Easy choice!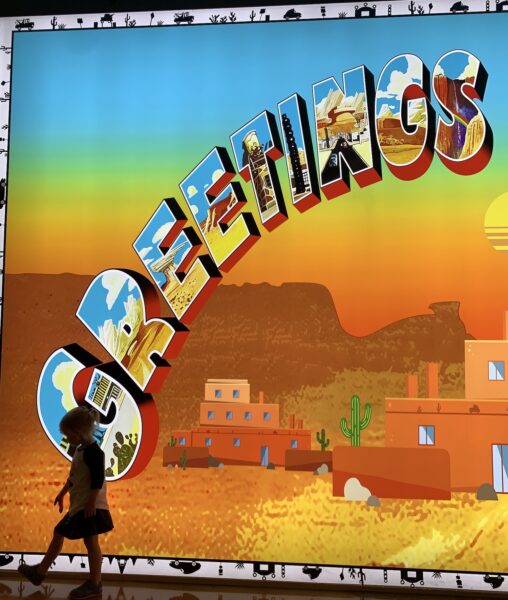 The hotel was just okay. It was your average hotel room, but it did have two beds, room for a crib, and a bathtub which we hadn't seen in many other hotels in European cities. There was a buffet-style restaurant with Tex-Mex food as well as a Starbucks, but with an easy walk to Disney Village. (We usually walked to the village for meals.)
We toured a couple of the other hotels which offered character greetings and multiple restaurants. If we go back to Disneyland Paris, I would (for starters, plan things more than 24 hours in advance) definitely book a different hotel. The Sequoia and New York hotels were both gorgeous. The gift shop in Sequoia even had a table with coloring pages and markers for kids to color while parents shopped which was a small, but much-appreciated touch. The New York hotel (which was recently renovated) offers multiple restaurants and is closest to the Disney Village entrance.
And, if you're a Marvel fan, the New York hotel will just blow your mind.
Getting to the Parks & Park Hopping
I booked our one night in Paris near the train station so we could easily walk to the station and ride out to Chessy, where Disneyland is. Disney has its own train station that stops right outside Disney Village. It's actually closer than the parking lots!
When we checked out of our hotel in the city, the front desk clerk asked where we were heading and if we needed help with our travels. We told him we were heading to Disneyland and taking the train. He immediately said, "Oh no. Don't do that."
The train would take about the same time as a car and be a little cheaper. But, he explained, there are many stairs in the train station. With two suitcases and two kids, he told us to grab an Uber instead. We didn't travel with a car seat, so I didn't particularly like this as an option for safety, but we had already attempted to navigate a Parisian train station with our suitcases and it was a nightmare.
We took an Uber straight to the front desk of our hotel and it was fast and easy. So while you can easily take the train and then take a Disney shuttle (or walk) to your hotel, a car may be easier if you've got a lot of luggage.
The shuttle buses to each hotel are right next to the train station. Busses came by every 10-ish minutes which meant it was actually faster to walk straight to our hotel ourselves, but sometimes we just needed to save our feet and shuttle back!
When we first arrived and walked around Disney Village, we wanted to take a shuttle back to the hotel. We started walking in the direction someone advised us to catch the shuttle bus, but missed the sign, got lost, and ended up walking allllllllll the way to the parking lots. The parking lots were so. far. away. If you can, arriving by train or staying at Disney will save you a few thousand steps!
Disneylands are all Carbon-Copies
There are six "castle parks" around the world and these parks are all comfortingly similar. Since we just visit the Magic Kingdom in December, the rides and map of the park were fresh in our minds. I was surprised at just how much of the Paris park was exactly like Magic Kingdom! You've got Main Street full of shops leading you to the castle, Fantasyland straight through the castle, Frontierland and Adventureland on the left. And off to the right is Discoveryland which has Buzz Lightyear and other rides just like Tomorrowland in Orlando.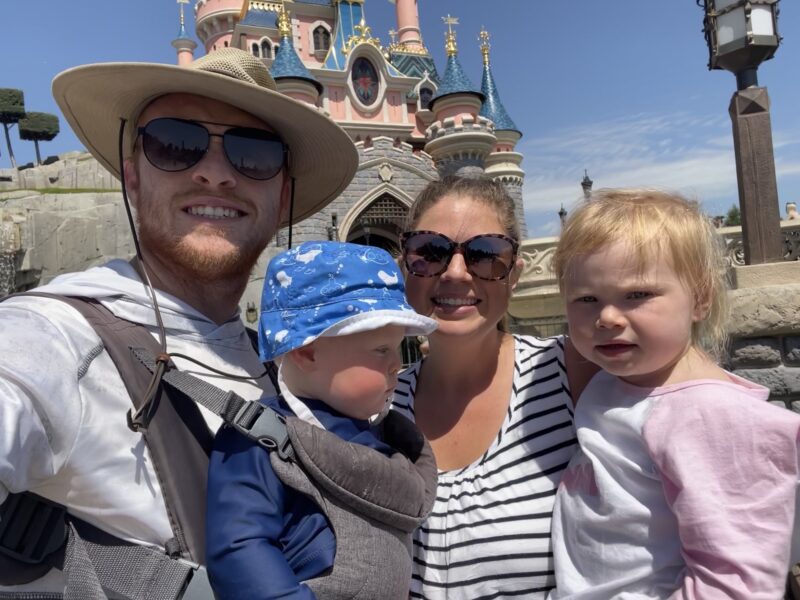 I've gone back and forth, but I think I really like this. There are enough different rides to make it interesting (like Alice's Curious Labyrinth and Snow White's mine car) and enough familiar rides like the Haunted Mansion and carousel that you feel like you know your way around.
One specific difference that I loved in Paris was the detail within the castle. You can go under the castle and see a dragon (which terrified Ellie!) and walk upstairs inside the castle and explore. Plus there's a store inside that sells Christmas ornaments, so we bought a couple for our Christmas tree this year.
Disneyland Paris is…Smaller?
As we walked around the parks, in spite of the similar layouts and rides, I swore Disneyland Paris was smaller than Magic Kingdom. I couldn't put my finger on it since so many rides are the same, but as we walked around, it felt so much smaller!
According to Google, this is true. Disneyland is a little smaller than Magic Kingdom, and Walt Disney Studios park is one of the smallest theme parks at only 62 acres in size. Even though we rode a bunch of rides at Disney Studios, it's a relatively tiny park and easy to navigate.
But because both parks are so small, it was very doable to enjoy both parks in a single day.
The best Disneyland Paris park for toddlers: Walt Disney Studios
The internet told us to skip Walt Disney Studios because there wasn't much for toddlers…
BAD ADVICE INTERNET.
Ellie rode every ride except for two—Crush's Coaster and Tower of Terror. And since we did have magic hour, we rode all of the rides before noon. Ellie even rode the parachute drop: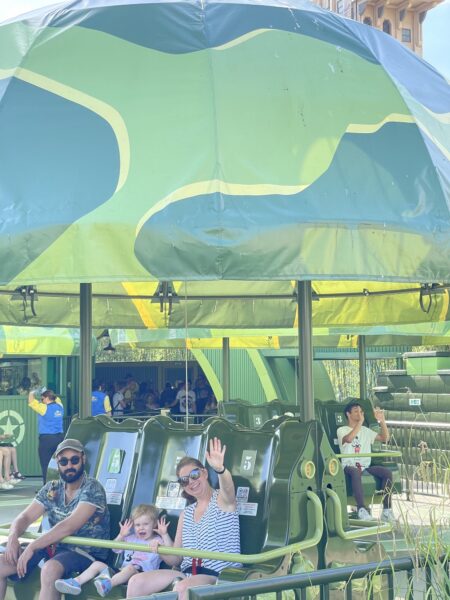 I was terrified and clutching her so she wouldn't fall out. She was loving it!
Ellie was 90 centimeters when we visited. Many Disney rides have no height requirement, which means you can bring or wear babies on the ride. We wore Eli on most rides in Florida. However in Paris, many of the rides had no height requirement but had an age requirement of 12 months. So Eli missed out on riding a few rides…not that he noticed.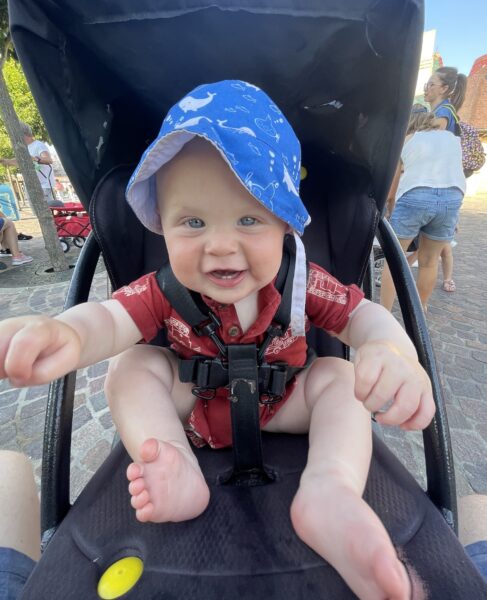 Renting a Stroller
The strollers at Disney World in Florida are terrible. Clunky, hard to maneuver, hard plastic. It was a battle getting our daughter to sit in it. I assumed Paris' wouldn't be much better and didn't plan on renting one for the day.
But we were so glad we did!
Our three-year-old rode in it all day and when she rode rides, our seven-month-old sat in it. Being able to fit both ages alone was a win! The black strollers had a sturdy fabric seat and a metal step on the front (or presumably a foot rest for taller kids) making it easy for our three-year-old to climb in and out herself. The strollers were easy to maneuver and had hooks on the back where we hung our diaper bag.
The only con was leaving the parks with the stroller. I mentioned earlier that you can take your rented stroller from park to park and even all the way to your hotel—which was amazing. However, you need your receipt to get out of each park. Someone promptly threw away the receipt after being told to hold onto it, so every time we left a park all day this became a huge headache. We even got a receipt re-printed…which someone then immediately lost again. Lesson learned: put the receipt in the pouch on the stroller that has your name on it so you can't lose it!
Lines & Wait Times
Get the park app. Your life becomes amazing.
Disney parks now have apps that tell you (fairly) up-to-date wait times as well as when rides are temporarily closed. Our longest wait was "55 minutes" on the app and on the sign at the ride, but in reality, we made it onto Ratatouille's Adventure in about 30 minutes. (That's one thing I've noticed at every Disney park. Most wait times are actually faster than the listed time!)
With Paris, the app is even more helpful because rides open and close at weird times. For example, Magic Hour may start at 8:00 AM, but the Slinky Dog ride opens at 8:27 AM. Buzz Lightyear at 8:42 AM. The Cars ride at 9:15. And so on. Most rides are open for most of the day, but some open later, and many close at dusk. Pay close attention to this when you start planning your day.
Even more important to note is which restaurants are open. When we desperately needed lunch, it was 2:30 PM and everything was closed! We had to hunt for a while to find an open restaurant. Plan ahead, if you can, and know which eating areas will be open all day.
Language Barrier (There isn't one)
Good news for worried travelers, literally every employee spoke English. From the wait staff to stroller rentals to ticket takers to ride staff. When it comes to traveling with little kids when your brain is already overloaded with finding a changing table for diapers and snacks and making sure your kids aren't running away or eating rocks, it's nice to be able to understand the employees.
Disneyland Paris: Would visit again.
We're suckers for Disney and would absolutely go back to Disneyland Paris. The only thing I would do differently is to stay at the Marvel hotel since it's closest to the park entrance. (Okay fine we are also superhero obsessed!)
Have you been to Disneyland Paris? What did you think?