This post may contain affiliate links. See our affiliate disclaimer here.
Heath and I have very few regrets about our time full-time RVing.
Not installing solar on our Winnebago.
Spending so many years in an RV without a Truma. That hot water heater is perfect.
And how we spent the summer of 2018.
We had just gotten back into our Winnebago after spending three months in New Zealand and Australia and two weeks in Hawaii celebrating a wedding. Before we left the country, we transitioned out of client work to give ourselves more freedom with our time.
In order to keep full-time traveling, we were producing videos for brands across the country. Wherever we needed to film, that's where we traveled that year. 2018 was our first year to get to choose where we would travel and when and we were loving it.
And then our buddy Nate called Heath and invited us to join them in Italy. Nate and his wife, Kara, were about to host a month of Vespa tours across Italy and we desperately wanted to go.
Around the same time, Campground Booking was growing and one of Heath's customers wanted photos of all the parks and points of interest across Canada for their trip planner product. We would need to drive up to Canada and travel across the entire country stopping at specific spots.
It was a huge project and it would pay us $2,500/month for three months of work.
In hindsight, we really should've clarified American dollars, not Canadian.
We took on the project, made a little money, and helped Campground Booking develop a product instead of flying out to support our friends. Looking back, we made the wrong decision and wished we would've chosen to spend more time with people we love.
Last week Heath shared his CB journey and how when he started the company, it was all about building something that gave us the freedom to travel. You can read the whole post here, but spoiler alert, it turns out tech startups actually take years of attention and don't really give you a ton of freedom.
Going into 2022, Heath and I kept coming back to this theme of giving ourselves the freedom to pursue the things we love. 
What things can we let go that will allow us to get back to traveling now that our son is here? How can we balance travel with two kids two-and-under and still run our business? How can we prioritize time with friends and family?
We made a master list of everything on our plates, plus all of our ideas for things we were already planning to do in 2022—like me publishing a book full of RV life stories and Heath publishing a business book. And we start crossing off the things that we weren't excited about anymore or wouldn't give us the freedom to spend time traveling with our family this year.
Some things were hard to cross off, like one business idea Heath has wanted to start for over three years, but never gotten around to. Some were easier, like passing off the RV Entrepreneur Podcast to a new host so the show could thrive without us.
Saying no to so many things opened us to say yes to the things we're really excited about.
Like Heath biking the Tuscany Trail with friends this spring.
Like booking two months on a beach in Tuscany with our kids 🏝🍷
Like planning an epic RV road trip across France, Spain, and Portugal with friends this fall 🥖🚐
Like prioritizing automating our business to create more passive income.
And spending more time together as a family while these two are tiny and adorable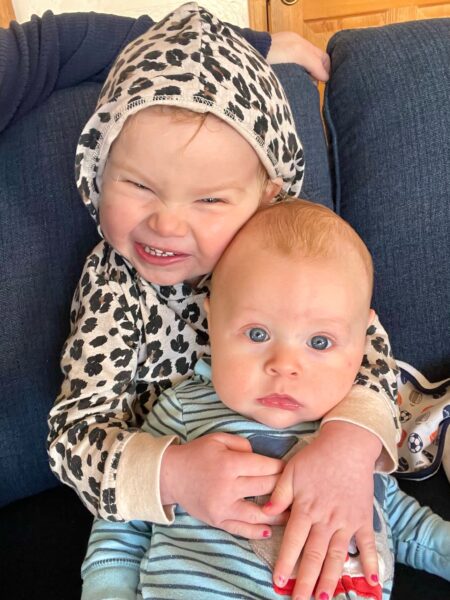 We've always said there's a fine line between RV and entrepreneur. Travel and work butt heads often. For years, work was the priority while we paid off all our student debt and then grew our software company.
Now we're ready to lean more into the travel side of things again and prioritize RVing all over the world with our friends.
Starting with Italy this spring and more of Europe this fall!