This post may contain affiliate links. See our affiliate disclaimer here.
"Oh shit. Shit. Shit. Shit."
I usually don't cuss in blog posts, but technically I didn't say this. This was a stream of Slack messages that popped up a few days ago and unraveled into the catastrophe that was my weekend.
Getting traction in any new business, blog, or endeavor always takes ten times longer than you think it will. For a while you think you see the light at the end of the tunnel, but really it's just some guy named Richard holding up a candle just to mess with you and laugh as you go by. As it turns out, you've got at least another thousand hours of complete darkness as you try to piece together your pride and keep moving forward.
Well, Richard had a good laugh this week.
If you've been following along awhile, you know that w've been working on a software startup called Campground Booking. I've talked at length about Campground Booking on the podcast, but it's been awhile since I gave an update, so this is me. Giving an update. About our first day of accepting reservations for a campground. And if you can't tell from this intro, it's not a happy update.
-_-
The past year, my two co-founders (Bob Orchard and Paul Ryan) and I have been trying to solve a big issue we face as RVers — booking campsites.
We're solving this problem in two ways. The first is that we've built a modern property management system that campgrounds can use to run their entire property. This is a SaaS (software as a service) model and they pay us a monthly fee to use the system.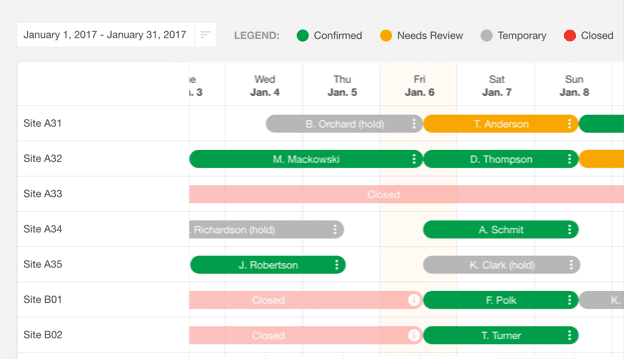 The second way we're solving this problem is by creating online travel agencies (also known as OTAs) in outdoor hospitality, meaning we're enabling reservations from high trafficked websites in the camping niche (like you see below).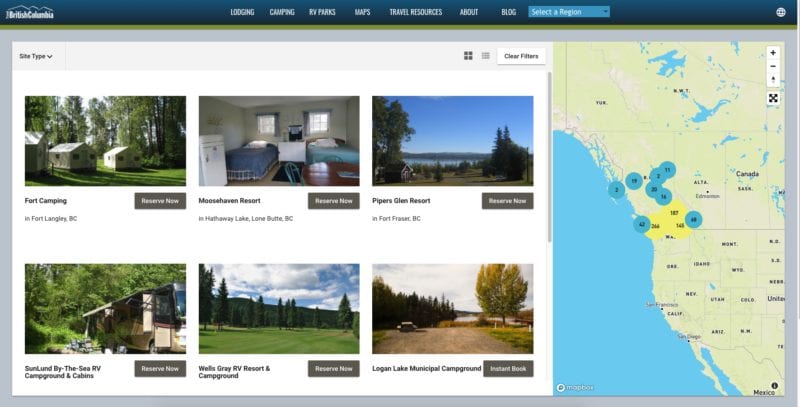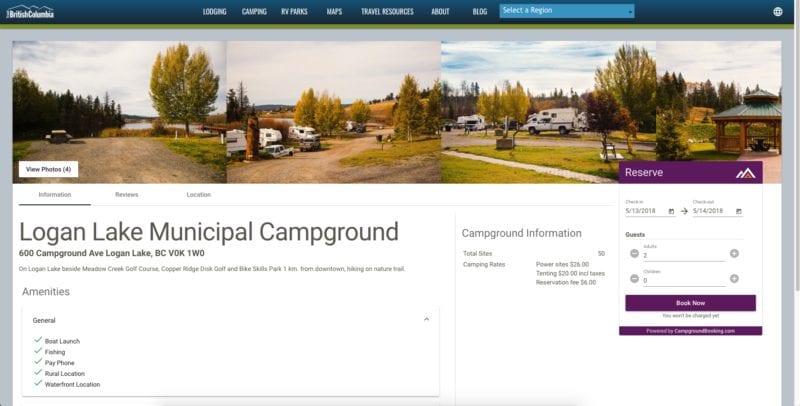 We're currently in a partnership with the Canadian Campground Association. They brought us on board to help power reservations to their 2,100 parks across Canada.
As part of rolling out across Canada, we've launched a beta reservation system with a website called Travel British Columbia. This means several campgrounds in British Columbia will be using our full property management system to power their campground and take online reservations.
And while this is great, we haven't had to deal with a large flux of reservations coming through the system just yet.
That was until Saturday.
Paul (my co-founder and Campground Booking's CTO) has been working around the clock to finish everything, work out bugs, and check all the boxes before going live. Just a couple days before going live, the campground told us that they expected hundreds of reservations to go through the system within a matter of hours.
Wait, what?
Apparently, campgrounds in Canada book out reservations faster than a Taylor Swift concert. This would mean that our new little software system would be pounded by hundreds (or thousands) of users within a short period of time.
Oh, boy.
Saturday we were putting some finishing touches on the campground's account — making sure all their profile images looked solid, taxes were correct, and all the little nuances that go into making a reservation.
I was nervous, but mostly excited.
After all, it has been almost two years since I started kicking around the idea of building a solution for booking campsites. I knew it was an issue as an RVer, but I lacked the skills to build it myself. Luckily, I met a couple people who did have the skills to build it in our RV Entrepreneur Facebook group. We've had our heads down the past year working on a solution together, calling campgrounds, visiting campgrounds in person, pitching the product, getting feedback, and still juggling client work/blogging in the process.
Finally, I was excited just to have something be live. I was excited to see our product in action after hundreds of hours of work.
That was until Paul's stream of Slack messages starting coming through, letting me know that something was wrong.

Apparently, a couple bugs that we hadn't had time to test or prepare for were causing the reservations to not process correctly. We were watching everything break before our eyes and within minutes of clicking "Go live", we had to shut it down.
But not before more than 300 reservation requests went through the system and we had over 1,000 people trying to book a site. Let me just say that again, 1,000 people trying to book a campsite in less than 5 minutes.
Paul and I jumped on a call and I tried to talk him down, but I could tell he was freaking out.
Ultimately, we would have to call the customer and let her know what happened (and quick). They'd trusted us to deliver on our part and we'd let them down.
It was a crappy feeling, really crappy. We called her, told her what happened and laid out the best course of action for what to do next. We apologized profusely and told her that we would handle all of the inbound emails/calls/support that was already coming through the system.
Oh shit, indeed.
Over the past few days, myself, Bob, and Paul have responded to countless emails and we've rectified most of the situation. As it turns out, many of the reservations that came through were actually okay. We were able to shut it off before campers had to deal with bigger issues like double booking a campsite. None the less, I've still had to respond and try to calm down a number of angry campers (of which I don't blame them). Lucky for us, Bob's previous experience was in customer service and he's been handling a lot of the heavy lifting on this front.
I wanted to share this story because as a blogger — we like to say that we share the good and the bad of our lives, business and travel — but most of the time we share the good. I've realized that when I do share the bad, it's typically far enough in the rearview mirror for me to spin it in a positive light. There's nothing wrong with gleaming life lessons from mistakes, but sometimes it can be more real and honest when you share the pain while it's present and raw.
And trust me, the pain is very real this week (just ask Alyssa, she's had to deal with me).
What I'm reminded of this week is the relentless persistence it takes to make anything go from 0 to 1, the audacity it takes to bring an idea to the world, and the "oh shits" you'll have to go through while you try to make any dream become a reality.
It's easy to dream and to talk about you want to do, but it's not easy to get punched in the gut so early and so often before your business even reaches traction.
I think that's why it's so easy to quit ventures like blogging, business, or any longterm endeavor before letting it run its course. You start off on this high of what could be possible, but then once you're in the weeds you realize it's just a bunch of hard work. It's in moments like this I try to remind myself of that original vision, the original goal and pain point that we're trying to solve with Campground Booking.
After having gone from 0 to 1 on our blog, I understand the depths of despair that happen before you achieve any momentum. For years nobody read our blog (other than you Mom, thanks) and this month we will reach over 100,000 page views (that's not nothing). I appreciate where we are now because I had to go through a similar journey just to get to this moment. I had to deal with endless setbacks, just to share my words. How much harder will it be to build something that thousands or millions of people will use?
I don't think it's possible to build anything of substantial value or meaning without going through your own share of "oh shit" moments. They are what make getting to 1 so meaningful and worthwhile. You just have to hold onto that original excitement that made you start in the first place.
That's what I'm doing this week, that's what you should do too.