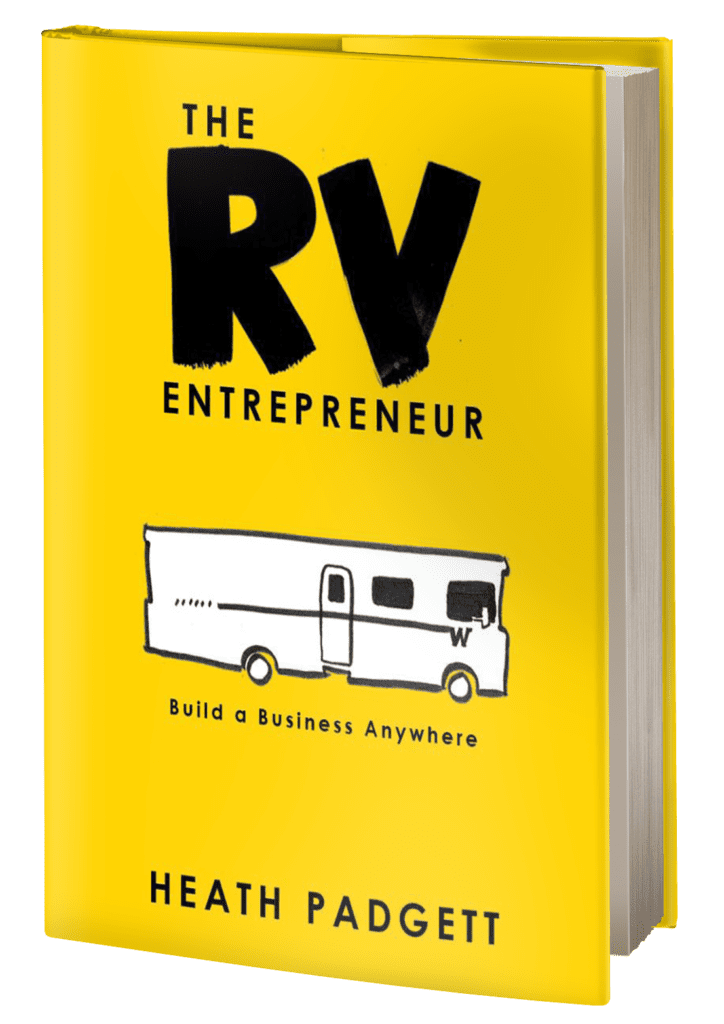 A lot of people would love to buy an RV and travel America for an extended period of time, but travel isn't free. One obvious solution is to wait until you're older and have plenty of money saved for traveling, or escape on short vacations throughout the year. But for some, this isn't enough. Some people want to hit the road full-time, downsize their lives, and experience America while they still have the energy to appreciate everything they see.
So, the question is… how do you buy an RV, travel full-time, and not go into debt or lose a ton of money?
Start a business you can run from anywhere.
Inside my book, The RV Entrepreneur, I'll share with you how to transition from living in one place to buying an RV, starting a business, and hitting the road (not always in that order) using examples from my own businesses and from fellow RVers I've interviewed on the podcast.
The goal of this book is to present you with practical ideas and inspiration for how you can make a living while traveling America in an RV.
I won't make the false promise that by the end of this book you'll be a millionaire. I hate those types of promises. I do promise to share with you everything I've learned about how to find financially beneficial opportunities while on the road and what I've learned from interviewing over 25 different RV entrepreneurs.
While we're on the subject of making millions, I feel inclined to tell you that none of the RV entrepreneurs I feature in this book are actually millionaires. Most of them don't even have employees (but some do). These are people who created businesses around a central goal: live simple, travel, and have a high quality of life while still earning a living.
---
Table of Contents
Chapter One – The RV Entrepreneur
Chapter Two – The First Money I Made While Traveling
Chapter Three – Workamping vs. The RV Entrepreneur
Chapter Four – The 3 Biggest Fears Before Hitting the Road
Chapter Five – Go Big or Go Home: Start Something You Care About
Part 1 Summary
Part 2
Chapter Six – How to Build a Financial Runway
Chapter Seven – Why Kevin Holesh Chose a Fifth Wheel Over Silicon Valley
Chapter Eight – Don't Guess: A Surefire Way to Validate That Customers Will Give You Money (Before Creating Anything)
Part 2 Summary
Part 3
Chapter Nine – Seven Ways to Find Your First Client
Chapter Ten – Finding the Perfect Customer: What I Learned After Working 50 Jobs Across the Country
Chapter Eleven – Developing Emotional Runway: How Much Do You Want it?
Chapter Twelve – Pricing Client Work and Knowing Your Value
Chapter Thirteen – How to Find a Sponsor
Part 3 Summary
Part 4
Chapter Fourteen – How to Create an Online Store
Chapter Fifteen – Using Your Blog As Your Business Card
Chapter Sixteen – A Brief Guide to Building a Profitable Blog
Chapter Seventeen – Solve Real Problems: How the RV Geeks Accidentally Built a Successful Youtube Channel
Part 4 Summary
Closing
About the Author
Commonly Asked RV Questions
---
Build A Business Anywhere
Our generation is realizing that "the dream" of buying a bunch of crap, putting half of it in storage, and signing your life away on a mortgage is a terrible way to live. Plus, we no longer have to choose between meaningful work and a geographic location– we can now have both.
We can create companies with remote teams that reach millions of people all over the world, and do it all from our RV, van, fifth wheel, bus or tiny house while traveling across America.
The RV Entrepreneur documents how a new generation of tech-savvy, location independent entrepreneurs are building businesses that allow them to travel anywhere.
Format available: PDF, Epub and Mobi (can be read on: Kindle, iPad, iPhone, Kobo eReader, Barnes and Noble Nook, Sony Reader, Android phones)
---
What People Are Saying About The RV Entrepreneur
"Heath takes you along during his personal journey of figuring out how to make money while living in an RV. Trying many different avenues, he finally found a good fit. Throughout this process, Heath interviewed numerous RV Entrepreneurs and shares insights and strategies on the many possibilities of making an income while living on the road. Heath's passion for full-time travel, while contributing to a community shines through his writing. This is a man on a mission, who has put in the work to help others achieve their dreams as well." —Lou S.
"If you are looking for inspiration and advice on how to travel full time and make a living while doing it, this is the book for you. Heath Padgett shares his stories of success and failure as well as those of many others who have made their dreams a reality as successful RV Entrepreneurs." —Sigfried T.
"Your book made me think of things that I have not thought about before. I am 57 and looking to retire a.s.a.p and try full timing it. I have no idea what kind of work that I want to do when I retire, so the more different ideas I can read about the better. You gave me several new ideas." —Alan C.