Watch the trailer:
Hourly America is a documentary that follows my journey in work, from a job I hated to experimenting with 50 different hourly jobs all over America.
As featured in: 
What is Hourly America About?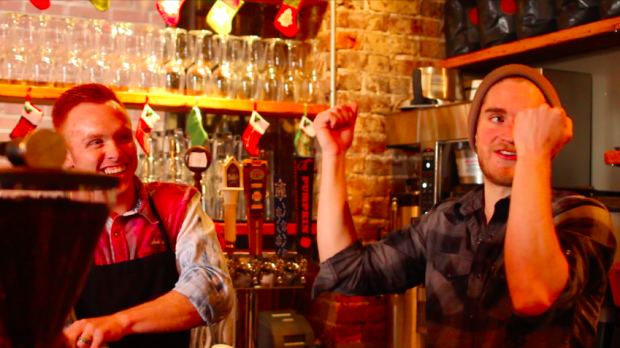 Some people in hourly jobs just want to get by until something better comes along. But there's another group of people in hourly jobs who genuinely love what it is they wake up and do everyday.
They've intentionally chosen a job, not because it will make them millions or they'll be famous, but because they want to live a happy and meaningful life. We, speaking as a country, often treat people in service industry or minimum wage jobs like they "can't do any better," which is often not the case at all. The people behind the counter have a story, a life, a struggle, and a triumph.
The purpose of our film is to highlight the stories of people in hourly jobs who have inspired us to think differently about how we find meaning in our work.
Backstory of Hourly America
Hi, I'm Heath.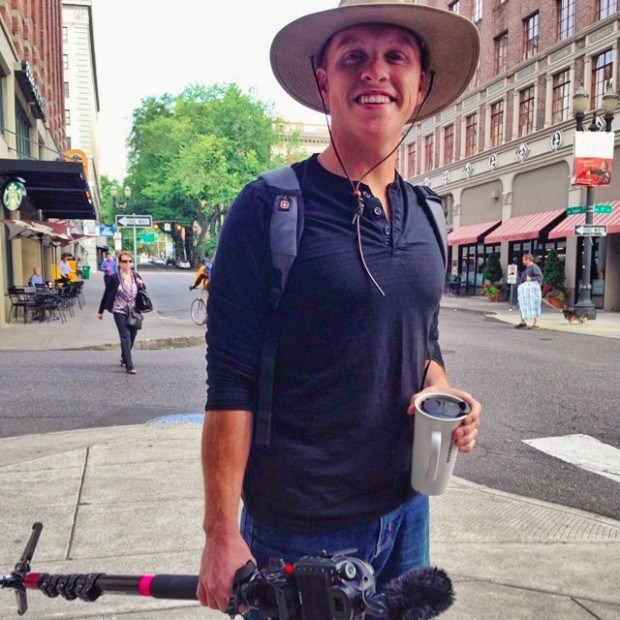 Two years ago, I graduated from college and started my first job in software sales. It took me all of nine months to realize that I hated sales. I hated sitting behind a screen all day. I missed talking to people. I wanted to do something more meaningful with my life… but I had no idea what.
Enter wife.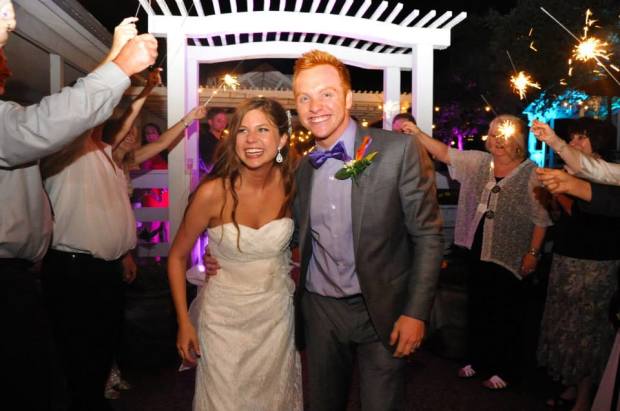 On May 24th, 2014 I married this amazing girl.
Secretly, we had been scheming up a plan to quit our (boring) jobs and go see America. Our goal was to travel to all 50 states for our honeymoon. Along the way, we wanted to do something purposeful, something that gave meaning to our travels.
So with the help of a mentor, I came up with the idea to work a different job in all 50 states. 
I loved the idea of exploring different kinds of jobs across America and interviewing people about their work.
I was okay with the fact that I might go and try out 50 new jobs… and hate all of them. Because I knew in the process I would learn about myself, about work, and be that much closer to doing something I love.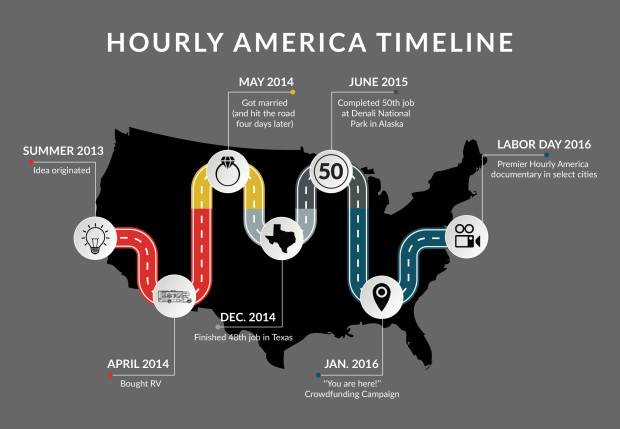 Enter Film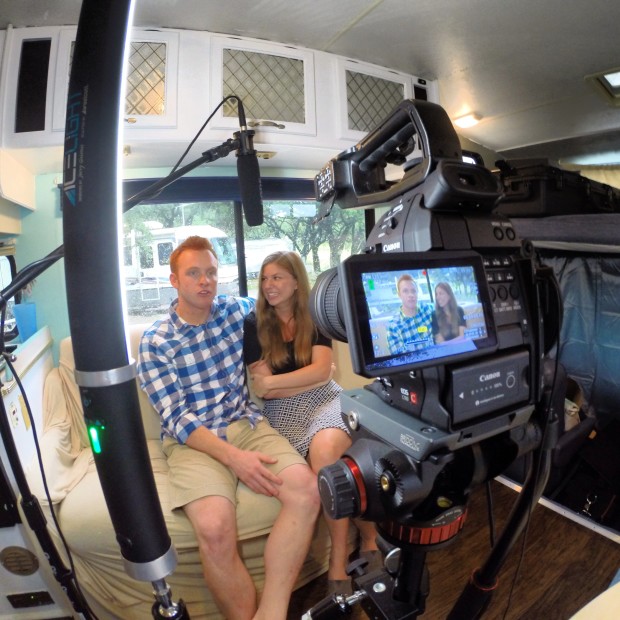 Through a cold email, I found an online hourly job board called Snagajob and told them about Hourly America. Snagajob offered to help me find half of my jobs, plus they agreed sponsor our gas bill while we traveled (RV's drink a lot of gas… woohoo, someone to help pay the bills).
Our sponsor challenged us to do more than just blog about our trip and offered to lend their extra film equipment to us so we could turn Hourly America into a documentary. We would own all the rights and it would be 100% our own project.
Having virtually zero film experience, both Alyssa and I said, "Heck yes!"
Then, one after another, Alyssa and I would show up for different jobs.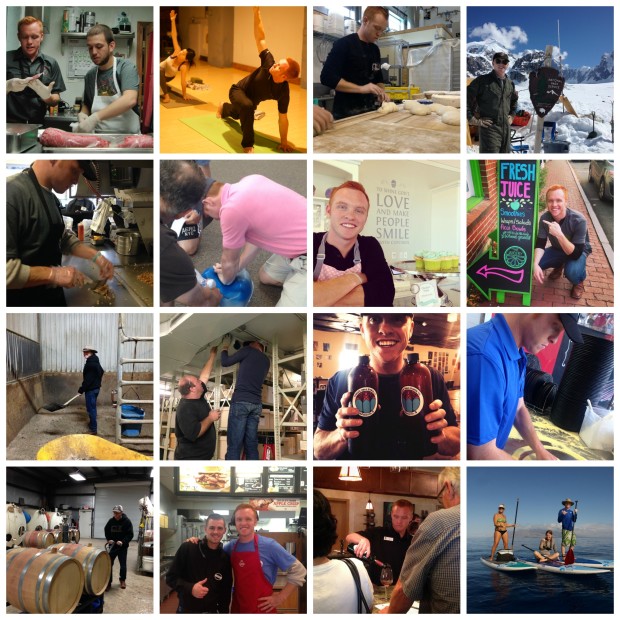 I worked each job for one day and interviewed my coworkers about what they liked and didn't like about their jobs, how they found meaning in their work, regrets they had about their career (if they were older), or what they aspired to do in their career (if they were younger).
There were a few stories in particular that left us feeling inspired or moved… those are the stories we'll share with you in Hourly America.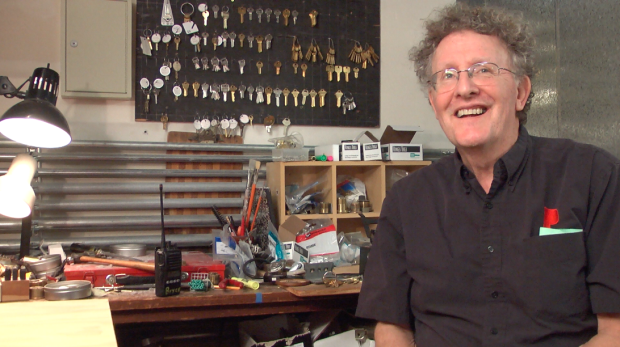 Like Bryce, the 60-year-old maintenance worker at the Portland Art Museum who was kicked out of school in 2nd grade.
The school told his parents that he was mentally retarded and best suited for "tending to livestock." Researchers would quickly find out that he wasn't stupid at all, but very intelligent. He just got some of his numbers and letters confused. He ended up becoming one of the first case studies for dyslexia in America. Now at the Portland Art Museum, he's known as the go-to guy when you have a problem that needs fixing.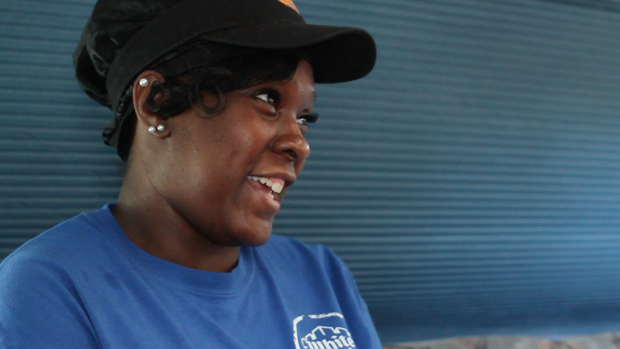 Or, like Alneesah from White Castle in New Jersey.
After I would interview my coworkers, I would always ask them if there was anything else they wanted to say. Without exception, every one would say no. They had nothing else to say. Everyone except Alneesah… who said, "I do have something else to say." She told me how working in fast food, people treat her like she's "less than" and "doesn't want anything more out of life." She told me she resented that stigma. It was wrong. She that that "some of us do want something more out of life."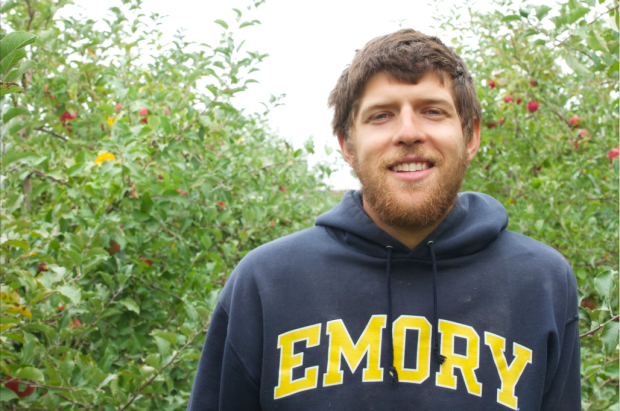 Or Blake, who works on an apple orchard in Vermont.
Blake graduated from college with a degree and could do a number of different things to make a solid living. But he works seasonally picking apples for $12/hour and working as a cook because he's passionate about real food.
There's so much value to getting outside your comfort zone and talking to people who think and act differently than you. These interviews made me grow and challenged me to break down preconceived notions  I never knew I had. I hope it does the same for you.
Job #1
: Project Dojo,
Martial Arts Instructor
How to Get Over the Fear of Your First Day on a New Job
Job #2:
Buffalo Wild Wings,
Server:
How to Succeed in a Restaurant Job
Job #3:
Habitat ReStore,
Paint Mixer:
A Story of Redemption: AJ the Hourly Worker, Semi-Pro Football Player, and Father
Job #4:
 American Red Cross,
Lifeguard:
Solid Reasons to Choose a Summer LifeGuard Position
Job #5:
Inland Empire 66ers Baseball Stadium,
Cleaning Crew Member
:
Life Lessons from Cleaning Toilets- Take Pride in What You Do
Job #6:
 Domino's Pizza,
Delivery guy and Pizza Maker
:
Being a Great Manager is All About the Little Things
Job #7:
Portland Art Museum,
Security Guard:
The Most Inspiring Story About Bryce: One of America's First Case Studies on Dyslexia
Job #8: 
Downtown Missoula Association,
City Ambassador:
 Laurie, A Published Author and Overcomer of BiPolar Disorder
Job #9:
 Mike's Music Shop,
Sales Associate
:
How to Find an Hourly Job You Love
Job #10: 
Persephone Bakery,
Bread Baker:
How to Make Awesome Mistakes
Job #11:
 La Vita Bella,
Barista
:
Be Willing to Work For Free
Job #12:
 Oh My Cupcakes! & Shop Dog Boutique,
Cupcake Ninja & Cashier:
Pulling a Double Shift
Job #13:
 Würst Bier Hall,
Line Cook:
Mike the Line Cook Getting Hit With a Taco
Job #14:
  Carlos Creek Winery,
Wine Pourer:
Why You Should Start Your First Business in College: A'lia's Story
Job #15:
 Hinchley's Dairy Farm Tours,
Dairy Farmer:
My Day on the Farm
Job # 16:
 Pizza Rustica Chicago,
Busboy:
The Customer Isn't Always Right
Job #17:
 Hog Stop BBQ,
Meat Handler:
What I Learned From Not Being Able to Find a Job
Job #18:
 Lucky Bucket Brewing Company,
Vodka Bottler:
Great Jobs Have Great Teams
Job #19:
 Schlegel's Bicycles,
Bicycle Mechanic: 
What is a "Real" Job?
Job #20:
 Kansas Humane Society,
Poop Scooper:
For Animal Lovers
Job #21:
 The Fountain on Locust,
Waiter:
Keep Calm and Serve On
Job #22: 
The Fountain Square Brewing,
Keg Filler:
So, You Got Fired
Job #23:
 Ann Arbor Tees,
T-Shirt Printer:
The Power of Working a Job in your Major: Tiffany's Story
Job #24: 
Society Lounge,
Bar back:
Seize the Opportunity
Job #25: 
Shelburne Orchards,
Apple Picker:
Job #26: 
The Juicery,
Juice Master:

Job #27:
Bob's Clam Hut, 
Fish Fryer:
Job #28:
The General Store,
Event Staff:
Job #29:
TEN31 Productions,
Costumer
Job #30: 
Downtown Yoga Studio
, Mat Cleaner

Job #31:
The Vitamin Shoppe,
Health Enthusiast

Job #32:
White Castle,
Grill Master
Job #33:
Fuel After School,
After School Counselor
Job #34: 
Hagley Museum and Library, 
Electrician

Job #35:
Six Flags America,
Zombie
Job #36:
Lumber Liquidators,
Warehouse Assistant

Job #37:
Stardust Cafe,
Dishwasher

Job #38:
KOA,
Janitor

Job #39:
Frothy Monkey, 
Food prep, busboy, & dishwasher

Job #40: 
Camp Rockmont,
Goat Farmer
Job #41:
Magnifilous Toy Emporium,
Toy Salesman
Job #42:
New Scooters 4 Less,
Scooter Mechanic
Job #43:
Arby's,
Drive-Thru
Job #44:
Armosa Studios,
Cameraman

Job #45: 
Rocky Mountain Chocolate Factory,
Chocolatier
Job #46:
Landry Vineyards,
Wine Maker
Job #47:
Bar J Dude Ranch,
Stable Boy
Job #48:
All About You,
Retail Associate
Job #49:
Paddle On Maui,
Stand Up Paddle Board Instructor
Job #50:
Denali National Park,
Base Camp Park Ranger