You're on the nice list!
Just kidding. I don't have that kind of pull with Santa. But you will be getting daily deals from us! If you just signed up, you can catch up on what deals you've missed so far below.
---
Good morning!
Heath here, writing from icy Forest City, Iowa where we're currently waiting on our new RV to be finished being built (we're hoping to hit the road later this week!).
I hope you've enjoyed these 12 daily emails and that you've snatched up a few awesome products from the deals we've curated.
Here's one last deal from us 🙂
If you can't make it to our 2020 RV Entrepreneur Summit this March and you're currently working on growing a location independent business, today's deal is for you.
If you've never heard of it, RVE Summit is a conference we started back in 2017 where we gather a lot of RV Entrepreneurs who are building businesses from the road to come and share their experience. We host meet ups, keynotes, workshops and facilitate time for attendees to connect in person with each other (because working from the road, you need people in your corner).
I've said it many times, but it's still my favorite week of the year because of all the amazing people who show up.
That being said, we know that sometimes schedules don't align and life happens, so this year we decided to create a virtual pass (again) for RVE 2020.
What's in the virtual ticket for RVE 2020?
A virtual ticket will give you full access to every single main stage presentation and workshop at RVE Summit.
We bring in an amazing video production crew and edit each of the talks so that if you aren't able to attend RVE in person, you'll have access to the videos and slides within a week after the event (here you can watch a workshop from last year and here is one of our previous main stage presentations to get an idea for the type of content that will be available).
Last year some of our workshops included sessions like:
How to Grow your Business through Youtube with Marc Leach of Keep Your Daydream
Pinterest for Bloggers with Bryanna Royal
SEO – Going beyond the optimization with Scott Blair
The Beginners Guide to Systems and Processes with Dani Schnakenberg
And a bunch more.
This year we're bringing in a pretty incredible speaker lineup and will have presentations on topics like: outsourcing, selling multiple products on Amazon, building a Youtube audience, and how to identify your customer base (speakers include awesome folks like Mike Wendland, Kara & Nate, Bryanna Royale, Tim & Fin, Joe & Kait Russo, and a lot more).
To grab your virtual ticket and the $25 discount, you can visit our Teachable page here (Discount automatically applied. No coupon code needed!)
Merry Christmas!
-Heath & Alyssa
---
Fulltime Families is a membership community that helps you connect with other families on the road. The group hosts 15 events annually across the country (one of them this year will actually be RVE Jr at our RV Entrepreneur Summit in March!) and also facilitates a number of Facebook groups to connect you with families online as well.
This past year we've gotten to know some of the owners and it's been amazing to see all the resources they've created to help connect and support families who travel full-time (currently over 28k members). And as we look toward the future with Ellie, it makes me feel a million times more confident we can spend extended time on the road without sacrificing our relationships and community.
If you're a family who is currently making the transition to RV life or out on the road and you aren't a part of Fulltime Families, we can't recommend this community enough.
You can claim your 20% discount to join Fulltime Families here (Discount is automatically applied. Save 20% on the annual membership fee, normally $65).
---
Today's deal is for accounting software I've been using for years to save myself time and confusion when invoicing clients.
If you're running a business from the road and still exporting and sending PDF invoices or having to do manual follow-ups for clients to pay, today's deal is for you 🙂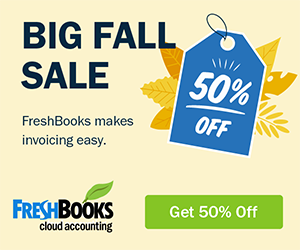 I actually took advantage of this deal myself and upgraded my Freshbooks plan for $2.33 yesterday. It was awesome.
ANYWAY.
Making invoices is one of the most annoying parts of managing clients (but also the best because YAY it means you're making money!).
For years, I used Microsoft Word or Pages invoice templates. Then those started feeling stale so I used Canva to make a pretty branded invoice with our RVE logo and everything. Then I realized I was spending unpaid hours designing and manually emailing invoices. Not to mention following up with clients after realizing you haven't been paid on time and trying to remember if you've invoiced all the right people or not (where did I save all those invoice files anyway??).
When you've got multiple clients, specifically clients on retainer, you start to realize how you're wasting time doing the same tasks over and over.
I signed up for a trial of Freshbooks to try to fix my invoicing woes a few years ago. At the time, I needed to send invoices to six different clients. A couple of them would be recurring too, so I could have these invoices auto-send each month instead of trying to remember and send them manually.
Freshbooks was a serious game-changer.
First, all the little things I would forget to do when creating a new invoice (updating the invoice number, adding today's date and marking when the invoice was due) were all automatically done for me. Plus I could even set payment reminders for those extra slow clients.
Second, all of a sudden, making and sending invoices took 2 minutes! I added all my clients into my account, chose one from a dropdown menu, and clicked the send button. No more exporting as a PDF, attaching it to an email, CC'ing the accountant and our client on the email, and writing a short little email that said more than pay me please. (Invoice emails are so awkward to write!)
And third, I can have clients pay by credit card. Accounting departments take forever, depositing checks when you're traveling and not near your mailbox gets difficult, and accepting credit card payments means you get paid instantly. Once we started allowing credit card payments, we started being paid by clients the same day we invoiced, instead of waiting 30-60 days for payment. AMAZING.
I think this is the longest anyone has ever raved about something as seemingly boring as accounting software so I won't keep going on about the other features of Freshbooks (expense tracking, tax prep, etc.)
You can learn more about Freshbooks and claim today's deal here.
This sale ends on December 18th at 11:59 PM EST. All FreshBooks plans (I use the Plus plan) will be 50% off for the first 3 months.
---
Deal #9: Make planning your next road trip 100 times easier
Sometimes I feel like I live in Google Maps. Constantly figuring out the best route, where to stay, what to do. All I have to do is hit the M key on my keyboard and it automatically pops up: maps.google.com. It just knows!
But here's a better way to plan your next road trip.
Deal #9: 25% off RV Trip Wizard
When you use the code RVE-Christmas2019 at checkout
RV Trip Wizard is a visual trip planning tool where you can find campgrounds (you can even filter by what type of parks you want like KOA, Encore, or Good Sam Parks) and awesome destinations in your travels.
In addition to helping you plan your route, the Wizard keeps track of all your adventures, so when you're thinking "What was that park we stayed at in South Dakota?" It'll remember for you.
RV Trip Wizard seems to be the most valuable for anyone driving extra tall or extra long RVs. The reviews say:
"It flawlessly guided us on a trip from Houston to Bar Harbor Maine and will soon be using it to make our return trip in a couple of weeks. Traveling in a 2005 Newmar Essex 45′ Class A motorhome." – Mitch M.
"If you are worried about low bridges on your trip or where the best, low cost parks are, worry no more because this App is absolutely the best RV trip planner out there." – Pat K.
(And there are over 250 reviews similar to these on Google with a 4.8 ⭐️average rating.)
Heath & I are picking up our own 40 foot RV next week (spoiler!) and are more than a little nervous we might end up on a road where we can easily fit. Using the RV Trip Wizard to plan our route can eliminate that extra unnecessary stress!
A few awesome features of RV Trip Wizard:
Over 17,000 campgrounds listings
57,000 points of interest
Can estimate your trip costs based on gas and campground fees
Easily check alternate routes
Set your max driving distance and times so you don't end up with a super long day of driving
Web-based app that can be accessed on your computer, phone, or tablet
Use the coupon code RVE-Christmas2019 for $10 off your purchase (normally $39). This deal ends on at the conclusion of our 12 Deals on December 11 at noon CST.
Learn more about RV Trip Wizard and claim your discount here!
Today's deal is brought to you by world travelers Tim & Fin (who, you'll be the first to know, will be sharing their brilliance on creating and selling an awesome product on Amazon at our upcoming RV Entrepreneur Summit this spring!).
Tim & Fin just released an all-new backpack, perfect for hiking or adventures or packing up your laptop to go work at Starbucks for a couple of hours.
Other than the water bottle holders, water-resistant fabric, and tons of pockets the best thing about this backpack is that it can actually fit in your RV. I don't know about you, but I've lived in a lot of different RVs. None of them have ever had a good space to hang up a backpack.
But the Tripped Backpack is COLLAPSIBLE.
So brilliant.
It folds into itself for easy storage when you're not using it.
(And it's only $19.95 with your discount).
In addition to their awesome new backpacks, Tim & Fin are also offering $10 off packing compression cubes, popular with RVers to store off-season clothes in RV storage.
Discounts automatically applied. No coupon code needed! Expires on December 31st (and the perfect Christmas gift for any of your traveling friends!)
Shop all Tripped Travel Gear on Amazon
Deal #7: Save time, money, and frustration on RV repairs
Today's deal is brought to you by RVers Ed & Liz Wilcox.
If you've RVed for any period of time, you've probably spent more time than you wanted to in mechanic parking lots. It's the last place you want to be!
Dealerships and service centers have waitlists a mile long, they charge an arm and a leg, and they have a reputation for creating more problems than they fix.
But there's another option! And it's the cheapest, fastest option there is.
Fix it yourself.
Deal #7: $50 off the Fix It Yourself course
When you use the code RVEChristmas at checkout
That's right. You don't need an expert that charges you $150 an hour.
The truth is most RV systems are basic, easy to access, and simple to fix—if you have a good teacher.
Ed Wilcox is a certified RV mechanic and together with his wife Liz, a certified educator, they created an awesome course teaching you how to fix all the most common issues you'll run into on the road. In the course they cover:
MODULE 1: Generators
MODULE 2: Water Systems
MODULE 3: Roof Maintenance
MODULE 4: Tire Maintenance
MODULE 5: Electrical & Batteries
MODULE 6: A/C & Furnace
MODULE 7: Propane
MODULE 8: Slides
MODULE 9: Refrigerators
By learning these do it yourself fixes, you can save thousands of dollars in mechanic costs, a ton of time spent twiddling your thumbs in waiting rooms, and all the frustration that comes with RV service shops.
Use the coupon code RVEChristmas for $50 off your purchase. This deal only lasts 48 hours, so you have until Saturday to claim it!
Learn more about the Fit It Yourself course and claim your discount here!
This weekend Alyssa and I are flying up to Forest City, Iowa to pick up our next RV/home. After living in an apartment for a year, the thing I'm probably most excited about as it pertains to full-time RV life (again) is spending more time in beautiful places.
Our Brave parked in Gettysburg at a Harvest Host location
And speaking of beautiful places, today's deal is for a 
20% discount on a Harvest Hosts membership
.
If you haven't yet heard or joined Harvest Hosts, this is without a doubt our favorite RV membership. For $79/year you get access to over 900 farms, wineries, breweries and golf courses across North America (where you can stay for free). It's our favorite way to explore a local area…okay and find good wine 🍷
Today, Harvest Hosts is running a 20% discount on their annual membership. To claim this deal, you can go to Harvest Hosts website and use the discount code: HHFRIENDS20 Deal ends December 31st.
EXPIRED Deal #5: Limited edition RV Entrepreneur Shirts
I've been dying to make RV Entrepreneur shirts forever and finally last week I took the initiative, reached out to Heath's logo designer, and asked her to adapt the podcast logo into something fit for a t-shirt. I surprised Heath with the design and I'm so excited to offer these to y'all (and to order some for ourselves)!
The Deal: Limited Edition RV Entrepreneur Shirts — Only available for the next 48 hours
Shirts will only be available for 48 hours, then they're gone! Various sizes, styles, and colors available for these shirts 🙂
Use the code RVE12 for free shipping on all orders. Sales end at 10 AM Central on Thursday. EXPIRED
---
Deal #4: Epic Faredrop deal (2 months of flight deals + free business plan upgrade)
I'm going to keep this email short and sweet considering it's the Monday after a long holiday weekend.
Today's deal is all about saving money on travel! It's Faredrop, AKA how we saved over $1200 on our flights to Italy. While Faredrop is not an RV-specific deal, it's an extremely useful membership for constant travelers.
The deal: 2 free months Faredrop membership + free Business plan upgrade
In case you haven't heard us raving about it yet, our friends Kara and Nate created a software that finds amazing deals and error fares on flights around the world.
How it works:
You set what kinds of flights you're interested in, like Dallas to Rome for example.
When a flight price drops dramatically (up to 80% off!) you'll get an email and text with the info you need to book the flight before the price goes back up.
You'll also get alerts for other deals you may be interested in, like Dallas to Chiang Mai.
You save hundreds of dollars on your next flight!
There's a good chance that without Faredrop, we wouldn't have spent a month in Italy with Ellie and that is a depressing thought. We love travel and that one Faredrop deal allowed us to introduce Ellie to our crazy travel lifestyle.
If you're planning an upcoming trip or just dreaming of travel, your first two months of flight deals with Faredrop are completely free.
AND if you sign up before midnight tonight, you'll automatically be upgraded to the business plan where you'll get deals on both economy and business class flights. If, like me, you aspire to be cool enough to travel business class, you will want to use Faredrop.
You can sign up for your two free months here!
---
EXPIRED Deal #3: The course that helped us double our blog income
For two years now, running our blog has been my full-time job because (after years of work) it finally started earning a full-time income.
Today's deal is specifically for bloggers or anyone who is trying to monetize a website. It's Michelle Schroeder's Making Sense of Affiliate Marketing Course (this is, appropriately, an affiliate link).
Michelle is one of my favorite bloggers who I constantly go to for advice and encouragement. Her blog is full of tips for new bloggers, entrepreneurs, and anyone looking for advice on how to save or make more money.
Her blog earns her over a million dollars a year(!!!) and reading her monthly income reports is both inspiring and intimidating. My goal is to make in a year what Michelle makes in a month. So when it comes to making money from our blog, Michelle is my #1 go-to resource.
The Deal: 20% off Making Sense of Affiliate Marketing (DEAL EXPIRED)
When you use the code BLACKFRIDAY201920 at checkout.
Why I Love This Product
I tell bloggers about Michelle's course all the time because it made the biggest difference for Heath and I. In the months before taking her course in 2016, we were making anywhere from $20 to $200 a month from our blog.
After taking her course in the summer, we doubled our monthly income to $400+ a month. And by the end of the year, we were making over $1,000 a month all from our blog. Looking at the numbers, we made back the full cost of the course in under two months.
Hands down, the best thing we did to build up our passive income was taking the time to work through Michelle's course. Instead of randomly adding in affiliate links and wishing for the best, we had education and strategy and new ideas for how to grow our income. We started reaching out to more companies to become affiliates and worked our way through Michelle's list of 80+ affiliate programs worth joining (which is one of the most brilliant things you'll see in the course).
Plus, when it comes to promoting affiliates, there are (ever-changing) laws regarding how and when you can promote products. Michelle's course is constantly updated so you can always make sure your blog is 100% legal. To me, this is the biggest stressor when it comes to promoting products, so her lessons on properly promoting affiliate links are invaluable.
To see the full course curriculum and more information on what all you will learn in the course, click here.
Use the code BLACKFRIDAY2018CC at checkout to receive a 20% discount on the course. This is the biggest discount Michelle has ever offered, so if you've been thinking about buying this course for a while, you'll want to take advantage of this deal!
This deal ends tomorrow, Monday, at 11:59 PM Pacific.
Note: This coupon code is only applicable to the one-time payment option, not on the monthly payment option.
To learn more about the Making Sense of Affiliate Marketing Course click here (DEAL EXPIRED)
---
EXPIRED Deal #2: $75 off a WeBoost from TechnoRV
In our 12 days of RV Christmas, Alyssa and I have a goal of not only sharing awesome RV deals but also supporting fellow RV entrepreneurs.
Today's deal accomplishes both of these goals. 🙂
Why we're including this deal:
A WeBoost has been a critical component to our RV life over the past few years when it comes to internet and cell reception. A WeBoost has the ability to massively improve your cellular reception in remote places. It's not a cheap purchase, but if you're working on the road and need a consistent signal, it's a worthwhile investment to staying connected.
When it comes to running a mobile business that relies on the internet, you want to make sure you'll be covered no matter where you go. A WeBoost cell booster is how we've done this.
About the seller:
Instead of sharing an Amazon deal today, we're linking directly to TechnoRV. This company is run by two of our good friends and full-time RVers, Eric and Tami Johnson. One of the main benefits of buying from someone like TechnoRV (other than supporting fellow RVers) is the follow-up support they offer after the initial purchase. (If you heard Eric & Tami's story on the podcast earlier this yes, you may remember hearing how they handle support!)
Last year I installed their Tire Pressure Monitoring System (also on sale today for $45 off) and I received an in-depth tutorial for installation as well as a dedicated phone number I could dial for support. I'm not especially handy, so having their support team was a huge bonus for me.
You can grab this awesome WeBoost deal on TechnoRV's website here — no coupon code needed!
Already have a WeBoost? Here are 3 other awesome promotions TechnoRV is running today:
DEAL EXPIRED.
Here's to supporting small businesses today! 🙂
---
EXPIRED Deal #1: Awesome books for RVers!
To kick off our 12 Deals of Christmas, you get 3 deals in one email today because it is Black Friday and one thing on sale is not enough!
Let's roll 'em out.
Deal #1.1: The definitive guide on handling Taxes for RV Owners.
You know what no one likes? Fruitcake. Also doing their taxes.
As an RV entrepreneur, taxes can get incredibly confusing when you cross states lines, use your RV for business, and don't really have a home. Heather Ryan, EA, wrote a book that answers all of the confusing grey-area topics RVers are asking in our Facebook group.
Heather answers questions like: Can I deduct my RV from my taxes if I use it for business? Can I deduct the full cost of my internet and cell phone plans? When traveling in our RV to meet clients or potential clients, do we include all of the mileage as an expense even though it's also our home?
The deal: For today only, you can grab Taxes for RV Owners for $4.99 (regularly $7.99).
Snag 45% off Heather's book (DEAL EXPIRED).
Deal #1.2: A journal to document your adventures and favorite brewery stops.
In our travels, we visit so many awesome places, but it can be hard to remember them all.
The Craft Beer Adventure Journal is a space to record the beer you drink, the breweries you visit, the food you eat, the people you meet, and the adventures you have. Perfect for the beer enthusiast in your family.
You'll also find quotes to inspire you and make you laugh coming from people in the craft beer industry and fellow craft beer adventure lovers.
Save $20 with this deal: Normal retail price is $19.99 but with this deal, you get 2 for the price of one, PLUS free shipping when you use the code: freeship
Grab 2 beer journals for the price of 1 (DEAL EXPIRED)
Deal #1.3: Living in an RV is $.99 today!
Two years ago now I published a book sharing everything I wish I knew before we started full-time RVing. Now that we are getting back to life on the road, I'm reminded of how helpful it is to have a little cheat sheet of reminders. (Especially the packing list!)
This weekend you can grab an ebook version of A Beginner's Guide to Living in an RV for only $1.99. Perfect for anyone who is thinking about RV life but isn't sure what it's really like.
Pick up my ebook for 75% off (EXPIRED)
Happy shopping!