This post may contain affiliate links. See our affiliate disclaimer here.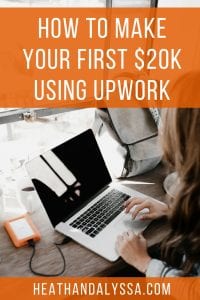 Today on the podcast, I am interviewing Abigail Schilling. 14 months ago, Abigail decided to make a big life change. She quit her job and hit the road in a 1966 Kit Companion vintage camper. Abigail is a serial side hustler — doing everything from creating custom wedding accessories, running a coffee subscription company from the road, hosting a podcast, and creating print on demand t-shirt designs.
But her main side hustle is Upwork. On this website, Abigail has earned over $20,000 for her project management services. In this episode, she will share her secrets to winning at Upwork.
Abigail's top Upwork tips:
Make a killer profile.

Create an employer account too.

Decide what you want to do.

Get the rising talent badge.

Take skill tests.

Use your credits and submit to jobs intentionally.

Keep the fees in mind when setting your rates.

Low ball for your first client.

End and restart the job with long-term clients (Be sure to get a review!)
Links mentioned on this episode:
Thanks for Listening!
You're awesome. It's because of people like you that I get to sit around in my RV and record podcast episodes with really interesting people. If you've been enjoying the show and want to help others find it, I'd love a review from you in iTunes. Each and every review helps more people find the show (seriously, each one counts).
To leave a review, just click here and then go to "ratings and reviews". It just takes a minute and I read each one :).