This post may contain affiliate links. See our affiliate disclaimer here.
"They said you have no more work for the rest of the year and I said we're going to Montana!"
Last we saw Josh and Brittain, they had just flown to Alabama to attend our RVE Summit after working their own big events. They do experiential marketing for big brands and spend most of their travels driving to state fairs, race tracks, and big events in the south (think Nascar big!).
But 2020 put a halt to that overnight.
Fortunately, Josh and Brittain had built up their runway and emergency fund and knew they would be okay for the next few months while their marketing jobs were on pause.
Suddenly, they were free to travel any way they wanted—and that meant after four years of full-timing, they were finally going to Montana!
The Dream: Hospitality Business on Wheels
Back when they first wanted to start RVing, Josh and Brittain bought and renovated an '88 Airstream. Then they picked up a rare '87 Airstream motorhome to renovate and rent on Airbnb.
They dreamed of creating awesome unique glamping experiences for people who want to enjoy the outdoors. "We had the vintage camper, but we didn't have the land," explained Brittain.
That's when they connected with a vintage campground in Tuscon to park one of their Airstreams on site. They worked out a 50/50 revenue split and all the fine details and continued traveling in the RV, making their Airstream rental almost completely passive income.
Josh and Brittain are very open about numbers, so they share a ton of insights into how much they paid, earned, and profited as they've built this business. I highly recommend listening to the episode to year all the nitty-gritty details on finances.
Now they have four vintage trailers and recently found a new home for their rental business in Montana.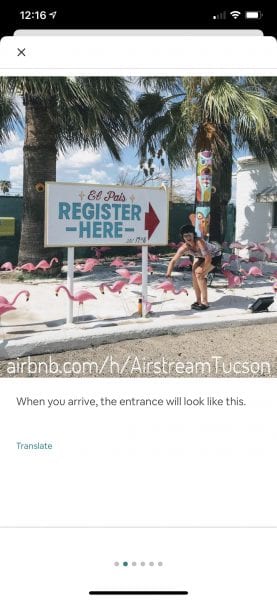 What we cover in this episode:
The average cost to buy and renovate an Airstream (all-in!)
Why Josh and Brittain won't ever renovate another motorhome
The ideal rate of return (and how much each rental makes a year)
How they found a home for their RV rentals
Setting up revenue sharing + covering expenses
How responsibilities were divided between Brittain and the host
Growing their business debt-free
With multiple Airstreams, Josh and Brittain started searching for new places for their trailers to call home. A friend connected them with Jenny, the owner at Flathead Lake Resort.
What they thought was a perfect place to park their rigs quickly changed into a new business partnership that would allow the couple to spend summers in Montana.
"This was an area that we wanted to stay put in for a while," said Josh after they made it to the Flathead Valley. Brittain and Josh were enamored with the beauty of Montana and while they weren't looking for a place for themselves to settle, the landscape of the Rockies lured them in.
Connect with Brittain and Josh:
Instagram: @outofnorm.al
And book your stay in a vintage camper at Flathead Lake Resort