This post may contain affiliate links. See our affiliate disclaimer here.
Meet Melanie Scroggins: podcast producer and also our former podcast editor from way back when! Today she's sharing a few tips on how you can make money with your podcast. Thanks Melanie! 🙂
---
It isn't a secret that there is a ton of money to be had in podcasting. It doesn't matter how big or small a podcast's audience is, podcasters in any niche can make some decent money. 
Making money with a podcast can happen in different ways, but we'll focus on the top three ways podcasters make money with their shows as well as the information needed to be the most successful in your efforts with each one.
The 3 main types of monetization are: 
Self-Promotion

Affiliate Marketing

Sponsorships + Advertising
And while these may sound a little fancy or intimidating, they're totally not, so let's dive in. 
1. Self-Promotion: Selling your own products and services.
This one seems like a no-brainer, but self-promotion is underutilized by many podcasters. This method is straightforward and simply means that someone (i.e. you) shares about your own products and services during a podcast episode. This usually looks like running ads for particular products, services, or freebies before, during, or after the main content of your show. Oftentimes podcasters will record a short 15, 30, or 60-second audio segment explaining and marketing their product or service that they then input into each episode.
Here's how it works:
You create and deliver valuable content your audience wants or needs.

You sell or promote to your audience via email, newsletter, website, etc.

You continue to deliver value by solving problems your audience has.

Members of your audience choose to work with you/buy from you.
Some important things to note here:
Know the problem(s) you solve for your audience.
When self-promoting, your priority is to know why listeners tune in each week. If there is uncertainty on what problems you solve for your audience, there's no way they're going to feel motivated to actually work with or buy from you.
Be clear about what you offer and why that's worthwhile to your audience. When content proves to add value to their lives, they will trust you more readily and are more likely to take action with you.
Make sure listeners can easily find your show.
Be sure that those who are looking for your show can find it. It might be a great, high-quality podcast but if people can't find it, it doesn't matter. With this, be sure to submit your podcast to all the major directories (Apple Podcasts, Google Podcasts, Spotify) and have an online presence like a website you can easily send people to.
Provide Calls to Action (CTA) that motivate and inspire your audience. 
Make sure any calls to action are compelling and get your audience fired up about what you're offering.
Do you have an awesome opt-in? Great! Be sure to talk about it and link to it in your episode show notes.
What about an online course? Fantastic! Talk it up at some point during the show and make sure the audience can easily find more information about it.
PS This does mean that you need paid product(s) to share on your podcast! If you don't have any products created yet, the next two options might work best for you.
2. Affiliate Marketing: Selling other people's products or services.
Affiliate marketing is advertising or talking about someone else's products or services on your podcast and getting paid per click or purchase. Oftentimes, this comes in the form of an ad during a podcast episode, just like self-promotion. 
What's great about affiliate marketing is that there are plenty of options for every audience whether it be products/services related to beauty, tech, podcasting equipment, apps, coaching programs, household goods, you name it.
But there's one big caveat: products or services should be useful or interesting to your audience. It's easy to tank a show by marketing a product or service that isn't helpful to the listeners and feels super spammy. 
Here's how it works:
You build up trust with your audience.

You identify products that fit your audience's lifestyle and needs.

You create campaigns that refer listeners to the products.

You get paid for clicks or purchases made.
Some important things to note here:
Other people's products can create a diversion from your podcast's core message. 
When signing up as an affiliate, you promise to share the stage with another person. This means that your podcast's message, including your products or services, will share the spotlight with someone else's. 
There's nothing wrong with this at all, affiliate marketing is popular with podcasters and bloggers alike, but timing is really important here. For a new podcaster with a new show, this may not play out well because the audience doesn't really know you yet and needs more time to know, like, and trust you. So keep that in mind.
Are current affiliate products and services making money? 
If one particular product has been promoted for a month and the audience isn't biting (or buying), it may be time to step back and re-evaluate that particular product. This is a good practice for any product or service you choose to promote—even your own.
3. Sponsorships + Advertising: A 3rd party pays for air time on your podcast.
Ever listened to a show that took a quick break to run an ad? That is an example of this method at work. It's different from self-promotion and affiliate marketing because someone else, whether it be an individual or a company, pays you directly for air time on your podcast. 
This type of monetization method usually happens when you have a large audience and/or really high unique download numbers (unlike the above ways to make money which you can utilize much sooner!). A person or company pays for a 15, 30, or 60-second spot on a podcast. According to the Interactive Advertising Bureau, marketers spent $479 million on podcast ads in 2018! And those numbers are only increasing year-to-year.
This method works if your numbers are 'good' because more than half of podcast audiences listen to a full episode of a given show on average —and 41% of listeners will play through most of an episode, which is pretty astounding when you think of how many podcasts are out there today (not to mention all the other media distractions at our fingertips).
Here's how it works:
Whether or not you're reaching out to someone to sponsor your show, you'll need your minimum download numbers.

Identify sponsors and advertisers who make sense for your audience.

You and the sponsor will negotiate a contract based on the numbers your podcast is producing as well as what you'd like to make per spot.

You get paid on a semi-regular basis per episode.
What could you get paid? 
Here are the current industry standards/rates based on downloads:
Note: A minimum of 5000 downloads/episode is required to be eligible for sponsorships.
$18 per 1,000 downloads for 15-second pre-roll ad

$25 per 1,000 downloads for a 60-second mid-roll ad

$15 per 1,000 downloads for 30-second post-roll ad
Some important things to note here:
Do your current podcast numbers make sense for this method?
Any potential sponsor may want to know a few numbers about your show before they sponsor it:
CPA – Cost per Acquisition

CPM – Cost per Mille

Minimum number of downloads per episode
*Read more in-depth about these numbers and how they work here. 
Is your audience ready? 
Be sure your audience is ready for you to run ads and be sure to mention the reason for promoting these products and services to them. If not in the episode, be sure this is mentioned on your podcast's website or in the show notes.
Let's get nerdy with some stats!
John Lee Dumas

made 61% of $1,520,437 (almost $1M!) gross income in 2020 from sponsorships (another 14% comes from affiliate marketing and the remaining amount comes from him selling his own products – online courses and physical journals).
His rates back in 2019:
3-Month Pack: 12 Episodes @ $2,850 = $34,200

6-Month Pack: 24 Episodes @ 2,700 each = $64,800

9-Month Pack: 36 Episodes @ $2,400 each = $86,400

Jenna Kutcher

charges $5,250/episode sponsorship and reports having 100,000 downloads per episode within 30 days.
BONUS – Relational Net Worth: Utilizing and leveraging relationships for your podcast or business.  
While this is not necessarily a DIRECT way to make money from your podcast, focusing on growing relationships through a podcast provides a huge asset to any business. There's a lot to be gained by meeting people as guests, hosts, or recommendations in the industry. 
A podcast also provides a great way to catch up with your entrepreneurial circle and find ways to collaborate by promoting friends, peers and/or students.
To Wrap Up
Thinking about making money from your podcast is a great next step after getting your show up and running. It is by no means a "must" for any podcaster, but if you're interested there is plenty of money to be made in the podcasting space. 
The opportunities for connecting and nurturing mutually beneficial relationships through podcasting are endless! Starting with self-promotion and naturally moving into affiliate marketing and sponsorships/advertising is a great place to begin.
To learn more about what podcasting can do for your business, visit podcastproductionschool.com.
---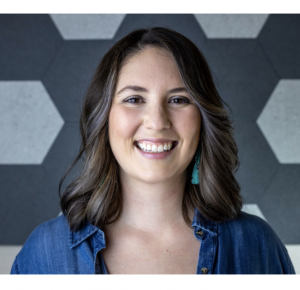 Melanie Scroggins is a Voice Actor & Content Creator at the WFH Voice Actor as well as one of the Co-Creators of Podcast Production School. Melanie's audio production journey began in her RV on the coast of Oregon and eventually turned into a full time remote podcast production business where she has had the opportunity to serve business owners and their shows all around the U.S. 
On the home front, Melanie is a wife and a cat mom of two. She loves the outdoors, listening to podcasts, and counting down the days until Christmas (doesn't everyone?!).