This post may contain affiliate links. See our affiliate disclaimer here.
Note: If your book is available in cookie form, more people will want to eat it. I mean, buy it.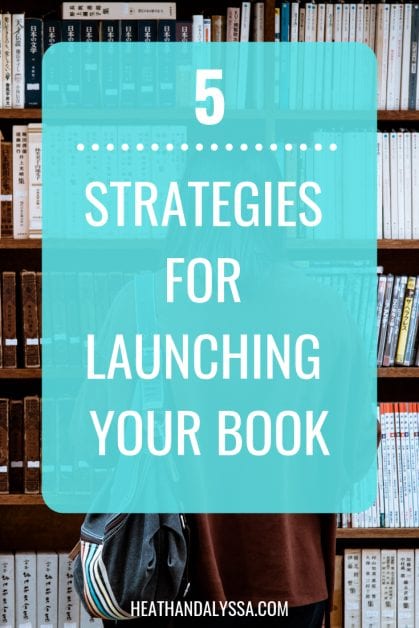 You've spent months creating your product—now it's time to launch. And I'm not talking about sending one email where you say "Hey I wrote this book and it's okay and if you want to read it you can, but don't feel pressured to buy…"
You've probably seen sales emails like that in the past, where a person is almost apologizing for selling a product. In fact, I'm pretty sure that's a direct quote from when Heath launched his first book and we were out of mind scared over how it would go.
It's important to launch your book—or whatever product you're launching—with confidence. You spent so much time and energy into creating this, and you need to spend an equal amount of time and energy promoting it.
So today we're covering five strategies I used for launching my book last fall. 
Today's episode is sponsored by: 

Stories from the Road Podcast
One of my favorite parts of RVing is sitting with other people and sharing stories: the good, the bad, and the hilarious.
The Stories from the Road Podcast talks to RVers from all walks of life about what led them to the RV lifestyle, the things they like and the things they don't like, and where they see themselves going in the future.
Strategy #1: Create a Launch Team
A launch team is the best way to clone yourself during your launch. I created a launch team of fifty people and gave them two primary tasks: leave reviews for my book on Amazon and share links to the book on their social channels.
The point of a launch team is to get the word out about your book in as many places as possible all on one day.
Who to Ask to Join Your Launch Team
I started my launch team by making a list of people who I knew were excited about the book. These were people who had read the first draft I sent to our email list, people who had purchased products from us in the past, and people who had mentioned to me that they wanted to help launch the book.
This list did not include any family or friends, as Amazon can tell when these people leave reviews. I don't know how they know so much about my personal life, but they do. Probably because I buy everything I own on Amazon. I know of at least three reviews that were taken down because they were by friends of mine.
Another reason to not focus on family and friends is that they likely won't be invested in the content like your blog readers are. My sister cares 0% about RVing and how to RV. So it wouldn't make any sense to ask her!
I ended up asking 70 people to join my launch team. 50 got back to me! I call these people megafans because they are the wonderfully amazing people willing to go above and beyond for you.
Your Launch Team in Action
I emailed my launch team six times over a three week period giving them instructions, setting expectations, and thanking them profusely for their help. This led to 50+ reviews for my book in the first week!
Plus during launch week, dozens of links were posted on Facebook, tweeted, shared on Instagram and in Instastories, and posted on blogs. Links were added to resource pages and reviews were written. My launch team created so much hype that we sold over 3,000 books in 48-hours.
This is why a launch team is so amazing! They maximize your marketing efforts.
Strategy #2: Gather Influencer Endorsements
On Amazon book pages, there's a section for Editorial Reviews. This is where you have the chance to get reviews from big-name bloggers, fellow authors, and influencers in your industry. My book page looks like this: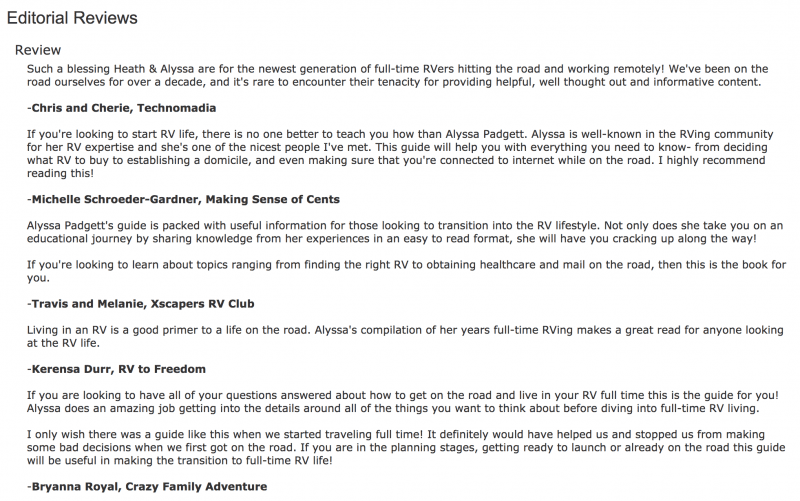 This section will be how you win over new customers who haven't heard of you before. Influencer reviews give your book instant social proof. Like, if our friends Travis and Melanie from Xscapers says the book is good, it must be amazing!
Strategy #3: Leverage Big Brands
"Leveraging big brands is easy. All you have to do is spend years providing value in your niche and building relationships." -what Heath actually said to me when I mentioned this launch strategy to him
But Heath is right—relationships with brands are great, but they don't happen overnight. It takes years of proving your worth and providing amazing content in your space.
A week prior to launch, Heath and I were filming with Camping World. And in between takes, I was working on my book trying to finalize everything. This opened up a natural conversation with Camping World about my book and upcoming sales plans. They said if I wanted them to help promote the book, send over a copy and they would see what they could do.
WHAT! That's amazing.
They shared a link to the book on launch day that got amazing engagement and lots of shares. I can't see exactly how many people ended up purchasing my book because of Camping World, but I know it pushed a good bit of extra traffic to the book. And the more eyes on the book, the more sales!
Strategy #4: Guest Blogs & Interviews
Just like guest blogging is one of the best strategies for growing your blog, it's a great strategy for getting your book in front of new audiences. You want to get links and mentions of your book EVERYWHERE during launch week.
Admittedly, I didn't do the best job of this. We had a few guest blogs go live in places where we already regularly contribute, but after writing a whole book, my brain was too fried to write another word. Which is why I went the interview route! I prefer being interviewed because it takes about a quarter of the time that a guest blog takes!
In this podcast episode, you hear Heath explain how we've done this with other authors in the past as a major marketing strategy.
Here's what we typically do:
Make a list of every top podcast that relates to the book content
Listen to an episode of the show so we know what it's about
Reach out to the right person on the show

Including a note specifically about the show demonstrating that we know what the show is about
Introducing the book and its content

Thank them for their time and hope to be on the show!
If you prefer talking over more writing, this is a great route to go. Your goal is for people to hear about your book so many times in so many different places that they have no choice but to buy it!
Strategy #5: Email Your List
The most important step! Your email list is your biggest sales tool. These are the people who love you the most and want to hear all about your new book. Plus, since these people already know and love you, they will be more than happy to buy your book.
The key here is to continuously provide value and communicate with your audience throughout the book writing process. If you take off two months to write your book and don't talk to your list that whole time, then you've lost all your momentum! This will kill sales before you even start.
Email your list once a week as you work on your book and mention the book a few times during this period. As you get closer to launch date and get pre-orders available on Amazon, you'll switch into full-on promotion mode. We did this by posting excerpts of the book and teasing content.
Then when the launch week comes, your audience is primed and ready to buy your book!
---
Those are just five strategies for launch week. I cover how to market your book more in-depth in my new course, From Blog to Book.
More about my new course, From Blog to Book
From Blog to Book is a course designed to help bloggers write and launch their first book.
I've wanted to write books for as long as I could remember.
I looked up to writers like Donald Miller and Jeff Goins who could tell incredible stories that inspired you to move and live a better life.
So in 2011, I started blogging, with the sole purpose of one day publishing a book. Six years later, I finally achieved that goal.
By all accounts, A Beginner's Guide to Living in an RV was not the book I imagined publishing one day. None the less, my little self-published book has sold more than 13,000 copies, has 200+ glowing reviews, and is consistently ranked as the #1 book on RV travel.
Before self-publishing my book on Amazon I was terrified. Terrified people would hate it, terrified nobody would take me seriously and terrified of all the unknown factors standing between me and clicking "publish". Like I said, it took me six YEARS of blogging before I finally worked up the courage to publish.
In my head, I had built up writing a book as something you do after 40 years of experience and once Random House comes knocking on your door.
However, the truth is that the process of writing, launching, and marketing a book isn't only reserved for the elite few who sign six-figure advance checks.
Writing and self-publishing a book also doesn't have to be a scary and overwhelming process.
I put together this course to help you turn your ideas, blog posts, and message into a professional self-published book that's ready to be read by the world. I cover everything from how to validate your book idea (before writing it) to how to map out and plan your content (so you won't quit half-way through) and the tools and resources that will make your life a thousand times easier along the way.
---
Miss part of this series on writing your first book? You can work your way through all five parts of this free series as part of our RV Entrepreneur School.